Denon
We are now selling select Denon products. Denon is a 110 year old company owned by the same people as Marantz. They sell high value hi performance consumer audio gear including AV receivers, DD players and music streaming models.

DNP-2000NE Music streamer with DAC & preamp
$1599.00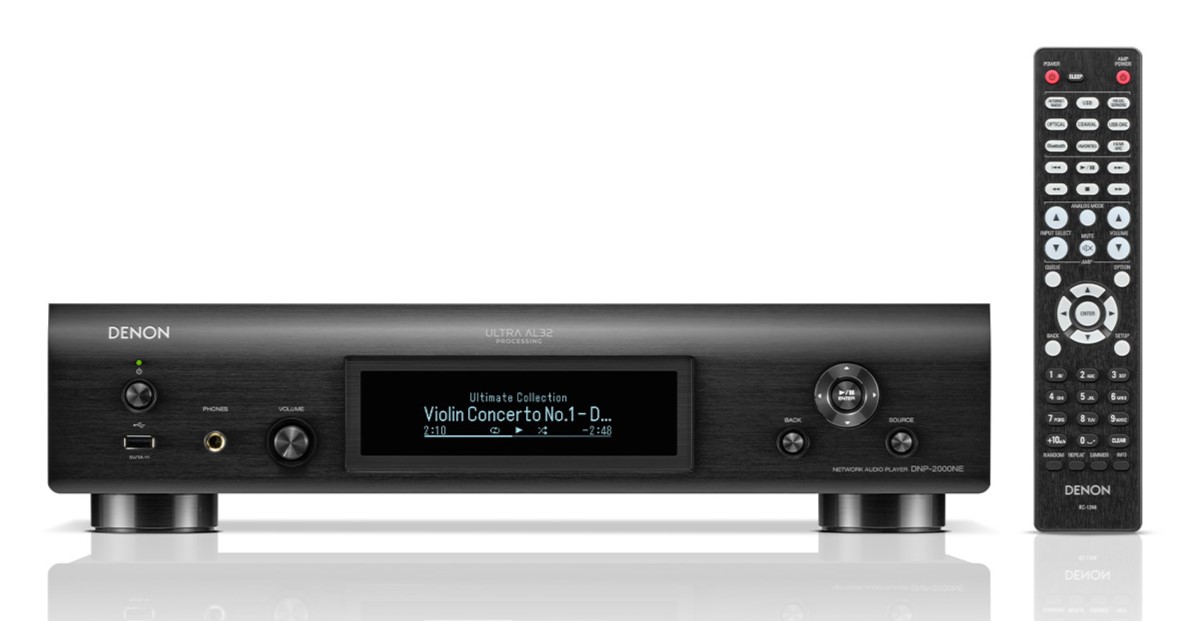 Available in black or silver
 
The DN-2000NE is an excellent music streamer with very high quality DAC. It features the easy to use HEOS software for streaming and even has a built in remote preamp to hook directly to a power amp. We were shocked at the performance as we compared it to a $6000.00 PS Audio DSD DAC and it is quite close for 1/4 of the price. It also has HDMI ARC to run TV audio thru it. It uses a quad DAC configuration enabling an improved, more powerful spatial expression of the sound stage, decreasing the noise level and total harmonic distortion.  It has USB, coaxial and two Optical inputs. It also has an Ethernet connection as well as coaxial & optical digital outputs and bluetooth connectivity. There are both fixed and variable analog outputs.
 
Upgrade any existing audio system to play most digital audio sources—including your television—using HDMI ARC for an improved audio experience. The DNP-2000NE also connects to your home network, so you can enjoy your favorite music services using HEOS® Built-in.
Ultra AL32 Processing
DAC master clock
HEOS® Built-in
Alexa, Google, Siri voice control
Quad DAC configuration
AirPlay 2


DCD 1700NE SACD/CD player
$1499.00

Enjoy pristine Hi-Res SACD and CD playback with Denon's exclusive Advanced AL32 Processing and Ultra Precision D/A Converter. The DCD-1700NE is engineered to deliver the Denon quality and sound you expect.
 
New Denon original disc drive design
The DCD-1700NE's disc drive design contains the  high-class S.V.H. (Suppress Vibration Hybrid) Mechanism. Signal paths have been shortened to an absolute minimum and circuits have been miniaturized to ensure that excess current or noise will not occur.
In addition to CD and Super Audio CD, the DCD-1700NE can play DSD (2.8 Mhz / 5.6 MHz) files and high-resolution files up to 192 kHz / 24 bits recorded on DVD-R/RW and DVD+R/RW discs. Music files with sampling frequencies of up to 48 kHz recorded on CD-R/RW discs can also be played. It has coaxial and optical outputs to be used as a CD transport.

DCD-600NE CD player
$429.00

High quality Denon CD player with ALS32 processing.
192k 32Bit DAC
Plays CD, CD-R, CD-RW, MP3's and WMA formatted discs
Pure Direct mod for the most accurate and detailed sound
Excellent sonics at a down to earth price.
Optical digital output to go to a DAC.


DRA-800H 2-ch AV receiver
$699.00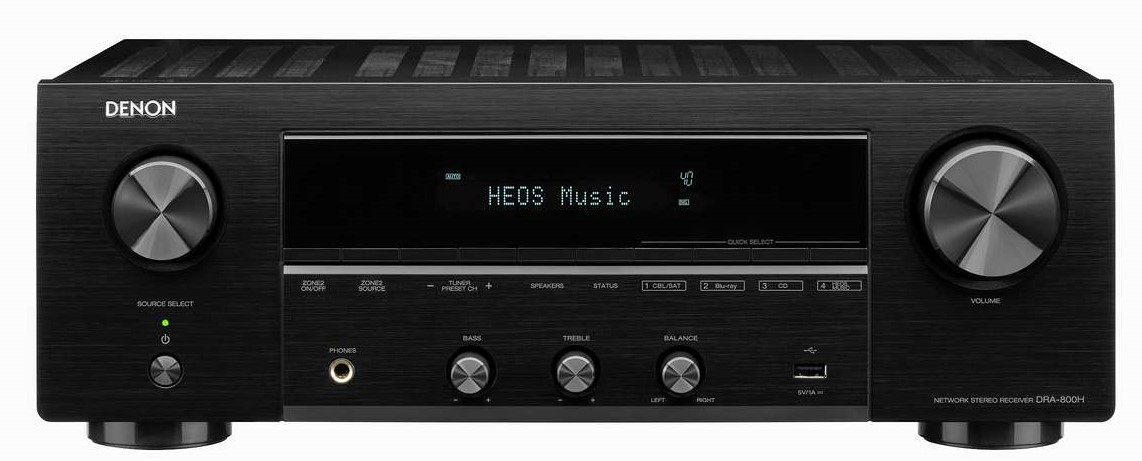 The Denon DRA-800H seamlessly integrates Hi-Fi amplification, a network player and advanced AV receiver technologies. Featuring advanced custom amplifier
design, the DRA-800H ensures your loudspeakers drive detailed, precise imaging through the dedicated circuitry of its short, straight paths between power supplies.
With five 4K Ultra HD HDMI inputs, ARC and the latest wireless music streaming technologies (Wi-Fi, AirPlay 2, Bluetooth and HEOS Built-in), the DRA-800H integrates
seamlessly with your TV, game consoles, turntable, CD Player, wireless music and Hi-Fi systems
Two-channel stereo network receiver with Discrete amplification for left and right channels — feel the power and hear
every detail as the artist intended with 100W power per channel (8 ohms,
20Hz-20kHz,THD: 0.08%, 2ch driven)
Analog and Digital Inputs for all your music sources including
phono pre-amp
Hi-Res audio certified
. 
Network and front panel USB allows for gapless playback of high-resolution audio
including 192kHz/24bit FLAC, WAV, ALAC and DSD 2.8/5.6MHz