Melco
Melco makes state of the art music servers. We were extremely happy with their performance as they were as good as units selling for up to double their cost. All models are made in Japan to very high quality standards.
N1A/2
EX-H60
$3,199.00
Stereophile Class A+ rated server
3TB drives x 2 HDD & high quality power supply
Stereophile rated the N1A Class A+
in the 2019 Recommended Components report. They said:
Melco N1A: $3,199 $$$
The audio division of Japanese manufacturer Melco—the parent company of the ginormous computer-peripheral manufacturer Buffalo Incorporated—has been resurrected as a maker of networked audio components. The new N1A server, which Melco calls a High Resolution Digital Music Library, contains 4TB of (Seagate) internal storage, the contents of which can be converted to analog by means of Ethernet connection to a network (or direct to a network player), or USB connection to a USB DAC. (Direct-connected network players must offer a hardware-based means of controlling playback.) Using an NDK ultra-low-jitter clock, the N1A also reclocks all data before scooting it on its way. As ML put it, "The Melco N1A Buffaloed my combination of MacBook Pro and Synology NAS. It destroyed them, embarrassed them, gave them a good schooling. Music sounded obviously—frighteningly—more refined, more spacious, and more natural through the N1A. End of story. I can't imagine anyone in this universe who does nothing else while listening to music making the same comparison and not hearing this difference." (Vol.39 No.3 WWW)
‣ plug-n-play audiophile music server
‣ Soon to be
Roon ready
‣ designed for high quality audio without compromising functionality
‣ 6TB capacity (2x3TB 3.5" HDD)
‣ custom Twonky server software
‣ Ravenna protocol support
‣ easy backup of internal drives
‣ easy auto-importing of USB drives
‣ easy auto-importing of CD audio discs
‣ easy setup with direct connection for network players or USB-DAC, no computer required
‣ dedicated USB port for connection to USD-DAC ‣ 'Player' ethernet port for direct connection to network player, 'LAN' ethernet port for communication with home network
‣ supports up to 32 bit/384KHz PCM & 5.6MHz double rate DSD, when supported by DAC/streamer
‣ front panel USB 3.0 for fast importing
‣ improved isolation
‣ improved power supplies
‣ improved internal cable routing
‣ copper output strapping
‣ transformer isolated ethernet ports
‣ separate power supply circuit for ethernet
‣ audio-grade ultra low jitter data clock
‣ external expansion and backup via USB
‣ weight: 15.5 lb. (7Kg.)
‣ dimensions (including feet): 17.2" (436mm) W x13.9" (352mm) D x 2.8" (70mm) H
‣ available in black or silver



N100




2TB server
$2099.00

N100 is the half-sized model of MELCO music library which has 2TB hard disc drive and 3 x USB2.0 port. The full functioned model in the same size and design as MELCO CD drive "D100". It may be small in size but the performance is big. We feel this is the best sounding under $2500.00-$3000.00 server solution. The Melco music software is easy to use and stable. And we offer free support to Underwood Melco purchasers. 
 
N100 will collate and arrange the complete music library and offers browse by Album, Artist, Data format, Date of recording, Composer etc.
Browse and play is possible from the N100 front panel or App on smartphone or tablet.
N100 supports all high res music formats up to 32bit 384kHz and Octo DSD.
The N100 is ready to use once language and time zone has been selected.
Additional advanced features, all accessible from the simple front panel interface, allow for customization. 
Fine design both for rack-style and desktop use (215 mm)

Aluminum front and top panel with hairline finish

2 mm steel sheet chassis for anti-vibration

HDD is designed with anti-vibration system "HS-S²"(Highly Stable Storage System) under same concept as N1ZS/2A.

LAN port for direct connection with player (no LED for status indication)

USB2.0  x3 are compatible with USB-DAC, USB CD drive and USB storage such as USB HDD or USB flash memory. When the drive is connected, user can choose the purpose of the drive on the front display. (Import, expansion, backup, restore etc)

Low C/N clock of NDK

Power management system by FPGA for improved system stability.

Fan-less design
2.0TB 2.5''SFF HDD x 1

Gigabit Dual Ethernet LAN port

PC file sharing function

DLNA/UPnP media server function with Twonky Server 8.5

USB-DAC connection for USB playback - supports Gapless and DSD with DoP and Melco Markerless DSD.

Automatic download of music files from Hires Audio.com, and other vendors to be announced, with file integrity check.

CD import to local HDD using Gracenote Database.

Backup and Restore of internal HDD – compatible with Melco N1 series.

215 x 61 x 269mm

Net weight Appx. 8 pounds

The N100 has an internal HDD capacity of 2TB – equivalent to approx. 4000 CDs..*  The music files once saved to N100 can be played through LAN and USB.
CD import using any USB connected optical disc drive with metadata and album art added auromatically from the Gracenote database. It is Compatible with the MELCO D100 high performance CD loader to make a superb complete CD playback or loader. CD's can be played directly without importing into a connected USB-DAC in the manner of a high-end CD player thru a connected USB DAC.
Convenient downloading of Hires music directly into Melco N100 without need for a network computer from HiResAudio.com and other vendors.
 
Model
N100-H20
EAN
4589636030361 
Color

Silver

Capacity
HDD 2TB x 1
Size
215x61x269 mm
Weight
Appx 8 lbs
Terminals

USB2.0 type A Front x 1 Rear x 2

Gigabit Ethernet port x 2

Power supply
DC 12V (48W AC adapter)
Support file (Server)
DSF, DFF, FLAC, WAV, ALAC, AIFF, AAC, MP3, WMA, OGG, LPCM
Support file (Player)
DSF, DFF, FLAC, WAV, ALAC, AIFF, AAC
Sampling rate (Server)
44.1K, 48K, 88.2K, 96K, 176K, 192K, 384K, 2.8M, 5.6M, 11.3M
Sampling rate (Player)
44.1K, 48K, 88.2K, 96K, 176K, 192K, 384K, 2.8M, 5.6M, 11.3M
Bit rate
16-32bit (PCM), 1bit (DSD)
Accessories
Quick Start Guide, USB2.0 cable, Category 6 Ethernet cable, AC adapter
D100 CD ripper
$1295.00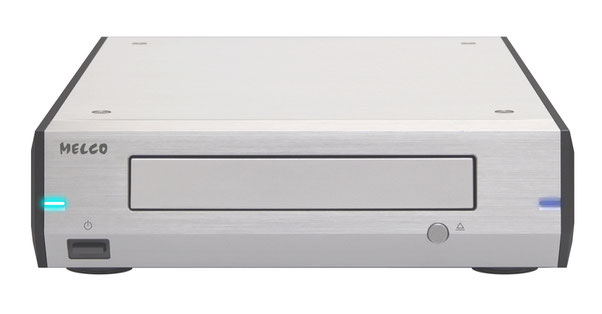 The D100\D is the perfect match to the N100 for ripping CD's. The units make a beautiful pair.
USB Optical Disc Drive D100
The D100 embeds the most recent generation of Japanese hi end optical drive which reads CD and Optical Discs with great precision.
The MELCO branded circuit board is optimised from audiophile point of view to promise the highest quality transport and ripping of CD into N1.
It  can be turned off with the dedicated power switch.
The case is designed the same concept as most recent MELCO music library products.
2 mm thick under chassis supports the whole case with great rigidity.
Beautifully designed thick aluminum case is half size of N1A and fits most of desktop USB-DACs.
8.5lbs (almost 3x that of similar IT drives)
The MELCO Highly Stable Storage System holds the whole drive mechanism with their dedicated technology.
A dedicated PCB holds capacitors for the power supply and quality clock generator for better signal transmission.
TO HOST USB type B port is for N1 or PC to read the disc data.
TO DEVICE USB type A port is for USB-DAC playback with N1 USB Local playback function.

S-100 Data Switch
$2195.00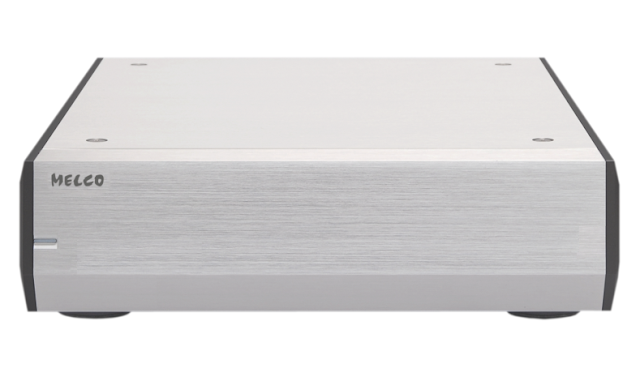 The limitation to the ultimate sound quality of digital music on anEthernet network is the network itself and the components used.IT components are low cost commodity items and are effective for PC dataand gaming etc. But they are simply inadequate for high quality digital music.One critical component is all digital music systems is the dataswitch which handles both the music data and control.The Melco S100 is designed and configured as an audiophile componentwithout any IT compromises..
 
The Melco S100 is quite an unusual architecture compared to an IT dataswitch.There are four 100Mb RJ45 ports – these provide the best audio quality. There are four 1Gb ports – these are ideal for PC connectivity, and are ideal for the Roon Core processor which generates high traffic flow. Two additional SFP ports allow for connection of optical fibre for components such as Lumin that support it. Key to creating a stable and resilient data stream for extreme Hi-Res streaming is the Packet Buffer and S100 has 1.5MB of buffer capability to deal with erratic external connectivity. Audiophile techniques are used in the power supply implementation with a bank of audio-grade capacitors to ensure the lowest noise environment. Mechanical stability contributes to system performance and the S100 is built on a rigid steel chassis with total screening provided by the totally metal enclosure which matches Melco Audiophile NAS components.

Power supplies are external to the S100 giving good isolation and allowing for future upgrade to external linear power supplies.

Network Digital Music Players – Streamers.The Ethernet network is the signal connectivity to every network Player or Streamer from the data-store or NAS.Similarly Streaming Services such asTIDAL and Qobuz originate in remote servers and connect to the network Player through the data switch. Any damage to packet data, timing, packet order, noise, or intrusive data, damages the overall musical performance. IT switches are optimised for speed and throughput – not data integrity. Melco S100, using the 100Mb ports achieves the best possible performance from every brand of network Player or Streamer regardless of the source. Melco S100 Specification  ConnectivityPorts4 x 100Mb/E RJ45 4 x 1000Mb/E RJ45 2 x Fibre SFP/LC Power12V 1 amp 5.7mm coaxSize215 x 61 x 269mm (W H L)Weight2.5kG
 



N1Z/2EX-H60
$5,499.00

The step up the the N100 is the N1ZH2.
The big enhancements you get when you go up to the N1ZH60/2 are as follows:
-6TB storage (2 x 3TB Melco selected drives) that can also be run as a dual 3TB RAID system.
-The Drives are mounted on an isolation platform with Melco's non-magnetic heavy brass HS3 drive mounting system for vibration isolation.
-There is a dedicated Neutrik USB output port for connection to the USB DAC for lower jitter.
-There is upgraded more specialized processing logic with precise slow data-writing and accurate high-speed data retrieval that contributes to better audio performance and stability.
-There are dual power supplies, each with dedicated filter capacitor block utilizing audio-grade film capacitors and power filters  (1 power supply handles signal processing electronics, 1 power supply handles HDD's)

- 2 x 3TB Small Form Factor HDD
- Heavy brass non-magnetic HDD foundation
- Dedicated Neutrik USB-DAC port
- Dual Power Supplies
- New capacitor bank with audio grade film capacitors
- New silver/black aluminium case
- New processing logic (precision slow data writing and accurate high speed data retrieval)
- Self integrity check