DSPeaker
DSPeaker X4 Preamp/DAC with room correction
$4250.00
Class B rated in Stereophile
Now shipping in black and silver

The DSPeaker X4 is a 4-channel Audiophile Preamp/DAC with room correction, electronic crossover and excellent headphone amp. It can be used to biamp the Emerald speakers or any other speaker or add subwoofers.

Speaker-room interaction is typically the most important performance-limiting factor of any high-end audio system. Every listening space introduces errors that can be in the magnitude of dozen decibels or even more. These errors are most pronounced at the bass and lower midrange regions, where the classic acoustic treatment loses its effectiveness.

The DSPeaker Anti-Mode X4TM preamplifier/DAC combines an uncompromising selection of audio electronics. It was designed with one purpose in mind: to elevate to a new high what is possible in stereo sound reproduction in the domestic environment.

The installation procedure is automated. Anyone can achieve superb results without any prior expertise or knowledge. After a brief calibration process Anti-Mode knows your listening space in great detail and designs custom filters required for your unique space. You may be very surprised to hear what your loudspeakers can do!

The Anti-Mode X4 covers a wide variety of use scenarios, ranging from the traditional "2.0" two-speaker configuration to more exotic installations featuring a number of subwoofers with multiple listening seat optimizations. The best cross-over frequency is automatically determined for speakers and subs.

In addition to the automatic correction, the user has full reign over extensive tone controls and custom filters. The preferred sound signature can be altered even in real-time, from the convenience of your listening seat. Different settings can be stored in memory for a quick recall at any time. Most functions can be accessed with the supplied full-aluminum remote or using the control wheel located at the front panel.

A modern, easy-to-use graphical user interface is provided. Room response graphs can be inspected in full detail without the need to resort to personal computers or other additional equipment. A built-in graphic design tool is included for all types of sound enhancements.

Kalman Rubinson in Stereophile reviewed the Anti-Mode X4 in Music in the Round #97. He said:
"I'm happy to tell you that DSPeaker's Anti-Mode X4 is great just as it is, and will appeal to user needs that until now have not been addressed. This is a first-rate two-channel preamplifier with flexible bass management and potent DSP for setup and room EQ. It requires no additional parts or a computer— everything is already built-in or is supplied by DSPeaker. Even better, it requires no additional technical background"

Read the review at: https://www.stereophile.com/content/music-round-97-hegel-c53-dspeaker-an...

Features are as follows:
3 x Coaxial input
3 x Toslink input
2 x Analog RCA input
1 x XLR analog input
USB Audio at 32 bit / 192k with 2 x DSD decocing
Thermometer (5D Anti-Mode™)
Service port
12V trigger output
2.2 Analog RCA output
2.2 Balanced XLR output
1 x Coaxial output
1 x Toslink output
6.3mm Headphone output (headphone-DSP, EQ, X-feed / HRTF process, render)
Balanced XLR 48V "phantom" microphone input
Bluetooth mod


The DSPeaker Anti-Mode 2.0 Dual Core is a Preamp, DAC, tone controller, parametric equalizer & room correction device in one package under $1200.00.
On sale for $899.00 delivered
Now with Asynchronous USB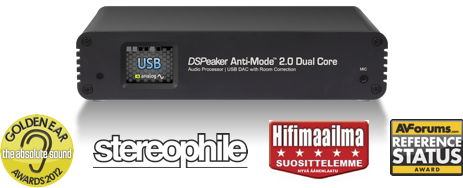 Class A rated in Stereophile
"...offers the wonders of DSP correction with ultra-high sonic quality"
"it is Alladin's genie except you get a lot more than three wishes!"
- Dr. Robert E. Greene / TAS September 2012
See the superb review in the February 2013 Absolute Sound where Robert summed up with:
"In the end you can get truly remarkable sound out of a system corrected and adjusted with a DualCore. One thinks of the introduction to The Three-Penny Opera: "Conceived with a splendor that only a beggar could imagine and ….so cheap that even a beggar could afford it." Well, not quite that cheap. But still a wild bargain, and a sonic wonder."
Read the full review in The Absolute Sound Magazine here:
http://www.theabsolutesound.com/articles/dspeaker-anti-mode-20-dualcore-digital-signal-processor/
In Paul Seydor's Newport Show report from the 2014 show he says:
Most Significant Product:
I can't think of another investment that will bring more improvement in sound for the dollar than SimpliFi's Dual Core Antimode DSP with or without the ULN-3 PSU optional power supply
Part Time Audiophile said:
And that's when Walter showed the Ace he'd tucked up his sleeve: the DSpeaker Anti-Mode Dual Core 2.0 he was using as a preamp. Walter A/B tested this device for me, cutting the room correction in and out of the chain; the DSpeaker greatly cleared up the midrange and upper bass regions to an extent that I would have thought improbable. All I can say is: "more demo rooms at audio shows need this". Assuming you don't want to schlepp a couple hundred pounds of room treatments across the country, it really can nail down an unfriendly room, and do so with some shockingly great results.Wickedly cool.
Read the entire report at:
http://parttimeaudiophile.com/2014/06/06/newport-2014-emerald-physics-tech-heavy-and-price-savvy/

Paul Seydor from the Newport Beach show report in 2012 said:
Greatest bargain (single product)
DSPeaker Anti Mode 2.0 Dual Core—a fully automatic room correction device (also DAC) that works spectacularly and at almost a chump change price.
Call to discuss into pricing and this amazing product.
The Updated '2013 Edition' is now available and shipping in 1-2 days from order date
$899.00 with FREE FREIGHT in the 50 states
 
Shown above with optional Channel Island Power supply- Only $359.00
Anti-Mode 2.0 Dual Core($1199.00) is a must-have device for any audiophile who is serious about the sound quality in home environment.It can be used as a room correction device belwo 500Hz or as room correctiuon plud preamp plus DAC. It also has a full parametric Equalizer for tonal balance control.
It is not only a new generation automatic room correction and one of the most versatile devices to adjust the overall tonal balance, but also a standalone room analyzer. With a press of a button, it offers the same performance and accuracy as the best computer based measurement softwares accompanied by a professional level soundcard and calibrated microphone. Of course, you can even export the measurement data using USB, but then again, you don't really need to. You can see the accurate response on screen, and all the important room corrections have been made automatically. It can run with your preamp and DAC or be used with an amp and speakers as the entire front end.
Anti-Mode 2.0 Dual Core can be connected to almost every audio system.
HARDWARE CHANGES IN '2013 EDITION'
2012 edition:
Input Sensitivity RCA: 1.6 / 3.25 Vrms, XLR: 1.3 / 2.6 Vrms

Output Voltage RCA: 1.65 Vrms (max), XLR: 3.25 Vrms (max)

Power consumption 9VAC / 12VDC (typical): active 2.6W, stand-by 0.6W
2013 edition (all current shipments are of the 2013 version):
Input Sensitivity RCA: 2.0 / 4.0 Vrms, XLR: 3.9 / 7.9 Vrms

Output Voltage RCA: 7.2 Vrms (max), XLR: 14.4 Vrms (max)

Power consumption 12VDC (typical): active 4.5W, stand-by 0.8W
Features include:
New, improved Anti-Mode 2.0 automatic room correction algorithm
Can be used as a locally clocked high quality jitter-free DAC

Supports USB audio as well as S/PDIF input/output via optical toslink

Dual balanced ADCs to deliver the highest level of audio performance that meets the expectations of most demanding audiophiles

Dual per channel balanced DACs with jitter free operation (local crystal), oversampling to 6144 kHz, DSP buffering and filtering.

Can be used as a high quality pre-amp with remote volume control
Extensive sound customization options, including quick house curve design tool, linear-phase full spectrum tilt, several parametric EQs etc

Supports several sound profiles (e.g. independent "sweet spots" and/or equalizer settings), quickly switchable with the remote controller

Friendly graphical user interface, very easy to set-up and operate

Ability to measure and display room responses on a built-in 262k-color TFT display

"Pure digital" mode using S/PDIF input & output: signal is processed in the digital domain all the way (S/PDIF output resolution is independent from input)

Digital signals are re-aligned for jitter-free operation

Versatile connectivity: insert Anti-Mode 2.0 Dual Core between your existing pre-amp and power amplifier or powered speakers or utilize the processor loop or tape loop of your integrated amplifier (or use it as a standalone DAC / preamp!)
                                                                                                                       DSPeaker Connections
1 x RCA inputs

1 x XLR inputs

1 x RCA outputs

1 x XLR outputs

Toslink S/PDIF digital input

Toslink S/PDIF digital output

USB

Datalink

Microphone jack

12VDC/9VAC power connector
Technical Specifications
Digital Specifications
DSP Cores:
1 x VS1000 (GUI&USB)

2 x VS8053 IceDragon (Audio)
Processing:
DSP Filters:
Anti-Mode 2.0 Multi-Rate (FIR & IIR)

House Curve filter

Linear-Phase Tilt

Parametric EQs

Adjustable Infrasonic

Adjustable cross-over
Analog specifications

Dynamic Range:

> 108dB

Volume Control Steps:

0.5dB

Input Sensitivity XLR:

1.35/2.60 V(RMS)

Input Sensitivity RCA:

1.65/3.25 V(RMS)

Output Voltage Unbalanced RCA:

1.65 V(RMS)

Output Voltage Balanced XLR:

3.25 V(RMS)

ADC:

6.144 MHz oversampling dual per channel

DAC:

6.144 MHz oversampling dual per channel, local clocking, buffering
NOTE TO OWNERS OF THE ORIGINAL 2012 DUAL CORE
The original Dual Core had the standard / typical RCA and XLR input / output sensitivities which worked fine with sources and downstream devices which adhered to these standards.
Based on customer feedback and to cater for a wider range of sources and down stream devices DSPeaker have now increased both the input and output sensitivities....
If you are an existing Dual Core user and did not encounter ' input clipping messages ' this upgrade is likely of  NO BENEFIT to you. We do take older 2012 models in trade for the new 2013 version if you have clipping issues.
 
8033 SII subwoofer equalizer
$499.00
Sale $449.00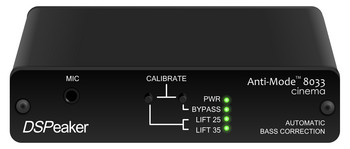 Measures and corrects the combined frequency response of your subwoofer system and the listening room

User-friendly automatic calibration procedure

Can be used with any active subwoofer

Minimum phase filtering, no significant algorithm delay

Correction range 16-144 Hz

Three user-selectable additional equalization filters

Single or multiple measurement point calibration

Measurement microphone is included

Ultra-compact enclosure: 5" x 3.2"  x 1.1"

Low power consumption: 1.5 W

RoHS directive compliant