Burson
Burson
Burson Audio from Australia products have garnered a great reputation of delivering sound quality and value well beyond their prices. This is exactly what we look for at Underwood Hifi, great sounding reasonably priced products. Reviews have all been exceptional. Build quality is high and all reviews have been great.
Soloist 3X headphone amp/
$1099.00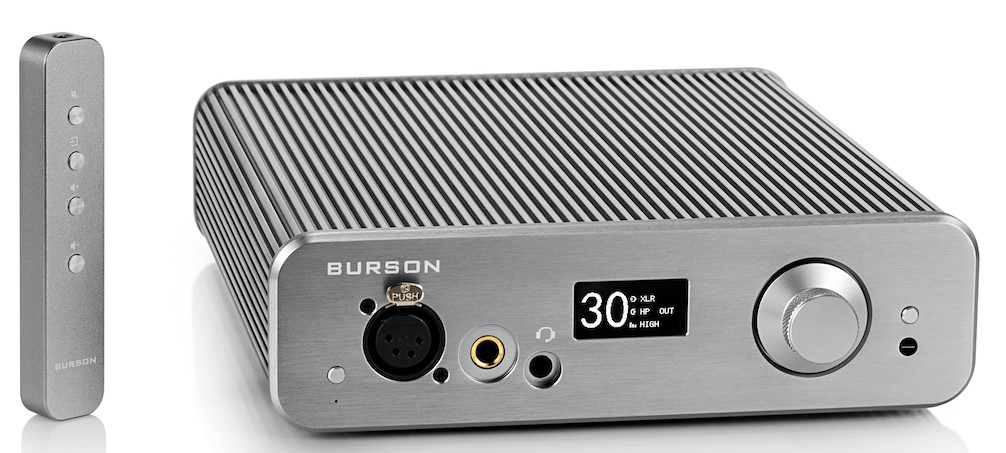 The new Soloist 3X is a superb 8wpc remote control balanced headphone amp with Burson sound quality. It does 8 watts balanced and 4 watts single ended and will drive almost any headphone that we have ever seen. It is also a 2 source preamplifier.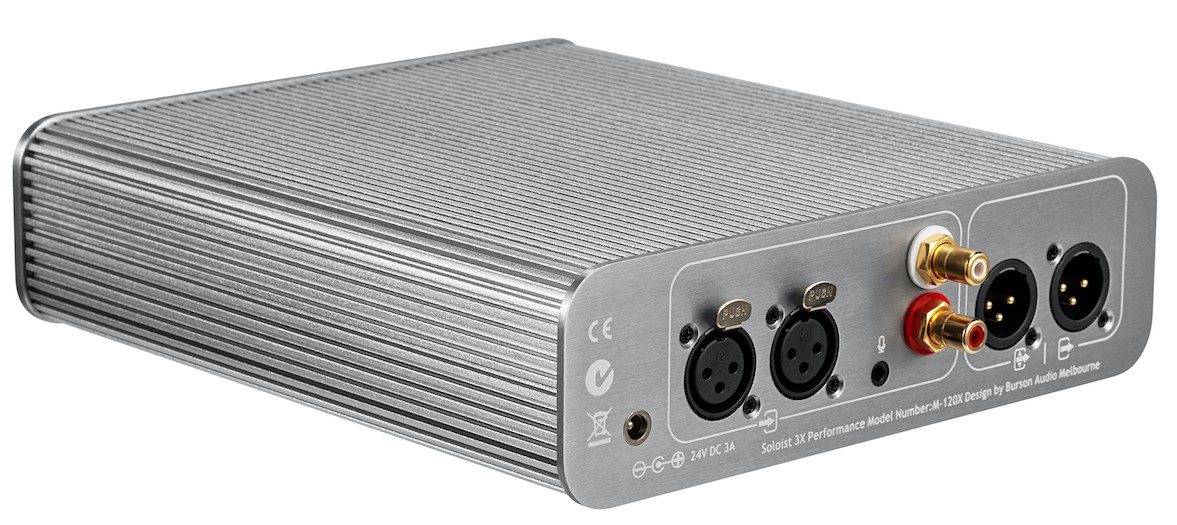 Input impedance: 35k Ohms
Frequency response: ± 1 dB 0 – 48Khz
THD: <0.0015%
Output impedance (Headphone Amp):  0.5 Ohms
Output impedance (Pre Out ): 25 ohms
 

Conductor V3 Preamp/DAC with headphone amp
$1795.00
With dual ESS9038
Call for current sale prices
 
The SABRE32/ESS9038Q2M DAC and XMOS USB receiver chips are the most advanced and expensive in the industry. There are two ESS9038 DAC chips in our C3 Reference and its USB receiver comes with customised driver by Thesycon, Germany. The result is unsurpassed processing power, perfectly playing back DSD512 and 38bit/786khz audio. The C3 Reference also features a Bluetooth 5.0 receiver
Qualcomm/CSR8675 [+]
with aptX HD audio codec. It pushes Bluetooth playback beyond CD quality and ease of use to the highest level.
Max Current Power Supply (MCPS) [+] raises voltage frequency from 50Hz to 170kHz, pushing noise beyond human hearing. Its low impedance ensures abundant and instant energy for output transistors. The C3 Reference uses 5 sets of MCPS: Which means, Display/Functionality, DAC, analouge left and analouge right are all separately powered.
Let's face it, most audio equipment cases are ugly and impractical. They usually have visible screws everywhere, sharp corners and boring colours. Class-A amplifiers even have finger cutting heat-sinks! They diminish the aesthetic of any living space especially modern desktops where every other electronic is slick and refined.
Made from high-density aluminium and electroplated to space-grey. The Cool Case [+] has only 4 visible screws under its belly. It is also a unified heat-sink that is 300% more efficient than previous Conductors. It is audio jewellery at its finest and It looks and plays very cool.
Soloist SL MKII Headphone amp
$499.00
The Soloist SL MKII delivers benchmark setting performance in a tiny package and very affordable pricing.
Running in pure Class-A, it is a concentrated version of the award-winning Soloist. At 5.5in x 3in x 8in it takes less room on your desktop. The power output is a robust 2.5Wpc into 16 ohms and drives most if not all headphones to their full potential.
Compared to the older standard Soloist SL, the MK2 is 25% more powerful, It is very dynamic, yet with more refined mids and mid highs. All that at a new and affordable price.

Fun Headphone amp
$299.00
 
Fun is a dual mono Class-A head amp and preamp. Its symmetrical circuitry is powered by four sets of Max Current Power Supply (MCPS) developed by Burson. The revolutionary MCPS is far superior to traditional transformers delivering instant, clean, and maximum electric current to the Fun. Like an engine with unlimited torque and zero latency, Fun delivers a rock solid performance regardless of demand. It will put most 4W and even 6W amplifiers to shame.
The heart of Fun is the Burson fully discrete Conductor V2 amplification stage. The same circuitry they have been refining since 2008 and famed for its incredible micro details and musicality. All that, delivered with incredible power and control.
An amazing value at only $299.00


Timekeeper Virtuoso 100wpc stereo/300 watt mono power amplifier
$3,495.00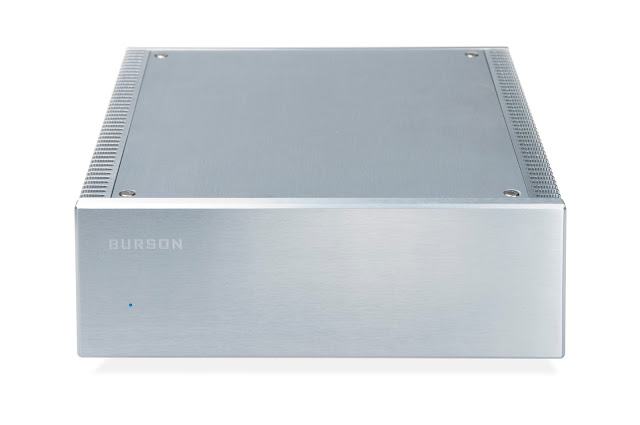 The new Burson Timekeeper Virtuoso power amplifier is an 100 watts per channel (8 ohms) stereo amp that does 300 watts in mono. It is a fully discrete Class A/B design with minimal devices as is the Burson philosophy. Consistent with their less is more philosophy, the Timekeeper employs a new symmetrical bipolar transistor voltage gain stage. It is powered by a customized transformer delivering 100W RMS@ 8 ohms, 200 watts @4 ohms and 350 watts @ 2 ohms. With its large power reserve, the Timekeeper is capable of achieving 300 at 8 ohms in mono and 600 watts at 4 ohms in mono which ensures absolute control with the finest micro details audible at all times.
The Timekeeper accepts both RCA and XLR input signals when operating in Bridge Mode. This ensures that any source component and not just those with XLR output can take advantage of this configuration.