Burson
Burson
Burson Audio from Australia products have garnered a great reputation of delivering sound quality and value well beyond their prices. This is exactly what we look for at Underwood Hifi, great sounding reasonably priced products. Reviews have all been exceptional. Build quality is high and all reviews have been great.
Conductor V2 Headphone amp with preamp
$999.00

Burson Audio is proud to announce the new Conductor V2 with superior sound and more power, setting a new benchmark in the reference class category. This is a major update from the Conductor Virtuoso (V1) and original Soloist.
Thanks to a new high density winding technique, the new power transformers that support the headphone amp and preamp section are able to output twice as much power as the Conductor V1.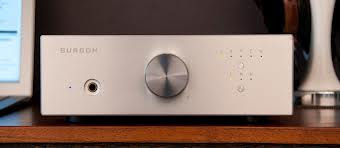 Conductor V2+ Preamp/DAC with headphone amp
$1495 ESS9018
The 2015 updated Conductor Virtuoso is Burson's best Preamp/DAC/HP amp. It offers state of the art performance and exceptional value. It uses the exceptional Soloist headphone amp with 4wpc and will drive any headphone that we are aware of. It adds 2 DAC choices. The Burr Brown PCM1793 at $1495.00 or the state of the art ESS Sabre 32 bit 9018 at $1495.00. The preamp is exceptional and can act as the center of a high quality speaker based or headphone system. The volume control is a precision 100 steps attenuator for superb inter channel balance and imaging. It has 2 line level inputs as well as 3 digital inputs, coaxial, optical and Asynchronous USB with ultra low jitter clock. Circuitry is fully discrete with a Class A symmetrical FET input stage.
In their Nov. 2013 issue of Hi-Fi +, Chief Editor Alan Sircom had this to say about the Conductor and Timekeeper.
Conductor the head-amp:
"it's damn fantastic...Those three little settings on the front panel make this headphone amp a more universal design."
"This has to be one of the most honest, natural and deep-down 'right' sounding headphone amplifiers out there."
"It has the kind of transparency we all crave, but without the characteristic 'shiny' or alternately 'dark' sound that most good headphone amps seem to bestow on the music".
Conductor the DAC:
"It has extracted a stunning performance from a well-known digital converter (SABRE32/ESS9018), adding a sense of musical flow and rhythm to its already noted detail and air. There's an unpretentious sense of insight into the sound and the music that works wonders..."
"meaningless, but in the embrace of the Burson, sounds memorable, moving and makes me wish I spent moretime practicing my guitar."
Conductor the Preamp:
"The sound is full and detailed, putting the music slightly in front of the loudspeakers in imaging terms, but never is it an 'upfront' sound. It's just good. If sheer laziness puts you off though...a real revelation. "
Conductor Features
Fully discrete circuitry
Fully symmetrical FET input stage
Pure Class A operation
Quality components

ELNA Slimic 2
DALE military graded resistors
Low noise toroidal transformers

3 levels VOS output stage

Pre Amp: 7 - 18db
Headphone Amp: 0.18W - 4W

Perfect control for any headphone and speaker system
24bit 192K USB Asynchronous Transfer USB Receiver

Tenor TE8802 chipset with dedicated low noise
Power supply
Low jitter clock

32bit ESS SABRE32 Reference DAC

Tailored FET Output Stage
Low Jitter Clock

Full Function Pre Amp & DAC

2 x line level RCA inputs
3 x digital inputs
Direct DAC line cout
Variable Pre Amp out
Conductor V2+ Specifications
Measurement
Input impedance:
36.5 KOhms
Frequency response:
± 1 dB 0 - 50Khz
Signal to noise ratio:
>96dB
THD:
<0.03% at 30ohm with 1W ouput
Channel separation:
>73dB
Output power:
4W at 16 Ohms
Input impedance:
>8K Ohm @ 30 Ohm, 1W
Output impedance:
<1 Ohm @ 30 Ohm, 1W
Power dissipation:
>45W, internal, regulated power supply
DAC Specification
Channel Separation:
140 dB @ 1KHz, 130 dB @ 20KHz
THD+N:
0.0005% @ 1KHz, 0dBFS
COAX & Toslink / SPDIF :
32 bits / 44.1K, 48K, 88.2K, 96K, 176.4K, 192KHz
Inputs
1 x USB Connection
1 x Coaxial RCA (Support up to 24bit @ 192Khz)
1 x Toslink / SPDIF (Support up to 24bit @ 192Khz)
2 x RCA line level input
Outputs
1 x headphone jacks 6.35mm
1 x RCA Pre Amp output
1 x RCA DAC direct line out
Soloist SL MKII Headphone amp
$499.00
The Soloist SL MKII delivers benchmark setting performance in a tiny package and very affordable pricing.
Running in pure Class-A, it is a concentrated version of the award-winning Soloist. At 5.5in x 3in x 8in it takes less room on your desktop. The power output is a robust 2.5Wpc into 16 ohms and drives most if not all headphones to their full potential.
Compared to the older standard Soloist SL, the MK2 is 25% more powerful, It is very dynamic, yet with more refined mids and mid highs. All that at a new and affordable price.

Fun Headphone amp
$299.00
 
Fun is a dual mono Class-A head amp and preamp. Its symmetrical circuitry is powered by four sets of Max Current Power Supply (MCPS) developed by Burson. The revolutionary MCPS is far superior to traditional transformers delivering instant, clean, and maximum electric current to the Fun. Like an engine with unlimited torque and zero latency, Fun delivers a rock solid performance regardless of demand. It will put most 4W and even 6W amplifiers to shame.
The heart of Fun is the Burson fully discrete Conductor V2 amplification stage. The same circuitry they have been refining since 2008 and famed for its incredible micro details and musicality. All that, delivered with incredible power and control.
An amazing value at only $299.00


Timekeeper Virtuoso 100wpc stereo/300 watt mono power amplifier
$3,495.00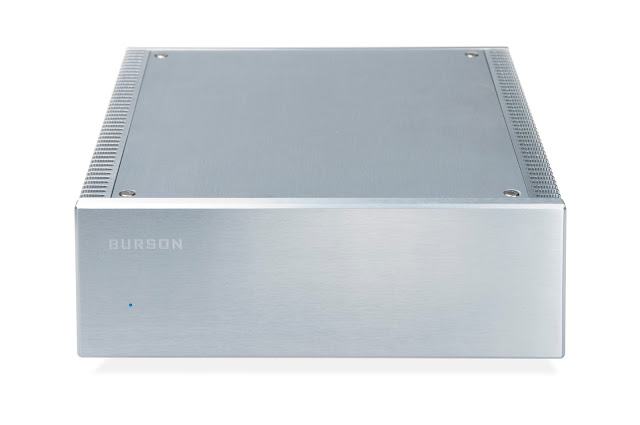 The new Burson Timekeeper Virtuoso power amplifier is an 100 watts per channel (8 ohms) stereo amp that does 300 watts in mono. It is a fully discrete Class A/B design with minimal devices as is the Burson philosophy. Consistent with their less is more philosophy, the Timekeeper employs a new symmetrical bipolar transistor voltage gain stage. It is powered by a customized transformer delivering 100W RMS@ 8 ohms, 200 watts @4 ohms and 350 watts @ 2 ohms. With its large power reserve, the Timekeeper is capable of achieving 300 at 8 ohms in mono and 600 watts at 4 ohms in mono which ensures absolute control with the finest micro details audible at all times.
The Timekeeper accepts both RCA and XLR input signals when operating in Bridge Mode. This ensures that any source component and not just those with XLR output can take advantage of this configuration.