Underwood HiFi Inc. routinely acquires deals on new items, over runs, discontinued, close-outs & B-stock. In all cases we're authorized to sell at significant discounts. Most of the below items are new A-stock. With B-stock items it will clearly say B-Stock and we'll disclose the exact condition in the copy so the buyer knows exactly what to expect.

See our Youtube videos and subscribe here: https://www.youtube.com/channel/UCYPdjOHJdPgSkaF2FTy_TOw

Because quantities are always limited on these special offers, interested shoppers who spot something of interest are advised to act immediately. These are first-come first-serve limited opportunities.
Wyred 4 Sound  
Huge Integrated amp sale
SAVE BIG

See the short youtube video at:
https://youtu.be/yGPjiQbVp8k
The STI-v2 series features a reference quality analog pre-amp, very simialr to the separate STP/SE preamp, and two mono power amps built into one chassis, creating exceptional performance in a convenient form factor. 
The new STI-v2 models feature all-new ICE modules for this series, borrowed from our very successful and award-winning ST mkII series. These amps feature 
Home Theater bypass (customizable for any input, also DC Trigger input selected)

RCA pre-out gives you the flexibility to bi-amp or add a subwoofer.

Balance control

Absolute phase control (0°/180°) 

Differential, fully-balanced
Unbalanced to Balanced conversion (when RCA inputs are selected)4 sets of gold plated unbalanced (RCA) inputs
1 set of gold plated unbalanced (RCA) outputs
1 set of Neutrik Balanced (XLR) inputs


5 year factory warranty

 

The STI-500V2 is

250 watts/ch @ 8 ohms
List $2500.00
Sale $1,399.00 
The STI-1000V2 is 470 watts/ch @ 8 ohms
775 watts @ 4 ohms
Superb preamp 
List $3000.00

Peachtree Audio
Amp 500-Save $500.00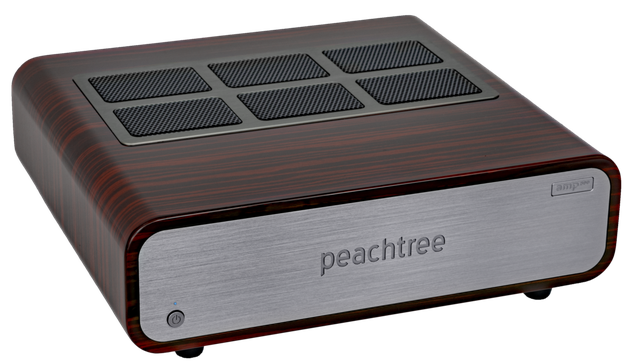 500 watts RMS per channel has never looked or sounded this good!
Drive ANY speaker with ease and headroom to spare
650 watts at 4 ohms and 2 ohms stable
Available in black or Ebony Mocha
lacquer
                Exceptionally low noise floor compared to MUCH less powerful amps
                Balanced and unbalanced inputs with differential audio circuits
                Based on the same amplifier technology used in the flagship nova500
                Aluminum front panel and chassis wrapped in a real wood cabinet
List $2000.00


Sale $1499.00

delivered




Free $400.00 6 foot Core Power cord with purchase





Black Ice


Fusion-3502P amp sale
Rated Output Power: 
60wpc @8 ohms, 25Hz to 60KHz w/6550 Tubes List $1799. Sale $1,099.00
50wpc @ 8 ohms, 28Hz to 72KHz w/ EL 34 Tubes List $1699. Sale $999.00
o
Stereo power amp
o
RCA & XLR inputs
o Top panel bias testing terminal with bias adjustment controls plus EZ-biasing.    
o State of the Art Components: Hexfred Diodes, carbon composite grid resistors, custom  coupling caps.
o Low Feedback Design: Only 3 dB

o Custom Wound Audio Transformers w/ a core of German grain oriented silicon steel. 15th generation  design.  4 ohm or 8 ohm taps.
Spread Spectrum 

Blue

 Deals
Spread Spectum is closing out the  
Blue AMPZILLA and AMBROSIA preamps
World Class products at an Underwood price
Ampzilla 2000 mono amplifiers
Save 50%
single amp-Price is for 2
Ampzilla 2000

is a 300 watt mono amp that is stable into 1 ohm loads. Reviews have been superb
In the The Absolute Sound product of the year review they said:
"The combo (of amps and preamp) is far from inexpensive though that figure does include two excellent phono preamps and a headphone amplifier. Reflect too, that there are competing electronics exceeding $100,000 that give you far less of everything."
The entire circuit is fully balanced from input to output and includes a unique new unbalanced-to-balanced converter for single-ended inputs.
8Ω: Minimum 300 watts, 20Hz-20kHz
4Ω: Minimum 540 watts, 20Hz-20kHz
THD and IM Distortion: 4-16Ω less than .05% @ any power level up to rated at any frequency or combination of frequencies between 20Hz-20kHz  
List price $10,200.00
Sale $5,100.00/Pr in blue
Superb preamp with or without phono stage

s   
This fully-balanced preamp features giant power supplies, an optional MM/MC phono stage, headphone amplifier, tone and balance controls and an ingenious remote control. Some recent improvements include redesigned internals for improved stability, lower noise and a new home theater bypass function.
 Check our website below for the full story and this amazing preamp and mono amps
List $8,500.00 (without phono stages)
Sale $4,250.00 in blue
With MM & MC phono stages
List price $10,000.00
Sale $4,999.00 in blue
Both preamp and amps are also on sale in black-Call for pricing
Emerald Physics
Limited Edition KC II Pro Carbon
Only 10 pair made-2 pair left
Save $2000.00
Amazing sound for this price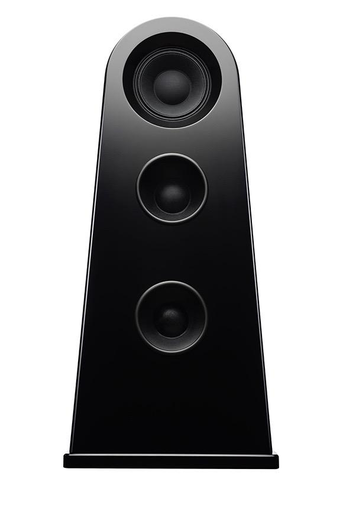 Start  with our $4000.00 KC II Pro in black powder coat finish. Then add a custom set of 10" carbon fiber woofers for more speed and detail to match the state of the art Polyester tweeter and midrange. Then make a limited run of only 10 pr & sell them for only
delivered in the lower 48 
AMAZING
Jolida JD-1501BRC
100wpc remote controlled hybrid integraed amp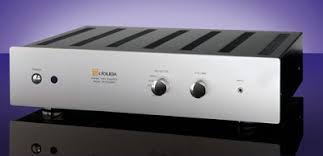 This new hybrid amp uses a 12AX7 tube input stage coupled to a solid state MOSFET output stage. It produces 100 watts into 8 ohms and 200 watts into 4 ohms.
It combines the best of two worlds, a tube pre-amp with a solid state power
amplifier. A smooth silky sound with pace and bass at an affordable
price and the convenience of remote control.
It has 3 RCA and one set of XLR inputs. It also has both a set of variable (for subwoofer) and fixed outs for a headphone amp.
The preamp has both balanced XLR and single ended RCA inputs. Available in silver. We have them in 220/240 volts for international customers.
List $1095.00
Sale $699.00 delivered
 

Jolida Fusion 6802 amp deal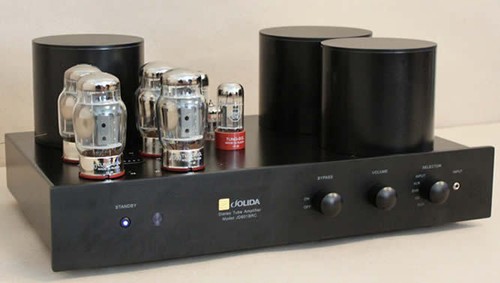 Available in silver only
List $2299.00 with EL34 tubes  Sale $1,499.00 delivered
List $2399.00 with 6550 tubes  Sale $1,599.00 delivered

The Fusion 6802 is a remote controlled tube integrated amp that does 140 watts/ch of music power and is rated as either 60 or 70 watts continuous depending on tube choice. It has a switch to go from EL34's to 6550/KT88's. These amps come with ESA clarity caps, Hexfred diodes, and Vishay resistors. The 6802 can run with 6550 tubes, EL34 tubes, KT88, KT120, or KT150 tubes..Jolida kept all the well liked sound characteristics of the older 801 model and improved the unit with an easy interchange of tubes, lower noise, increased clarity and a smooth presentation with midrange weight and enhanced 3 dimensionality.

Specs:
Peak Music Power: 140 W per channel at 8 ohms, 1KHz, at peak 50% duty cycle
Frequency Response: (at 1 watt into 8 ohms) 6Hz to 48KHz + 1dB; 0dB at 1KHz
Bandwidth: 14Hz to 70KHz + 3dB; 0dB = 70 W 1KHz, 8 ohms
Distortion THD + N: Less than 1% at 11V output, 49Hz to 20KHz, 8 ohms
Circuit Type: Ultra Linear, Class AB1
Input Impedance: Less than 100Kohms
Input Sensitivity: Max. 550mV at 1KHz for 70 watt output
Output Impedance: 4 ohms and 8 ohms
Negative Feedback: Less than 5 dB
Noise and Hum: 70dB below rated output.
Tube Complement: 2 pairs (4) of 6550/KT88 power output; 1 pcs. 12AX7A preamplifier, 2 pcs. 6SN7GT power drivers.
Power Requirements: 110V-120 VAC 60Hz 250 watts-standby, 500 watts maximum (220 VAC -240 VAC 50Hz option).
Dimensions: 18.25 inches (46.5 cm) wide by 13.5 inches (34.5 cm) deep by 8.5 inches (22 cm) high.
Weight: 53 pounds (24 Kg) net, approximately 57 pounds (26 Kg) packaged.
Fuse: For 110/120 VAC: 6.3 amp slo blo, for 220/240 VAC: 3.15 amp slo blow. Size: 5mm X 20mm
Warranty: Two year limited parts and labor. One year or 3,000 hours whichever comes first on Jolida Tubes.

Epos speaker closeout deals
We have bought all the remaining Epos speakers from the US importer and are closing them out. Reviews on all these speakers were very good. Epos has always made very good speakers but never sold well in the US. At these deals they should go pretty fast.  
K1
Monitor with fabric done tweeter & Polypropylene woofer
Sale $399.00 Pair delivered in white
$479.00 Pair delivered in black 
The K1 was TAS Product of the year.  
The Absolute Sound summed with:
"The Epos K1 is one seriously classy little speaker with genuine sonic integrity. It sports many of the virtues that endear us to the finer, pricier two-way compacts, while minimizing the common shortcomings in its "blue plate special" price category. A hugely satisfying effort from Epos to say the least"

Power Handling: 100 Watts unclipped speech and music
Frequency Range: 51Hz – 30KHz
Impedance: 4 Ohms
Sensitivity: 88dB – 2.83v @ 1m
Tweeter: 25mm soft dome, 25mm high-temperature voice coil in a reservoir of Ferro-fluid and driven by a high quality neodymium magnet system.
Bass/Midrange: 150mm of piston area made from a polypropylene cone with a 25mm high-temperature voice coil and shielded magnet system.
Crossover: Tweeter: 1st order crossover feeds the tweeter and comprises of a 2.2uF high quality Polypropylene capacitor and metal oxide resistor.
Mid/Bass: 2nd order low-pass filter, featuring a large iron-core inductor and high quality Polypropylene capacitor. The K2's crossover can be configured in either single or bi-wire configuration, via large 4mm terminal posts.
Internal Wiring: 18 AWG oxygen free copper stranded cable
Finish: Satin White or Satin Black
Grille: Optional snap on Grille can be added.
Dimensions: 11.81" x 7.28" x 8.9"
Weight: 12 lbs. per speaker
 
Two way monitor with soft dome tweeter 
List $495.00 pair  
Sale $329.00 Pr delivered in white
Power Handling 60 watts
Frequency response:  65Hz-30Khz
Impedance:  4 ohms nominal
Sensitivity: 86dB
Weight:  7.5 pounds each
5 year factory warranty

We have a few pair of the $350.00 Epos stands available for 50% off.
K2
2.5 way floor speaker
Sale $799.00 Pr delivered in white 
Hifi Choice Editors Choice award
Power Handling
150 Watts unclipped speech and music
Frequency Range
45 Hz – 30 kHz
Impedance
4 Ohm nominal
Sensitivity
89dB / 2.83V@1m ±3dB
Tweeter
Epos 25mm soft dome with high-temperature voice coil, ferrofluid cooling and neodymium magnet system.
Bass/Midrange Driver
x2 150mm Epos mid bass drivers, with 25mm high-temperature voice coil and polypropylene cone.
Internal wiring
18 AWG stranded oxygen free copper cable.
Finish
Painted White or Black (Real Wood finish coming soon)
Grille
The K2 has an optional Snap on-grille.
Size HxWxD
865 x 185 x 250mm
Weight
12 kg per single speaker
14 kg per carton
Packaged One speaker per carton.
All Epos models are limited to quantity on hand and supply is limited.


Music Hall A30.3
85 watts per channel remote integrated amp with phono stage and internal DAC
Bluetooth connectivity
Save $200.00
Only $799.00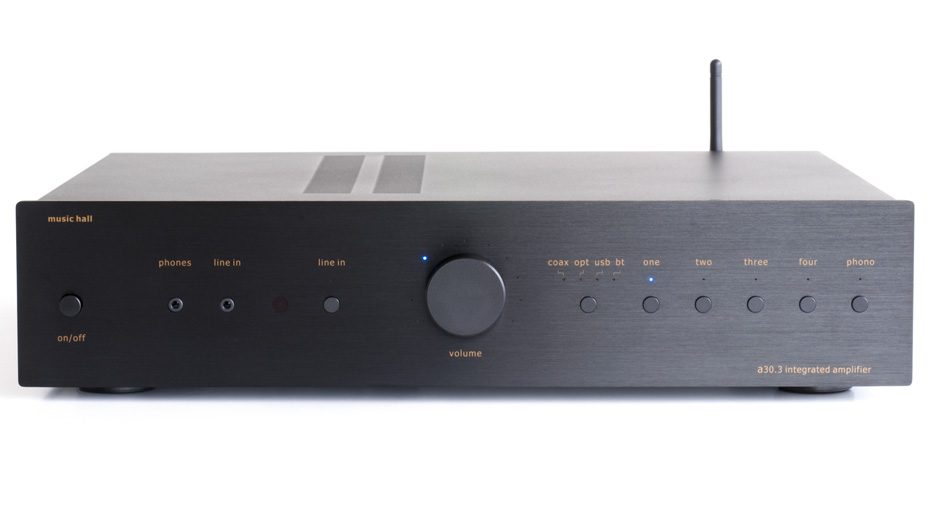 The A30.3 is a very good sounding 85 watts per channel full featured remote controlled integrated amp. It has a quality phono stage and 5 other analog inputs, including a front panel iPhone input. It also has a quality DAC with coaxial, optical and USB computer input. It  has a preamp output for adding a subwoofer and a heavy duty shielded aluminum chassis.

     Features
85 watt/channel integrated amp

MM phono pre-amp

3 digital inputs (USB, toslink, coax)

24bit/192kHz Cirrus Logic CS4398 DAC

Bluetooth connectivity

Stout chassis with rigid aluminum faceplate

5 analog inputs

Remote control

Pre-amp out

Easy to set-up and use

System remote also controls the 

cdac15.3

Available in black only
EF-100
Hybrid headphone amp/Integrated amp with a tube front end (6N3J) and digital output stage
The HIFIMAN EF100 is a powerful hybrid headphone amplifier and integrated amplifier. Housed in its compact chassis lie three independent amplifier sections: a vacuum tube input stage works as a shared preamp, a Class AB headphone amplifier, and a Class T speaker power amplifier. Benefitting from vacuum tube technology, both headphone amplifier and power amplifier sound warm, smooth, detailed and musical. Working as a hybrid headphone amplifier, EF100 can produce a 2w output under a 32 ohm load so it can easily drive many high performance headphones.
List $500.00
Sale $249.00 delivered

Scansonic MK-5 special
Save $440.00 on an excellent ribbon monitor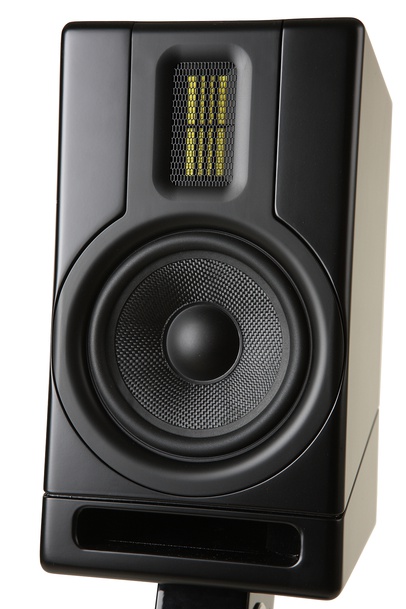 Scansonic's MK-5 is a compact two-way mini-monitor, featuring the same ultra-light sealed ribbon planar magnetic tweeter found in the brand's Raidho-inspired M-series. The tweeter's membrane is formed by a kapton-aluminum sandwich just 20μm thick which has an extremely low mass - approximately 50 times less than any conventional textile, ceramic, beryllium or diamond dome. This lower mass translates directly into higher resolution and less material coloration.

The tweeter is partnered with a new 4.5-inch Kevlar coned mid/bass driver (hence the 'K' in 'MK-5') with underhung magnet system. Kevlar is a lightweight, durable and extraordinarily strong material that was first used commercially in the early 1970s as a replacement for steel in racing tyres. Today it is probably best known for its use in ballistic and stab-resistant body armour. In a loudspeaker driver cone, Kevlar's low mass and very high tensile strength combine to deliver a smooth, accurate and detailed sound.
Styling-wise the MK-5 bears a strong resemblance to Scansonic's Raidho-inspired and sleek-looking MB-series, and is available in a black-piano finish.
List $890.00/pr
Sale $449.00/Pr delivered
Only 2 pair left


 
Peachtree Audio Decco 125 Sky sale
Save $300.00 Now only $899.00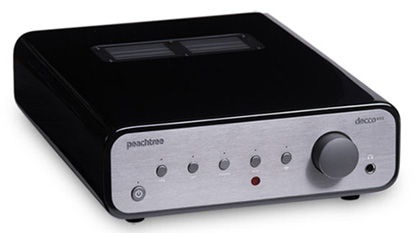 The new Peachtree Audio Decco 125 Sky is a 120 watts per channelWifi controlled integrated amp with DAC & phono stage. It has a very nice DAC and phono stage for your MM  cartridges. It also has a quality headphone amp. It even has a preamp out for subwoofer hookup. All housed in a very nice black lacquer case with Peachtree's signature cosmetic. It uses Wifi where you can control it right from your phone right over your network. Just add speakers for a complete system all controlled from your phone.

 
LSA is now factory Direct
Underwood Hifi has purchased LSA is now selling LSA exclusively factory direct. This allows us to dramatically lower the selling prices of these excellent speakers. We have very little of the old line available and the superb new LSA-10 and LSA-20 are due in late November. 

The $949.00 LSA Rosewood LCR center is a superb center channel or LCR and on sale at only $349.00 each.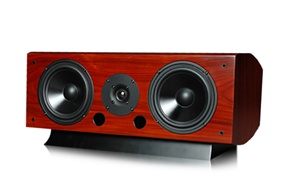 Product
Description
List price
Sale price

Audeze

LCD-X, PERFECT pr of leather phones with 1 hour on them

$1699.00

$1099

DSPeaker

New Anti-Mode 2.0 Dual Core with updated software with warranty price included delivery

$1200

$899

Emerald Physics

EP100.2SE New 100wpc power amplifier-Superb sonics.
Only available demo silver unit

$2200

$699
HifiMan

Ananda headphones-New photo sample pair-Never used

999.00
699.00
 
 
 
 
EAT
Photo sample C-Major with Ortofon Blue cartridge-As new-delivered price
2795.00
$2280.00
Musical Fidelity
MX-DAC Black new DAC upsamples to DSD
$1000
$699

Peachtree Audio

Photo sample Nova 500-As new and never turned on 500wpc integrated amp with DAC

$3399
$2699
Marantz
Photo Sample SA-10 CD/SACD player & /DAC-Amazing player
$7000.
$4999

Black Ice FX Tube DAC DSD WIFI

Exceptional Tube DSD DAC with headphone amp, preamp & WIFI--Delivered price

$800

$679
 
 
 
 
 
 
 
 
Quad
S2 new Sapele Mahogany pair of monitors speakers with ribbon tweeter-delivered price

$1199

$999

Music Hall MMF-5.3

One new turntable w/$260 Ortofon cartridge- ordered for a customer who canceled

$1000

$849
 
 
 
 
 
 
 
 
 
 
 
 
 
 
 
 
Syzygy

SLF-820 400 watt wireless sub with room auto correction-New Including freight

$600
$499