Core Power Cables
Explore
Core Power Cables
In design for more than a year, Underwood Hifi has decided to begin to import their own cables under the Core Power Tech AV brand. Designed by some of the best Engineers in the world – these cables like all Underwood owned products represent unparalleled value at prices that bring sanity to the cable segment.
 
Valient power cords win the 2020 Golden Clef award from Hifiaudio.guru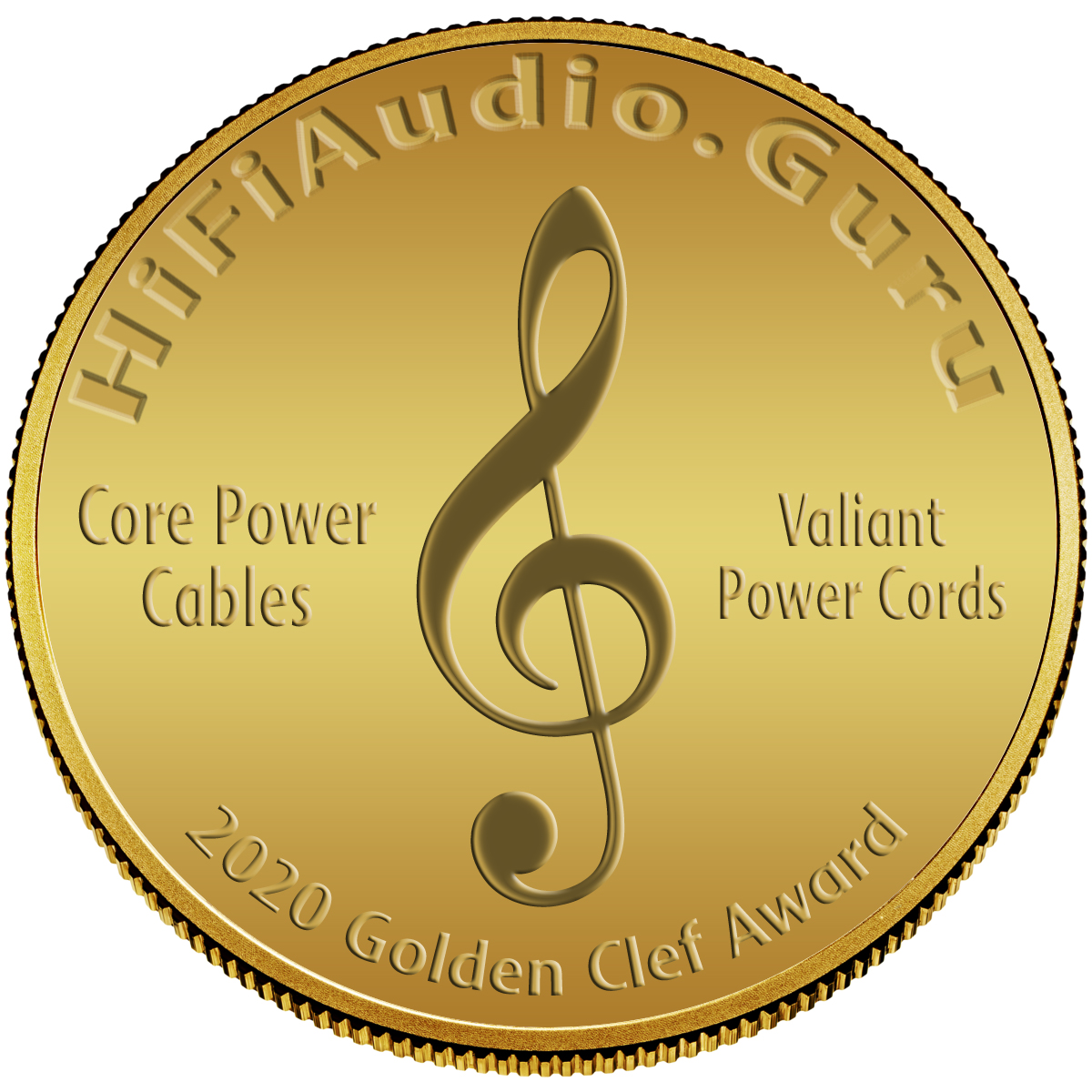 https://hifiaudio.guru/2020/12/01/hifiaudio-guru-2020-buyers-guide-and-annual-clef-awards/

See the wonderful new Core Power cable review is Part Time Audiophile. They said:

       "I had so few reservations with the Core Power Technologies cabling in the system that I left them in most of the time. During this period, I had many memorable listening sessions with a killer high-end audio system and not once did I feel that I needed to swap in more expensive cables to really appreciate what I was hearing."
       "The Core Power Technologies A/V cables, however, refused to toot their own horns. They were simply neutral—not a little warm, not unusually incisive. Music flowed effortlessly through the holidays, and the Core Power cables never once suggested that something might be missing. Believe me, the Vimbergs will let you know if something is missing."
      "Whenever I used the Defiant Diamond speaker cables, I felt extremely good about the choice. They're thin and flexible and easy to work into tight places without having to worry about bend radii. Since they were terminated with banana plugs instead of my usual spades, they were ideal for making quick comparisons in the system. Not once did I consider them as an obstacle, something that could lessen the sound quality. They did what I expected them to do."
      "If I noticed one quality that I could single out, other than "neutral," I would like to nominate "open." Whenever I used the Diamond series cables, I felt an open and airy quality that did seem to morph into something slightly different when other cables were substituted. I sensed a lightness to the sound, and not a lightness that sacrificed weight to sound untethered to the ground. Everything sounded clear, top to bottom.
But basically, the Core Power Technologies A/V Diamond series were neutral AF, and I didn't have to think about them. Point A to point B every time.
In fact, I'd buy a pair of the Defiant Diamonds just to have something with banana plugs whenever I'm reviewing a compact integrated amp with a crowded back panel. I wouldn't worry that I was making any sort of compromise. I'd be doing it because they're that good, and Underwood Wally still knows what he's doing after all these years."
Read the entire review here: https://parttimeaudiophile.com/2021/01/17/core-power-technologies-a-v-diamond-reliant-defiant-and-linx-cables-review/

In the first review of our new USBe Perfect in Audiopursuit.com they summed with:
"The Core Power Technologies USBe Perfect is a revelation. The improvements are absolute. This is not snake oil audio fans, never have I heard such a noticeable improvement in an electronic add-on device. What is happening inside the screw-sealed metal container is a positive auditory experience.  The semantic terms of what the USBe Perfect does may sound cliche: removing the veil, peeling away the layers, removing the film, washing away the haze. All of the above apply and for good reason, it truly makes the music sound cleaner, clearer, more natural. Not only is this diminutive wonder not leaving my system, but I'm planning on buying a second for my other system, the USBe Perfect is absolutely worth every penny! "
Read the entire review at:
https://www.audiopursuit.com/2020/05/core-power-technologies-av-usbe-perfect.html?m=1
Here is a dealers feedback who bought our power Diamond and Diamond Xtreme power cords:
Walter, I have been in this hobby since 1970 and a
dealer for certain products since the late 1990's. I have had many different power cords with great results, but I never thought I could get the performance that are offered by your cords at the prices you offer. I feel they are equal to cords costing at least 5 or more times.
I have not had the opportunity to try all that is out there and could not afford some even at dealer pricing. I have done preliminary listening with all of your cords in my system and I am utterly amazed. I do not know how you do it, but I am a believer. At this point I do not need to go to any other cords. Cannot wait to hear what the Equi=Core and Deep=Core will offer. I will talk to my customers and local audio friends.