Alpha Design Labs
Explore
Alpha Design Labs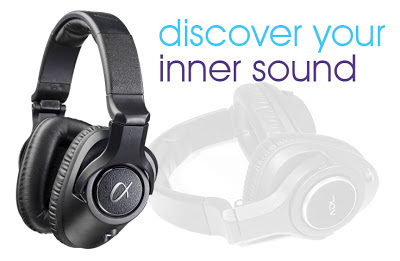 The Alpha Design Labs H118 headphones ($240.00) offer superb value. We have compared them to phones costing up to $400.00 and they hold their own. We think one of the best phones that we have heard at the under $300.00 price range. Sale $179.00

Furutech Pure Transmission technical tidbits abound; high noise attenuation, 40mm high-resolution extra-large high-fluxneodymium drivers, a ring engineered to keep ultra-high frequencies in coherent phase and excellent transient response from extremely light-weight coils made with copper-coated special aluminum alloy wire.
Pair H118s with Alpha Design Labs Esprit and GT40 USB DAC/Preamplifier or the Stride and Cruise Portable Headphone Amplifiers, or any other quality headphone playback system and become intimate with your music.
Features of the: 
Dynamic closed-back circumaural headphones

High noise attenuation and low distortion tailor-made diaphragms

40mm extra-large high-flux neodymium magnet

Ring between voice-coil and diaphragm keeps ultra-high-frequencies in phase

Excellent transient response from extremely light-weight coils of copper-coated special aluminum alloy wire

Furutech nonmagnetic rhodium-plated stereo a (Alpha) mini XLR socket
Included in package:
3.0 meter cable

Gold-plated 1/8"(3.5mm) to 1/4"(6.3mm) adapter

 
Special package deal: Buy a pair of H118 headphones & GT40a headphone amp for only $699.00. Save $120.00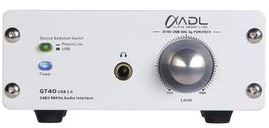 GT40a

$579.00
The Furutech Alpha Design Labs GT40a is a small hi-quality headphone amp that has a nice 24/192 USB DAC, phono stage for both MM & MC cartridges, line level input and can be used as a very good-sounding preamp. It even has an A to D converter to digitize your vinyl. It is like a little Swiss army knife. It is a very high-value product with excellent reviews. It is just the kind of inexpensive über performer we like to sell at Underwood Hifi. Reviews have been excellent.

The 6moons review summed up with:
"The GT40 USB DAC by Furutech (that's the full name) is a brilliant combination of functionality. You will not manage to find an equally good preamplifier for this money, never mind one with phonostage. The headphone output is equally solid under the proviso of not loading it down with high impedance and low efficiency. The USB DAC too is very interesting, with very good resolution and dynamics."

What Hifi gave it 5 stars and said:
"Product of the Year Awards 2011. An unusually specified product that turns out not only to be a jack of most trades, but a master of them, too". Read the review here.

Stereophile was amazed and made it a Class B rated product. Use the GT40 at your desk thru USB into powered speakers or headphones. Use it in a high quality inexpensive system with a computer source and turntable. Just add an amp and speakers for a wonderful hi-value hi-quality system.

This new "a" model upgrades the DAC to 24.192k from 96k in the original GT40.
From the Furutech site:

USB & Analog Playback and Record multimedia audio system

 

Connectivity:

USB B Interface, Analog input/output RCA jack

USB Playback Resolution:

24bit/192kHz

USB Recording Resolution:

192kHz (Max) supports 32kHz/44.1kHz/48kHz

Frequency response:

20Hz ~ 20kHz (40Hz: +0.5 dB, 15kHz:-0.5dB)

SN ratio:

-90dB (A-wtd) / Line Output

Line Output Level:

1 Vrms

Line Input Level:

MC 0.4mV / MM 5mV / Line 1V

Headphone Output Level:

80mW ( 32 ohm ) Max

Power Supply AC Adaptor Rating:

AC 9V 0.5A

Dimensions:

(D) x 57 (H) mm

Weight

:

785g Approx
The load (Input Impedance) for the ADL GT40a is fixed at 47K ohm input impedance for MM and 100ohms for MC.
Maximum Input Level for MM: 5.0mVrms at 1K Hz
Maximum Input Level for MC: 0.4mVrms at 1K Hz
Maximum Input Level for LINE: 2Vrms at 1K Hz

The Gain setting for the ADL GT40a is fixed at 62.5dB for MC and fixed at 48.5dB for MM.
(MC input to LINE output) => 64dB @ 1K Hz , +6dB(Line)
(MM input to LINE output) => 44dB @ 1K Hz , +6dB(Line)

The GT40a is built for enthusiasts with growing music collections on their computer hard drives. It's a high performance 24bit/96kHz USB DAC that's amazingly affordable. Looking to convert your LPs or other analog sources to digital? The GT40 will take you to the podium with every album you archive.

The seriously-shielded audiophile-grade GT40a features a low-latency USB 2.0 audio driver that plays and records at 192kHz. A likely first for this category, the GT40a includes a built-in low-noise MM/MC phono preamp! Record your favorite vinyl to hard disk via the USB output. The ADL GT40 features L/R analog outputs, and switchable line or phono inputs with a vivid, captivating sound that is simply unheard of in this category.The ADL GT40 (wired with Furutech's GT2 USB cable of course!) brings Furutech's signature sound -- smooth, detailed clarity -- to desktop systems, especially with high resolution 24bit/96kHz files, but even 16bit/44.1kHz files sound impeccable and very musical.

Features:
High performance 24bit/192kHz USB DAC and ADC IC chip 

Enjoy audio in high resolution at 24bit/192kHz surpassing conventional 16bit/44.1kHz standards 

Incorporates the most trusted driver in professional audio for 192kHz recording and playback 

External power supply: while a USB-powered device might be convenient, it won't develop the power required for high resolution playback, so we designed the GT40 with an external power supply to solve the problem. 

Headphone Amplifier: It contains a high performance headphone amplifier with ample drive for good headphones 

Analog-to-Digital Converter: The GT40a sports a high-performance ADC IC chip for high resolution recordings via analog inputs including phono, AM/FM radio, or other analog signals. 

Phono Preamplifier: A first for this class, the GT40 features a phono equalizer for recording your precious LPs. Switch between Moving Magnet (MM) and Moving Coil (MC) or Line input 

Highest Quality Parts: The GT40 features a high quality amplifier and condenser supporting its high performance analog circuit 

High End Audio Grade Connections: The GT40 is equipped with gold-plated Teflon-insulated RCA jacks with an extremely high quality aluminum chassis and machined volume knob
Please note: The GT40 requires recording software to be installed to record/rip LPs to Hard drive. This software is not supplied with the GT40. There are a variety of free or pay recording software available, so very difficult to make recommendations, but Audacity is a free-to-download software that is relatively simple to use and very functional.
Stratos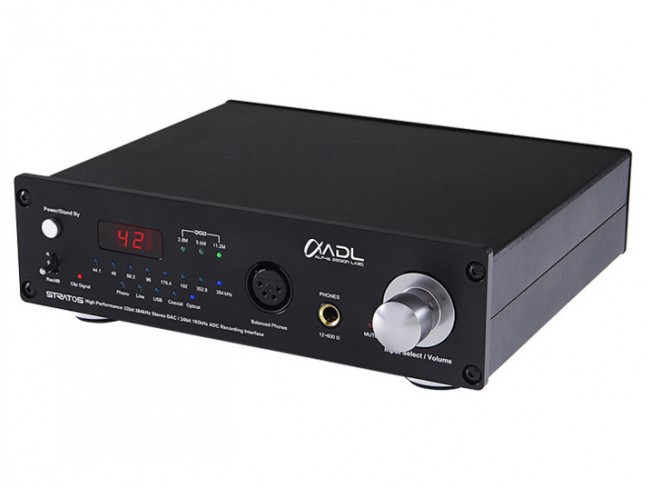 NOW SHIPPING at $1,399.00

The new and innovative ADL STRATOS raises the bar even higher with more features and even better performance.
The ADL STRATOS is more than just a DAC, a preamplifier, a phono stage and a headphone amplifier in one small, portable box. With the STRATOS you get DSD (2.8M, 5.6M and 11.2M), USB (supports PCM 24~32bit/384kHz Max.) and ADC (24bit/192 kHz Max.), so you'll be able manage the largest music collections on your hard drive with ease and flexibility—and outstanding sound quality.

If you need to convert your LPs or other analog sources to digital or record internet streamed audio, the STRATOS offers a wide variety of options to help you obtain the best sonic results. With its low-latency USB 2.0 audio driver that plays at 384 kHz and records at 192 kHz and its built-in high-performance MM/MC phono stage, you can easily record your favorite albums to hard disk via USB. Best of all, you'll enjoy Furutech's signature sound—detailed, clear yet smooth—when you use the ADL STRATOS as the heart and soul of nearly any desktop system.

If you're looking for a powerful headphone amplifier that can drive any pair of headphones on the market, the STRATOS delivers. Whether you use the latest generation of ear phones or the most revealing electrostatic ear speakers available, the ADL STRATOS will allow you to venture and explore deeper into the recording than ever before. That's because every product from ADL is built with only the finest materials, as well as the most innovative Japanese design principles. The STRATOS may be small, but it contains an amazing amount of technology.
Additional features include L/R analog inputs, line or phono (switchable MM/MC) inputs, S/PDIF Coaxial and Optical inputs, S/PDIF Optical output (for USB, Optical, Coaxial) and a controller that supports both ASIO and Asynchronous modes. The STRATOS also uses the finest Furutech connectors to deliver high-quality sonic results. Indeed, the STRATOS is far more than a classic GT40 with DSD capabilities—every square inch of the STRATOS has been reconsidered and rethought using the latest technology and the latest designs.
The original GT40 certainly shook up the audio world when it redefined the level of audio performance, flexibility and features available at its affordable price. With the ADL STRATOS, however, a new revolution has begun. It certainly qualifies as more than a new "Swiss Army knife of audio components." It's a whole new way of thinking.

Specs:
Frequency response: 20Hz ~20KHz (+/-0.5dB)

SN ratio (A-WTD): >96dB / Line Output , >60dB/ MC Output , >70dB/ MM Output

Analog Output Level: 5.0 Vrms

Line Input Level: 2 Vrms S/PDIF Input: 24bit/192KHz (Max.)

MC/MM Input Level: MC: 0.4mV / MM : 4.0mV

MC Input Capacitance: 1000 PF - MM Input Capacitance: 100 PF

Line Input Impedance: MC :100 ohm / MM :47K ohm / Line : 47K ohm

Headphone Balanced output Level (XLR 4-pin): 1% THD 1kHz (Max.)
400mW(12 ohm),800mW(16 ohm),1200mW(32 ohm), 2200mW (56 ohm), 700mW (300 ohm), 350mW (600 ohm)
Headphone Unbalanced output Level (6.3mm Stereo phone jack): 1% THD 1kHz (Max.)
1100mW(12 ohm),1400mW(16 ohm),1000mW(32 ohm), 820mW (56 ohm), 190mW (300 ohm),
100mW (600 ohm)
Power Supply AC Adaptor Rating: Erp step2 compliant, 2Wire AC Input Type,
Class
USB Playback Resolution: supports PCM 24~32bit/384kHz (Max.)
USB Recording Resolution: 24bit/192kHz (Max.)

II, AC/DC Switching Adaptor output DC 15V / 0.8A / 12W

Dimensions: 215 (W) x 180 (D) x 64 (H) mm

Weight: 1330g Approx.

STRATOS has no setting for gain to match different impedance headphones.
We recommend using 12 ohm to 600 ohm impedance headphones.