LSA Amplifiers
Discovery Warp One
150 watts per channel stereo power amplifier
$1499.00
Sale price is $1199.00 delivered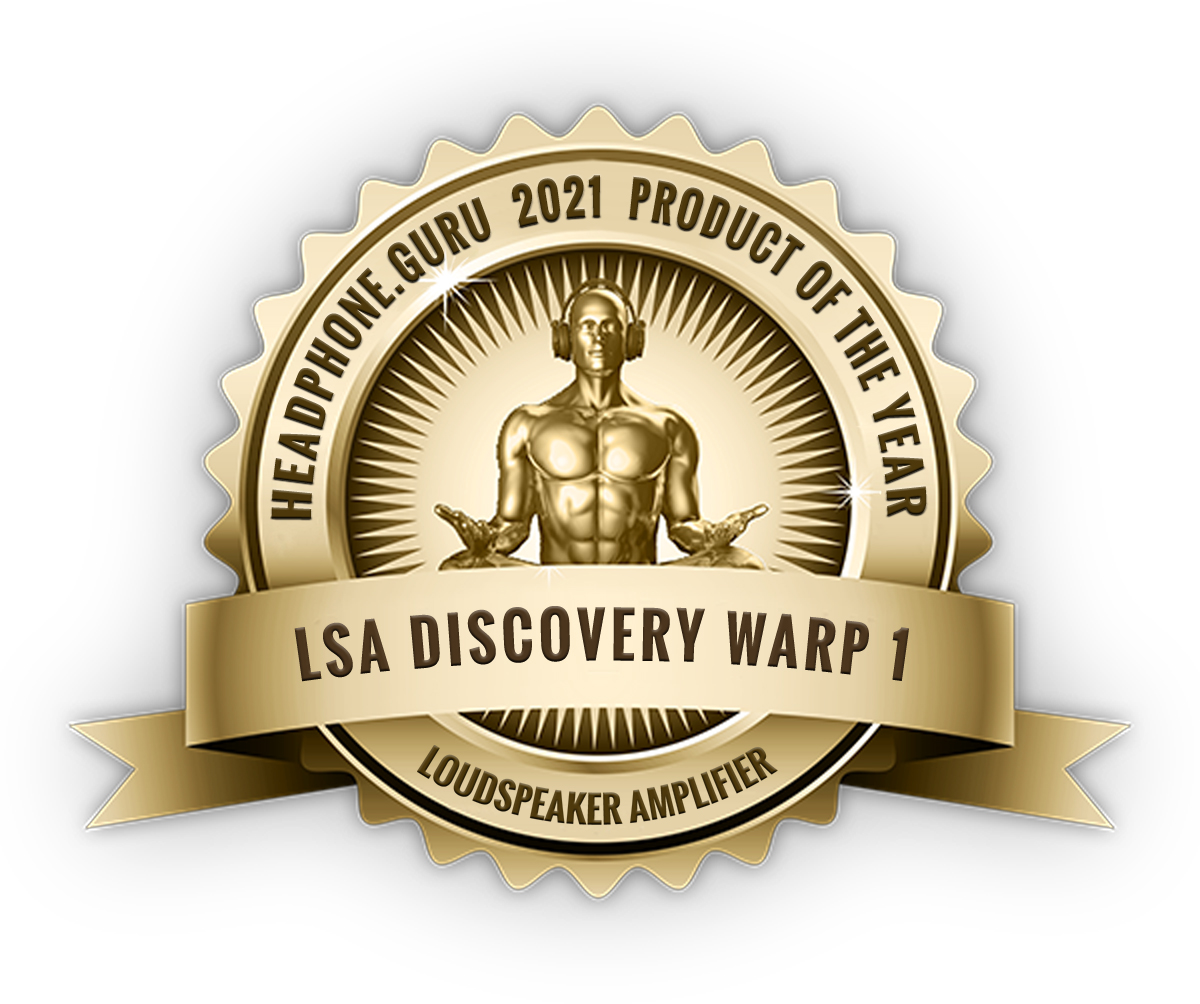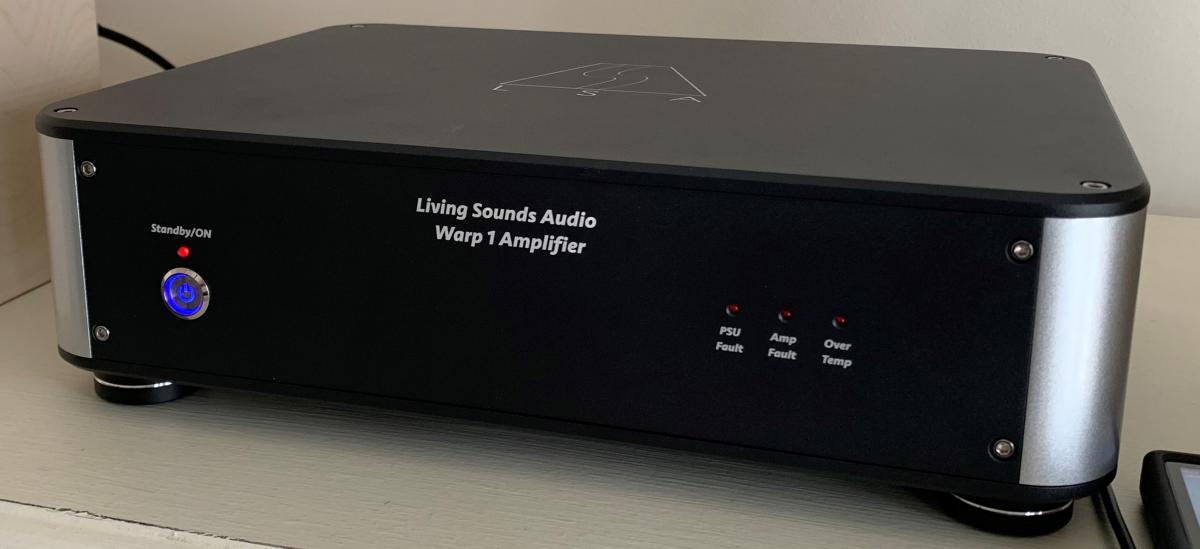 Our new Discovery Warp One, 150wpc, stereo amp will be the sonic class leader at its price point. It outputs 250 watts at 4 ohms. Is is 2 ohm stable as well. It is the perfect mate to our DPH-1 preamp/DAC above.
The Design is finished and is now shipping.

From the Nov 2021 Headphone.guru review:
"The Living Sounds Audio Discovery Warp One Stereo Amplifier, simply put, is the best sounding Class-D amplifier I have ever heard, and this is from someone who once worked for the company that made the first High-End Class-D amplifier. With its musicality, power, linearity, abyssal noise floor, exciting dynamic range, and excellent three dimensional soundstage it is one of the best if not the best, amplifiers in its price range full stop."
Gary Alan Barker – Editor, HiFiAudio.guru / Headphone.guru November 2021
The first review in Tone Audio summed with:
"Consider my attitude changed. The LSA Warp One is a great amp, period. Class D has matured, and very well I might add. For $1,195, we're definitely awarding this baby an Exceptional Value Award. Job well done."
Read the entire review at:

 
https://www.tonepublications.com/review/review-the-lsa-warp-1-power-amplifier/
In the StereoTimes review they say:
"Is the Warp 1 a perfect amplifier? No, few amplifiers might be considered that, and those recommendations would still come with caveats." "
What the Warp 1 does for its mere $1499 price (Sale Priced at $1199) is extraordinary, delivering weight and dynamics in a musically satisfying way that defies its price category."
"
The Warp 1 doesn't sound at all like any of the Class-D's I've experienced to date – It's a big step forward from its predecessor, the EP 100.2SE, which I also enjoyed in its day. While I have minor quibbles, its errors are those of omission, not commission. 
The Warp 1 is as engaging as it is affordable, an amp that offers a surprising amount of air, ease, and musicality for extending listening enjoyment. While we don't get many visitors these days due to COVID, both of my audiophile friends who stopped by to hear the Warp 1 said they wanted one."
Read the entire review at:
http://v2.stereotimes.com/post/lsa-warp-1-power-stereo-amplifier-by-greg-voth/?fbclid=IwAR1tAt4KSWwk48EUjO8QCTCI7rvtMM2DmySTK5JYU_6NbBTIS3MBZNZAEL4
The Warp-1 amp utilizes the class-leading Texas Instruments TPA3255 "Purepath" Class D amp Reference Design as our initial inspiration, but with extreme care in the layout design and choice of high performance componentry to ensure that the amp operates at its true potential. 
The state of the art layout was made using double planes stitched together with thousands of vias wherever an ultra-low impedance path was needed. Vias are traces that connect layers of a circuit board. They are made by drilling a hole and plating metal on the walls. For a 2 layer board, vias connect the trace on the top to the bottom side. On multi layer boards, they are the only way to access the circuit buried inside the outer layers. We do this to ensure extraordinary signal transfer which gives you ALL The Music and Dynamic Contrasts.
Attention was paid to keep current loop areas as small as possible. Power input paths were kept as short as possible as well.  The signal integrity is our primary focus here. Paying attention to these parameters yields phenomenal low noise for Blacker Blacks and Deep Soundstage that will amaze.

The ground paths were designed with a star hub topology (note that the power entry jack is in the middle of the board).  Ultra-high current low distortion CoilCraft flat copper wire SER shielded inductors for the output filter provide unfettered current flow while ensuring the minimum in distortion.  These are techniques found in Amplifiers at 5 x the price.
The PCB is an extra thick 2mm FR4 with 2oz (70um thick) copper traces and electroless nickel immersion gold (ENIG) finish.  All of these finer points add up to a sum that is greater than its parts, thereby yielding a Class D amp that sounds dynamic, engaging, natural, and non-fatiguing… so you therefore get a product that performs at many times it's price --- but most importantly honors the Musical Event in a very real way.
 
The Class D amplifier is just the core, and it must be supported by a state of the art low-noise power supply and buffer preamp, both of which are custom made for Warp-1.  An oversized 600w switch mode power supply provides the amplifier with an abundance of power on-tap without a hint of hesitation.  Bass Slam will delight you track after track.
 
The Warp-1 has a custom made signal input buffer that accepts either balanced (XLR/TRS) or single ended (RCA) sources and utilizes our choice for best results --- the superb sounding state of the art Texas Instruments OPA1656 operational amplifiers for signal conversion and amplification.  The buffer has a DIP switch that allows selectable gains to match any source.  The gain on the input buffer can be selected from 0dB, 6dB, 14dB, and 20dB.  The TPA3255 amp has an intrinsic 22dB of gain so the setting from the factory is 6dB for an overall 28dB gain.  For most systems this will be the perfect setting to ensure trouble free, low-noise operation.
 
Some applications may require lower gain so 0dB can be selected for overall 22dB of gain. The 14dB setting will give an overall 36dB of gain which might be useful when playing from a less powerful source – perhaps a Lower Gain Preamp.  We would prefer that the 20dB setting not be used as this is just too much gain for most applications.
 
These components and techniques combine together to yield an amplifier that has a performance in the rarified air of 130dB signal to noise ratio. Even without a source playing, the Warp-1 will be absolutely silent with the ear pressed to the speaker cone - you cannot tell the amp is turned on unless the LEDs were glowing.  This amp can be used in every type and sort of High Performance Audio System with spectacular results.
 
The Warp-1 amp redefines what an affordable Class D amp can sound like.
THD+N @ 1kHz at 50W
< 0.0027% into 10 Ohms
< 0.0057% into 5 Ohms
14" wide x 10" deep x 3" high
 

MAXIMUM AUDIO OUTPUT CURRENT:  17 A peak, per channel, both channels driven

 

INPUT SENSITIVITY

Low-Gain = 2.7 Vrms, Gain = 22 dB

Mid-Gain = 1.4 Vms, Gain = 28 dB

High-Gain = 0.55 Vrms, Gain = 36 dB

Gains Selectable via DIP Internal Dip Switches on Input Buffer

INPUT IMPEDANCE: 25 k Ohms (Single Ended or Balanced Inputs)
Fully Electronic, No Relays

Mute Sequencing

Distortion Detection (Clip Warning)

Short Circuit Protection

Over Current Protection

Over Temperature Detection and Protection

SOA Detection (Output device safe operating area)

PSU Fault Protection
OUTPUT VOLTAGE INTO VARIOUS LOAD IMPEDANCES
27.0 Vrms into 10 Ohms < 0.0052 % THD+N

27.0 Vrms into 5 Ohms < 0.0056 % THD+N

22.4 Vrms into 10 Ohms < 0.0038% THD+N

22.4 Vrms into 5 Ohms < 0.0064 % THD+N

15.8 Vrms into 10 Ohms < 0.0048% THD+N

15.8 Vrms into 5 Ohms < 0.0057 % THD+N

11.2 Vrms into 10 Ohms < 0.0058 % THD+N

11.2 Vrms into 5 Ohms < 0.0059 % THD+N
SNR & DYNAMIC RANGE
Rated output relative to output noise, inputs shorted:
115 dB
NOISE VOLTAGE
Output noise voltage, inputs shorted:  -119dBV, 1.1 uVrms





Warp one rear RCA & XLR inputs and binding posts
Voyager GAN 350
350wpc Balanced Power Amplifier
$3,000.00
NOW SHIPPING

Above is a rendering
Our new LSA
350 watts/ch power amplifier,
 Voyager
GAN 350
, is now shipping. This fully balanced amplifier is a breakthrough product featuring a
GAN (Gallium Nitride) FET Output Power Stage
 as found in products selling for many times our $3,000.00 price. This is a very sophisticated design and not just a Class D amp with GAN FET's. The current competition sells for $32,000.00, $18,500.00, $15,000.00 and $7500.00 with 80 watts. Our GAN Output Power Stage provides even better Audio performance through the reduced THD+N and IMD that is only afforded by the newest in eGaN FET Output Device technology.  Both of these enhancements are prohibitive with the legacy Silicon FET technology due to both the inherent limitations of the processes, and the resulting sacrifices in the desired efficiency of the system solutions. 
These better efficiencies allow for increased Audio bandwidth without the "out-of-band" noise that is typical of legacy Class D amplifiers.
These performance differences, along with an even better EMI/EMC profile are the result of the 'almost ideal' switching waveform that is achievable with this new eGaN FET technology. 
The much faster switching times, the lack of 'overshoots' and 'ringing', along with the much reduced "Dead-Band" timing of the eGaN FET Output Stage allows for unmatched linearity across the entire Modulation range.
With the significant reduction in "ON" resistance and Gate capacitance of the eGaN FET, our amplifiers provide unmatched  Output Impedance and THD/IMD, resulting in the need for very low feedback – further reducing any issues caused by complex Output Speaker loads and Back-EMF from the transducers.  This means you get a greater depth of field, blacker blacks and greater transparency than standard ICE or Hypex Class D type amps.
This technology fixes all the issues that Class D amps have historically displayed.
AND

Get up to $1,200.00 or more in trade for any working amp towards this new technology.
Call us to discuss this superb new amp at 770-667-5633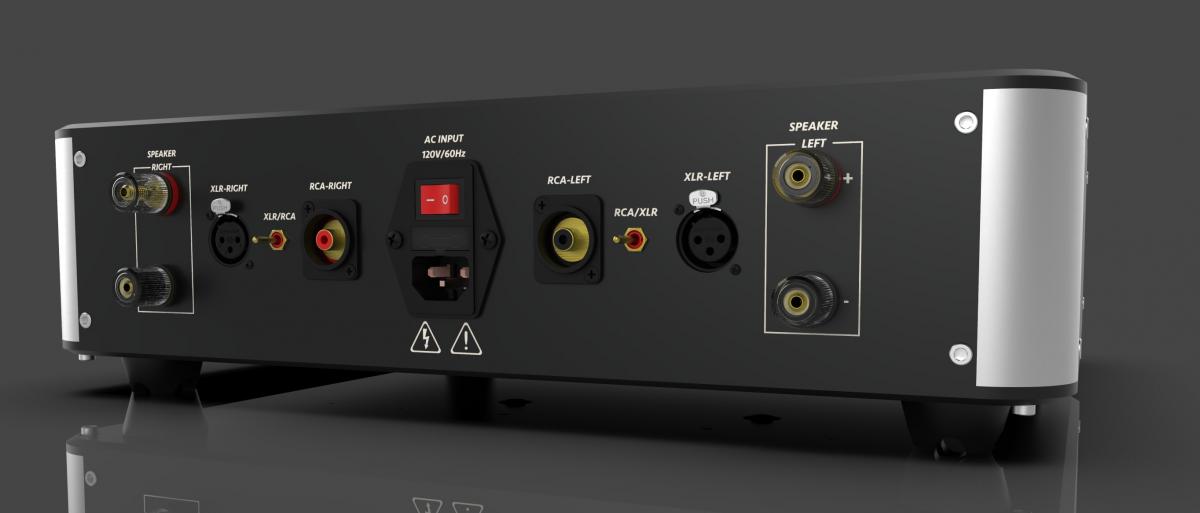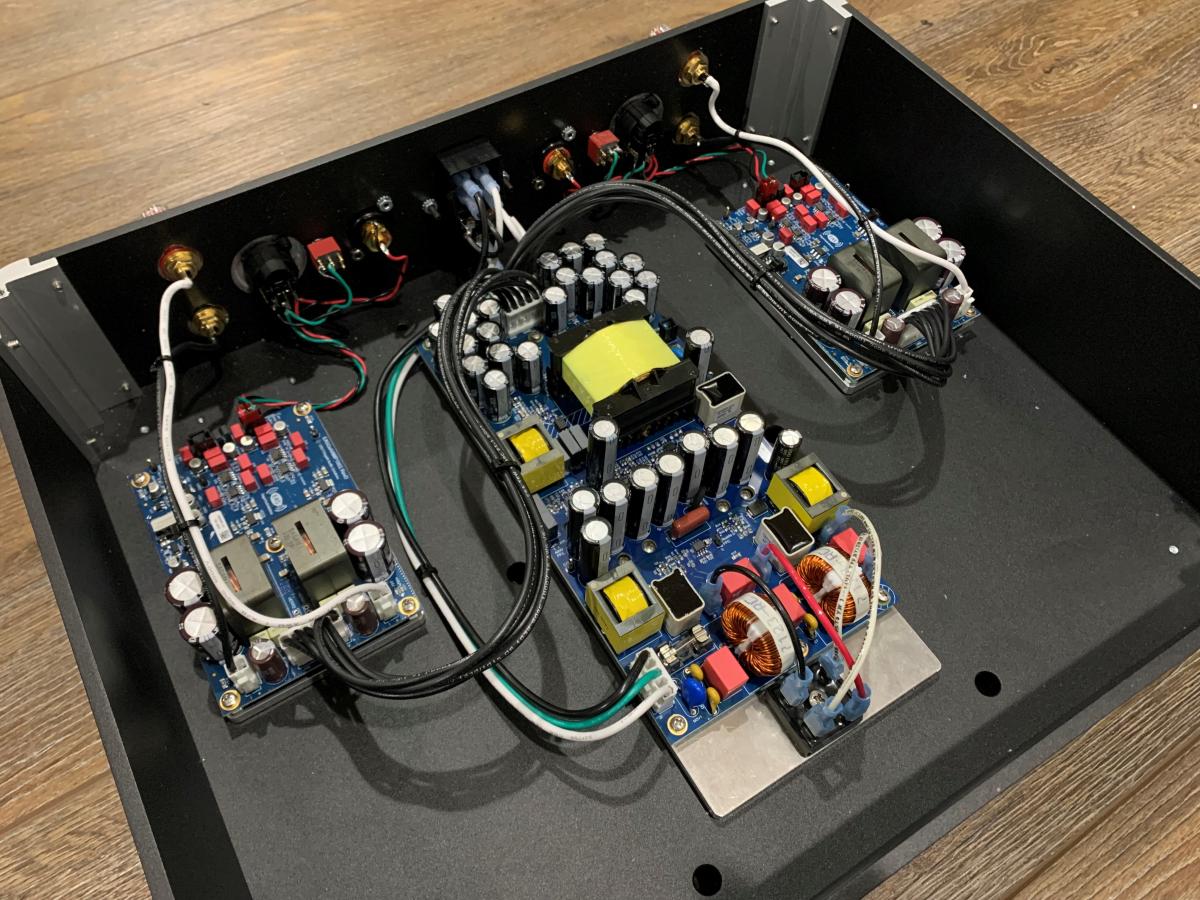 Inside shot- Dual mono design with large 850 watt power supply in the middle
We are now offering a wire upgrade to our Core Power Gold speaker & input cable for only $150.00.

Here is some info on the amp:
• 350W per Channel into 8 ohms
•500W per Channel into 4 ohms
• 2 ohms stable
• Sensitivity: Two volts input for 350 watts out
• > 108dB SNR and Dynamic Range
• < 0.01% THD+N (8ohms, 200W, 20Hz to 20kHz)
Input impedance: 100K Ohms
Gain: 26dB
• Distortion closed loop with no feedback < 0.08% THD+N (8 ohms, 350W, 20Hz to 20kHz)
• Frequency Response (8Ω) 20Hz-20kHz +/-0.5dB/ 20-40KHZ at -3Db
• Direct coupled with no output caps
•
96% Efficiency Reduces Heat and System Size
• Integrated, non-intrusive over-current, short-circuit and over-voltage protection
• Size: 17" wide x 3.5" high x 14" deep
• Weight: 20 pounds / Shipping weight is 25 pounds
Specs are preliminary and subject to change
VT-70 Integrated tube amplifier
$1399.00
Intro priced at $1199.00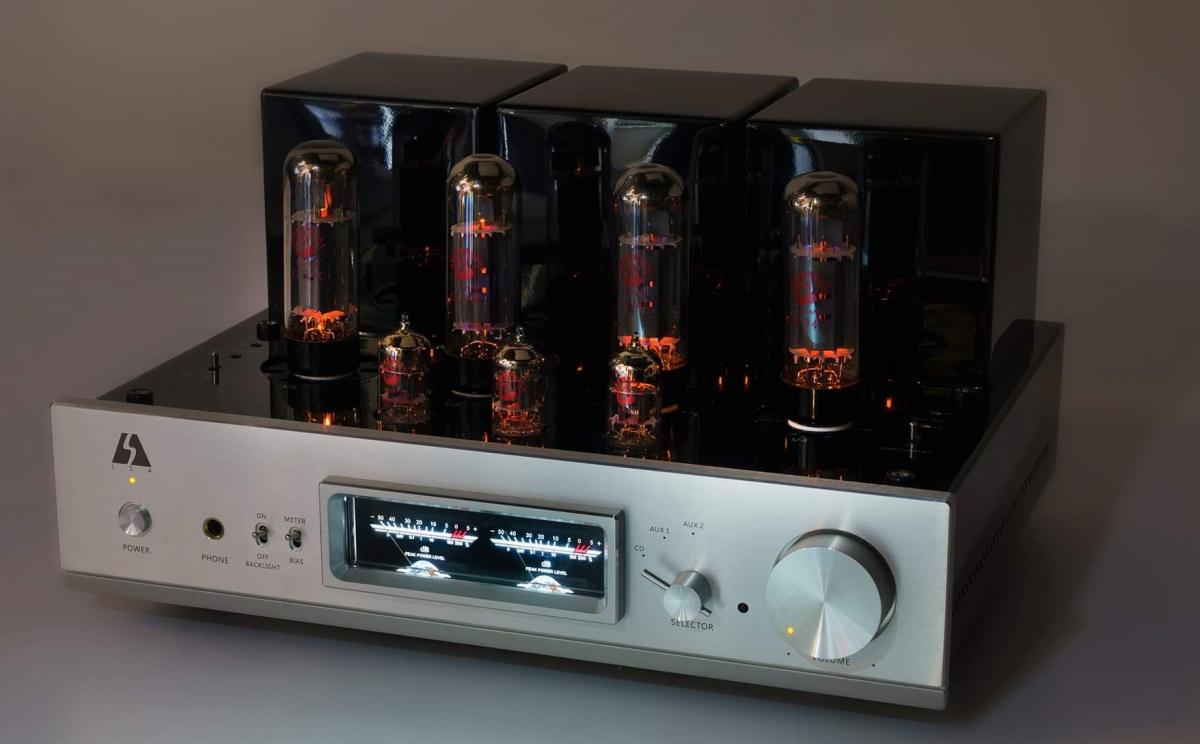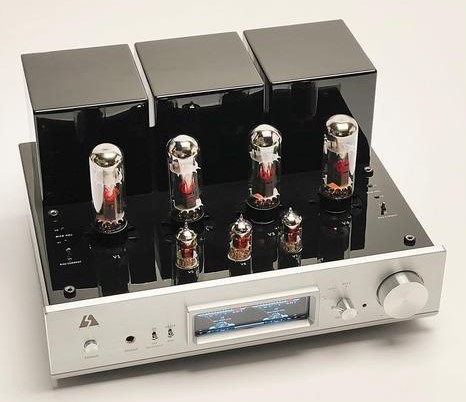 Our new VT-70 is a 35wpc remote controlled integrated EL-34 based amplifier. It has 3 inputs and a subwoofer output. The meters work for both biasing as well as power output.

Check out the first review on page 31 in Tone Audio at:
https://www.tonepublications.com/MAGPDF/TA_108.pdf
They sum with: "The LSA VT70 is the perfect amp at the perfect price, whether investigating high - performance audio for
the first time, taking your first spin with a tube amplifier, or perhaps looking for a great second system. It's musically satisfying,
aesthetically pleasing, and gets the job done."
Highly recommended.
#toneaudioapproved


Power Output: 35W + 35W (RMS 8 ohm),
THD: 1% (1kHZ),
Frequency Response: 20Hz-40kHz,
Input Sensitivity: 200mV,
Input Impedance: 100kOHM,
Output Impedance: 4 ohm, 8ohm,
S/N Ratio: 88dB,
G.W: 21.8 KG,
Power Consumption: 230W,
Tubes used: 12AX7*1, 12AU7*2, EL34*4,
Size: 375*225*200 mm.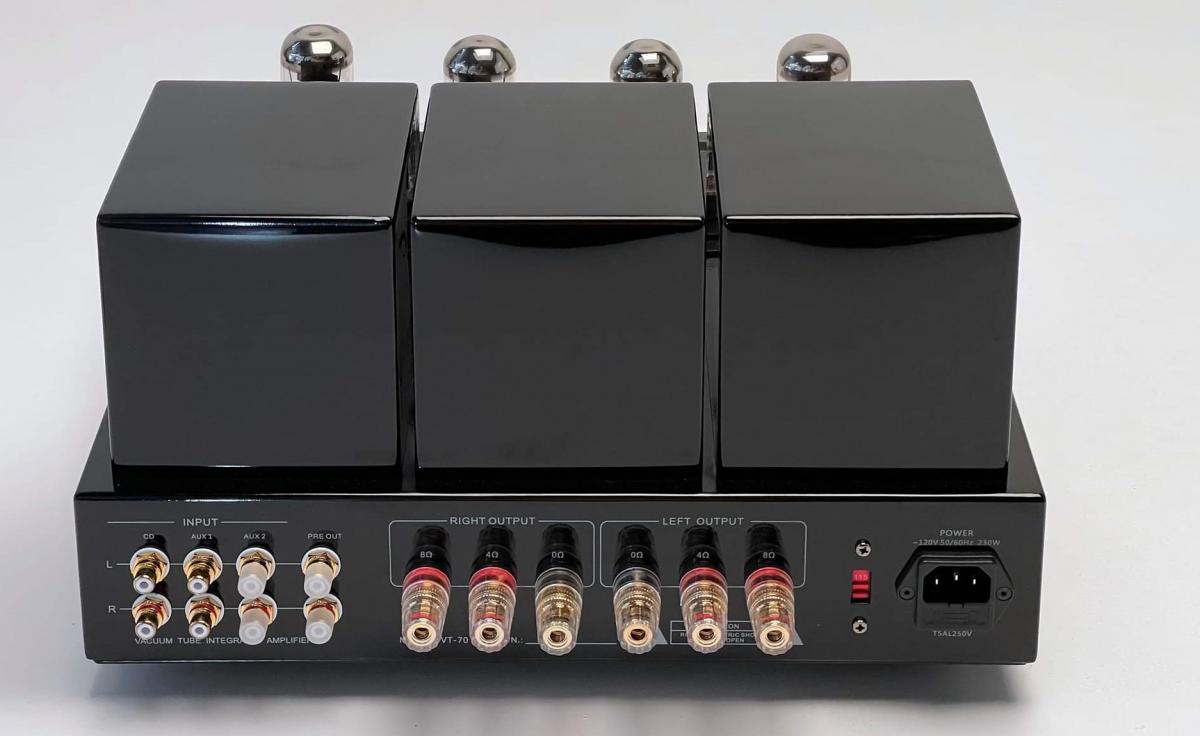 Rear shot with preamp out for subwoofers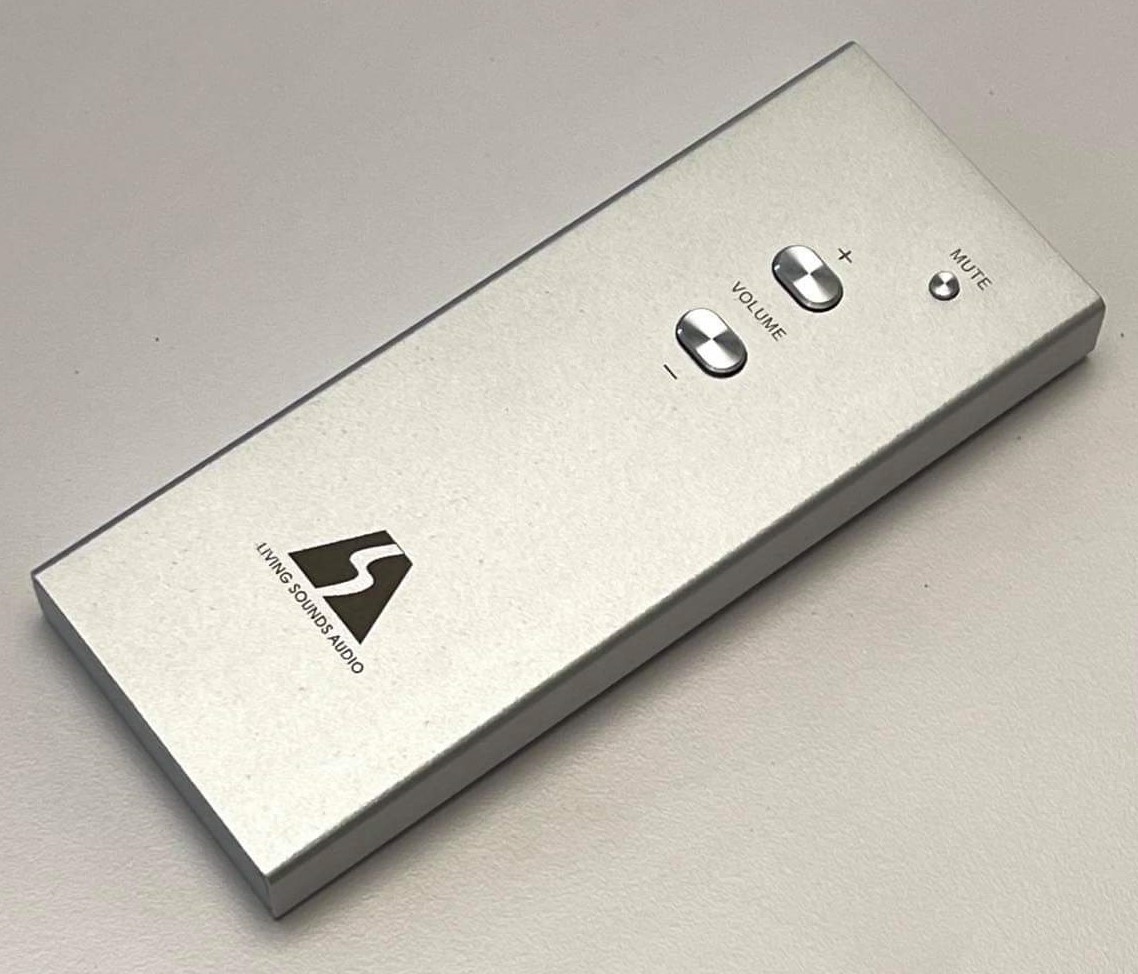 Metal remote with volume & mute