Quad Electroacoustic
Explore
Quad Electroacoustic
As of April, 2015 Quad has a new US distributor and we are glad to again be able to get their products. Quad Electroacoustics is one of the oldest audio firms extant and the maker of the famed Quad ESL electrostat, by many considered to be the finest speaker ever made. Quad also makes phenomenal electronics and more conventional speakers. Classic Quad electronics like the early tube amplifiers demand top prices in collector's circles while the Quad "tilt" tone controls are still considered the best ever made. The current crop of products proudly stands on this legacy while incorporating the modern features and styling today's connoisseur demands.

For more information, visit the manufacturer's site.
Revela speakers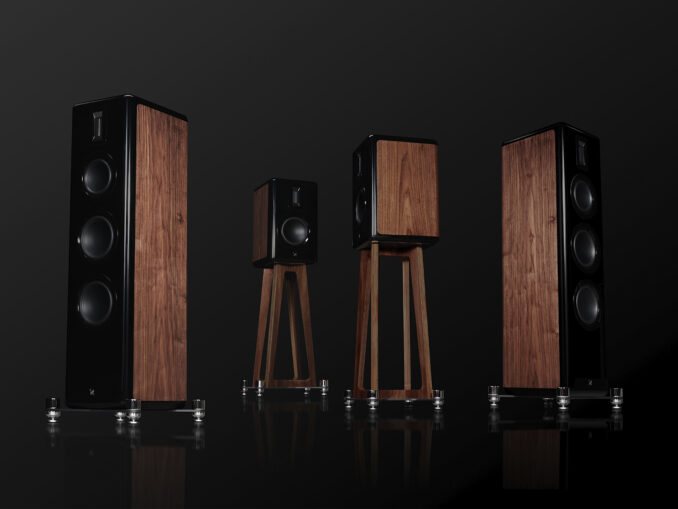 Revela feature Quad's new True Ribbon high-frequency driver paired with a single 6.5" mid/bass driver in the Revela 1, and two 6.5" bass drivers with a 6" unit handling the midrange.
A critical component of both Revela models is the new Quad True Ribbon high-frequency driver. With its origin stretching back more than 70 years, Quad's ribbon driver has evolved over many product generations and this latest version took four years to develop. The Revela's True Ribbon driver delivers effortlessly extended high frequencies that are audibly superior to those supplied by typical dome tweeters. The advantage of this 'true ribbon' design is that the diaphragm is fully energised by the audio signal and does not suffer from the breakup modes and resonances encountered in domes and other planar types. The ribbon responds to the most subtle waveforms and correctly relays the harmonics of instruments and vocals in recordings to provide a realistic sense of space, depth and air.
A new material has been developed for Revela's mid/bass diaphragms: a unique formulation of wood pulp and artificial fibres named 'Reveal' because of its natural, transparent and detailed output. Paper cones have long been regarded as yielding superior midrange performance and by adding artificial fibres to the pulp the Reveal diaphragm is further damped and strengthened, which yields superior bass control and smoothing upper-midrange resonances. The Reveal diaphragm is incorporated into a driver built on a cast chassis and fitted with a high-power magnet and voice coils to achieve high sensitivity. The Revela 1 features a single 6.5" mid/bass driver and the Revela 2 dedicates two 6.5" drivers to bass frequencies with a 6" unit handling the midrange. Finally, the drivers' output is combined via a phase-compensated Acoustic Butterworth crossover network, fine-tuned to ensure a seamless blend between the drive units. The result is an effortless, dynamic and room-filling sound that transcends the loudspeakers themselves, endowed with realistic pace, scale and clarity.
The Revela loudspeakers' cabinets use optimally stressed and braced panels with generously radiused edges to reduce unwanted diffraction effects. Around the back, bass reflex ports – Revela 1 has one and Revela 2 has two – include longitudinal splines that help smooth airflow and increase the efficiency of the reflex system for deep, powerful bass performance. The Revela 2 midrange unit is housed in its own abundantly proportioned sealed chamber with internal damping arranged to optimise its wide frequency bandwidth. As well, a pair of dedicated speaker stands has been custom-made to fit the Revela 1, featuring an open frame formed from laminated wood, akin to the cabinet construction, offering excellent self-damping properties. The stands offer supreme torsional rigidity with four large stainless-steel spikes at the base with spike seat also provided for hard floors. The Revela 2's come with a pair of carbon steel plinths, stainless-steel spikes and spike seats.
The QUAD Revela series utilizes highly evolved versions of classic Quad technologies that can be traced back to 1949 and Quad's first loudspeaker system, the Corner Ribbon; The latest Quad True Ribbon used in the Revelas is the perfect embodiment of the sonic strengths of fully modernised ribbon drivers. These technologies, elevated to new heights by the use of modern materials and advanced contemporary design, have delivered two new models that are easy to accommodate and utterly beguiling to hear.
The Revela 1 dimensions are 15.6" x 9.7" x 15.2" (H x W x D) and the Revela 2 has the same cabinet width and depth (the plinth is a little wider/deeper) but with a height of 37.9". Both models are available in lacquered black or walnut finish options, the latter featuring a striking combination of wood veneer interlinked with piano black.
Revela 1 Monitor
2250.00 the pair
$2995.00 with stands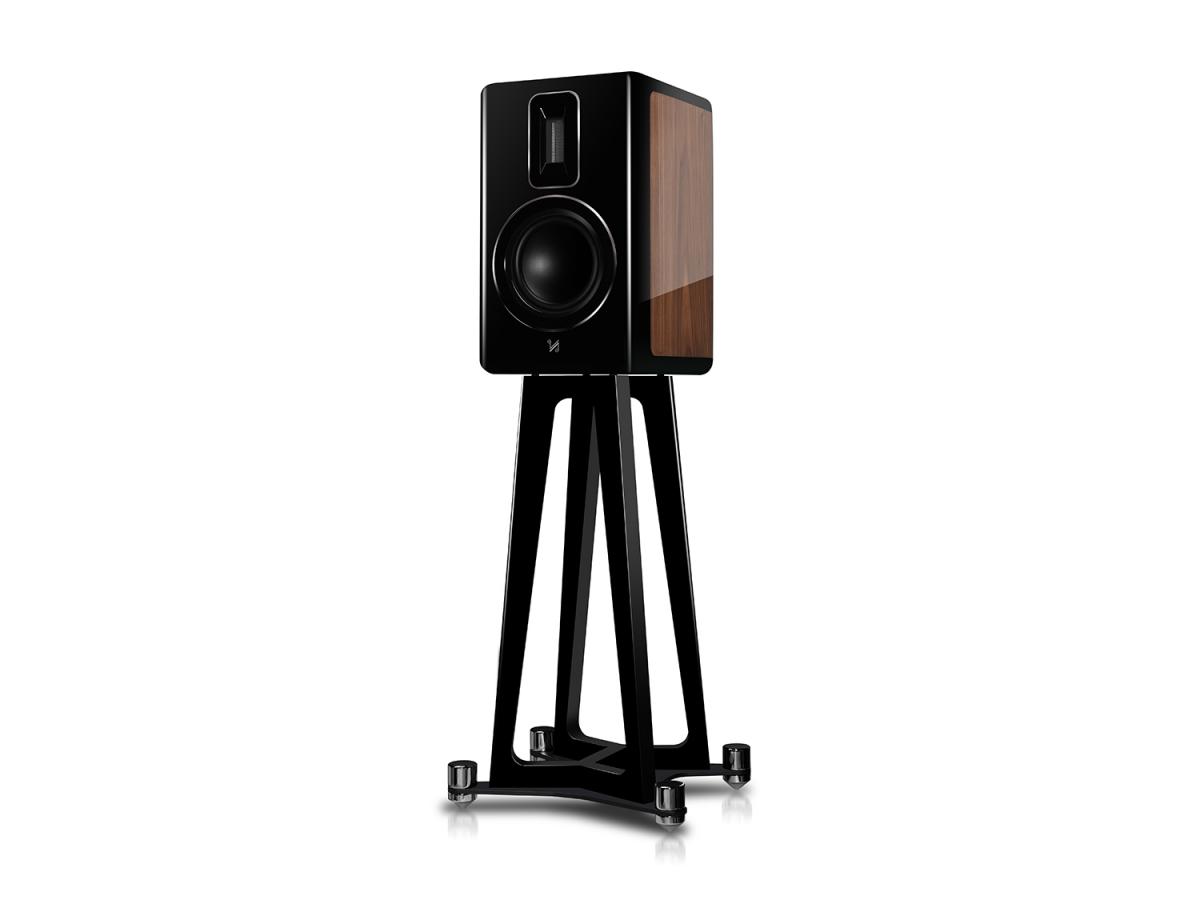 Shown on optional stands
Available in black or walnut
 
The Revela 1 is a classic bookshelf/stand-mount monitor equipped with a 6.5″ woofer and offered with an optional custom-engineered stand of equally striking design. The stand is finished in the same high-gloss paint standards as the speaker and provides the perfect mounting option and display solution for the stand-mount offering in the series.
QUAD's Director of Acoustics, Peter Comeau, has furthered his ground-breaking engineering work in further developing this Ribbon HF tweeter with over four years of research to bring a new level of musical delicacy, smoothness and 'hear-through' performance, thus revealing beautiful details of your music collection with a truly breath-taking performance.
Revela 2 floor standing 3 way speakers
$4495.00 the pair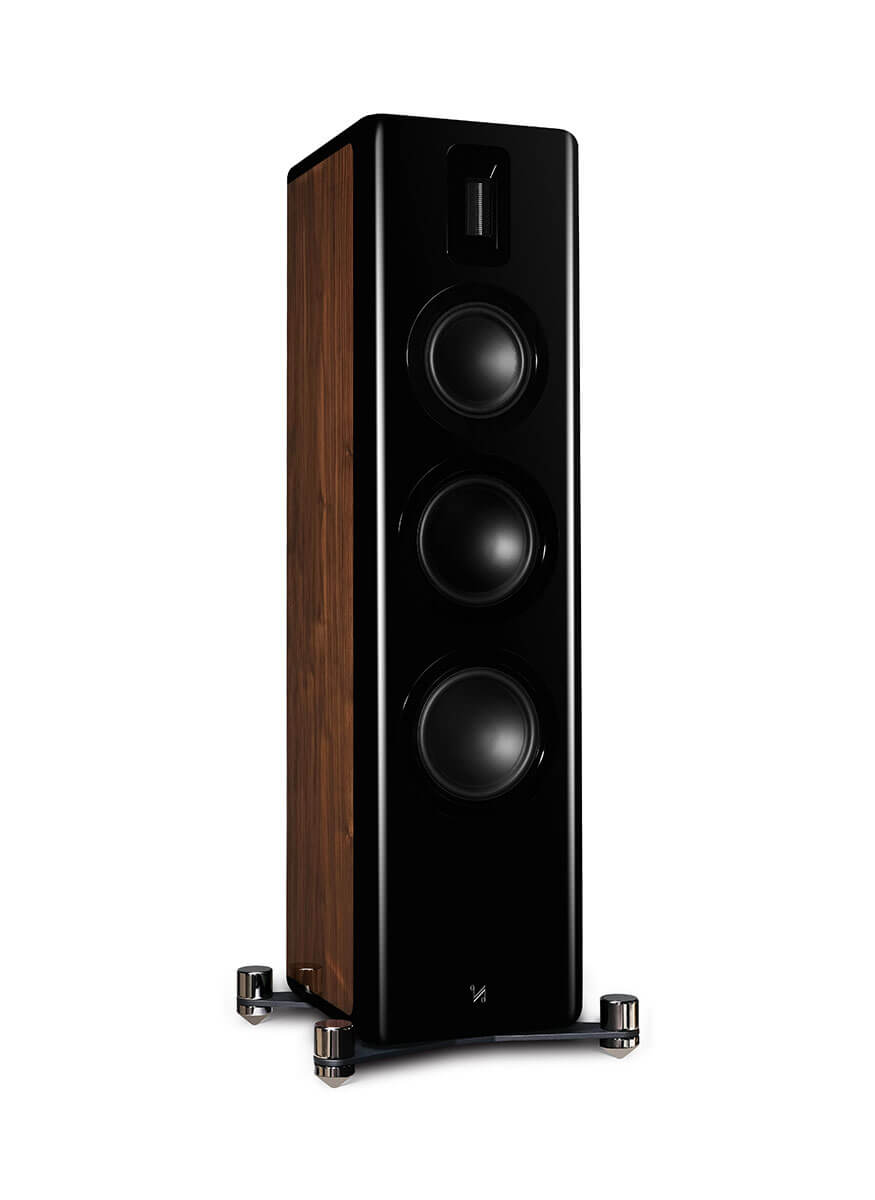 Available in black or walnut

The advanced 'True Ribbon' unit is married to equally high-performance bass and midrange drivers. Again, subject to many years of research, development, testing and continuous innovation, the mid and bass drivers feature a new advanced fibre composition, aptly labelled 'Reveal™'. Refined for seamless integration with the 'True Ribbon' HF, the smooth diaphragm drivers were purpose selected based on their rigidity and excellent self-damping properties. This new diaphragm, combined with a new, specially developed custom rubber surround, for a greater excursion and a new high-power motor system, means that the result is a superb bass performance, with power, depth, speed and articulation in abundance. Putting it all together is a phase-compensated Acoustic Butterworth crossover resulting from not only Computer-Aided Design but also hundreds of hours of critical listening tests using all types and flavors of music to achieve perfection.
Quad Dynamic S-Series Loudspeakers with ribbon tweeters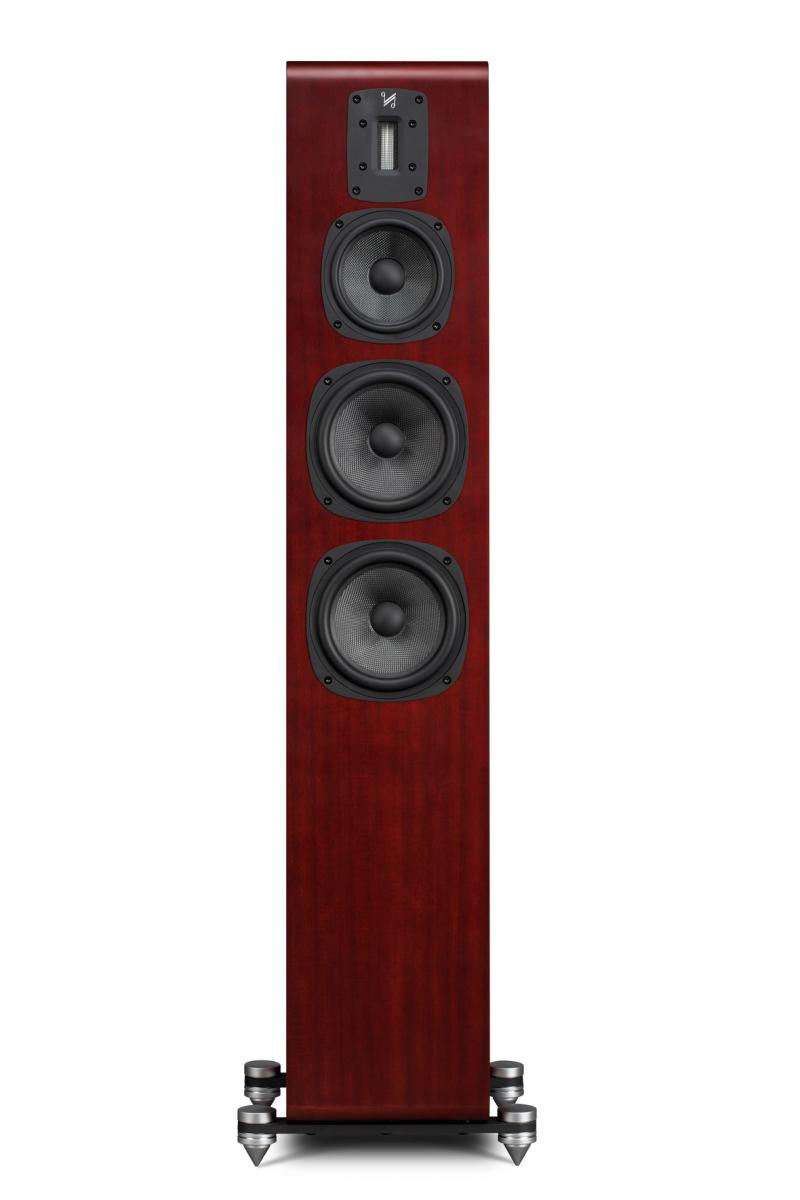 S5 in Sapele Maple
The Quad S speakers use a new Ribbon tweeter with beautiful satin cabinets. Sonics are excellent.
S1    4" two way with ribbon tweeter  Sale $899.00/Pr Free Freight
S2    5" two way with ribbon tweeter  $1199.00/Pr-Free Freight  Stereophile Class B rated in 2019
S4    Column w/dual 5" woofs, 4" mid & ribbon tweeter. 3 ABR radiators on rear. $2295.00/pr Sale $1999.00/Pr Free Freight
S5    Column w/dual 6.5" woofers, 5" midrange & ribbon tweeter. 3 radiators on rear. $2799.00/pr Sale $2499.00/Pr Free Freight
S center Dual midrange/woofers and ribbon tweeter  $749.00
All above available in Black oak or Sapele maple finishes

"... may be the biggest bargain in floor standers.."
"... (the S5) delivers so much speaker for ($2,699) - that were we living in different times - they would have caused a revolution."
Ken Kessler, HiFi News & Record Review
 
"Quad has definitely hit the mark with the S2s. They have a smooth, vibrant sound that is refreshingly uncoloured and never less than engaging."
"lntegrating a ribbon with a traditional cone mid/bass is not the easiest of tasks... but the S2 seems to have got it just right."
HiFi World
Vena MKII Remote Integrated amp w/DAC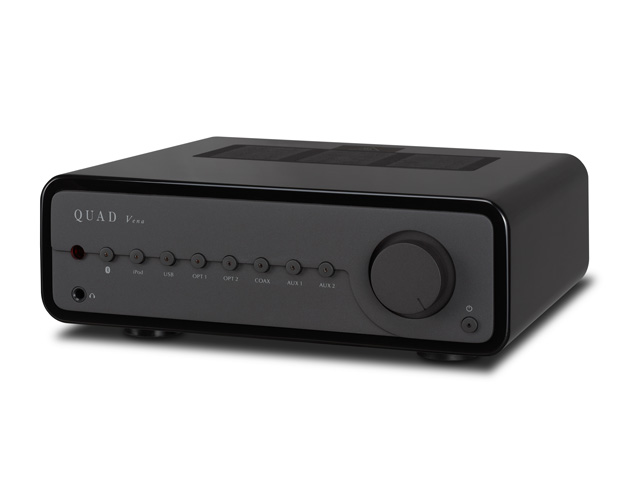 Vena MK II Integrated amp w/DAC & Aptx Bluetooth $1295 in Lancaster grey, $1395 in Gloss Black, Gloss White, Sapele Mahogany wood

Vena MK2 Play- A Vena MK2 with playfi streaming  $1495.Lancaster Grey or Silver

Artera Pre Preamp with phono stage & tilt control, silver or black $1495.00

Artera Play + Line stage with DSD DAC & Asynchronous CD transport, Silver or black $1995.00

Artera Stereo 140wpc stereo amplifier with current dumping, Silver or black $2995.00

Artera Solus 75wpc integrated amp with CD transport & DAC Black or silver $2495.00

S-C Center w/4" Kevlar woofer and ribbon tweeter- $749/ea in Sapele Mahogany or black Oak

QC-24 tube preamp $1199/$1,790 modified

Quad II Classic Intergrated - 25wpc Class A integrated tube amp w/MM/MC phono stage in Lancaster Grey ($5995)

Quad II-40- 40 watt/ch mono tube power amplifiers in Lancaster Grey ($5495/pr.)

Quad II Classic- 15 watt Class A mono amplifiers in Lancaster Grey $3995/pr

Quad II-80- 80 watt mono tube amps in Lancaster Grey ($10.995/pr.)

QC-24P tube MC/MM phono stage designed by Tim DeParavicini ($1,795)

ESL-2812 4 panel 42" high electrostatic speakers legendary Black $14,995/pr

ESL-2912 6 panel 58" high top of the line electrostatic speakers Black $17,995/pr