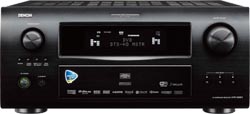 The Denon AVR-4308ci is an excellent A/V receiver feature laden with all the most up-to-date video features. It decodes all the new hi-rez formats and offer multiple v1.3a HDMI inputs. Our receiver mod is for the audiophile who wants a one-box solution but also the sound quality that approaches quality separate audio components. We add the excellent audio to the great video already in the unit. Here is a link to the many features of the Denon receiver. Click on detailed specifications to see them all.

The following details our AVR-4308ci receiver mod for the front two channels [$1,200 + frt. retrofit, $3,490 + frt. for preinstalled machines]:
2 x Burr-Brown OPA-627 op amps on a custom module for a special vertical daughter board adaptor for the world's best audio op amp!
1 x Acme Audio cryo silver IEC AC inlet replacing the cheap stock connector
2 feet of DH Labs 23awg Revelation series pure 99.999% Silver solid core input signal wire, with Teflon tape-wrap dielectric
1 pair of premium Vampire direct gold plated over copper body RCA female jacks (L&R input)
4 x EAR large sorbothane isolation feet
14 x Black-Gate N and C-Series electrolytic capacitors for various input, output and PS locations.
2 x Rel-Cap TFT Teflon Film & Tin Foil coupling caps that bypass two polystyrene film and tin foil feedback capacitors
6 xJapanese Riken ½ watt precision 1% carbon film resistors are added to the signal path
1 sheet of SoundCoat chassis damping material cut and applied where applicable to damp the chassis
10 feet WBT 4% silver solder used throughout
8.5 hours labor
90 day warranty on new receivers, one year on all mod work
Sonic benefits.
The midrange is warmer with a far more liquid presentation. The solid-state glare of the stock unit is now gone. It is not tubes but much closer to what a tube preamplifier can offer. This alone is worth the price of the mod.
Transparency is improved with better low level resolution of details.
Bass is dramatically improved, with fuller weight and authority in the critical mid bass region. Bass dynamics are also upgraded.High frequency response is smoother, with more air in the presentation. It now sounds like high-end separates versus a very good receiver.
Transparency is improved and you can now look farther into the soundstage. Images are sized better and are more focused.
Stage width and depth improve. The modified unit is now a superb full-featured receiver. It sonically outperforms receivers selling for two to three times its price. It is also a killer preamp/processor if eventually used with a 2-channel hi-powered power amplifier driving your front two speakers.