Sweet Vinyl
Make all your records new again
The Sweet Vinyl Sugar Cube SC-1 processor removes pops, clicks and scatches from your precious vinyl.
It is an amazing product that blew us away when we first heard the prototype a year ago at a show and then again when we tested one.
Even the analog naysayers are amazed when they can't hear any processing, just new records with no pop or clicks.
Make all your older records perfect again. Buy used records with scratches and make them new.
Features
Integrated real-time, non-destructive, digital click and pop noise algorithm
Bypass mode to disengage digital processing with audiophile grade relay
Built-in 192/24 bit Hi-Res ADC and DAC
Ethernet and USB digital interfaces for local network and internet connectivity
WiFi USB module included
Front Display indicates click and pop removal strength and unit status
Buttons engage click and pop removal and monitor of removed noise
Supports virtually any external phono stage
Includes iOS and Android mobile apps for remote control option
Benefits
Listen to vinyl LPs without distracting clicks and pops

Remove clicks and pops without degrading musical content

Installs in virtually any configuration of components with RCA interconnects

Easily bypass digital processing when pure analog listening is preferred

Hi-Res digital processing provides warmth and detail of analog without unwanted noise.

Software updates via SweetVinyl.com

Connect to SweetVinyl mobile app and other audio devices on home network

Operates with manual front panels or smartphone remote control
In the Stereophile review Michael Fremmer said:
"The SweetVinyl team has been working on this "real time pop and project for a few years now, improving all aspects of the design and bringing each update to audio shows so we can all hear how the project has progressed.. These guys are committed audiophiles and vinyl fans who bring to this years working in Silicon Valley so what you have here is a product that is technically finessed in the digital domain, informed by experience and commitment in the analog world and built to the level audiophiles expect at an unexpectedly reasonable price."
"They've taken their time with this product and I believe all of their hard work has paid off—at least in terms of the product itself. How audiophiles will react is something I can't predict but I think many will react as I did and come to see this is an indispensible addition to their vinyl playback systems. It will certainly change how I go used record shopping—especially in the bargain bins."
Read the full review at:
https://www.analogplanet.com/content/sweet-vinyls-sugarcube-sc-1-real-ti...
In the Audioappraisal review they summed with:
"The SugarCube has a place in any mid to high end system, and makes playing back much loved but well worn vinyl a real joy. It also has a place in archival, where its algorithm can compete with the very best automated click repair solutions and produce professional quality digital transfers. There really are no downsides aside perhaps from premature wear of the playback stylus. As such having a second cartridge or stylus on hand to play heavily damaged discs is probably advisable. The SugarCube enhances the listening experience with vinyl old and new, and for that it earns a thoroughly deserved recommendation. Vinyl has never sounded so sweet."
Read the entire review at:
https://www.audioappraisal.com/sweetvinyl-sugarcube-sc-1-review/
Happy SC-1 Beta Owner...
Submitted by Chemguy on Sat, 2018-04-14 19:27
"After having the SC-1 for over 7 months now, let me tell you how indispensable this unit is! When Michael uses words like "miracle" in a write-up, you know he must be impressed; I have found him to be one who is not prone to exaggeration over the years."

"It is truly a remarkable product. I have played many hundreds of lps now, testing everything from the new and the mildly clicky, the click and pop-ridden, to the "this looks too damaged to play". The SugarCube not only makes them all listenable, but, unlike Michael and his trained ears, I cannot discern the slightest difference in sound dynamics when the unit is on or on bypass. All it does is remove clicks, leaving the exact sonic signature and decibel level behind."
"A few weeks ago, I journeyed to my used record store that had a 5 buck copy of Friends, by The Beach Boys. Five bucks because 'loved up' is far too kind as a description of the scratchfest that is the vinyl surface. Bought it, cleaned it, played it without the SC-1...ouch. Turned on the SugarCube...perfection. I kid you not."
"It has transformed my vinyl listening experiences. Yes, it's like I have a mint copy of everything."
Audiophiles, listen up! You won't regret it...get one."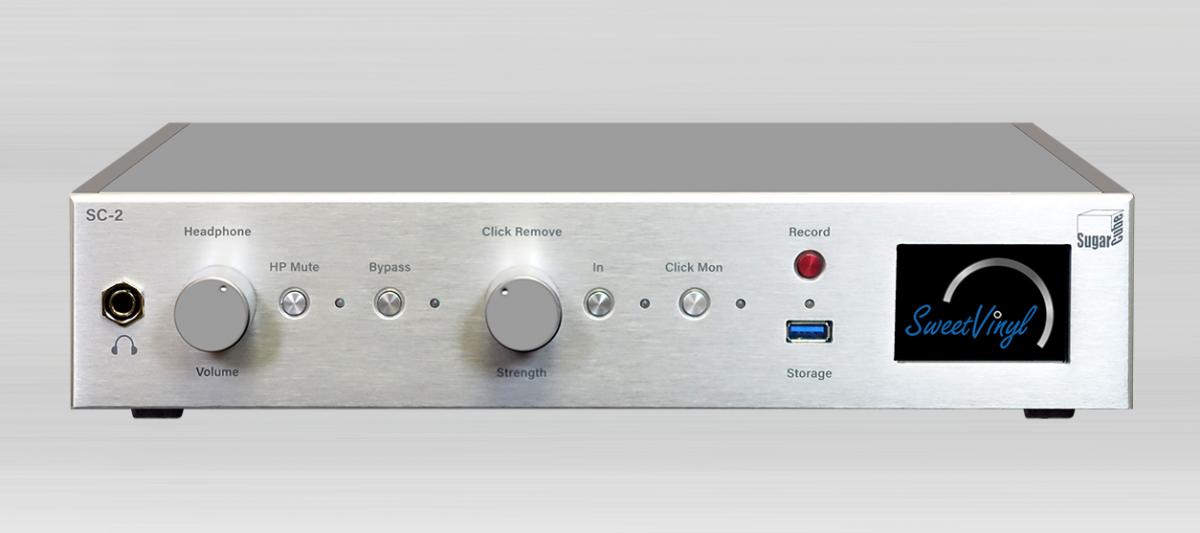 The SC-2 is an SC-1 with headphone amp and the ability to record all your records to a hard drive. It also has auto meta data search for your records art and liner notes.
 
Automatic metadata identification of Artist, Song and Album
Integrated real-time, non-destructive, digital click and pop noise algorithm
Easy to use recording capabilities with automatic track splitting and metadata tagging
Bypass mode to disengage digital processing with audiophile grade relay
Built-in 192/24 bit Hi-Res ADC and DAC
Includes iOS and Android mobile apps for remote control option
WiFi USB module included
High quality headphone amp and volume control
Ethernet and USB digital interfaces for local network and internet connectivity
Front Graphics Display displaysartist, album, and song along with other information about unit
Buttons engage click and pop removal and monitor of removed noise
Supports virtually any external phono stage
Pushbutton USB 3.0 Front Panel port for recording content
Listen to and record vinyl LPs without distracting clicks and pops

Remove clicks and pops without degrading musical content

Eliminate the painstaking process researching and editing metadata

Simplify scrubbing of track splits with automatic track detection features

Preserve your records and stylus while archiving them in Hi-Res for digital playback

Enjoy albums that would otherwise be unlistenable as if they were new

Installs in virtually any configuration of components with RCA interconnects

Easily bypass digital processing when pure analog listening is preferred

Software updates via SweetVinyl.com

Connect to SweetVinyl mobile app and other audio devices on home network

Operates with manual front panels or smartphone remote control