PS Audio
PS Audio achieved fame with their PowerPlant AC regenerators but has since also made a name for its high-performance DAC's, Transport, line conditioners & power cords. The new power amp is available in limited quantities and is a statement piece with 250 watts per channel.

SALE IN PROGRESS
 
Call to discuss all PS models
Power Plant P-3


$2199.00 
New small power regenerator
300 watts with 900 watts peak
Available in silver or black
Providing 300 watts of continuous power output and peaks of 900 watts, the P3 is the perfect companion for your Stellar M700 monoblocks and GainCell DAC or for all your system's source gear. Designed with elegant simplicity in mind, the P3 is a fuss-free, plug-and-play device that provides you with perfect power.
Power Plants are revered for their ability to reduce noise and THD to virtually zero while providing rock steady voltage output. Traditional power conditioners can only affect a portion of incoming noise and are unable to compensate for over or under voltage. Furthermore, power conditioners raise the impedance of the power going to your system, which can bleach your sound and drain away dynamics.
Through the P3's active regeneration process, it is able to provide perfect power while also lowering the impedance, increasing the dynamics and openness of your system.  Best of all, the P3 features overbuilt surge and spike protection, meaning you can rest easy knowing your system is safe. Don't starve your music or risk damaging your equipment. A P3 gives you greatly improved performance and safety from just plugging into the wall socket. Better than any passive power conditioner on the market, the P3 rejuvenates your system with far better dynamics, significantly increased bass authority, and a bigger, more open soundstage.
20 amp Direct Stream Power Plant P20 power regenerator
$9999.00
On Sale NOW-Huge trade in deals now available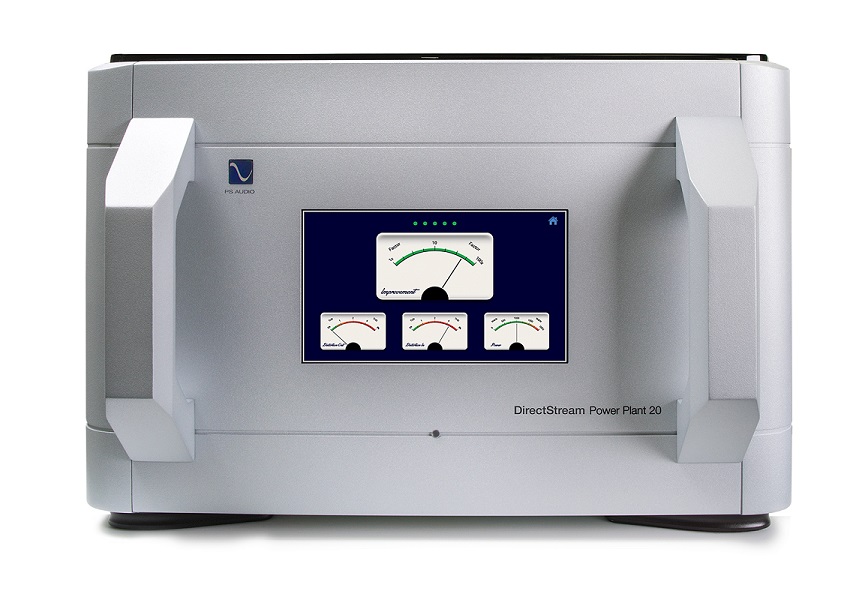 With peak power levels of 3600 watts, no equipment can tax the mighty P20. Finally, your most coveted components have the opportunity to unleash their full potential, no longer hindered by dynamic drops in AC caused by the unavoidable resistance of the miles of wiring between you and the power station. DirectStream P20 regulates both long-term fluctuations and peak dynamic demands to within 1/10th of a volt, ensuring a solid foundation from which to build a state-of-the-art system. Its low output impedance and unhindered AC delivery are equivalent to less than 50 feet of 12 gauge wire connected directly to your city power source without the connecting miles of wire, the many transformers, and the multiple neighbors weakening and contaminating your power. The most demanding music systems require nothing less than the P20.
Tone Audio summed their P20 review with:


"
I'm gonna violate the prime directive and tell you to get one.

You won't be able to un-hear it, and you won't be able to live without it.

So be ready to pull the trigger when you take the test drive. Consider yourself warned. It's that good.
"
Read the full review at:
http://www.tonepublications.com/review/the-ps-audio-p20-power-plant/
Info as compared to the older P10 is:
Built in Boulder

2000 VA output

Passively cooled

40% more power tan the P10

3X lower impedance than  the P10

16 outlets US

15 amp AC input US

20 amp AC input US

120 volt regulated US

Range 95 – 145 VAC US

100% regenerated AC

MultiWave

Pure Sine Wave

Integrated oscilloscope

THD meter

Improvement meter

Power meter

Control over the web

Adjustable output voltage

Color touchscreen

Field upgradable

94 pounds/ 105 pounds boxed

10x rejection factor of the P10

17"w x  14"dx 11.5"h without the handles. With the handles, it's 17x18x11.5 / Shipping size is 22" x 22" x 17"
Removes the miles of power cables between your home and the power station. The P20 is the world's first device that is the equivalen

t of moving your home to within 50 feet of the city power station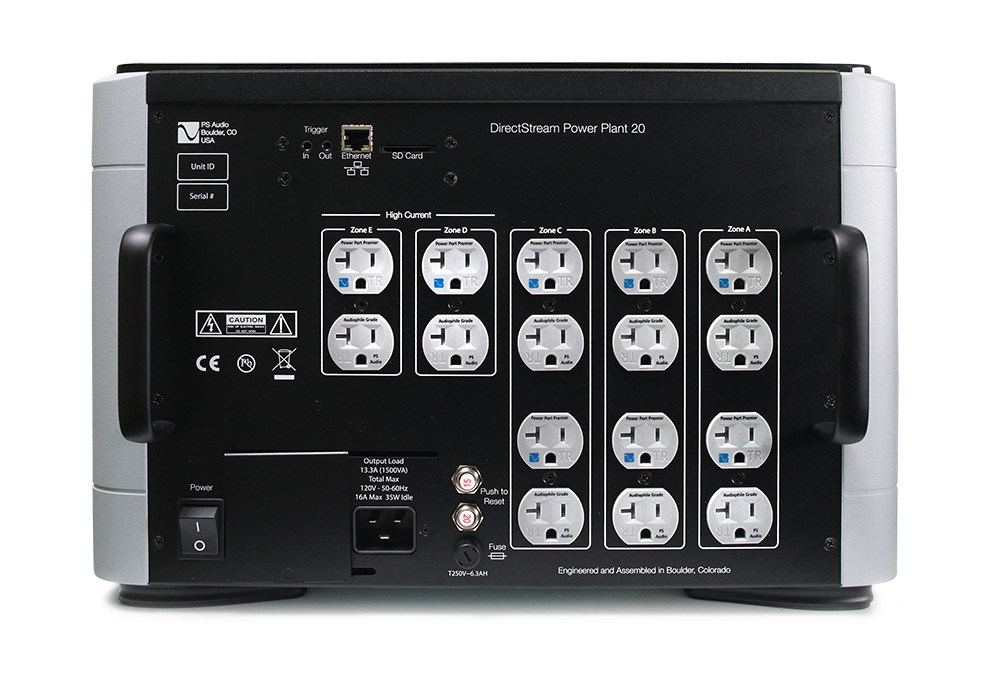 P10 rear
 
Direct Stream Power Plant P15
The DirectStream Power Plant 15 is the next generation of AC power regeneration. It features an all new analog power amplifier and FPGA based sine wave generator based on pure, clean, analog DSD (
PDM
).  The P15 has 10 outlets with 5 separate regenerated zones, buss bar delivery system, and 1500 watts of pure regenerated power. From medium to large power amplifiers to the smallest pieces of source equipment, the P15 will work magic on your system's performance. Expect far better micro and macro dynamics as well as a cleaner, lower noise background.
Built in Boulder, CO, USA
1500 VA output
Passively cooled
3X lower impedance than P10
10 outlets US
15 amp AC input US
120 volt regulated US
Range 95 – 145 VAC US
9 EU/AU/GR/UK outlets
10 amp AC input EU/AU/GR/UK
230 volt Regulated EU/AU/GR/UK
Range 200 –285VAC EU/AU/GR/UK
100% regenerated AC
MultiWave
Pure Sine Wave
Integrated oscilloscope
THD meter
Improvement meter
Power meter
Control over the web
Adjustable output voltage
Color touchscreen
Field upgradable
82 pounds boxed
17W x 8.5H x 14D
Direct Stream Power Plant P12
The DirectStream Power Plant 12 is the successor to the venerable P5 Power Plant. The P12 is completely redesigned from the ground up with three times lower output impedance, lower distortion, a new FPGA based DSD sine wave generator, and an improved level of performance never before attained by any Power Plant of its size. Power Plants take your incoming AC power and regenerate new sine-wave-perfect, regulated high current AC power. In the process of regeneration any problems on your power line such as low voltage, distorted waveforms, sagging power and noise are eliminated. The results are both audibly and visually stunning when powering either audio or video products. Further, the level of protection afforded connected equipment is extraordinary. Feel 100% confident that a P12 will provide pure and safe power under any condition.
Stellar is a line of electronics that sets the PS standard in high performance at great prices.
Stellar DAC/Preamp
$1699.00
Call for our low sale price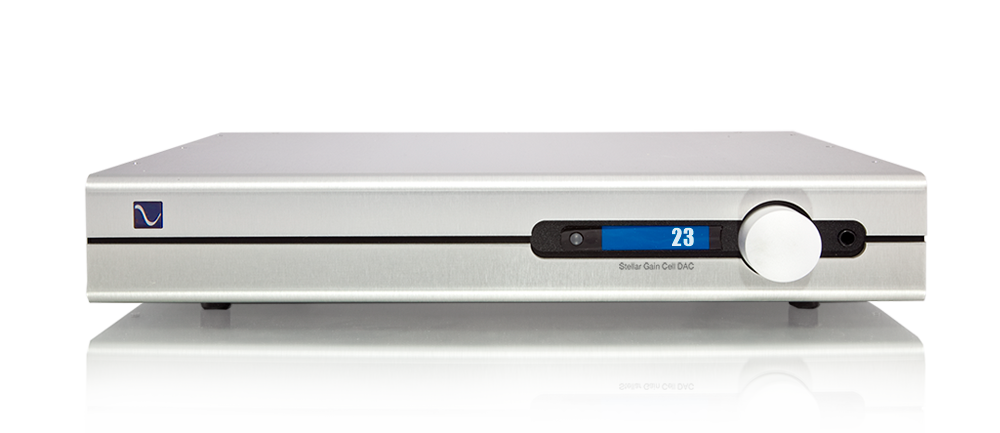 Available in black or silver
There isn't a DAC made that doesn't benefit from a great analog preamplifier. The Stellar Gain Cell DAC combines the benefits of both—a full-featured DAC with an exceptional fully balanced analog preamplifier controlling its output level. Fully balanced circuitry from input to output, the Stellar Gain Cell DAC builds upon years of research and innovation in the art of digital audio and Class A analog amplification. Together, or separately, they create an extraordinarily rich, full-bodied musical experience few standalone products can match. Stellar Gain Cell DAC is the perfect foundation for those unwilling to compromise sound quality. Rich. Lush. Powerful. A music lover's answer to spiraling cost-no-object equipment without sacrifice.
It also has the connections to decode the new Direct Stream Music Player for SACD as well as redbook playback. When used with the S300 stereo amp or M700 mono amps it makes a formidable package with hi end performace and a hi value cost.
"Nothing short of spectacular"
... reads the recent Positive Feedback review of PS Audio's new Gain Cell DAC. Reviewer Tom Gibbs was talking about the preamplifier section of the dual-purpose source device in our new Stellar line. He had 
more to say about the DAC element and the component as a whole. Take a look here:
https://positive-feedback.com/reviews/hardware-reviews/ps-audio-stellar-gain-cell-dacpreamplifier/
In the AudioFi review they summed with:


"
It is rather amazing to consider how much excellence PS Audio has managed to squeeze into this one product.
Would you get better sound, say from a standalone DAC that costs as much as the Stellar? Possibly, but you'd still need to buy a preamp to go with it. And chances are, one with similar flexibility and performance as the Stellar's won't be available on the cheap. Factor in the excellent headphone amp section and it's hard to argue with the appeal and value of the Stellar."
+ Top-notch, no-compromise performance from everything it sets out to do as a DAC, preamp and headphone amp.
– At its asking price, nothing.
Sound: 9/10
Value: 10/10
Read the entire review at:
http://audiofi.net/2017/12/a-stellar-dac-from-ps-audio/
Stellar M700 mono amplifiers
350 watts @ 8 ohms / 700 watts @ 4 ohms
$2999.00 a pair
Stereophile Class A rated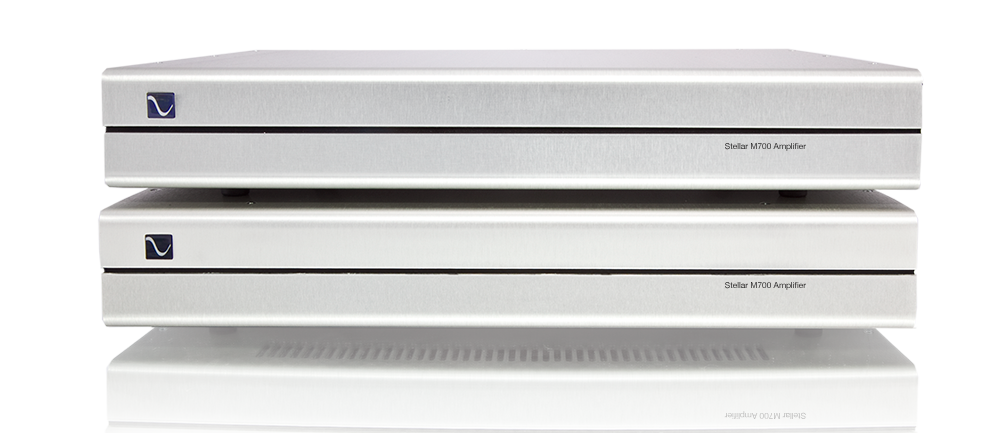 Available in black or silver
In the Feb 2018 Stereophile review Robert Deutsch sums with:


"Sitting on Iso-Acoustics Orea Audio equiptment isolators the Stellar M700's come ever so close to matching the sound of my high-end reference monoblocs, Theta Digital Prometheuses, which are ranked Class A in "Recommended Components" and at $12,000/pr cost 4 times as much as the PS Audio's. The Stellar M700 is an outstanding bargain."
In the latest The Audio Beat Review they summed with:
"The PS Audio Stellar Gain Cell DAC and M700 mono amps took my system to a level that, with some recordings, was eerily close to the real thing. Paul McGowan and his crew in Boulder should be beaming with pride over the superlative performance of these components. Those making a first purchase or those seeking to upgrade must audition these electronics or risk having spent hard-earned money foolishly elsewhere. Add a pair of synergistically matched speakers (this is where a good local dealer comes in) and a decent source and you've got yourself a damn fine music system that will bring a smile to your face each time you fire it up. As for me, sonic revelations surfaced regularly with these elegant components, illuminating more of a given musical selection's nuances and soul."
Read the entire review at: http://www.theaudiobeat.com/equipment/ps_audio_stellar_gain_cell_m700.htm
The Audio Stream review of the M700 amps with GCD preamp summed with:
"The PS Audio Stellar 'three-fer'

proved itself to sound far more captivating, powerful, lyrical, musical and possess a humanity to its sonic signature in playback of all types of music than I previously thought a preamplifier and mono blocks priced under $5,000 USD would be capable of.

They would, without fail, elicit both an emotional and physical reaction whenever I played music through them and their lack of digital pretense and healthy dose of analog spirit was a listening experience which I embraced.

""
To conclude, if you are in the market for a small-footprint, entry-level priced, digital-based playback system of separates which also includes a more-than-capable headphone amplifier than look no further than PS Audio's Stellar gain Cell DAC and M700 mono blocks."
A pair of M700 mono amps placed on any loudspeaker brings forth the lush, rich and soul-satisfying power of two completely independent power blocks with headroom to spare. One listen to a hugely loud and complex musical passage effortlessly rendered by the M700 pair and you'll know you made the right choice.
Rated at 350 Watts into 8Ω and 700 Watts into 4Ω, the the fully balanced M700 combines the best of two worlds: ultra linear, high-current, Class D technology for the output stage; a discrete, Class A MOSFET based Analog Cell for the all-important input stage. The M700's rich, warm, and engaging sonic character comes from the Analog Cell. Its powerful, authoritative control over the loudspeaker stems from its high current, ultra-low impedance Class D output stage.
S300 Stereo power amplifier
140 watts/ch @ 8 ohms

/

300 watts @ 4 ohms
$1499.00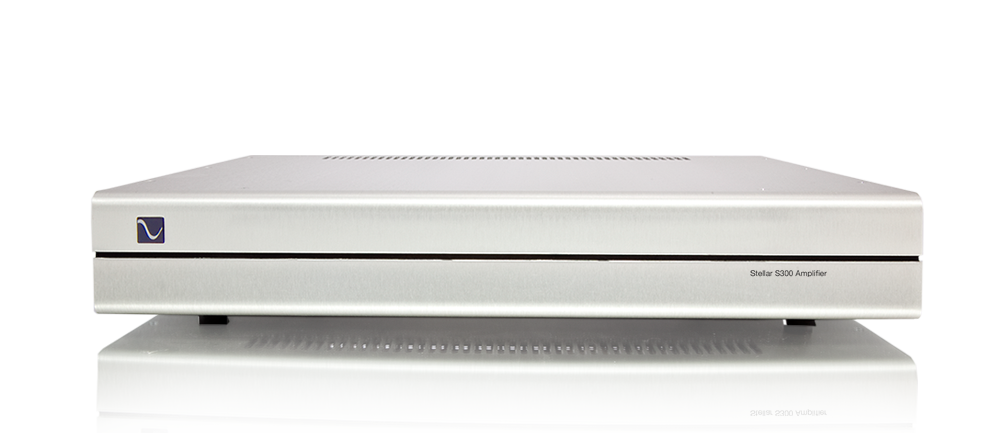 Available in black or silver
The Stellar S300 fully balanced stereo power amplifier is a dual mono power amplifier capable of effortlessly driving demanding loudspeaker loads to concert levels. Rated at 140 Watts per channel into 8Ω and 300 Watts per channel into 4Ω, the S300 combines the best of two worlds: ultra linear, high-current, Class D technology for the output stage; a discrete, Class A MOSFET based Analog Cell for the all-important input stage. The S300's rich, warm, and engaging sonic character comes from the Analog Cell. Its powerful, authoritative control over the loudspeaker stems from its high current, ultra-low impedance Class D output stage
.
When combined with the Stellar Preamp/DAC it makes a wonderful $3199.00 package.
In the 10audio.com review Jerry sums with:
Folks, this is the future. We have heard vast improvements of Class D amplifiers during the last 10 years, and we are at or near the point where the technology is largely irrelevant to the final sound. The sound of audio components is more dependent on the implementation than on the underlying technology. The PS Audio Stellar S300 gets so close to perfection that the low purchase price is an out-of-this-world value.
The PS Audio Stellar S300 adds nothing objectionable while delivering wonderful musical performances.
Overall Rating: 9.5 LPs
Direct Stream Memory Player

-Sold out, discontinued and no longer available
BHK Stereo preamplifier
$5999.00
Get up to $3000.00 off with your trade in preamplifier-Call to discuss
Class A rated in Stereophile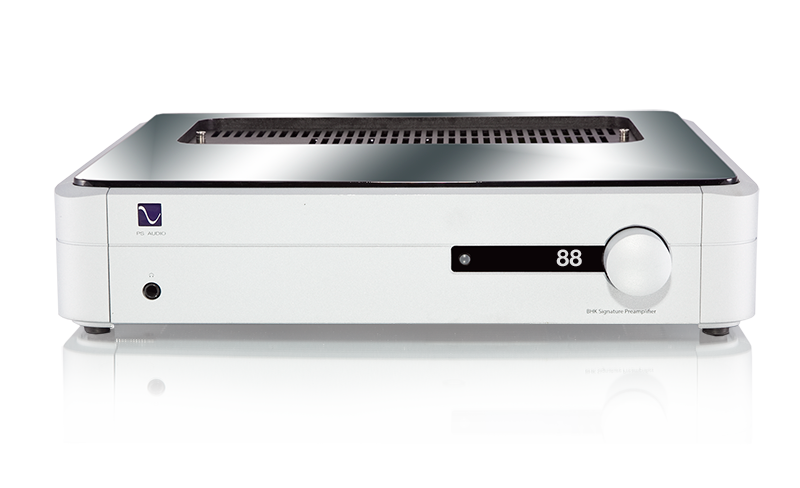 Available in silver or black
 
One of the best sounding tube preamps made. 
Introducing one of the most remarkable musical instruments in the world, the BHK Signature Preamplifier. This exceptionally built vacuum tube preamplifier opens up the music and reveals nuances, life and space not previously heard on your system. It is the perfect interface between your sources and power amplifier. Designed by Bascom H. King, the BHK Signature distills Bascom's 50 plus years of high-end audio design experience into a single masterpiece of audio amplification. "This is the best sounding preamplifier I have ever designed or heard," and that's saying a lot for a man of Bascom's experience.

High build quality in Boulder CO with:
- High current oversized transformer
- Discrete hand-selected components
- Zero loss vacuum tube input stage
- Resolution perfect volume and balance controls
- Balanced circuit topology
- Extended bandwidth and subterraneum bass
- Input naming
- Polarity control
 
Zero-loss vacuum tube input stage
User accessible switch allows both 12 volt and 6 volt tubes to be used
Differentially coupled balanced MOSFET output stage
All through hole construction (no surface mount parts)
PRP resistors in signal path
5 RCA Single ended inputs
5 XLR balanced inputs
Single ended and balanced outputs
Single ended and balanced outputs can be used together or separate
Fully balanced input to output
High current oversized power transformer
Fully regulated power supplies using BHK designed MOSFET discrete voltage regulators
Full BHK designed zero feedback, discrete MOSFET headphone stage
Remote control
Front panel standby button for vacuum tube stage
-3dB greater than 200kHz
Volume and balance through a revolutionary new combination of gain and attenuation control
Two output DC control triggers
Easy access to tubes if you want to roll with different ones
Each input can be configured as a HT bypass
Direct Stream Junior DAC
Discontinued and no longer available
BHK Signature amplifiers
$7499.00 in stereo
$14998.00 a pair in mono  Class A rated in Stereophile
Great Sale pricing in progress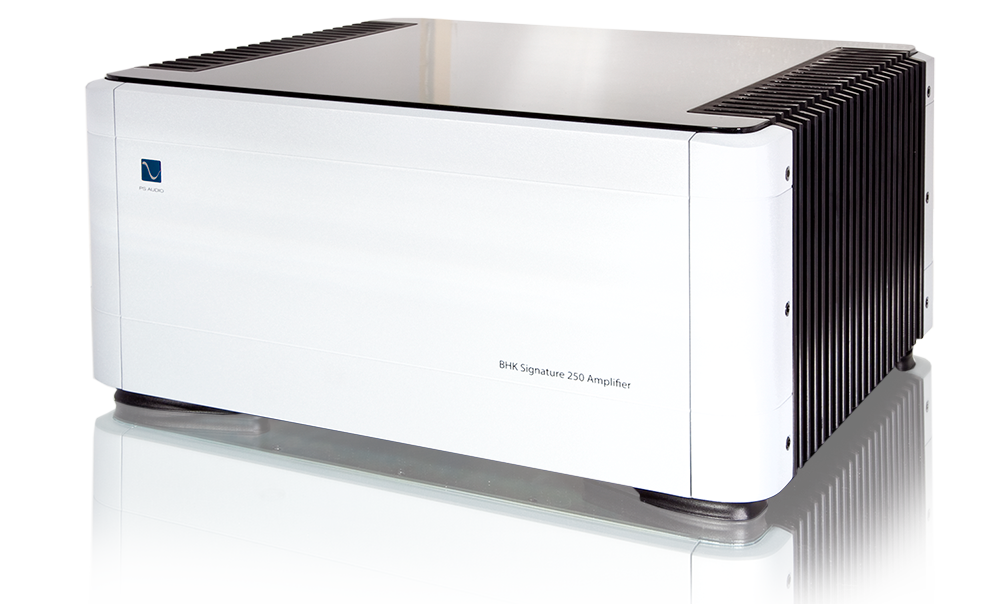 BHK amp shown in silver, also available in black
 
Let us purchase your qualified trade-in for what you originally paid, up to $5,000.00.
In The Absolute Sound component ratings they said:


"This 300W (into 8 ohms) hybrid (tube input stage/MOSFET output stage) monoblock is the distillation of all that celebrated electronics designer Bascom H. King has learned about amplifier circuits. The result is a component so rich, natural, and highly resolving that reviewer Anthony H. Cordesman bought the review samples. A genuine masterpiece from an Old Master."

In their review Tony Cordesman summed with:
Summing Up
"A truly excellent amplifier. Scarcely cheap, but less expensive than most of the amps that challenge it in quality—and the stereo version is half the price of the monoblocks. I'm not giving up the Pass Labs 160.8s ($38,000 a pair), but I am putting a second reference system together, and I'm keeping the BHK Signature 300s. Two of the best power amplifiers around can be better than one."
Read the review at:  http://www.theabsolutesound.com/articles/ps-audio-bhk-signature-300-mono-power-amplifier/



The M300 monos got an awesone review is

Hifizine

where they said:


"When PS Audio decided to re-enter the amplifier market with a statement product, I am not sure even Paul McGowan anticipated what would result. That they have succeeded in creating something special is clear from my listening. The process of bringing on board a legendary designer and allowing him freedom to design to a sonic target while keeping costs in the realm of reasonable (ahem!) is more than mere advertising hype. At nearly $15k for a pair, these are not highly affordable products but they are superior to any amp I've heard in my room, or most other rooms for that matter. How many products can you say that about?

Yep, these are the best I've heard, and by no small margin.

"

Read the entire review at: http://www.hifizine.com/2017/10/ps-audio-bhk-signature-300-mono-amplifiers/

Of the BHK 250 Stereo amp Positive Feedback said:


"I can't recommend the BHK 250 enough. Like I said I bought this one
"
Read the entire review at: https://positive-feedback.com/audio-discourse/audio-ramblings-the-ps-audio-bhk-signature-250-stereo-power-amplifier/
The BHK Signature features a zero-loss vacuum tube input stage coupled to a high bias differentially balanced MOSFET output. This amplifier has few rivals at any price and produces 250 watts per channel into 8 ohms.
The BHK Signature power amplifier culminates one man's lifelong quest for perfection in power amplification. Bascom H. King's magnum opus combines a vacuum tube input with a powerful MOSFET output capable of either 250/500 watts per channel in the Stereo 250, or 300/600 watts in the mighty Mono 300.  The BHK Signature Series amplifiers can drive any loudspeaker to musical perfection and is the second most important element in your music reproduction chain behind the loudspeaker itself.
Zero-loss vacuum tube input stage

Mono version fully paralleled inside (not like a traditional bridged approach)

Differentially coupled balanced MOSFET output stage

All through hole construction (no surface mount parts)

RCA Single ended input

XLR balanced input

250 watts per channel 8Ω Signature 250 stereo

500 watts per channel 4Ω Signature 250 stereo

2Ω stable Signature 250 stereo

300 watts 8Ω Signature 300 mono

600 watts 4Ω Signature 300 mono

1000 watts 2Ω Signature 300 mono

Less than 0.1% thd 20Hz to 20kHz at rated power

Damping factor 100 for excellent loudspeaker control

Front panel standby button for vacuum tube input

-3dB greater than 200kHz

Dual, custom, solid copper, gold plated output binding posts

Fully balanced from input to output

83 pounds

Input 12 volt trigger

Easy access for tubes
Unit Weight

83 lbs

Unit Dimensions

17.1" x 8.7" x 14" Chassis only. 15" deep including connectors.

Shipping Weight

92 lbs

Shipping Dimensions

21"x 13" x 19"

Color Options

Black
Silver
Voltage Options
Factory set only
Japan 100V
North America 120V
Europe/Asia/Australia/New Zealand 230V

Mains Power Inputs

IEC C14

Fuse Compliment all Countries

4 - 10 amp fast blow H-Rated 5x20mm Rail Fuses

Fuse Compliment Mains

100vac Countries
1 - 2 amp slow blow H-rated 5x20mm
1 - 12 amp slow blow H-rated 5x20mm
120vac Countries
1 - 1.6 amp slow blow H-rated 5x20mm
1 - 10 amp slow blow H-rated 5x20mm
230vac Countries
1 - 1 amp slow blow H-rated 5x20mm
1 - 5 amp slow blow H-rated 5x20mm

Accessories Included

US (NEMA 5-15P) (all versions)
Schuko (CEE7/7) (230V version)
UK (BS 1363) (230V version)

Audio Inputs

RCA (Unbalanced)
XLR (Balanced)

Speaker Outputs Signature 250

Gold plated copper binding posts (2 pair per channel)

Speaker Outputs Signature 300

Gold plated copper binding posts (2 pair)

Other

DC Trigger Input
3.5mm 5-15VDC

Warranty

3 years parts and labor on unit
1 year on vacuum tube

Power Consumption

 

@Ready

75 Watts

@Idle

175 Watts

@Rated power 8Ω

850 Watts

@Rated power 4Ω

1600 Watts

Signal

 

Gain

30.5dB +/-0.5dB

Sensitivity

1.2V

Noise

100-20KHz <-85dBV

Input impedance

Unbalanced 100KΩ
Balanced 200KΩ

Output Impedance

50Hz, 2.8VRMS <0.1Ω

Frequency Response

@2.8VRMS
10Hz – 20KHz +/- 0.1dB
10Hz – 200KHz +0.1/-3.0dB

THD

 

1KHz, 1W/8Ω

<0.01%

20-20KHz, 1W/8Ω

<0.1%

1KHz, 200W/8Ω

< 0.1% (120VAC Mains input)

1KHz, 400W/4Ω

< 0.1% (120VAC Mains input)

 
 

Signature 250 Stereo Amplifier

 

Output Power

Both channels driven 120vac mains, 1kHz, 1% THD

8Ω

250W minimum

4Ω

500W minimum

2Ω

Stable for musical transients

Signature 300 Mono Amplifier

 

Output Power

120vac mains, 1kHz, 1% THD

8Ω

300W minimum

4Ω

600W minimum

2Ω

1000W
DirectStream Digital DAC


$5999.00
On sale now-Call for our current sale deal
PS is sold out until May, We can reserve a unit at the sale deal for March ship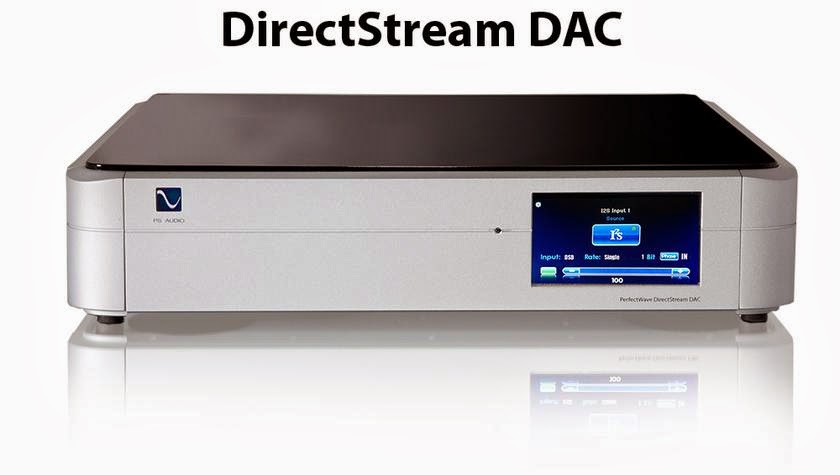 Is this the best DAC made? At any price?  All units now shipping with the free upgraded software fully installed by the factory. It is even better sounding with the newest SnowMass software

Below is the summation of the 1st review of the new PS Audio Direct Stream Digital DAC. This DAC was Stereophile and The Absolute Sound Product of the Year
Class A rated in Stereophile

In the Stereotimes review they concluded with:

"After listening to the PS Audio PerfectWave DirectStream DAC for the past few months it is my opinion that DirectStream represents a new benchmark in audio reproduction. Notice that I didn't say "digital audio reproduction." In other words, in my view the PS Audio DirectStream is the most musically and technically capable device of any type that I've ever had the pleasure to evaluate. My heartfelt congratulations go out to Paul McGowan, Ted Smith, and PS Audio's excellent design team for making DirectStream a reality for those of us who truly love our music."


"At nearly $6,000, DirectStream is not inexpensive, but by today's standards for the wealth of musical improvement it offers, I consider it a bargain. Personally, I had to stretch my budget to buy the review sample, but frankly after hearing the immediacy, dynamic capability, and immense soundstage that DirectStream provides I couldn't bear to send it back."

The new PS DSD DAC is maybe the best DAC made, regardless of cost. It uses an FPGA, a field programmable gate array, which is basically a computer on a chip. It takes CD's, downloads, high-resolution PCM or DSD based media  and upsamples them to ten times DSD rate and outputs a pure analog signal directly into your amplifier or preamplifier. DirectStream converts any digital input format, such as PCM or DSD to a pure 10x DSD stream and outputs near-perfect analog directly to your power amplifier or preamplifier.
DirectStream has seven digital inputs which include: two I2S, one TOSLINK optical connector, one coaxial S/PDIF connector, one balanced XLR AES/EBU, one asynchronous USB input and one optional Network Streaming Bridge slot.  DirectStream has both single ended coaxial and fully balanced XLR outputs.

The DSD DAC was 7 years in design and will start shipping in late April. It is easily the best DAC that we sell. The first production is sold out. Call me to get an order placed for May or June shipment.

If you own a Perfect Wave DAC or DAC MK2 they are upgradable to the DSD DAC. The kit is $2995.00. Call me to discuss this as well. We have a few new Perfect Wave DAC MK2's at $1880.00. Add the upgrade kit and you have a new DSD DAC for $4880.00.

For more info check the PS website at:
http://www.psaudio.com/products/audio/media-players/perfectwave-directst...
Pure 100% DSD based D to A Converter

Resolution perfect volume and balance controls built in

Upsamples PCM and DSD to 10x DSD rate

Purely passive transformer coupled output

Improves imaging and soundstage

Simple, direct signal path with one master clock

Hand written filters, processors and upsamplers

Immune to incoming jitter problems from different sources

Increased digital headroom

No off-the-shelf IC DAC chips used

Uncovers musical details masked by typical PCM based processors

7 digital inputs

Fully balanced from input to output

Color touch screen

This is a state of the art new US made DAC with a 3 year factory warranty at a great deal.

 
10 outlet 3 zone power conditioner with High Current outlet for large power amplifiers $499
 
NuWave Phono Converter
1899.00-sold out and no longer available