PS Audio
As of now we will no longer be selling PS Audio as they are going factory Direct
Ask us about the competing brands that we have to offer at great deals.
 
Stellar Gain Cell DAC/Preamp
$1699.00
On sale for $1199.00 until sold out.
Only black available for immediate shipment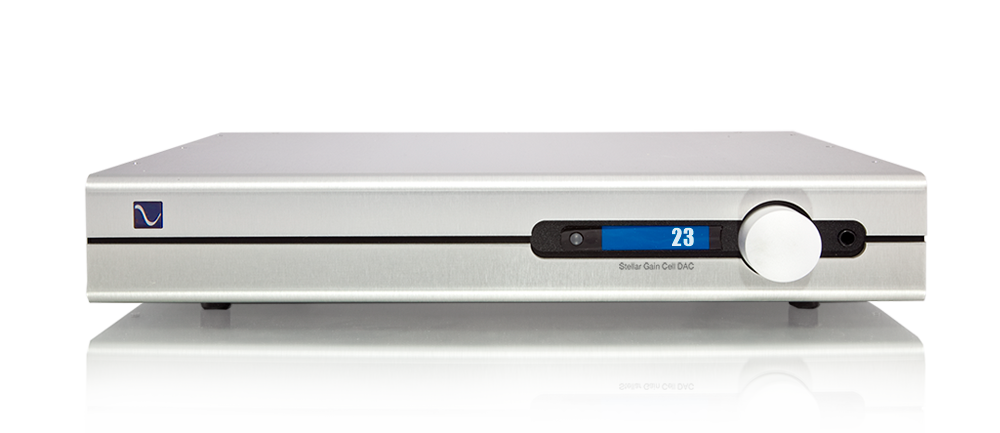 Available in black or silver
There isn't a DAC made that doesn't benefit from a great analog preamplifier. The Stellar Gain Cell DAC combines the benefits of both—a full-featured DAC with an exceptional fully balanced analog preamplifier controlling its output level. Fully balanced circuitry from input to output, the Stellar Gain Cell DAC builds upon years of research and innovation in the art of digital audio and Class A analog amplification. Together, or separately, they create an extraordinarily rich, full-bodied musical experience few standalone products can match. Stellar Gain Cell DAC is the perfect foundation for those unwilling to compromise sound quality. Rich. Lush. Powerful. A music lover's answer to spiraling cost-no-object equipment without sacrifice.
It also has the connections to decode the new Direct Stream Music Player for SACD as well as redbook playback. When used with the S300 stereo amp or M700 mono amps it makes a formidable package with hi end performace and a hi value cost.
"Nothing short of spectacular"
... reads the recent Positive Feedback review of PS Audio's new Gain Cell DAC. Reviewer Tom Gibbs was talking about the preamplifier section of the dual-purpose source device in our new Stellar line. He had 
more to say about the DAC element and the component as a whole. Take a look here:
https://positive-feedback.com/reviews/hardware-reviews/ps-audio-stellar-gain-cell-dacpreamplifier/
In the AudioFi review they summed with:


"
It is rather amazing to consider how much excellence PS Audio has managed to squeeze into this one product.
Would you get better sound, say from a standalone DAC that costs as much as the Stellar? Possibly, but you'd still need to buy a preamp to go with it. And chances are, one with similar flexibility and performance as the Stellar's won't be available on the cheap. Factor in the excellent headphone amp section and it's hard to argue with the appeal and value of the Stellar."
+ Top-notch, no-compromise performance from everything it sets out to do as a DAC, preamp and headphone amp.
– At its asking price, nothing.
Sound: 9/10
Value: 10/10
Read the entire review at:
http://audiofi.net/2017/12/a-stellar-dac-from-ps-audio/