European Audio Team (EAT)
Explore
European Audio Team (EAT)
European Audio Team makes high quality turntables with high technology at very high value prices.
See the AWESOME new Jo #5 cartrtidge review below.
E-Glo I integrated amplifier
$12,995.00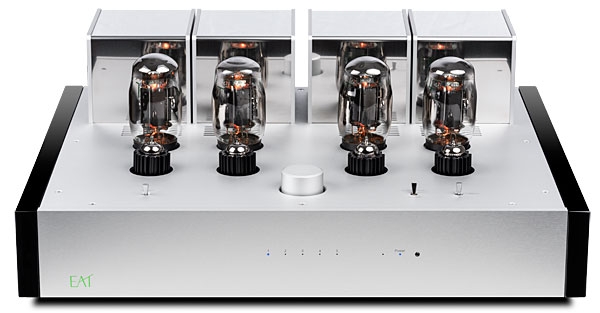 The E-Glo I is a two-channel, tubed, class-A integrated amplifier. It uses two 12AX7 & two 12AT7 signal tubes and four KT88 power tubes. It has 5 pairs RCA line-level inputs and two sets of speaker posts with 4 and 8 ohm taps. Output power is rated at 35Wpc into 4–8 ohms in  Ultralinear mode and 18Wpc into 4–8 ohms in triode. The E.A.T. E-Glo I is a true dual-mono design, with separate PCB circuitry, tubes, capacitors, and transformers for each channel. There are identical power transformers for each channel along with the two output transformers.

In the Dec 2020 Stereophile review they summed with:
"In its ability to create a supercharged musical presentation within a large soundstage populated by big images, allied to superb definition and resolution, with good tone, the E.A.T. E-Glo I gets so many things right in such a balanced, forceful presentation that I'd say it's worth its asking price. Enthusiastically recommended."
Specs:
Input sensitivity: 500mV for full output.
Frequency range: 10Hz–50kHz ±0.5dB/5W.
Input impedance: 30k ohms.
THD: <0.05%/1kHz, 5W.
Signal/noise: >95dB.
Dimensions: 
19 5/8" W × 7" H × 16" D.
Weight: 66lb (30kg).
Finish: 
silver anodized aluminum with Macassar-veneered side panels.
Manufactured in the Czech Republic.
C-Major
$3,349.00 with $524.00 Ortofon Quinet Blue moving coil cartridge & dustcover
TAS Recommended
$3,995.00 with $1200 EAT Jo No5 MC cartridge & dustcover
$2995.00 with no cartridge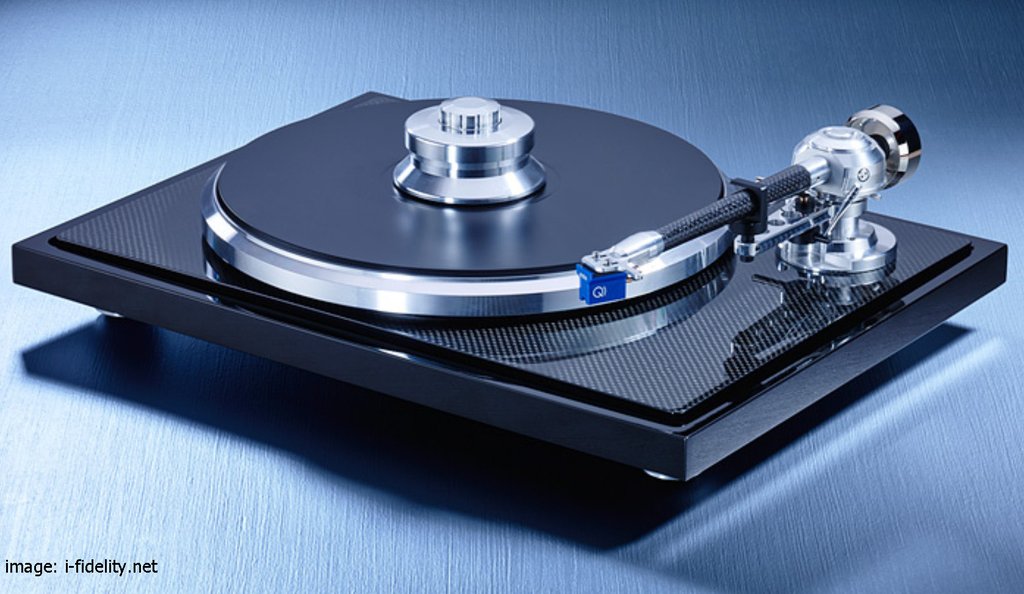 The C-Major is an amazing value with the $1795.00 Carbon C-Note tonearm, $524.00 ortofon moving coil cartridge, included dust cover and record clamp. 
Soundstage said:
"Low in profile, and all gloss black and brushed silver, the C-Major fairly screams sophistication, and while it's EAT's least expensive turntable, it's still obviously a luxury product. But the C-Major is far from an entry-level 'table. The whole shebang just oozed sophistication. There's much to be said for a truly compact turntable -- one that echoes the simplicity, elegance, and user-friendliness of the Denons and Duals of yore. Combine such elegance with high-tech materials and exemplary finishing -- as EAT has in the C-Major -- and you've got a winner. 
Listening to the Pro-Ject is like working for an insurance company. Listening to the C-Major was akin to taking an exciting holiday, the aural equivalent of climbing to Machu Picchu. And who doesn't want to climb up to Machu Picchu!"



" It looks stunning in an understated, techy kind of way, and is easy to set up. Best of all it sounds fantastic. You rarely get all of this at just over two grand. I look forward to investigating more of what this company's turntable range has to offer. Highly recommended."Jeff Dorgay  October 31, 2016

Bob Archer of CE Pro said:

            "I was really impressed with the C-Major. It's well built, easy to put together, and it sounds fantastic."
 
            "I thought the C Major demonstrated the essence of the "vinyl sound."
 
            "I was continually blown away. The C-Major's overall smoothness, rich dynamics and detail simply crushed my Thorens. It was the first time that I've had a turntable in my home that wasn't dramatically more expensive than the value of my Thorens but against which I felt my setup wasn't competitive"
 
            "The C-Major is an excellent way to put discerning music fans into a vinyl solution without the audiophile pricing normally associated with some turntables."
 
Note that this is the THIRD amazing review of this awesome turntable! 
 
Also, the C-Sharp has been named a 2017 Reviewers Choice at The Absolute Sound .
 
Nominal speed: 33/45 rpm, manual speed change

Speed Variance: 33rpm: ± < 0.09%, 45rpm: ± < 0.10%

Wow and flutter:33rpm: ± < 0.05%, 45rpm: ± < 0.05%

Signal to noise: S/N Ratio ( mechanical noise): – 40 dB, Signal to noise (electrical noise): -68 dB

Downforce range: 0 – 30 mN ; 0 - 3.0 grams

Supplied counterweight system: Counterweight 110 g without additional insert → for cartridges 5 – 9 g; Counterweight with additional insert 148 g →for cartridges 9 – 17g

Effective tonearm mass: 14.5 g

Effective tonearm length: 9"

Overhang: 18mm

Power consumption: 5 W max / 0.5W standby

Voltage: Universal switch mode power supply:

15 V DC/1.6 A, 90-264 V AC, 47 - 63 Hz

Dimensions: (W × H × D):

18.1" × 13.9" × 4.9" (without dustcover)

18.1" × 13.9" × 5.6" (closed dustcover)

18.1" × 15" × 17.1" (opened dustcover)

Weight: (Turntable) 19.8 lbs.

Weight: (Boxed) 26.5 lbs.


E-Glo Petit Hybrid tube phono preamplifier
$1695.00

 
The Petit offer hi end performance at an affordable price.
E-Glo Petit follows in the footsteps of the acclaimed and award-winning E-Glo S. With its totally understated design, it delivers superb sound in a small and compact form factor. Breathtaking dynamics, midrange clarity, and high resolution make the E-Glo Petit something very special. The Petit uses discrete technology; with no Operational Amplifiers in the design. Discrete technology outperforms operational Amps in every aspect (except the price). Two 12AX7 dual triodes comprise the tube section of our hybrid phono preamp. A special low-noise J-FET transistor 2SK209 is utilized for the input. This transistor would be good enough for every other phono preamplifier. But not for us! We used four devices in cascode - parallel. This combination allows us to achieve extremely low noise even at high gain. Is there any other tube phono preamplifier which has S/N 87dB (A-weighted) at 70dB gain across the whole audio range? EAT strongly believes that a well-filtered power supply is an integral part of the signal path. That is why they always pay the highest attention to its design. Regulated and well-filtered power supplies are the key to great sound. In the case of E-Glo Petit they designed a very special power supply which is capable of delivering a very high anode voltage for the 12AX7 triodes. This allows them to operate in their most linear range.
B Sharp
$1995.00 without cartridge
$2,199.00 with tonearm, $524.00 Ortofon Quintet Blue MC cartridge & dustcover
B Sharp turntable
 
The B-Sharp turntable, with engineered cues taken directly from the company's award-winning and highly acclaimed C-Major turntable. The B-Sharp sheds all of the non-essential cosmetic adornments of the C-Major without compromising performance or mechanical integrity, providing vinyl enthusiasts with a superb playback option at a more affordable price. The B-Sharp turntable features the new B-Note tonearm, made from a carbon fiber alloy that is light yet rigid with a black anodized aluminum headshell. The B-Note tonearm provides all of the key features for cartridge alignment and adjustability: VTA (Vertical Tracking Angle), SRA (Stylus Rake Angle), VTF (Vertical Tracking Force), azimuth and a slotted headshell for overhang / offset angle. The anti-skate mechanism has been engineered for more intuitive calibration, making setup of the B-Sharp notably easier than competitive products.  A proprietary low noise motor, floating chassis, aluminum platter and a high-density MDF low profile base are included as standard features of the B-Sharp. Like the C-Major, the B-Sharp uses a high-tech TPE (thermoplastic elastomers) suspension system that works in concert with adjustable feet that provide levelling ability for the table. The B-Sharp comes equipped with a factory installed $236.00 Ortofon 2M Blue Cartridge, hinged dustcover, low mass aluminum record clamp and a felt platter mat-all included. The B-Sharp delivers a level of performance commensurate with turntables at a significantly higher price Point

.



HifiNews summed with:




"When one lives with costly gear while reviewing something affordable, it takes self-discipline to judge the latter in context. The EAT B-Sharp, however, is so musical, user-friendly and resistant to obsolescence that I had to keep reminding myself of its price. For novices, it is an elevated place to start. For veterans on a budget, it's free of compromise and I'll now use one as my sub-£2500 ($3000) reference."
Read the entire review at:  https://www.hifinews.com/content/eat-b-sharp-turntable
"Overall the EAT B-Sharp turntable looks to be a beautifully well-rounded source component that I could happily live with. 
The EAT B-SHARP is a turntable that I could happily live with. It gives me everything I need for great sound without any excess gimmickry or fluff. And it looks…wait for it…Sharp!
The EAT B-Sharp turntable is an excellent choice for people who are seriously looking to get into vinyl and are demanding something a bit better than average, without breaking the bank of course. It is a bold and refined design that provides you all the necessities and does away with the superfluous. Its handsome look is eye catching and is sure to be noticed. Its performance is also a step above, with the bundled Ortofon 2M Blue cartridge. This could easily be someone's first and last turntable as it provides a most suitable foundation for more resolving cartridges should one's desires and budget grow. Let's see: it's good looking, easy to live with, sounds sweet and it won't put you in the poor house. Sounds like the perfect date. All you need is the wine!"  
- 
Carlo Lo Roso

Read the entire review at:
https://hometheaterhifi.com/reviews/vinyl/turntables/eat-b-sharp-turntable-review/
C-Sharp
$5,299.00 with 10" C-Note carbon fiber tonearm & $1,195.00 Jo #5 MC cartridge
$4,499.00 with no cartridge
TAS Editors' Choice Awards: Turntables $2,000 - $5,000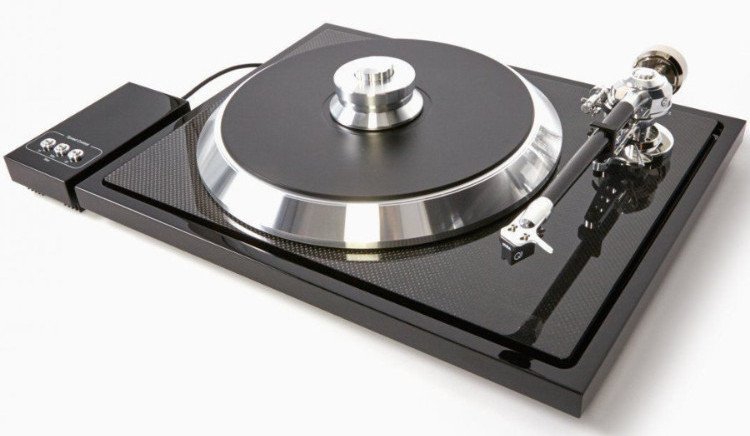 The Absolute Sound said:
"The combination of the C-Sharp and Quintet Black produced so appealing sound that had rhythmic drive and made nearly everything I spun fun to listen to"
Positive Feedback wrote a killer review:
"the EAT turntable performed so superbly and was so inexpensive that the audiophile may build a near state of the art system with the C Sharp at its core. How about that:  phono reproduction with amazing sound, easy to setup and tweak, and all at reasonable cost!"
"It features a true 10" length, carbon fiber with aluminum arm tube, adjustability in every possible plane, special elastomer damping in the tube, gorgeous chrome finish, and all the counterweights you need for various cartridge weights. WOW!"
"If you want virtually state-of-the-art phono playback for under $10,000, including cartridge, build your system starting with the time-tested EAT C Sharp Turntable and Arm Combo at its heart. The EAT C Sharp Turntable Combination is that good!"
Read the full review at

:
https://positive-feedback.com/reviews/hardware-reviews/eat-c-sharp-turntable/
The Hifi-World review summed with:
"The C-Sharp displays incredible value for money with its low noise output and controlled sonics that are both well-focused and mature in nature with an incisive and detailed presentation."
Low profile carbon fiber base
$1995.00 C-Note 10 inch Carbon fiber tonearm
External speed control network
30 pounds
Optional dust cover
Nominal speed: 33/45 rpm, driven by microprocessor, separate control panel, lighted control buttons

Signal to noise: S/N Ratio ( mechanical noise): – 40 dB, Signal to noise (electrical noise): -70 dB

Downforce range: 0 – 30 mN

Supplied counterweights: without additional insert → for cartridge 5 – 9g (125g), with additional insert → for cartridge 8,5 – 13g (142g)

Effective tonearm mass: 0.58 oz. (16.5 g)

Effective tonearm length: 10"

Overhang: .6"

Power consumption: 8.5 W max / 0.5 W standby

Voltage: Universal switch mode power supply 15 V DC / 1.6 A, 90-264 V AC, 47 – 63Hz

Dimensions: 19.7" wide × 15.7" deep × 4.5" high without connectors, 19.7" wide × 17.12" deep × 4.5" high with connectors in the rear panel

Weight (without box): 29.7 lbs. + 1.1 lbs. separate control panel
Jo No 5
Moving coil cartridge
$1,195.00  ($1,495.00 in beautiful wood display box)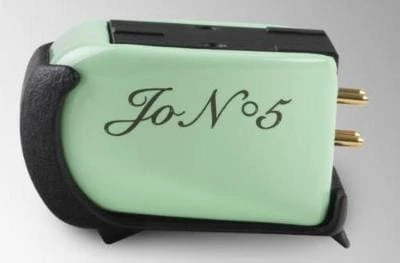 The perfect upgrade for any turntable! The Jo No.5 is an elegant masterpiece, both sonically as well as visually. The cartridge body and stylus guard are made of polyamide and are produced by an additive manufacturing process which is called Selective Laser Sintering (SLS). This process sinters thin layers of powder with a laser to build the final structure for a virtually resonance free material - perfect for analog reproduction. It comes in unmistakable mint green color(!) and features a very detailed, low distortion, natural and immersive sound that is the signature of all EAT products.

Here is what Bob Levi or Positive Feedback said in the first review:
"The EAT Jo No.5 MC Cartridge is the best overall performing MC cartridge I have heard in a long time, and the current "price/performance value" of the decade."
" …at $1295, it challenges my favorite $3500 cartridge reference for best overall definition, imaging, and musicality. I cannot even suggest a cartridge at Jo's price that comes close in overall performance.
The Jo gives up a small amount of depth and a bit of textural layering, while retrieving pinpoint imaging with a focus unmistakably improving upon my $3500 reference cartridge, and rivaling my $6000 cartridge. The Jo sings naturally with impressive, immersive realism. With no etch or lumpiness, I hear a reel-to-reel tape presentation, not an LP.
The Jo at .3 MV output had seriously powerful dynamic swings and snappy, exciting speed and rise times. I got lost in the music and forgot I was reviewing several times. Jo did smooth and sweet with the same authority. It even did rich and liquid where called for, a feat many expensive MC's fail to do. Amazing. The Jo No.5 is a chameleon on a tonearm.
Breakthrough is a breakthrough, no matter how you spell it. The Jo No.5 is how I spell it right now. At $1295, unless you collect boxes, this is the cartridge to own.

It sings with an authority, solidity, speed, and realism only available until now at triple the cost…For once, the audiophile consumer is the winner! 
The EAT Jo No.5 MC Cartridge is the best overall performing MC cartridge I have heard in a long time, and the current "price/performance value" of the decade. It is not just a very good sounding cartridge. Jo is a cutting-edge high tech music machine enhancing the performance and erasing distortion! WOW! The Jo redefines the build quality and style of what is achievable, realistic to expect, and top tracking ability worth at least $3000. If Jo No.5 turns out to be the middle or bottom of the EAT cartridge model range, we will look forward to the "big bang" of an EAT stellar transducer extraordinaire!
The EAT Jo No.5 MC Cartridge is sublime and a wondrous value not soon to be surpassed. My 50 years of audiophile listening tell me Jo fully deserves my highest number 1 recommendation! Welcome to America Jo!"
Michael Fremer in his Audio Planet review said:
"Yes, you can get faster and leaner performance elsewhere and for that matter, warmer and softer too.

I found the E.A.T. JO Nº5 to provide an ideal balance between the two. It certainly is no match for the super-costly "super cartridges" out there now, but considering the price, it leaves very little on the 'table

and it's among the best looking transducers you can buy at any price!"

Read the full review at: https://www.analogplanet.com/content/looks-good-enough-eat-jo-n%C2%BA-5-moving-coil-cartridge
Stylus type:  Nude Fine Line
Weight: 15g
Stylus tip radius: 8/40um
Frequency response: 20-20,000Hz
Output voltage: 0.3mv
Channel separation: Greater than 23dB @ 1KHz
Compliance dynamic/lateral: 15 um/Nm
Tracking force range: 2.1-2.5g
Recommended tracking force: 2.3g
Tracking angle: Pure 4n Copper
Coil wire material: Greater than 20 Ohm
Recommended load resistance:
Jo #8 Statement moving coil phono cartridge
$2,395.00 
With its solid chestnut body, unique engineering and internal components shared with Ortofon's top-of-the-line offerings, the Jo No. 8 is a milestone in State-of-the-Art cartridge design. At $2,495, it's a high-end bargain, too. If you love the Jo No. 5, the new Jo No. 8 will take you to heaven!
Jo No. 8 Reviewed in Positive Feedback
PF reviewed the Jo No. 5 back in 2018, calling it "sublime, and a wondrous value not soon to be surpassed." Now reviewer Gary Lea is back with a look at the next MC cartridge in the Jo series, the Jo No. 8.

He concludes: "In a nutshell, I am wondering if Jozefina would take a trade of my Koetsu for the Jo No. 8? I think that sums it up nicely... a rare overachiever in a world of underperformers...."
E-Glo S Hybrid Tube phono stage
$3,595.00
with optional LPS external power supply-$4,995.00 - Save $300.00
Secrets gave it their award for Best Mid priced phono stage of 2018