Level 2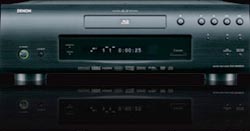 Our Level 2 mod for the Denon DVD-3800 BluRay player is a big upgrade from the stock model and makes this an excellent player for both hi-end audio as well as hi-end video systems. The Level-2 mod was designed by Chris Johnson, the founder and former president of Sonic Frontiers. It is a cost-effective way to greatly improve an already very good multi-format player.

The following details our Level-2 mod [$1,400 + frt for retrofit 2 channels; $2,000 + frt. retrofit 3 channels; $2,990 + frt. preinstalled 2 channels; $3,690 + frt. preinstalled 3 channels]:
We replace the stock I-V op amps with the world's best amplifier solution, the Burson Audio discrete op amp modules in a dual configuration using special SMT to DIP adapters. We use 4 pcs. total.
1 pair of WBT next -en 0210-Cu gold over copper female RCA jacks replace the cheap stamped brass units of the stock player.
4 x DH LABS pure 99.999% (5Ns) solid-core silver hook-up wire, with foamed Teflon tape wrap dielectric are used on the WBT'.
WBT high silver content (4%) solder is used throughout.
5 hours labor
These machines come with a one year warranty on all work done. They also have a 90 day warranty on the entire player.

The sonic transformation of the mod is large. The unit now is smoother with a warmer and more liquid midrange. These new discrete opamps are superb and make a big improvement to the slight solid-state glare of the stock player. The player is more dynamic and micro dynamic contrasts are much improved. Highs go out further and there is more air in the presentation.

Bass slam and extension are both better with fuller weight and authority in the critical mid-bass region. The player has a lower noise floor that allows it to resolve more low level information. Ambiance retrieval is improved. Transparency is improved and you can now look further into the soundstage.

mages are sized better and are more focused. Stage width and depth improve.The Level-2 is the best bang for the buck mod that we can offer on the player. It makes a far bigger improvement than adding a clock or anything else we tried. The finished player is a great way to have one machine for both audio and video in a hi-rez A/V system.
---
Level 4
We are proud to introduce our Level-4 modification to the Denon DVD-3800BDCI Blu-Ray CD player. The DVD-3800 is a very good audio player as well as a superb Blu Ray video disc player. Reviews have been excellent. Our best mod, the Level 4, makes this a superb player for both hi-end audio as well as hi-end video systems.Features of the 3800 go on forever and are listed on the left.

The mod was designed by Chris Johnson, the founder and former president of Sonic Frontiers. It is extremely comprehensive and makes a dramatic improvement in this already very good player.

The following details our Level-4 mod [$2,200 + frt. retrofit for 2 channels; $3,000 + frt. retrofit for 3 channels - new 2-channel modified players are $3,780 + frt, $4,580 + frt. for 3 channels]:
we replace the inexpensive stock I-V op amps with the world's best amplifier solution, the Burson Audio discrete op amp module used in a dual configuration, using our special custom SMT to DIP adapters – 4 pcs. total.
One discrete DEXA UWB 7805 series regulator replaces the inexpensive unit of the stock player. This is a dramatically lower impedance design than the stock regulator.
12 x BlackGate N, Std and FK-series output electrolytic capacitors are used in the power supply, output coupling and de-coupling locations.
2 x 1% polystyrene film and foil capacitors are used in the analog filter stage.
2 x RelCap TFT Teflon film and tin foil bypass coupling capacitors are added.
6 x Riken Ohm ½ and 1 watt signal path 1% carbon composition resistors with gold-plated leads are added.
8 x Audionote Tantalum film ½ and 1 watt signal path 1% tolerance resistors replace cheap parts in the stock player.
4 x International Rectifier Hexfred ultra-fast soft recovery diodes are added.
4 x Telefunken Fred-style soft recover diodes are installed in the power supply.
1 x Furutech Rhodium-plated IEC inlet connector replaces the cheap one in the stock player.
1 x $30 HiFi Tuning German-made pure silver element fuse replaces the stock fuse.
1 pair of WBT next gen 0210-Cu gold over copper female RCA jacks replace the cheap stamped jacks on the stock player.
We install four large EAR brand compliant Sorbothane isolation feet with new mounting hardware.
1 sheet of Soundcoat chassis damping material is cut and applied where applicable to control chassis resonances.
4 pieces of DH Labs 99.999% pure solid-core long-grained silver output signal wires with foamed Teflon tape wrap dielectric.
WBT high silver content (4%) solder used throughout.
11 hours labor are required to do the entire modification
1 year warranty on modification work, 90 days on entire machine
The sonic transformation of the mod is amazing:

It is much smoother with a much warmer and more liquid midrange. The solid-state glare is now gone with a more neutral presentation. This alone is worth the price of the mod. The unit is quieter and the blacks are Blacker, resolving more ambience. The player is more dynamic and micro dynamic contrasts are much improved. Highs seem to go on forever and there is much more air in the presentation. Transparency is improved and you can now look further into the soundstage. Images are sized better and are more focused. Stage width and depth improve.

Bass slam and extension are dramatically improved with fuller weight and authority in the critical mid-bass region. It now competes with the best players in this important area. The Level-4 is the best that we can do to the 3800. It allows it to compete with any solid-state multi format player that we have heard under $10k. Other mods are available that start as low as $2190.00

Features of the stock player are as follows:
Burr-Brown PCM-1796 24/192 Audio DACs, 2 per channel
DDSC-HD for internal HD Audio decoding
Advanced AL24 Processing
Dual Analog Device SHARC DSPs
Bass Management with 5 selectable crossover points
Pure Direct Mode
7.1 Channel Analog outputs
BD Profile 1.1
Picture in Picture support via Secondary Video and Audio circuitry
Realta sxT2 HQV Processing and Scaling up to 1080p
Realta HD Noise Reduction
Multi Cadence Detection
10-bit Processing
HDMI 1.3a Output with Deep Color support
1080p/24fps output capable
Dedicated 2 Channel Mix-Down Analog output
Component x 2 (RCA and BNC), Composite and S-Video Outputs
Optical and Coaxial Digital Outputs
Playback of CD-R/RW and DVD-R/RW
WMA, MP3 Decoders
Kodak and Fuji Picture Disc compatible
jpeg Slide Show viewer
DivX ver. 6 support
Analog Devices 14-bit/216-MHz Video DAC
Noise Shaped Video – NSV
Parallel Analog/HDMI video outputs
Serial Remote I/O Ports
RS-232C Port for Third Party Controllers
Remote IR Lock Mode
Remote Control
Detachable Power Cord