Pro-Ject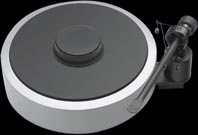 Pro-Ject turntables: High-value turntables starting at under $300. The Debut Carbon is a best Buy everywhere at $449.00 while the 1Xpression Carbon Classic is a best buy with excellet carbon fiber tonearm and Ortofon 2M Silver cartridge in 4 beautiful finishes. The top of the line RM-10.1 received a killer review in Stereophile. It is the $3500 table to beat. Other models available are:


T-1 turntable with Ortofon OM5SE cartridge $329.00
Essential III - New entry table with nice tone arm, MDF platter and Ortofon OM10 cartridge - $349
Debut Carbon DC, turntable w/carbon fiber arm, MDF base & metal platter w/2M Red Ortofon cartridge. In black, red, green, blue, yellow, silver or white - Now only $399  

RPM 1 Carbon

In Gloss Black, white or red w/Sumiko Pearl cartridge  $499.00   Opt Dust Cover $99

X1 in white or satin walnut dark gray lacquer with SumikoRanier cartridge cartridge $899
RPM 5 Carbon in piano black, red or white w/Sumiko Blue Point #2 cartridge $1,499

TAS Editors Choice 2020

RPM 3 Carbon-

Round table w/Carbon fiber arm in gloss black, red or white w/$450 Sumiko Blue Point #2 $999.

X2  Superb value table w/Project 9CC carbon fiber tonearm & $450 Sumiko Moonstone cartridge. $1,299/
The Classic-Great reviews on this hi value table in multiple finishes $1099.00

The Classic

Evo upgraded Classic with Sumiko Amethyst cartridge, electronic speed control, $1,699.00- Great Value
6Perspex DC, Turntable w/ clear acrylic plinth, sub-chassis system made of Corian® suspended by three height adjustable opposing magnet fields. Also a bonded MDF platter with vinyl mat, a threaded record clamp, adjustable cone feet. A new 9" tonearm, the 9cc Evolution, incorporates a conical carbon fiber arm - $1,799/ $1999 with Sumiko Amethyst cartridge.TAS Editors Choice 2020

RPM9 Carbon $2499, $2999.00 with $1250.00 Sumiko Blackbird cartridge TAS Recommended in 2018 Buyers Guide
TAS 2018 Editors' Choice Awards: Turntables $2,000 - $5,000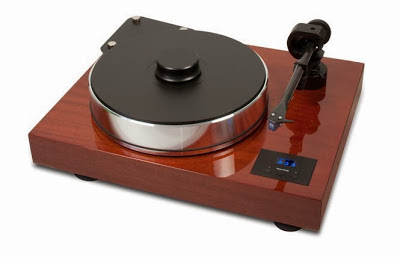 Xtension 10 in Mahogany lacquer TAS Recommended in 2018 & 2019 Buyers Guide


TAS 2018 & 2019 Editors' Choice Awards: Turntables
$2,000 - $5,000
XTension 9- Affordable state of the art table in 5 lacquer colors. $2499/$2750 w/$450 Bluepoint #2 cart.
XTension 10- (Above) New affordable super table with superb $1300 Project 10cc Evolution 10" carbon fiber arm,  12 pound platter, mass loaded floating sub chassis, balanced sandwich platter and electronic speed control. $3999/ $4499 with $1250 Sumiko Blackbird cartridge. Available in piano black, mahogany or olive.
Xtension 12- Superb table with $1300.00 12" Project 12cc carbon fiber tonearm. Larger version of the above Xtension 10 $4499/$4999 with $2500 Sumiko Celebration II cartridge
RM-9 Carbon - reference table with conical carbon fiber arm - $2499/ $2999 with $1250 Sumiko Blackbird & Connect-iT tonearm cable, Optional dust cover $129
Stream Box S2 Ultra Streaming Bridge
$849.00
Add streaming to any DAC-
Class B rated in Stereophile 2019
With the Stream Box S2 Ultra Project has designed a completely new product in the streaming world. It features never seen control scenarios and unprecedented audio performance. Its main goal is to be a universal device that can get any USB DAC into the network, upgrading your favourite high-end DAC with modern and future proof streaming capabilities.
With the gaining ground of internet streaming services, such as TIDAL or Spotify, Audiophiles interest has shifted towards network enabled devices. Many great sounding products though do not offer any network ability, either because they are too old or their main focus was not on streaming. The solution has often been to replace them with a new and modern device, stream audio via Bluetooth or to comprimise and use a smartphone or tablet via their analogue ouput to feed active speakers or amplifiers. There never was a really good solution for the consumer. Untill now.
Stream Box S2 Ultra: the smart addition
Stream Box S2 Ultra closes the gap, it offers modern connectivity with its network inputs and USB A output. Its USB output is perfected for audio signals. It uses a dedicated internal power supply and only top audiophile grade components. You won't run into file-support issues, as Stream Box S2 Ultra acts as a network bridge, bypassing the files directly to your digital to analogue converter. Since most DACs only have one USB input, Project designed Stream Box S2 Ultra also to be a USB detox device. Simply connect your PC to the micro USB input of the unit and connect your DAC to the audio output. This way you can clean the noisy signal of your PC, while enjoying your music with it.
The new remote control iOS and Android App is based on an opensource project and has a large community behind it. This guarantees full support and future improvements.
 
Stream Box S2 Ultra: feature galore!
Stream Box S2 Ultra is fully remoteable via smart devices and a regular web-browser. It offers support for the most popular streaming services: Spotify and TIDAL. Both services offer you an endless amount of music guaranteeing that you never run out of music to listen to. By implementing Shoutcast, Project also give you the option to listen to various internet radio stations. You can listen to your favourite radio shows, the news and discover new channels from all around the world – with just a few clicks.
The back-sided HDMI video output lets you connect your monitor to the Stream Box S2 Ultra. It will then show you the graphic user interface, ready to act on your commands. With the implementation of Shairport Project as even able to give the iDevice users out there another possibilty to send data to Stream Box S2 Ultra.
There are two USB inputs on Stream Box S2 Ultra, one front sided and one back sided. Both give you the possibility to connect an external harddrive to the unit. Via one of the various control scenarios (App, Webbrowser, external monitor) you can pick from your own selection of audio. The file system support goes up to PCM 32bit / 352.8 kHz and DSD256.
Pro-Ject is a big supporter of the Roon software so the Stream Box S2 Ultra is Roon Ready. This way you can simply pick your Stream Box S2 Ultra in the Roon interface and send bit-perfect audio streams to it over your network.


Features
High resolution network bridge

Audio optimized USB A output

Multi-room enabled

Dual USB A input for external storage

TIDAL supported

Spotify

Network-enables any modern DAC with USB input

Internet Radio

DLNA enabled

Bypasses all audio formats to the DAC

Cleans up the audio signal from a PC

Roon Ready (in progress)

Shairport

Bluetooth

Uses dedicated power supplies

HDMI video output

Controllable via smart devices and PC/Laptop

New control app!

Ethernet and WiFi connectivity
DAC Box RS
$1099.00
Our favorite under $1500.00 DAC
Available in black or silver
The advanced DAC Box RS is a reference-class D/A converter for all kinds of digital stereo sound sources. It superbly acts as a superior USB audio interface for demanding computer audio, also features AES/EBU input and I²S interface for use with CD Box RS. For the engaged audiophile we provide full DSD capability (up to DSD128) over PCM. All inputs fully support 24/192kHz HD music data (optical inputs 96/24) in fully asynchronous mode.  
Additionally DAC Box RS incorporates a pair of the best audio grade DAC chips, PCM 1792, which only can be found in expensive high-end designs. 2 different digital filter settings are selectable to meet your favourite sound preferences. Additionally we realized that its also depending on customers taste and type of music/recording, what technology for the outputstage is preferable. More warm and relaxed sounding with Tubes or Solid State Class A with limitless details and dynamics. The DAC Box RS has both options to select!  
The whole audio circuitry design is ultra low noise and ultra linear with very low output impedance to avoid any negative interference with cables or pre-amps. The optional outboard Power Box RS power supply at only $499.00 makes it even better.
• Double top grade PCM-1792 D/A chip from Texas Instruments  
• 9 Inputs: USB, AES-EBU, optical (Toslink), coax (S/PDIF)  
• 24bit/192kHz asynchronous USB (XMOS technology)  
• DSD (up to DSD128) capability (DSD over PCM)  
• I²S interface for CD Box RS (sonic2data transfer technology) with additional clock synchronisation port (BNC)  
• 2 selectable digital filter settings  
• Fully balanced analogue audio circuitry  
• Tube output stage & solid-state output stage (switchable)  
• Ultra linear & ultra low noise circuitry  
• IR remote control included  
• XLR & RCA line level output sockets 
Pre Box RS
Remote fully balanced tube preamplifier
$999.00
The Pre Box RS is a reference-grade 2-channel preamplifier featuring a fully balanced dual-mono design with a vacuum tube based output stage. The circuit design is both ultra quiet and highly linear using no global negative feedback. Operating in pure Class A the Pre Box RS is capable of producing stunning musical realism from any line level source. There are numerous source connectivity options using either two pairs of balanced XLR's or the three pairs of single-ended RCA jacks. High-quality component parts are used throughout including low ESR capacitors, rugged relays, reliable dip-switches and a motor driven Alps potentiometer to control output level. All circuitry is encased in a heavy and rigid aluminum chassis that is mechanically constructed using anti-microphonic techniques. A robust highly regulated and filtered outboard power supply delivers ample voltage for impressive dynamic capabilities and an upgraded power supply is also an option. An IR remote control is supplied.
Pre Box S2 Digital - a performance revolution in a small package! 
$399.00
Class A rated in Stereophile 2019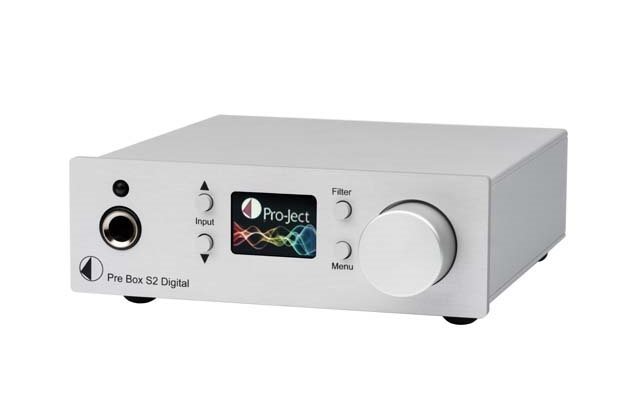 The Pre Box S2 offers amazing value. It can be used as a
digital preamp or stand alone DAC with MQA decoding as well as DSD and PCM to 24.192k for all your Hi rez software.
Value is off the scale and performance is superb for the money. Hook up an amp and digital source, like a computer, to a pair of speakers and make a killer affordable system

Pre Box S2 Digital marks a new era for Pro-Jects S-series components, for the very first time They are using a dual mono configuration with the highest class D/A converters of ESS Sabre, their flagship DAC chip, that ensures highest class audio in a small and affordable pack-age. This DAC is capable of high resolution audio up to 32bit 768kHz PCM and DSD512! 
Pre Box S2 Digital is also the very first of our devices to support hardware
MQA unfolding
. It's also the premiere of our proprietary Optimum transient digital filter and our pro-prietary clock circuitry design. Digital audio is the art of time, with the new proprietary clock design we have managed jitter rates of unrivalled 100 Femtoseconds, this easily outperforms many renowned and respected audiophile clock generators! With organic polymer capacitors and thin film mini MELF resistors Pro-Ject was able to create a tiny device that will blow away even much bigger components for a much higher price. With a total of seven digital filters the sound can be shaped precisely to the listeners lik-ing. Pre Box S2 Digital is fully remoteable, it can also control the playback software of a computer. You can use Play, Pause, Forward and Rewind straight with your Pre Box S2 Digital! 

Headfonics summed with:
"At $399 the Pre Box S2 Digital is one of those all-in-one solutions that defines what a typical 2018 digital audiophile might be looking for. Roon Tested, full MQA unfolding, a low noise floor, easily transportable and a very likable tonal presentation with a very modern DAC chip solution inside. This is one well designed, feature-heavy little box and it will sit very nicely indeed right beside your PC either at home or in the office."

Hifi News gave it an "Outstanding Product" award and said:
"Pro-Jects Pre Box S2 Digital offers a wealth ofaudiophile tweakery but its emphasis on USB ties it primarily but not exclusively to desktop and laptop
PCs. On the other hand, USB hook-up means the S2 is still a portable option for laptop users, and it doesn't need a battery. For the price, its sound performanceis impeccable, combining clarity and precision with an attractive warmth and impressive sense of space."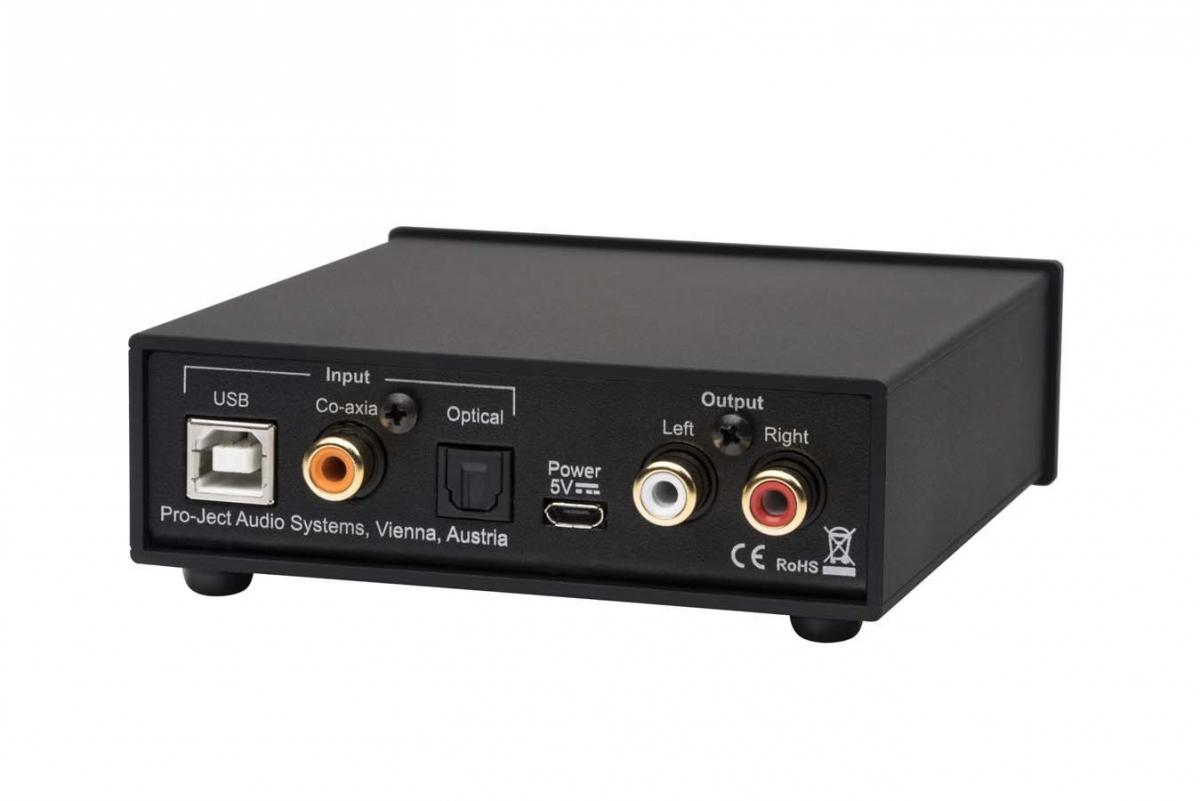 Dual mono construction
• High end ESS Sabre ESS9038 dual DAC
• Proprietary clock circuity design
• Organic polymer capacitors and thin film miniMELF resistors
•
MQA hardware decoding
• DSD64, DSD128, DSD256 & DSD512 (DSD over PCM)
• Up to 24bit/192kHz for optical & coax inputs
• 7 selectable digital filter characteristics
• 1 proprietary optimum transient digital filter
• Headphone output on the front (6.3mm)
• Synchronization of all internal oscillators
• Jitter as low as 100 Femtoseconds!
• Gold plated four layer PCB
•
Outboard Power supply 5V/1A DC (included)
• Full alu/metal sandwich casing in silver or black
RM-10 carbon - flagship table with Ground-It bass, 10" carbon-fiber tone arm, superb - $3,499/$3999 with $1250 Sumiko Blackbird and Connect-It tonearm cable

Tube Box DS - Tube phono stage for MM and MC (60dB) cartridges $699

Tube Box S, tube MC/MM phono stage with excellent sonics - $449

Phono Box SE -Solid State phono stage for most MM and MC (55dB) cartridges $299

Phono Box RS-Exceptional phono stage with front panel controls. Balanced & RCA outs Pro-Ject's best $999