Peachtree Audio
Peachtree Audio is a 12 year old company founded by Signal Path, the ex US importer of Musical Fidelity. The founders have over 150 years of combined industry experience. Peachtree is dedicated to offering hi-value/hi-performance audio products at prices that are far more than their hi-end competition. Hi-end performance at mainstream prices. And now most products are made in North America. All their products have received excellent reviews. The Nova was Stereophile Budget Component of the Year and the new models set a new value performance standard unmatched in the industry. Peachtree is "THE" a leader in computer audio and already on their 5th generation of products while other companies are just starting to learn what it takes to make computers sound great for hi-end audio. They were the first company to add a USB DAC to an integrated amplifier. The new Nova series uses sophisticated 32 bit/384k DSD capable ESS 9018 Sabre DAC's coupled to world class preamplifiers with very stable hi power amplifiers.
 
Pre/DAC
$2499.00
Or $3999.00 with the AMP 500 as a package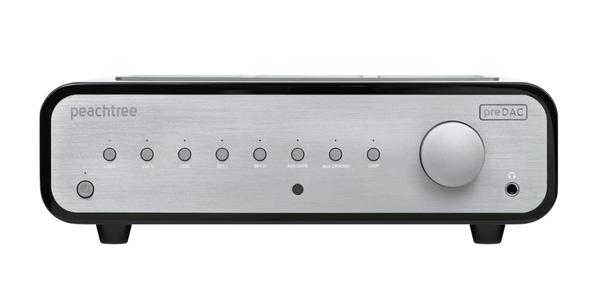 The Peachtree Audio preDAC is a preamplifier + DAC based on the incredible nova500 integrated amplifier. The preDAC is, in essence, a nova500 with the amplifier section removed - but with key upgrades. Like the nova500, the preDAC is a differential (aka balanced) audio design that provides exceptional immunity from noise/interference and keeps the audio signal as far above the noise floor as possible. The preDAC features a dedicated power supply, superior signal-to-noise ratio, balanced XLR outputs (in addition to single-ended RCA) and even better headphone amp performance.
The preDAC provides the same input flexibility as our nova integrateds:
USB-B for a computer

USB-A for an iOS device

coaxial digital

2 optical digital

2 configurable analog inputs including MM phono

Home Theater Bypass

LOOP feature to insert equalization, room correction, or other signal processing into the signal chain

Available on black or mocha finishes to match the AMP 500
SAVE $300
on the preDAC when paired with Bluesound's NODE 2i Wireless Music Streamer.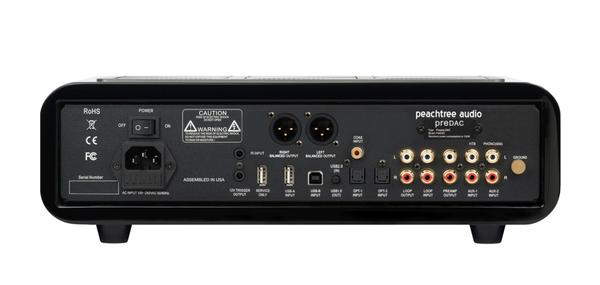 amp 500
500 watts per channel power amp deal
Save $300.00
500 watts per channel has never looked or sounded this good!
The first review is a rave and they sum with:

"Maybe I should have known how impressive the Peachtree amp500 would perform in my system with multiple speakers. But, I wasn't prepared. The British have a great word that is absolutely fitting, "gobsmacked".  No matter what music or speakers I threw at the amp500, this sexy oval dynamo delivers beyond all expectations. Yes, I'm finding a way to keep the Peachtree amp500, it's an absolute steal!"
The full review can be read here:
https://www.audiopursuit.com/2020/03/peachtree-audio-amp500.html  
▪
Drive ANY speaker with ease and headroom to spare
650 watts at 4 ohms and 2 ohm stable
| | |
| --- | --- |
| ▪ | Exceptionally low noise floor compared to MUCH less powerful amps |
| | |
| --- | --- |
| ▪ | Balanced and unbalanced inputs with differential audio circuits |
| | |
| --- | --- |
| ▪ | Based on the same amplifier technology used in the flagship nova500 |
 
Aluminum front panel and chassis wrapped in a real wood cabinet finished in a stunning ebony mocha or piano black gloss

                                                
List $2000.00

 Sale $1,699.00 delivered