Peachtree Audio
Peachtree Audio is a 12 year old company founded by Signal Path, the ex US importer of Musical Fidelity. The founders have over 150 years of combined industry experience. Peachtree is dedicated to offering hi-value/hi-performance audio products at prices that are far more than their hi-end competition. Hi-end performance at mainstream prices. And now most products are made in North America. All their products have received excellent reviews. The Nova was Stereophile Budget Component of the Year and the new models set a new value performance standard unmatched in the industry. Peachtree is "THE" a leader in computer audio and already on their 5th generation of products while other companies are just starting to learn what it takes to make computers sound great for hi-end audio. They were the first company to add a USB DAC to an integrated amplifier. The new Nova series uses sophisticated 32 bit/384k DSD capable ESS 9018 Sabre DAC's coupled to world class preamplifiers with very stable hi power amplifiers.
 
amp 500
500 watts per channel power amp deal
Save $500.00
500 watts per channel has never looked or sounded this good!
▪
Drive ANY speaker with ease and headroom to spare
650 watts at 4 ohms and 2 ohm stable
| | |
| --- | --- |
| ▪ | Exceptionally low noise floor compared to MUCH less powerful amps |
| | |
| --- | --- |
| ▪ | Balanced and unbalanced inputs with differential audio circuits |
| | |
| --- | --- |
| ▪ | Based on the same amplifier technology used in the flagship nova500 |
 
Aluminum front panel and chassis wrapped in a real wood cabinet finished in a stunning ebony mocha or piano black gloss

                                                 List $2000.00

                        Sale $1499.00 delivered

                                              Free $400.00 Core Power 6 foot power cord with warranty  
GREAT NOVA 220SE DEAL
List $2000.00
Sale $999.00 delivered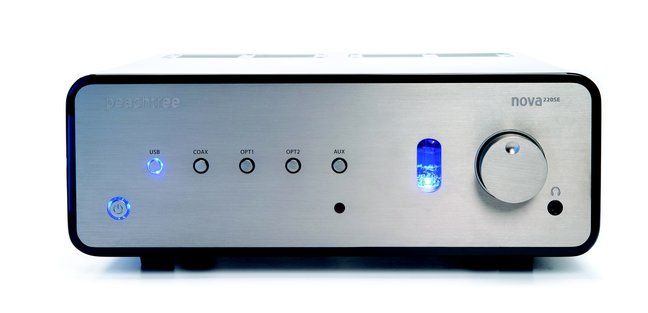 I have a limited number of brand new sealed Peachtree Audio Nova 220SE integrated amps for sale. These are A-stock and not refurbished. They have the 2 year factory warranty.

The Nova 220SE is a 220 wpc remote controlled integrated amp with excellent Asynchronous 24.192k Sabre DAC, analog input, tube and solid state preamp and preout to run a sub. It also has a nice headphone amp. Other manufacturers use the same amp stage and rate them at 250 watts. Peachtree is conservative.

I have heard it outperform some high ends separates from the big boys that sell for multiples of its price.

See full info here: 
https://www.peachtreeaudio.com/nova220se-amplifier-with-dac.html

In the Hifi+ review when they were $1999.00 Chris Martens said:
 
"…I think the nova220SE deserves recognition as one of the benchmarks in its class. Best of all, it offers the elusive and desirable combination of sonic finesse and dynamic
clout—qualities that free listeners to explore virtually any sort of loudspeakers they might wish to try. For these reasons and more, I think the nova220SE makes a great place
to start (or perhaps conclude) a quest for high-end sound at a sensible price."-
Chris Martens hi-fi+
Tone Audio said:
"Until recently, praising class-D power amplifiers came with a warning that proper speaker matching is crucial. Just like Peachtree's nova125, the nova220SE needs no such
disclaimer. With speakers from Harbeth, Totem, ACI, Golden Ear, and Magnepan, this integrated amplifier shows no weaknesses."
"Even under the intensity of the Magnepan's 2-ohm load drops andvolume levels crossing 100 dB, the amp stays in control. It revels in being driven hard; this isn't an
integrated for those who enjoy listening to music at whisper levels."
"I spend a great deal of time using the nova's headphone output, which offers 1,170 mW into 32 ohms and
really brings a pair of
Sennheiser HD800s to life."
Home Theater review.com said:
"... for the modern digital audiophile (with, perhaps, a burgeoning vinyl collection on the side), I cannot recommend this stunning little
overachiever highly enough."
"Sonically, it's a gentle giant, with more muscle than one couldreasonably expect at this price point, yet its might doesn't come at the
expense of delicate nuance or detail."
"As great as the unit sounds with high-quality, high-resolution digital material, its handling of over-the-top sources like Spotify
borders on the magical."
"... it's simply one of the most impressive integrated headphone amps I've had the pleasure of auditioning."