Music Hall Audio
MMF-3.3
$699.00 in black    $799.00 in walnut
MMF3.3 in black
The MMF-3.3.is the first Music Hall table utilizing the unique dual-plinth technology originated by music hall. The mmf-3.3 embodies the culmination of over 30 years of research, development, and most important of all, listening. The 3-speed belt driven table was developed for those seeking a perfectly matched set of features with an uncompromising focus on sound performance. The 3.3 is constructed using high quality components and comes complete with a tonearm, cartridge mounted, and dust cover.
feature list:
Gorgeous high-gloss piano black lacquer or exquisite walnut veneer finish

Music Hall's unique dual-plinth design – isolating the electronics and motor from the main bearing and tonearm

33⅓, 45, or 78 rpm speeds at the touch of a button

Electronic speed controlled DC motor for superior speed stability, isolated on lower plinth

Custom carbon fiber tonearm with alloy headshell for superb tracking ability

Flexible internal tonearm wire drawn from high purity copper

Counterweight's center of gravity is level with the stylus tip is decoupled from the arm and acts as a resonance damper

Tonearm features user adjustable VTA and azimuth

Highly regarded Ortofon 2M Red cartridge with replaceable elliptical stylus ($100 value)

The cartridge supplied is properly aligned and mounted

High precision stainless steel and bronze main bearing assembly for quiet fluid operation

Special vibration damping adjustable feet

High quality gold RCA connectors with detachable phono cable

Full-size alloy platter and felt mat

Quick and easy to assemble

Dust cover and 45 rpm adaptor included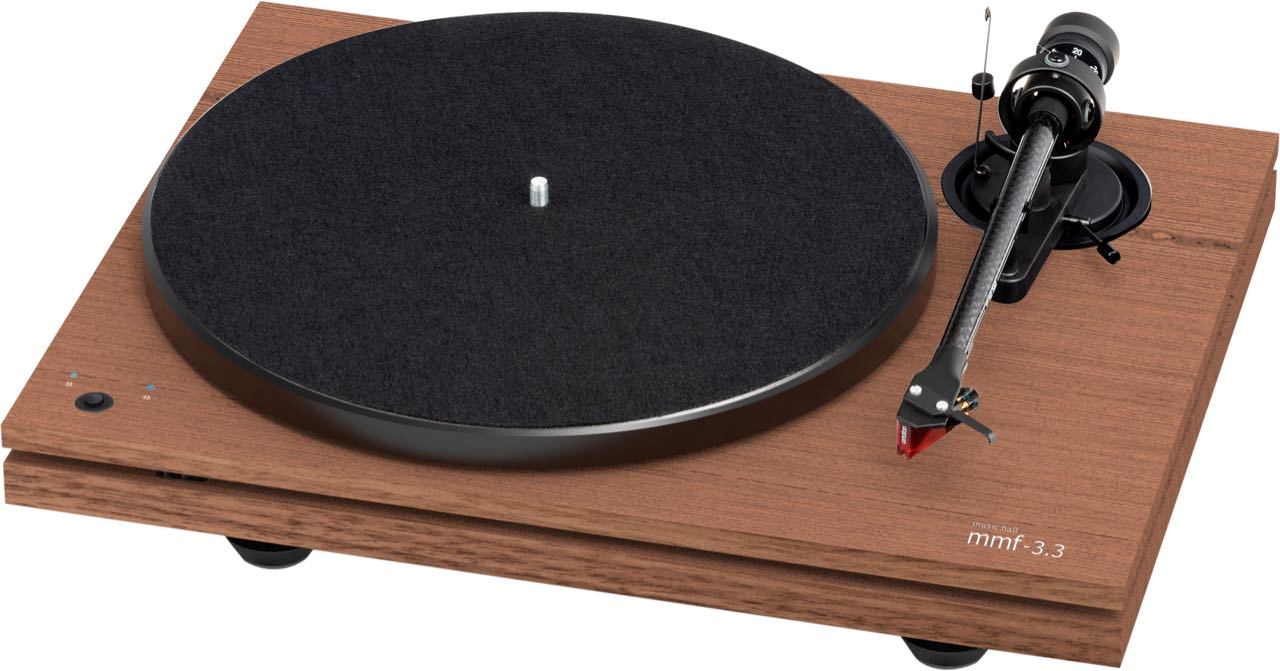 $2899.00 in black $2999.00 with $795.00 Goldring MC cartridge/$2699.00 without cartridge
$2999 in walnut with $795.00 Goldring cartridge/$279.00 without cartridge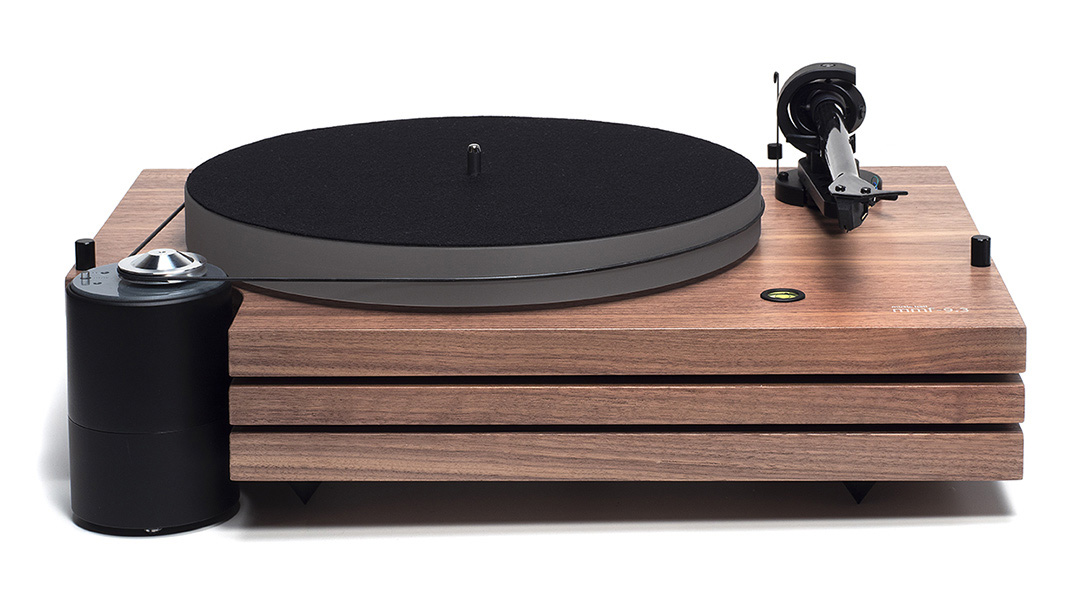 MMF-9.3 WALNUT A beautiful wood version of the MMF-9.3 with a $795.00 Goldring Eroica LX MC cartridge
Music Hall 9.3 Impresses Greg Weaver


"...this accomplished table has an infectious ability to present music amazingly realistically, with dynamic swagger as well as with body and space."

"...I was eerily taken with its consistent and almost effortless ability to liberate the message in the grooves."

"...the Music Hall mmf-9.3 distinguishes itself as a top performer, one that most LP lovers will find remarkable enough to be their "forever" turntable!"
Classic
Semi Automatic table with arm lift
$649.00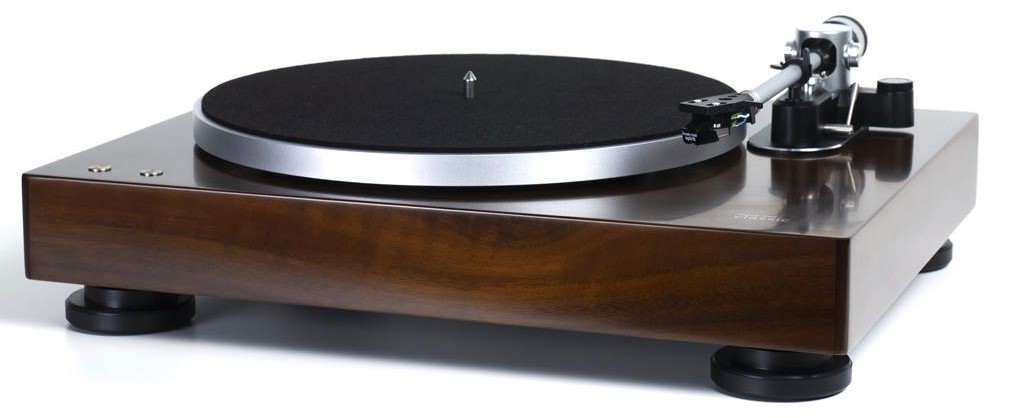 Touch sensitive speed controls
Includes dust cover and $100.00 factory mounted Music Hall Spirit phono cartridge
Andrew Robinson from Home Theater Review took the semi-automatic Classic for a spin and was mightily impressed.  Excerpts below.  

How does the Classic compare to much more expensive tables?
"I did find the (technics) 1500C to be livelier and more dynamic in comparison, but it was nowhere near as full, nor did it plunge as deep as the Music Hall Classic. Conversely, the (project) X2 may have been the most refined of the three, but it sounded rather lifeless compared to the Classic..."

This says it all:
"The biggest takeaway, for me, about the Classic's performance was that I kept wanting to listen to it."  

In Summation:
"...
you'll need to probably spend three times as much on a pre-configured table to make upgrading over the Classic truly worth it."
Read the full review:  
https://hometheaterreview.com/music-hall-classic-semi-automatic-belt-driven-mm-turntable-reviewed/
semi-automatic (auto lift & shut off)

factory mounted music hall spirit cartridge included $100 value

aluminum platter with felt mat

removable head shell

adjustable vibration damping feet

dark walnut wood veneer finish

touch sensitive electronic speed control 33/45 rpm

built-in bypassable phono amp

unique uni-pivot tonearm design

accurate line for perfect counterweight position

dustcover

worldwide compatibility
Soundstage reviewer Thom Moon shared a number of insightful and musical comments while praising the performance of the Music Hall Classic.
Playing Paul Simon's "50 Ways" on the Music Hall
"I noticed the solidity of the bass line. It wasn't overpowering or boomy, but it had a heft I haven't heard with many other turntables."
Bill Withers inspired me to pull out one of his best performances: "Just the Two of Us," from Grover Washington Jr.'s Winelight
"...Washington's evocative sax (there's a lot going on) -- sounded nigh on perfect. And so, especially, did the pacing: every note from every instrument combined
to create a beautifully coherent ensemble performance."
"Four Brothers," from a half-speed mastering of the Manhattan Transfer's Live
"...One thing I hadn't noticed before but did with the Classic was that the backing vocals had a real sense of physical separation from the band and superb blend
among themselves."
"At $599 and as plug'n'play as a 'table can be, the Classic is a must-audition. It's a delight to use, and its included Music Hall Spirit cartridge extracts maximum
information from the groove."
Read the full review:
https://www.soundstageaccess.com/index.php/equipment-reviews/1059-music-hall-audio-classic-turntable-and-spirit-cartridge
Other Music Hall models
Call to discuss
C-DAC-15.3 Replacement CD player for the 15.2. Now w/ better sonics & 3 input DAC for only $50.00 more $649

PA 15.3MM/MC phono stage with subsonic filer and adjustable gain $249.00

A-15.3 50wpc integrated amp with nice phono stage. Far superior to the discontinued A15.2 that got excellent reviews $649

PH-25.2 Hybrid headphone amp with tube preamplifier $399

MMF-1.3 High value belt drive table with phono stage and $50.00 AT cartridge $349.

MMF-1.5- Great looking high quality inexpensive cherry table with phono preamp & $75.00 Music Hall Cartridge $449.
"This is my new favorite turntable under $400, and Music Hall is to be commended for bringing it to the market for such a reasonable price.  If it performed just the same and said Rega or VPI on the box, it would likely cost over $1,000 and would still sell!"
"It is going to make a lot of newcomers to vinyl and those upgrading their starter turntables very, very happy."
http://soundadvicevinyl.com/2018/01/14/music-hall-mmf-1-5-turntable-review/
AUDIOPHILIAC DISCOVERS ELVIS FOR THE FIRST TIME!
Steve Guttenberg, The Audiophiliac, states in his mmf-1.5 review for CNET:
"...Elvis spoke to me, his phrasing and power, and his band's rockin' rhythms got my juices flowing. The mmf-1.5 brought me closer to Elvis' music, the production and sound quality, which I never noticed before."
"...it digs deep into the music to reveal more about the subtle elements like reverberation and the atmosphere of the session, information that's way down in the grooves."
https://www.cnet.com/news/music-hall-mmf-1-5-turntable-brings-sound-and-style-together/
MMF-2.3 Turntable with Music Hall $100.00 Tracker cartridge $599

MMF-2.3LE as above in Ferrari Red hi gloss finish $599

MMF-5.3 - Dual plinth turntable withg carbon fiber arm and $236 Ortofon 2M Blue cartridge $1199.

MMF-5.3SE - upgraded Rosenut version of the MMF-5.3. Carbon fiber arm with $440 Ortofon 2m Bronze cartridge  $1395.

MMF-7.3 w/o cartridge but carbon fiber arm - turntable with detached motor system  $1595.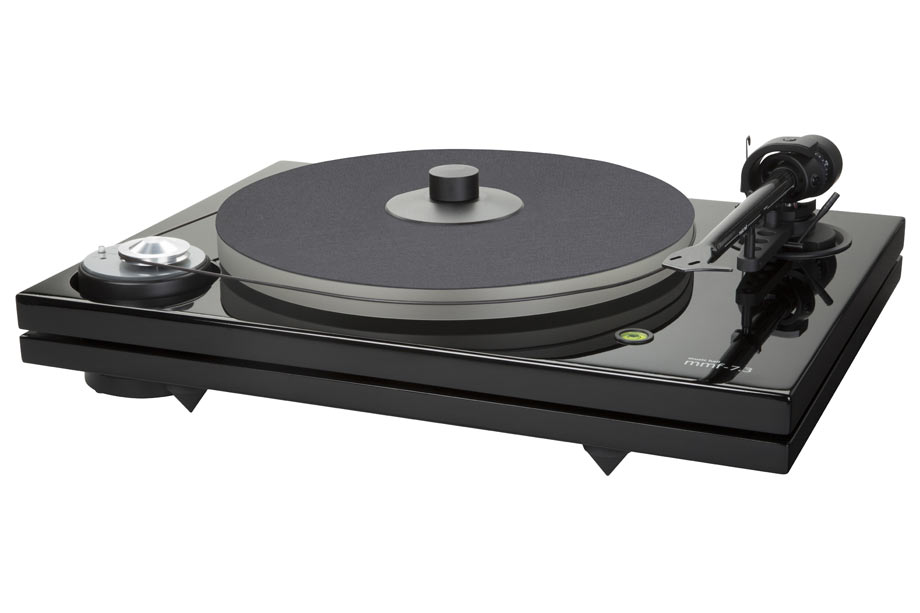 MMF7.3


Stereophile Class B rated in 2019
MMF-7.3 with cartridge - as above but with $440.00 Ortofon 2m Bronze cartridge $1895. In Walnut $1995.00

MH Stealth Direct drive table with 3 speeds and auto stop with Ortofon 2M Blue $1649

MMF-9.3 with cartridge [$2895] - Triple plinth turntable with carbon fiber arm and $795 Goldring MC cartridge

MMF-9.3 WALNUT A beautiful wood version of the MMF-9.3 with a $795.00 Goldring Eroica LX MC cartridge-$2995.  ($2795.  without cartridge)

MMF-11.1 [$4995] New top-line table with 4-plinth design, Evolution 9CC tonearm with dual motors & 3 flywheels design. Adjustable azimuth and VTA. 21.3 x 13.8 x 7.8", 39.5 lbs.