Music Hall Audio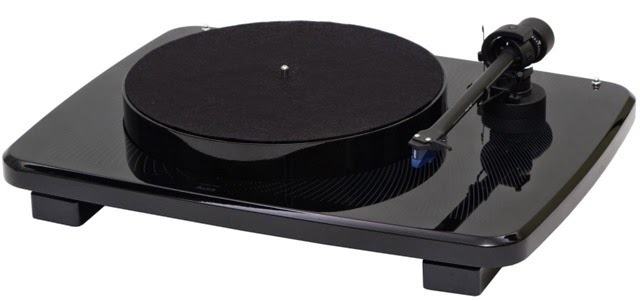 Ikura Turntable
$1195.00
For the first time, Music Hall collaborated with an outside industrial design firm to develop and complete the ikura project. The foundation of ikura's design remains the unique two-piece split-plinth design originated by music hall and the final product is the result of a dynamic design partnership between Doing & Done, headed by designer James Kyroudis, and music hall.
The Music Hall ikura turntable is a 2-speed, belt driven turntable with many singular features. Starting with music hall's hallmark two-piece split-plinth design. The plinths are isolated and separated by three vulcanized rubber cones.
Three adjustable conical feet, a 2-speed dc synchronous motor, power switch, wiring and electrical parts are all mounted on the bottom plinth while the critical sound reproducing components; the main bearing, arm and cartridge are mounted on the top plinth.
The mdf (medium density fiberboard) platter and felt mat sit on a high quality, stainless steel ball bearing sheathed in Teflon providing fluid and noise-free operation. The bearing assembly comes pre-charged with lubricant.
The effective length of the tonearm is nine inches. This allows for a very shallow tracking arc on the record thus reducing distortion and record wear. The tonearm comes mounted with a high quality moving magnet cartridge and features Swiss made ABEC 7 stainless steel bearings. It comes with a $225.00 Ortofon 2m Blue cartridge premounted by the factory for optimum performance.

A30.3
$999.00
85wpc remote controlled integrated amp with quality DAC, phono stage & 5 analog inputs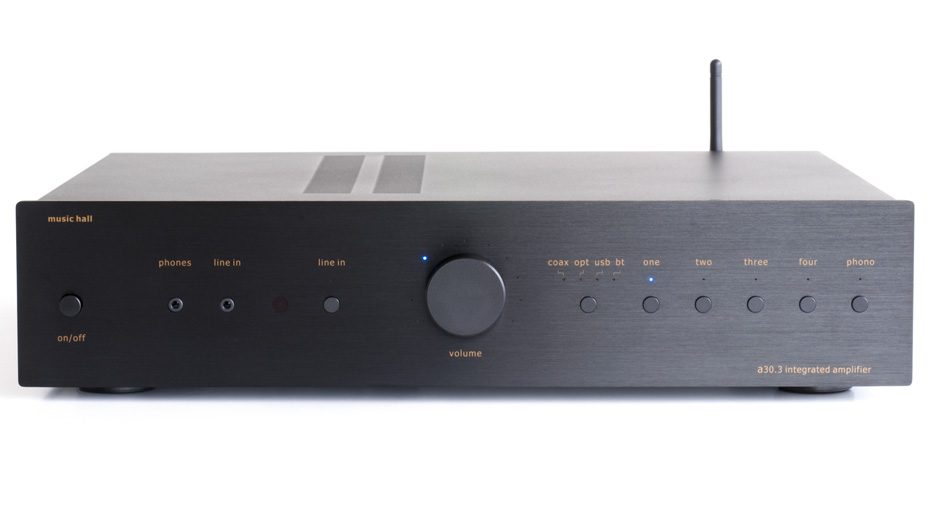 85 watt/channel integrated amp

MM phono pre-amp

3 digital inputs (USB, toslink, coax)

24bit/192kHz Cirrus Logic CS4398 DAC

Bluetooth connectivity

Stout chassis with rigid aluminum faceplate

5 analog inputs

Remote control

Pre-amp out

Easy to set-up and use

System remote also controls the 

cdac15.3

Available in black only
Other Music Hall models
Call to discuss
C-DAC-15.3 Replacement CD player for the 15.2. Now w/ better sonics & 3 input DAC for only $50.00 more $549/ $950 modified

DAC-15.2 24bit/192k D/A converter with hi-rez 24/96 USB input $299

A-15.3 50wpc integrated amp with nice phono stage. Far superior to the discontinued A15.2 that got excellent reviews $549/$950 modified

DAC-25.3 24/192 upsampling DAC with 24/96 hi-rez USB input $599 / $1390 / $1990

PH-25.2 Hybrid headphone amp with tube preamplifier $399

MMF-1.3 High value belt drive table with phono stage and $50.00 AT cartridge $299.

 

MMF-1.5- Great looking high quality inexpensive cherry table with phono preamp & $75.00 Music Hall Cartridge $399.
"This is my new favorite turntable under $400, and Music Hall is to be commended for bringing it to the market for such a reasonable price.  If it performed just the same and said Rega or VPI on the box, it would likely cost over $1,000 and would still sell!"
"It is going to make a lot of newcomers to vinyl and those upgrading their starter turntables very, very happy."
http://soundadvicevinyl.com/2018/01/14/music-hall-mmf-1-5-turntable-review/
AUDIOPHILIAC DISCOVERS ELVIS FOR THE FIRST TIME!
Steve Guttenberg, The Audiophiliac, states in his mmf-1.5 review for CNET:
"...Elvis spoke to me, his phrasing and power, and his band's rockin' rhythms got my juices flowing. The mmf-1.5 brought me closer to Elvis' music, the production and sound quality, which I never noticed before."
"...it digs deep into the music to reveal more about the subtle elements like reverberation and the atmosphere of the session, information that's way down in the grooves."
https://www.cnet.com/news/music-hall-mmf-1-5-turntable-brings-sound-and-style-together/
MMF-2.3 Turntable with Music Hall $100.00 Tracker cartridge $499

MMF-2.3LE as above in Ferrari Red hi gloss finish $549

MMF-5.3 - Dual plinth turntable withg carbon fiber arm and $440 Ortofon 2M Bronze cartridge $995.

MMF-5.3SE - upgraded Rosenut version of the MMF-5.3. Carbon fiber arm with $440 Ortofon 2m Bronze cartridge  $1395.

MMF-7.3 w/o cartridge but carbon fiber arm [$1395] - turntable with detached motor system  $1395.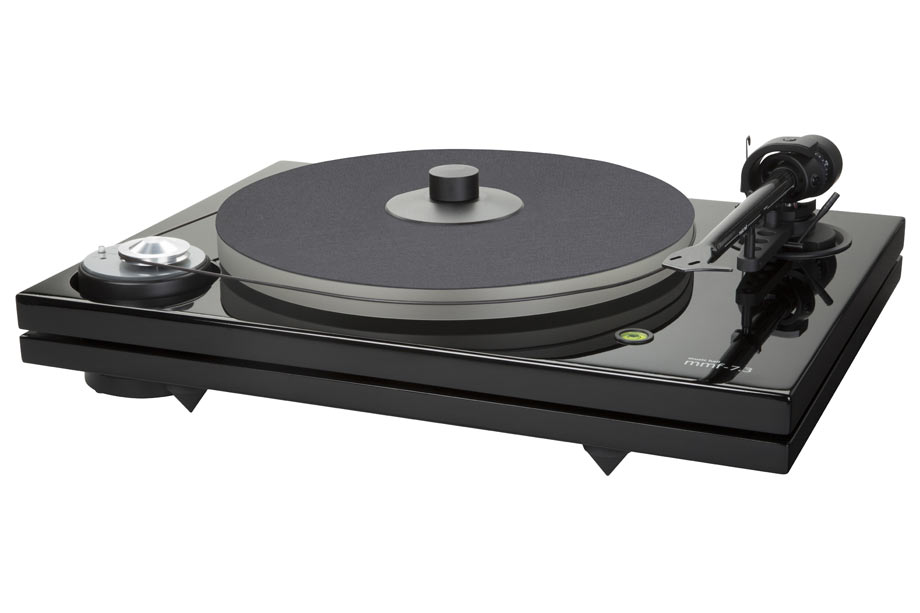 MMF-7.3 with cartridge - as above but with $440.00 Ortofon 2m Bronze cartridge $1595.

MMF-9.3 with cartridge [$2395] - Triple plinth turntable with carbon fiber arm and $795 Goldring MC cartridge

MMF-9.3 WOOD A beautiful wood version of the 9.3 with a $795.00 Goldring Eroica LX MC cartridge-TBA

MMF-11.1 [$4495] New top-line table with 4-plinth design, Evolution 9CC tonearm with dual motors & 3 flywheels design. Adjustable azimuth and VTA. 21.3 x 13.8 x 7.8", 39.5 lbs.