LSA Speakers
Living Sounds Audio (The LSA Group)
                                     New LSA speakers are now shipping 
Underwood bought LSA and we are selling LSA exclusively factory direct. This allows us to dramatically lower the selling prices of our excellent speakers and electronics.

LSA 20 Statements with grills on

In issue 103 (October 2020) Tone Audio just gave the LSA 10 Signature an "Exceptional Value award. "
They sum with:
"I can't imagine a better choice in the context of a $5k - $15k system. Different, yes, but in terms of sheer sonic quality, these are awfully impressive. The design choices by the LSA team have made serve the music. I am very happy to give the LS-10s an Exceptional Value Award for 2020."
Read the review at:
https://www.tonepublications.com/review/the-lsa-10-signature-speakers/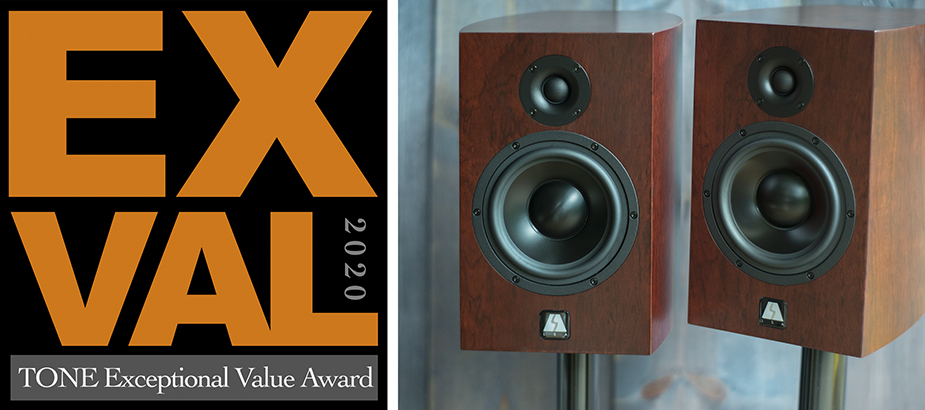 In the September 2019 LSA-10 Statement review Audio Bacon summed up with:
"I was thoroughly impressed with the LSA-10 Signature at AXPONA 2019. But I'm absolutely blown away by the LSA-10 Statement. Especially in combination with the DSPeaker Anti-Mode 2.0 Dual Core and Emerald Physics 100.2 SE power amplifier.
This system was made to compete with others over three times its price – and yeah…I'm inclined to agree. It punches way above its weight. It's an absolute steal, even at its retail price. Which is made possible via factory direct pricing. I believe it is the hottest deal in HiFi today."
End Game?
"Now I don't say this lightly: I'm positive the LSA-10 Statement or LSA-10 Signature may be an end-game bookshelf speaker for many. It epitomizes what we as audiophiles are constantly seeking. A speaker that is dynamic, has fine tonal quality – and is faithful to the nuances and harmonics of the art. The word "truth" was recurring in my notes."

Read the entire review at:
https://audiobacon.net/2019/09/21/living-sounds-audio-lsa-10-statement-loudspeaker-review/

In the July 2020 review in Parttime Audiophile they sum with:
"They are beautiful to behold, and also possess a sonic "rightness" that both excites and soothes my spirit. I have no doubt that Walter Liederman has achieved his goal of offering a highly satisfying, if not near perfectionist, product to a price level within reach of many regular, hard-working audio enthusiasts."
"That such a lovely and accomplished full-range tower speaker can be offered at a price just shy of $6k is a testament to what can be achieved in today's high-end marketplace. What a balm in today's troubled world!"
Read the entire review at: https://parttimeaudiophile.com/2020/06/26/lsa-20-statement-loudspeakers-review/

See the new LSA-20 Signature system review at Hifiaudio.guru. They sum up with:
"Rarely do you find a system in this price range that does what the LSA 20 Signature System does, it makes beautiful music and is a terrific value. A great how-to from the folks at Underwood Hifi and it gets our highest recommendation without hesitation. Magical and exciting!!!!!"
Read the review at: https://hifiaudio.guru/2020/05/18/lsa-20-signature-speaker-system-review/
2019 Axpona show award as one of the best sounds at the show on the LSA speaker introduction
The LSA speakers are amazingly good values at the new Direct prices. The original line received superb reviews. The new 2019 line is a dramatic upgrade with all custom drivers, upgraded cabinets and better crossovers.
The new 2019 line uses the patented XBL2 drivers. These drivers allow for more linearity and lower distortion at all levels. The new products were designed to compete with high end speakers that sell for 3 times their price thru retail dealers. They offer serious value at our Internet Direct pricing. The original line had Standard, Signature and Statement models. This new line has only Signature and Statement versions. The Signatures are a step up over the original Statement versions and the Statements offer untouched performance & value at our selling prices. Target models were 2-3 times our prices.

The LSA-1 Statement was named one of the 10 best under $3000.00 speakers by The Absolute Sound in 2016. It was an  Editors Choice at $2800.00 retail in the 2015 The Absolute Sound. The new LSA-10 Statement goes 12Hz lower uses all custom LSA drivers, an 8th order crossover with exceptional parts, a rear mounted auxiliary bass radiator and much upgraded lacquer finish. It is better from bass to treble. The LSA-10 Statement is like listening to a floor standing speaker that just happens to be in a small box.
 
The Signature version will offer amazing value with the same custom black anodized aluminum 6.5" woofer, a new 1" silk dome tweeter and the same single 5" x 7" sub bass radiator (mounted on the rear). Bass will also go to 38Hz and set a new standard at our selling price.

The LSA10 Statement and LSA-20 Statements will have a beautiful upgraded Chocolate Rosewood lacquer gloss finish.