EP2.4 is discontinued & sold out


The upgraded EP2.3 is now called the EP2.4. This new speaker in the Carbon Series adds greater efficiency, bass dynamics and both high frequency extension and sophistication to the EP2.3. It is a 4-driver 3-way open baffle design with up to 97db efficiency and all new drivers from the older EP2.3. It can be single amped , biamped or tri-amped.
Our older Tri-amped EP2.3 system was in competition with systems selling for 10-20 times its price and got a Best Sound at the Show for Axpona 2015.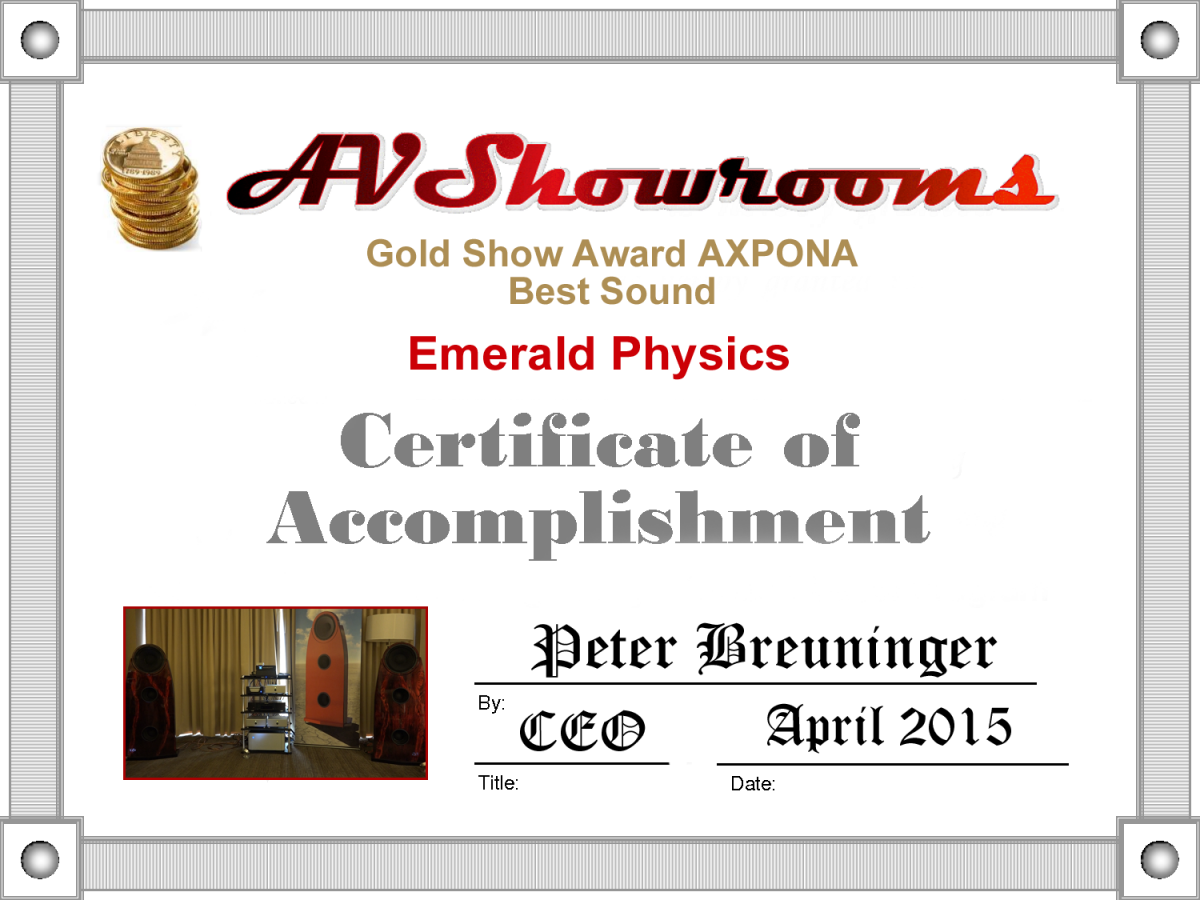 In the January 2015 review in the Absolute Sound for the previous EP2.3 they said:
This speaker excels in so many areas, including those that are central for the truthful reproduction of music in the home, that they warrant the highest recommendation. When you factor in their price—$4800 a pair in the current configuration then their value is quite off the charts.

The Absolute Sound Newport Show report said:

"The CS2.3 mk2 offered simply the most precise imaging and best soundstaging I have ever heard anywhere; for once and without exaggeration I could use the word holographic. Dynamic range is extremely wide, bass response subterranean, midrange rich and open. Orchestral music is spectacular while Sinatra on "Angel eyes" is palpably present, three dimensional and spookily real-- also rare at this show, unmistakably a true baritone (it took all of maybe 20 seconds before a smile appeared on my wife's face). If this thing performs in most rooms the way it did here, and given the quality of these hotel rooms that should be practically anywhere else, it may be just about the best performance per dollar I know in high end loudspeakers."

Read the superb Jan 2015 Absolute Sound review at:
http://www.theabsolutesound.com/articles/emerald-physics-cs23-mk-ii-loudspeaker/
 
The new EP2.4 is the baby brother to our top of the line EP2.8. Essentially, it is the EP2.8 with our new cast basket 12" midrange, less complex smaller crossover and a new Emerald Polyester tweeter. It uses the same two 15" open baffle Carbon Fiber woofers. Max efficiency is 2dB lower at 98dB versus the 100dB of its larger brother.
The new EP2.4 is a true 20Hz large open baffle controlled dispersion speaker with 85% of the performance of the top of the line 2.8, our best speaker. Essentially, it is our smaller EP4.4 with two instead of one 15" open baffle Carbon Fiber woofers. Efficiency is 2dB higher at up to 97dB versus the 95dB of the 4.4. Bass is flat to 20Hz with the optional BOM or one of our two DSP processors. Dynamics are also improved as is its ability to play in very large rooms.
Cutting edge sonic performance establishes a new level of realism & dimensionality at anywhere near its Internet Direct cost of only $7,495.00 a pair.
If set up as single amp, full range network configuration, it is 95dB efficient. It can then be upgraded in the users home to either bi-amp or tri-amp operation. In addition to improved sonics you will get an extra 3Db efficiency and better dynamics.
Our controlled dispersion design means that the speakers are not room dependent and work in all rooms.
The two new custom designed Emerald Physics Carbon Fiber Series 15" woofers provide increased speed, transparency and resolution. Our new custom Emerald Physics cast basket midrange is cleaner due to the new design and a more sophisticted crossover. Compare the EP2.4 to speakers selling for even close to its price and prepare to be amazed. You can even upgrade to the EP2.8 midranges and new crossovers for only $1,200.00 for even better performance. 
In addition to the two new Carbon Fiber 15" woofers and midranges the EP2.4 uses our new Emerald Polyester-Diaphram compression tweeter and an improved crossover over the original EP2.3 that it replaces. This tweeter is a major upgrade over the EP2.3 Titanium metal tweeter that it replaces. It performs more like highly regarded ribbon tweeters and works all the way down to 1000Hz. 
The innovation continues in the Bass range with our unique Aperture Bass Propagation Technology. T
his proprietary system is used for the two custom Emerald 15" carbon Fiber dipole woofers. This design increases low frequency power and linearity, while improving on the speed and articulation of the original CS2 and older CS2.3. We get an additional 3Db of bass output with this technology. The new Emerald designed 15" carbon Fiber woofer moves 80% more air than the original CS2.3 and CS2.3 woofers so a single 15 gets us almost as much bass as the dual 15's of the older models.  The new 2.4 also adds our unique
Bass Reservoir technology
to our
Apature Bass Loading
to further improve bass response from previous open baffle designs. Bass Reservoir gets us another 1.5Db of output.
In single amp dress it is 95Db efficient so small amps (20-50 watts) will work quite well. It goes to 32Hz full range unless you use our DSP (single amped) or BOM where we extend the bass to 20Hz and also improve frequency linearity. Once tri-amped the efficiency goes up to 98Db for even great dynamics. Pick a large amp for the bass and any amp with over 10 watts or more for the midrange/highs for biamping or 3 amps for full active triamplification for the ultimate peformance. Use an Emerald EP200.2SE, 200 watts per channel (400 watts into the 4 ohm load of the 2.4), for the bass and our 100wpc EP100.2SE for the midrange/highs for a perfectly sonic matched package. In addition, the speakers have our new upgraded
Natural Macassar Ebony finish, a nice upgrade over the black satin of the older speaker.
The optional
analog BOM
or
DSP2.4/
DSP2.8
digital electronic crossovers improve the sonics even further by fine tuning the frequency response as well as extending bass response from 32Hz down to 20Hz. 
Features:
Does not require bi-amplification. 
Can be Single amped, Biamped or Triamped - Can even be Quad amped with a powered subwoofer
Removes the rooms acoustics so they work in all rooms
Emerald Physics new cast basket 12" midrange (Can be upgraded to EP2.8 carbon mids for only $1,200.00)
Two Emerald Physics Long throw 15" woofers with carbon Fiber Cones and Cast baskets
Emerald Physics 1" point source Polyester tweeter
World Class sonic performance in a full range design in this price range. 
Incredible imaging and soundstage reproduction. 
Exceptional Class Bass speed and articulation. 
Works well in rooms as close as 3 feet from the rear wall and as close as 1 foot to side wall. 
Can be used with small to moderate sized stereo amps or integrated ampsup to very large high power amps
Optional DSP extends the bass to 20Hz and improves frequency linearity 
Outboard hi pass passive crossover which also allows single amp, biamp or triamp operation
Optinal analog BOM or DSP 2.4/DSP2.8 crossover/EQ's which have subwoofer/midrange and tweeter crossovers for bi-amp or tri-amp operation. 
EP2.4- $7,495/pr in Natural Macassar Ebony finish