Digital Processors
Explore
Digital Processors
DSP 2.8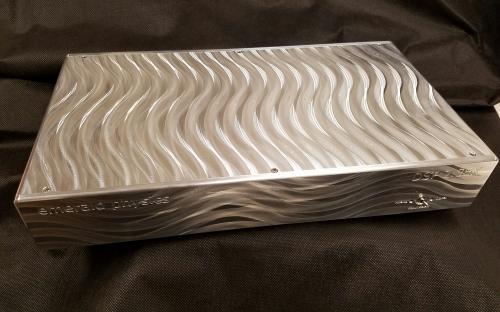 Our DSP2.8 is a 2 channel in with 8 channel out digital electronic crossover/equalizer. It has both balanced XLR inputs as well as RCA ins for system flexibility. It runs at 24 bits and up to 192k depending on how it is configured. It has optical and coaxial digital inputs as well as analog input. It offers superb sonics along with the ability to bi-amp, tri-amp or quad-amp any loudspeaker. It is a major sonic step up over our entry DSP2.4 2 way crossover. It is the perfect match for our any of the Emerald speakers to improve the sonics. Multi-amping gets rid of passive crossover componets to increase dynamics as well as transparency and detail. Music takes on a liveness that running signals thru capacitors, resistors and coils can't match. It will have an optional volume control so it can be used as a full preamp
Call us about DSP2.4 trade ups to this new state of the art unit.
The DSP2.8 will ship in May or June at
$2495.00
Add $300.00 for volume control
More info coming soon
DSP 2.4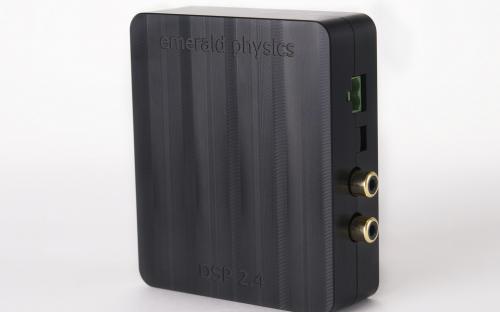 The Emerald Physics DSP2.4 processor is a crossover/equalizer that comes with the EP3, EP3.7, EP4.3, EP2.3, EP4.7 and EP2.7. It also dramatically upgrades the CS2P by extending bass to 24Hz, flattening the entire frequency response and to allow biamping for best sonics. It can be used as a digital equalizer in two channel form or as an electronic crossover/EQ for biaming applications. It is available as an option for the new speaker lineup.
Hardware
    28/56bit DSP Engine
    24-bit ADC/DAC conversion
    48kHz sampling rate
    Nichicon Audiophile capacitors
    Master volume control on pot
Audio Processing
    Real time tuning
    Upgradeable firmware
    Low/High pass filters
    Graphic & Parametric equalizers
    Level, Mute, polarity
    Compressor/Limiter / Expander Control
    Software configurable
    Plug & Play USB driver
    WinXP/Vista/7 and Mac OS X Compatible
Dimensions: 3.25W x 1.1"H x 3.75"D
Retail $850.00