Cords & Cables
Power Cords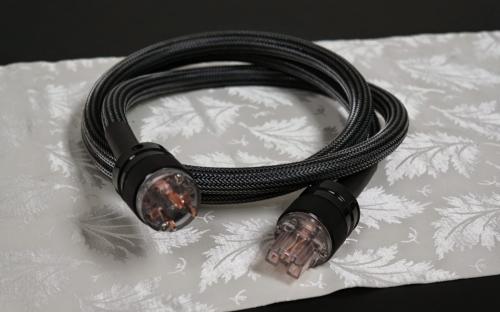 The first ever Emerald Physics branded Power Cable – The Power Conductor One combines many of the attributes of cables costing well over $1000.00  at a 1/5th of those prices. This is a product in the True Emerald Tradition of great value, superior engineering and packaged to deliver outstanding performance that belies Its price.
We had no thoughts of getting into the power cord business. However, the company that sells us the wire for our speakers sent this one to us and said they sell it to a European company that retails it for $1250.00 We compared it to some other cords in the $1000-$1250.00 range and thought it was as good.
They sell this cord in Europe for $1250.00. We are from $199.00.
Here are a few of the tech specs and features
Ultra High End, CE Approved Inlet and Outlet
Beautiful Rose Gold cryogenically treated Red Copper Connectors
Dual Shield Design of Aluminum Foil and Dual Braid Shield
Ultra Quiet Performance
Distinct OFC Geometry Using Multiple Construction Techniques and Optimized Materials for Each Leg
Beautiful, Soft and Flexible Outer Jacket
Shockproof Materials Used in Both The Ground and Neutral Legs
Ultra-High Current – Best Power Delivery in the Price Class
Internet Direct price, 6 foot: $249.00/ Buy 2 at $229.00/ Buy 3 or more $199.00  
Only available in 6 foot length
Power Cords
Information coming soon!