Decco 125 SKY
1199.00


Currently sold out and no current ETA on a new shipment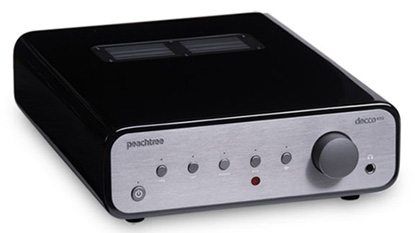 The decco125 SKY is powerful - 120 watts per channel of power. PLUS - as with all Peachtree integrated amps - it's versatile, with an on-board DAC for your computer, CD player, TV or other digital devices. The phono section and auxiliary inputs have separate power supplies and full analog circuitry. And the headphone amp will take your 'phones to the next level.

"SKY" is Peachtree's new wireless ecosystem - allowing direct streaming from TIDAL, Spotify and your other favorite streaming services. Peachtree's SKY Direct mode even lets you play music right from your phone when no WiFi is available.
 
The Peachtree SKY Wireless Ecosystem*
*ecosystem - a system or group of interconnected elements
The decco125 SKY is the first in a series of Peachtree products focusing on music streaming and room to room control. Peachtree's SKY ecosystem can even create its own wireless network for direct play from your phone. SKY will provide room to room streaming and control of future Peachtree SKY products.


Built-in DAC and phono section. Connections for your turntable, TV, music server or CD player. Separate bass and treble controls on the remote. And a 3 year warranty once registered.