Nova 300
300wpc remote controlled integrated amp with DAC, phono stage & Home Theater bypass
$2,199.00 in black or the gorgeous Ebony lacquer case

-
Sale only $1,799.00 in black or mocha

with Free $1,050.00 Core Power cables with purchase

.
Add a Bluesound Node music streamer for only $2,350.00 for the package


Made in North America
See the video review at: https://www.peachtreeaudio.com/discover-peachtree/videos.html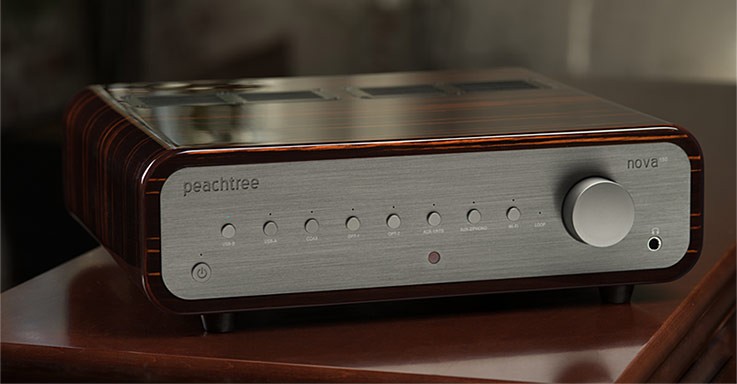 In their Dancing with the big boys review Digital Audio Review just summed with:
"The nova300 is an exceptional beast. Its combination of ALL of the above (read: real world flexibility) and serious output power, both into loudspeakers and headphones, comes wrapped in shell amply suited to luxury department store shelf space where its über high-end audio aspirations could end up obscured.
Now you, dear reader, know as much as – if not more than – your nearest Peachtree dealer. Wallop."

They gave it their: KNOCK OUT AWARD

Read the new review here: http://www.digitalaudioreview.net/2017/01/dancing-with-the-big-boys-the-powerfully-persuasive-peachtree-nova300/

Computer Audiophile said:
"I thought the nova300 was going to be a brute, with its added power, but it turns out this thing has finesse as well. Unexpected finesse."
"…the nova300 is the homecoming king, the captain of the team, and the president of the senior class, rolled up into one item. Power, control, and finesse. This is the nova you want. "
"This is what Peachtree Audio 2.0 is all about. New products, better engineering and even better value."
 
Audiostream just said:
nova Rocks
"I had no problem sinking into my library and Tidal's vastness for weeks on end. While the nova300 does not offer the refinement, realistically rich and varied tonal palette, and the uncanny you-are-thereness of my main rig, it is musically right. It rocks.
My sense is the people who designed the Peachtree nova300 must have spent a serious amount of time listening to and enjoying the heck out of it. My sense is if you are looking for an integrated amp/DAC/headphone amp/phono amp, you will too."
Read more at: 
http://www.audiostream.com/content/peachtree-audio-nova300-amplifier#4bfiSJAy7p6QxJbj.99
The Peachtree Audio Nova 300
is the step from the Nova 150 .
It is in our opinion the best value in the line with a 300 watt per channel power amplifer.
It is a very good looking integrated amp with high quality
32 bit/384k asynchronous 9018 Sabre DAC that plays DSD.
The DAC is built around the 9018 ESS Sabre chip with a very sophisticated signal path.
It is as good as any $1500.00 DAC that we know of. The new 300 watt ICE powered amp is very stable and does 450 watts into 4 ohm loads
. The DAC also supports both coaxial and 2 optical digital inputs.
It has 2 analog inputs and one can double as a MM phono stage. There is a home thester bypass as well as a preout to support a subwoofer.
There is also a loop thru feature to allow adding outboard processors. It has a serious headphone amp and a removable power cord.
The new design team for the Nova series has done some of the best sounding products made today, at any cost.
The preamplifier in the Nova 300 is worth more than the price of the entire unit. It outperforms separate preamps selling for double to triple its cost.
Peachtree's great-looking retro cosmetics round this amp off with black lacquer or the optional gorgeous ebony mocha lacquer cabinets. A 3-year warranty is included. At $2,299 in blackor $2399.00 in ebony mocha the Nova 300 is an amazing value and our favorite under $3,500 integrated amp. We have not seen any North American made product under $5000.00 that outperforms it.
Made in Canada and the USA.
HIGHLIGHTS
300 watts per channel, 8Ω
450 watts per channel, 4Ω

Stable into 2.5 ohms loads

ESS Reference 9018K2M Sabre DAC

32-Bit/384kHz PCM and 5.6MHz DSD (double-DSD) compatibility

New generation ICEPower amplification

World class preamplifier

Extensive internal grounding

Designed by a world-class engineering team

Asynchronous USB, Coax and (2) Optical inputs

Phono (MM) input

Home Theater Bypass

Loop feature to add an external tube buffer, EQ or other processor into the signal path

Custom-designed HIGH OUTPUT headphone amplifier

Optional Wi-Fi module to be announced

Available in Gloss Ebony Mocha and Piano Black

Made in North America

3 year warranty