Underwood HiFi Inc. routinely acquires deals on new items, over runs, discontinued, close-outs & B-stock. In all cases we're authorized to sell at significant discounts. Most of the below items are new A-stock. With B-stock items it will clearly say B-Stock and we'll disclose the exact condition in the copy so the buyer knows exactly what to expect.
 
Click here for our current Sale deals:
https://www.underwoodhifi.com/december-sale-95420207543

See our Youtube videos and subscribe here: https://www.youtube.com/channel/UCYPdjOHJdPgSkaF2FTy_TOw

Because quantities are always limited on many of these special offers, interested shoppers who spot something of interest are advised to act immediately. These are first-come first-serve limited opportunities.
 
Martin Logan Closeouts
See the Martin Logan closeouts on the Martin Logan products page
All limited to quantity on hand

SPL Director balanced preamp with DAC



Only 1 new left in silver
2 year warranty

The SPL Director combines two units in one: a reference-class remote preamplifier with six inputs (2x analog and 4x digital) and both balanced and unbalanced outputs as well as a reference-class DA converter for PCM up to 384 kHz and up to Double Rate DSD (DSD128).
The Director is made in Germany to a very high standard.
The technical basis of all Professional Fidelity units is the proprietary 120 V Rail Technology, which SPL also call VOLTAiR technology. The name makes reference to the un-equalled high voltage of 120 V (+/-60 V DC) and the huge dynamic range of over 140 dB that goes with it. The name 'Director' describes its function pretty well. It is the heard of the stereo system to which all components are being connected: sources, amplifier, active speakers, headphone amps, phono preamplifier etc. It determines what, with what and how loud we hear.

 
20V rail preamplifier with integrated DA converter

Four digital inputs: USB, AES/EBU, coaxial, optical

DAC: up to 384 kHz (PCM) and DSD 2 (Double Rate DSD, DSD128)

Win driver; Apple class compliant

Two analog inputs (2x RCA)

Balanced and unbalanced outputs (XLR, RCA) 

Analog volume control with motorized ALPS R K27 "Big Blue" potentiometer; remote controllable (learns any IR remote control)

Remote controllable source selection (learns any IR remote control)

Avago dot matrix display shows selected input and sample rate frequency for digital inputs

Frequency range (analog): 4 Hz to 300 kHz (-3 dB)

THD: 0,0008 % (analog),  0,0004 % (digital)

Dynamic range: 137,6 dB (analog), 120,8 dB (digital)

AMP CTR connection to Performer power amplifier for coupled on/off switching 

Windows® driver, Apple class compliant

Stand-By/power on switch

Linear power supply with toroidal transformer
List $3,999.00
Sale $1799.00 delivered
I also have one super clean show sample for only $1699.00

Mofi Turntable deal
Save $750.00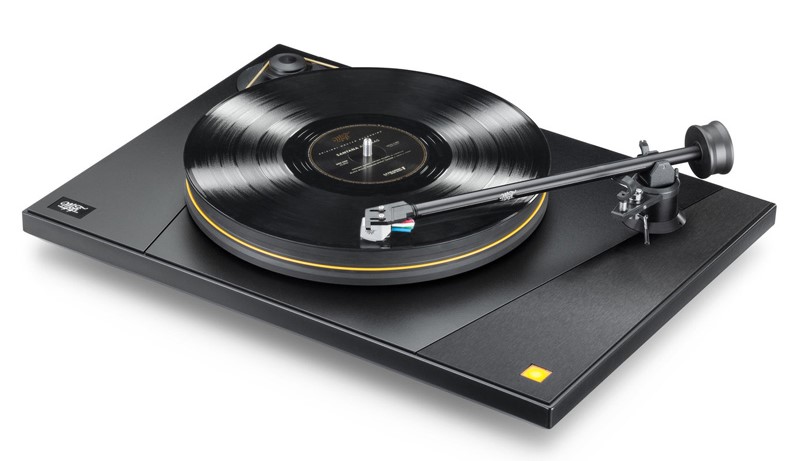 Dust Cover & $800.00 Master Tracker cartridge included
Take a fine $1,499.00 US made turntable. Add the excellent $800.00 Master Tracker cartridge and package it at $1999.00. Now put it on sale at $1,299.00 for a superb Underwood deal.
StudioDeck produces high-caliber sound at a value price. Designed in collaboration with some of the world's finest audio designers, StudioDeck features an incredible amount of ingenuity and technology usually reserved for much more expensive products.
Custom developed and manufactured in the USA, the 10-inch straight aluminum gimbaled bearing tonearm delivers the ideal balanced of rigidity and low tracking error, so all you hear is what is in the grooves. Tweak to your heart's delight with provisions for adjustable tracking force, VTA, azimuth, and anti-skate.
The 300 RPM stepped-pulley AC motor provides excellent speed stability for pitch accuracy and rhythmic drive. The Delrin® pulley has two positions for 33 1/3 and 45 RPM speed selection. Motor vibrations are kept away from the platter and stylus by using advanced dampening materials that decouple the motor from the rest of the turntable. StudioDeck features CONSTRAINED LAYER DAMPENING. An aluminum plate carefully bonded to an MDF body to add mass and eliminate tonal coloration, maintaining the true sound found on the record.
The Studio Deck also features Anti-Vibration feet by HRS, a 3/4 inch 3.8 pound Deltin platter and hardened-steel inverted bearing system for smooth, quiet rotational stability.
List $1999.00
Sale $1,249.00 delivered
Micromega
M-One 100 closeout
Save $3000.00 on a superb 100wpc integrated amp
with phono stage and excellent DAC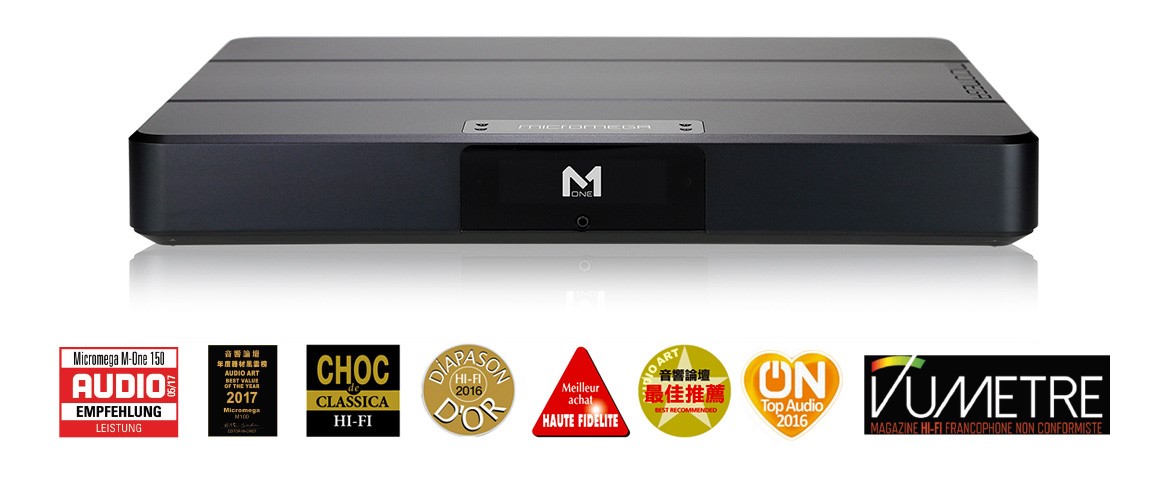 Available in black or silver
Superb sound quality that is untouched at this price
100wpc /200wpc @ 4 ohms
A/B amplifier with remote control
RCA & XLR input
Headphone out
MM/MC phono stage
Very good AKM DAC w/ USB, coax, opt AES & I2S
Add the $1250.00 room correction for only $399.00
Herb Reichert in Stereophile said:
"The Micromega M-One has more features than any of those silver-age contraptions, but to my eye, it is the purest, most high-design-beautiful audio machine on the planet. And, of course, it's made in France."
"Inside that sleek, cut-from-a-single-block-of-aluminum Zen box you'll find a music-streaming device with a 100Wpc amplifier output and a full menu of connections including: balanced and unbalanced analog inputs; Bluetooth aptX; LAN-Network 24-bit/384kHz asynchronous; SPDIF Coax-Optical-AES 24-bit /768kHz USB asynchronous passing DXD, DSD, DOP; and DSP with automatic room correction (M.A.R.S).
If that is not enough, you can add an MM/MC phono stage and/or a Binaural headphone converter. Look again at the M-One's sleek beauty. The base model costs $4999 and it comes in black or silver on this deal
List $4,999.00
Sale $1,999.00
Limited quantity
We love this amp but the streaming is poor. Ask us about other music streaming options from $499.00 or stream from your computer
 
Musical Fidelity Amp/CDP deals
Encore Connect
Save 60%
Preamp/CDP/DAC



Available in silver or Black- Limited quantity
 Closing out the $4499.00- Only $1799.00
Musical Fidelity Encore preamp/DAC/CD player
 
Just add an amplifier and speakers
 
The Encore is essentially the $2300.00 Musical Fidelity preamp + their $1500.00 CD player & separate DAC.
All at an amazing deal
 
Why the great deal?
Because the streaming sucks and is old technology
So don't use it. Stream from your computer or any separate streamer like a Bluesound Node
 
The Encore has 3 analog inputs, 2 optical, 2 coaxial, Ethernet and 5 USB (3 version 2.0 type A, one version 3.0 type A and one version 3.0 type B). The CD player is their $1500.00 CD 3.
 
Outputs include fixed line level, adjustable line level, headphones with a separate level control and optical and coaxial digital. 
 
List $4499.00
Sale $1799 delivered

Encore 225
$3000.00 225wpc integrated amp with 
$1500.00 CDP & DAC
SAVE $3,400.00




The Musical Fidelity Encore 225 is perfect for anyone who wants to combine the incredible power, realism and emotional involvement of the $3000.00 M6si amplifier with a high-quality $1500.00 CD player & built in DAC.
The Encore 225 is easy and intuitive to use. It has 225 watts per channel and a huge range of facilities. It features excellent build-quality that Musical Fidelity is known for. The plethora of input and output options are there to make the Encore a mainstay in your music system.

Full color display with hardware front panel buttons
The Encore can be comfortably controlled via your phone or mobile device.
The diverse control options and the ability to fully control the Encore on the front panel make it future-proof, so that in 20 years, when the digital infrastructure will be completely different from today, your Encore will continue to play music like on day one.
State of the art 225wpc integrated amplifier with 3 analog inputs, 4 digital inputs
M6si hardware built-in /M3 CD Player with quality DAC
Large, high resolution, full color display allows easy and intuitive control
Full control via front-panel hardware buttons, IR remote
Black & silver available

List $5,999.00
Sale $2,599.00 delivered
The amp is amazing but the streamer is older and not upgradable. We sell the M6i integrated amp for more than this by itself without the $1500.00 CD Player with internal hard drive. This is an  amazing value at this deal.  Just hook your computer or external streamer to it for a complete solution.


Musical Fidelity M8 Encore
500wpc with $1500.00 CDP


Full color display with hardware front panel buttons   
State of the art integrated amplifier with 3 analog inputs, 4 digital inputs
    M8 hardware built-in with 500 watts per channel @ 8 ohms
    M3 CD Player with quality DAC
    High quality aluminum chassis with hardware buttons on the front in pristine build quality
    Large, high resolution, full color display allows easy and intuitive controls
    Full control via front-panel hardware buttons, IR remote,

List $10,000.00
Sale $3,699.00 delivered
The amp is amazing but the streamer is older and not upgradable. We sell the M6Si-500 integrated amp for more than this by itself without the $1500.00 CD Player with internal hard drive. This is an  amazing value at this deal.  Just hook your computer or external streamer to it for a complete solution.
Acoustic Technologies speaker deal
Save 70%


We have bought a closeout on the Acoustic Technologies Classic speaker. This $2450.00 pair of speakers was a 2-year design project. The company designer finished the speaker & the passed away suddenly. We have bought the inventory from the family.
 
The Classic speakers are optimized in both the frequency and time domains. Using a single wide band driver properly sized to allow for all sufficient musical cues, he introduced a new technology to coherently present lower frequency information produced by the driver. This new technology uses a proprietary cabinet design to acoustically amplify the lower frequencies produced by the driver much in the manner that musical instruments do. They use solid silver internal wiring with Cardas CCGGL gold plated binding posts.

These speakers are great with small power tube amps like out VT-70 as well as 300B amps and other smaller high quality tube & solid state amplifiers.

 Realistic 3D sound staging / No "sweet spot" / Small profile /Low power consumption

John Atkinson - stereophile.com (RMAF 2009 Show Report)

    "When I walked into the room of Chicago-based Acoustic Technologies LLC, I thought I was listening to speakers that only had tweeters, because the only visible drive-unity was a single 3" unit. Yet the sound, a recording of Rimsky-Korsakov's Schererazade, was definitely full-range, and the soundstaging, as you might expect from such a small radiating diameter and a narrow cabinet baffle, was well-delineated. 

    The 3" unit, which has a titanium cone, was being used in the Acoustic Technologies Classic-Series loudspeaker to cover the entire audio band. Yes, the speaker was running out of headroom at climaxes with a lot of bass energy—maximum amplifier power is specified as 30Wpc—but there was a refreshing transparency to the overall presentation. System was an Ayon CD2 CD player, Pass Labs X-1 preamp, and a PS Audio power amp."

Rick Becker - enjoythemusic.com (CES & THE Show 2009 Report)
    "The room was empty except for the music.  As sometimes happens, this off-the-beaten-path adventure turned up a real gem.  The music emanated from a pair of single driver floorstanders about 6-inches wide and 43-inches tall.  The driver itself was only 3 inch in diameter, but it was obvious it was very special. [...] A special cabinet design amplifies the bass and recreates sound like a musical instrument.  The breakthrough here was the ability of these loudspeakers to create 3-dimensional sound throughout the room without having to sit in a "sweet spot." [...] This Real World loudspeaker really excites me; I get goose bumps just listening to my video notes."

Gary Lea - Constantine Soo's Dagogo - A Unique Audiophile Experience (RMAF 2009 Show Report)

    "The Acoustic Technologies room was quite entertaining. This speaker is a very narrow floor-standing with a single, 3" driver. I first heard this speaker at the AKFEST in May and was mightily impressed not only with the amount of sound and frequency range that was attainable from a single 3" driver, but the musicality and the sound staging. The Acoustic Technologies makes a pretty convincing argument for single-driver speakers. They also do a pretty interesting demonstration to show that the speaker delivers a full sound without a particular sweet spot. Attractively priced [...], this elegant looking floor standing column would fit in with any décor."

Laurence Borden - The Stereo Times - The Complete Audiophile Magazine (RMAF 2009 Show Report)

    "As at CES, In enjoyed the Acoustic Technologies speaker.  This is a small footprint single-driver floor stander.  [...] [D]riven by a Pass F3 amp, the speaker has remarkable dispersion, such that it sounds good irrespective of where one is standing or sitting in the room.  In my opinion, this speaker represents a fantastic product for those intrigued by single-driver speakers, those with a limited budget, or those interested in a "life style" speaker that offers the antithesis of the "head in a vice" sweet spot of many modern speakers."

Type: Full range, single-driver loudspeaker      
Driver: 3" w/ titanium cone
Sensitivity: 92.5dB
Freq response is 50Hz-19KHz
Crossover/Filter: None  
Nominal Impedance: 8 Ohms 
Rated Power 15 Watts-30 watts
Dimensions: 43.25"h x 6.25"w x 9.75"d   
Net weight: 35 lbs. per speaker
Available Finishes: Mahogany Red Satin    
Warranty: Two year driver warranty

MSRP: $2,450.00
Closeout sale
$749.00 pair delivered
Project Deals
Pre Box RS Digital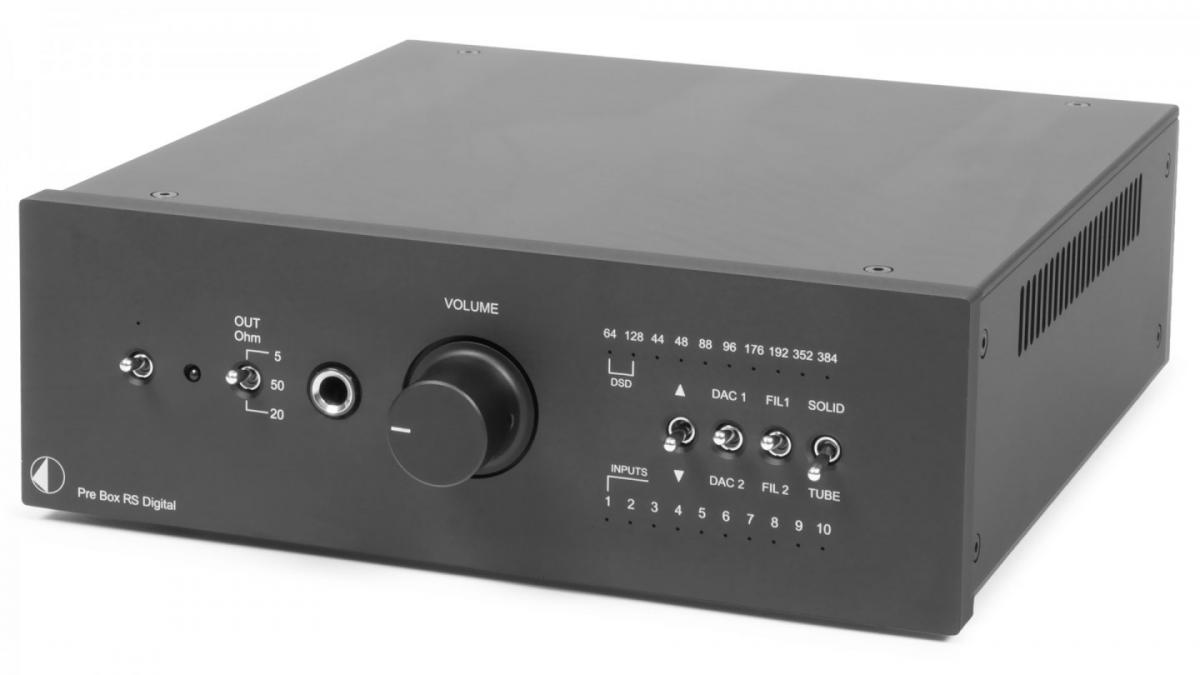 Available in black- Limited quantity
Pre Box RS Digital is a tube (6922) or solid state remote controlled dual mono preamplifier with high quality DAC & Class A circuitry
Save $650.00
It uses a pair of Texas Instruments PCM1792 DAC chips in a dual differential mode to achieve ultimate fidelity. As a selectable feature, a second PCM5102 DAC chip from Texas Instruments is built-in and handles 32bit/384kHz. A quality headphone output with selectable impedance is also implemented and meets the demands of most headphones on the market. All told, Pre Box RS Digital delivers three-dimensional sound staging, a wealth of micro-detail and enticing resolution that's sure to impress digital music lovers.

Switchable DAC chips: 2x PCM1792 or PCM5102
9 digital inputs: i²S, AES/EBU, Toslink, S/PDIF coax
Analog: Pre-out XLR/RCA/headphone, RCA input
Headphone amp with adaptable output impedance
Fully balanced double mono design
Output stage switchable between 6922 tube & solid state
Ultra-linear and ultra low noise
Pure Class A circuitry
Alps Blue Velvet volume control
DC power supply (< 1 watt standby power)
IR remote control included
Available in black
Handmade in Europe
List $1499.00
Sale $849.00 delivered

Pro-ject Phono Box DS2 USB
Phono stage with USB copy capability
Silver or black with eucalyptus wood side panels available
Excellent 2 turntable MM/MC phono stage that can be used as a standard phono stage or to burn your records or any other analog source to a hard drive.

Phono Box DS2 USB illustrates just how important the phono section can be in getting the most from your vinyl. This is a sophisticated phono stage based on a high-end passive/active ultra-linear phono equalization. MM and MC capability as well as 'on-the-fly' impedance adjustment and multiple capacitance settings make this a feature-rich, sound-first design. The two phono inputs and input selector allow enthusiasts to toggle between two turntable/cartridge combos with the push of a button. It has easy front panel on the fly gain and loading options.
For the USB model, a low-noise, jitter-free A/D converter is used to convert the analog signal to a high-resolution digital format (PCM up to 192kHz or DSD 128). Via the USB output, it's easier than ever to record your vinyl to digital. There is also an analog line-in to record other analog sources. Phono Box DS2 USB is housed in a chassis made of 2-layer metal for a simple, sleek look that shields the circuitry from the influence of mechanical or electromagnetic interference.
Suitable for

MM and MC cartridges

Analogue RCA, USB and optical out on back

3 Inputs (2 Phono, 1 Line)

Precise RIAA equalisation

Dual mono circuitry for optimized channel separation

Selectable input impedance on front

Selectable input capacitance on front

Digital output sampling frequency adjustable

Low noise circuitry

Gold-plated RCA in & outputs

Sandwich alu/metal casing protects from vibrations and electromagnetic interference

Color options: silver or black, with optional eucalyptus wooden side panels

Handmade in Europe
List $800.00
Sale $399.00
Pre Box DS2 Digital
with 5 digital inputs, phono stage, fixed and variable outputs as well as a subwoofer out
Analog input and Blue Tooth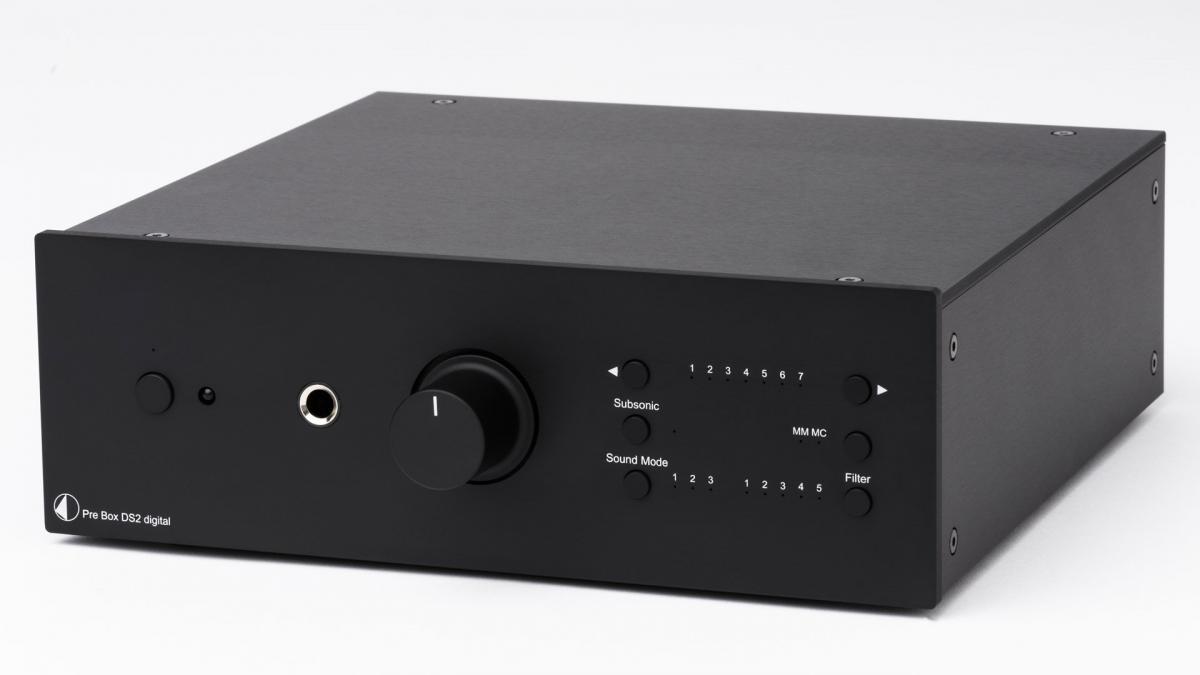 Phono stage (MM/MC), Line In on board
5 digital Inputs: 1x USB, 2x optical, 1x coax, 1x BT (aptX)
Top grade AK4490 D/A chip (32-bit PCM 768kHz / DSD256)
Up to 32bit/768kHz asynchronous USB (XMOS technology)
DSD64, DSD128 & DSD256 (DSD over PCM)
Up to 24bit/192kHz for optical & coax inputs
5 selectable digital filter characteristics
3 selectable sound modes
Headphone output on the front (6.3mm)
High-end ultra low phase oscillator with superior noise rejection
RCA line level solid-state analogue output stage
Ultra linear & ultra low noise circuitry
Fixed line level output as well as variable output
    Mono subwoofer RCA output
    Trigger in/out
       Handmade in Europe
List $1128.00
Including $1129.00 wood side panels
Sale $599.00 delivered
Limited quantity-Call about colors available
Package with the 100wpc Amp Box DS2 below at $898.00
Pro-ject Amp Box DS2
100 watts/channel per amplifier
Multiple finished available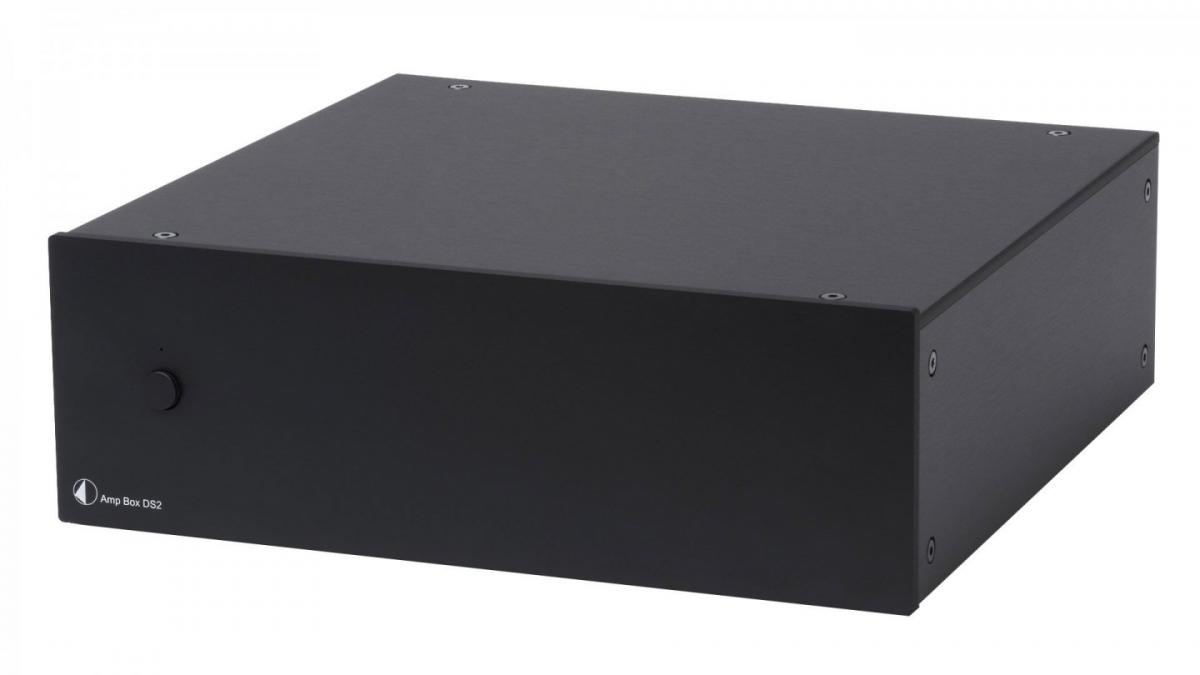 Superior Class D modules
Impressive signal spectrum and lower distortion
Low heat emission
Stereo level input (RCA)
Loop output (RCA)
Isolated speaker outputs
Trigger input & loop out
Elegant aluminium – metal sandwich casing
Available in black or silver with optional wooden side panels
Handmade in Europe
Power output: 2 x 100W/140W at 8ohm/4ohm (both channels driven)
Frequency response: 10Hz – 50kHz (0dB, -3dB)
Channel separation: >40dB at 20kHz
Noise floor: >90dB
THD: <0.1% at 90W
Gain: 31dB
Pre in: 2 pair RCA (bypass input-output)
Input sensitivity: 550mV (100W, 4ohms)
Input impedance: 10kohm
Speaker connectors: 4mm banana plugs
Trigger: 12V switching voltage
List $1124.00 including $129.00 side panels
Sale $399.00
Amp Box RS Mono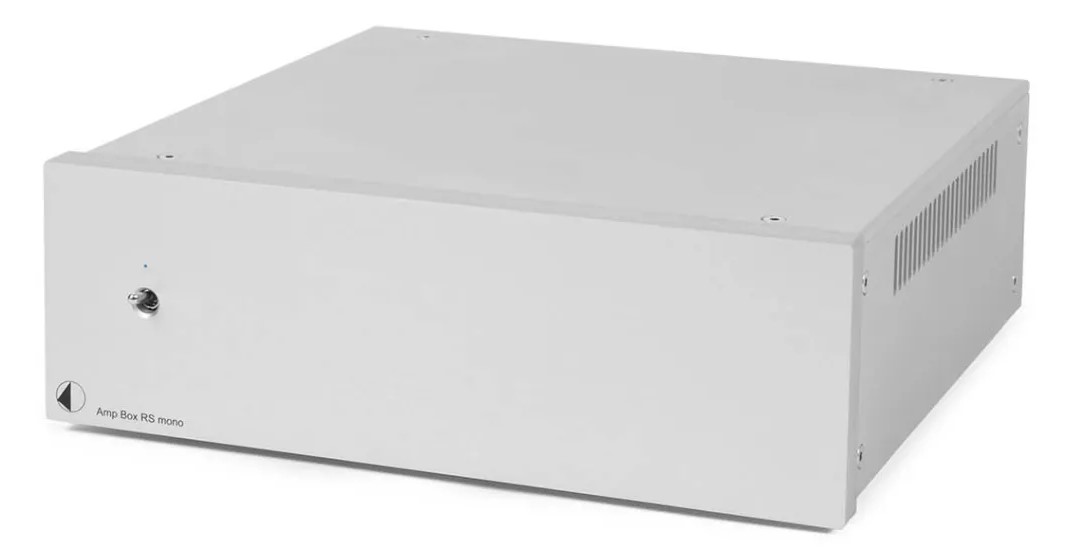 Only 4 silver and 1 black mono available
Projects best RS series balanced mono amp with tube input stage, 180 watts at 4 ohms and 2 ohms stable
120 Watts @ 8 ohms 180 watts @4 ohms
Highly efficient conversion from mains to output power (92%)
2 ohms drive capability
Tube buffer stage with reference quality
SMD construction for shortest signal paths
Line level preamp inputs (RCA & XLR)
Top-quality speaker terminals
Metal casing protects against vibration and interference
DC power supply (< 1 Watt standby power)
4 each Available in silver and 1 in black for a center channel
Technical Specifications
Tube:        1 x ECC88 (6922)
Power output         120/ 180 W @ 8 Ohm/4 Ohm
Frequency response         10 Hz - 50 kHz (+ 0 dB, - 3 dB)
Signal to noise ratio          >-100 dB (IEC -A)
THD    < 0.05% @ 100 W
Input  RCA & XLR-sockets
Input sensitivity    1.35 V
Input Impedance   22 kOhm
Speaker terminals 4 mm Ø Banana, spade or bare wire
External power supply     48 V/2.5 A DC; 100 - 240 V, 50/60 Hz
Standby consumption      < 1 Watt
Dimensions W x H x D      206 x 72 x 220 mm with sockets
List $999.00 each
Sale $399.00 each
(2 silvers make a stereo pair)
Pro-ject Pre Box DS 2 Analog
Remote preamplifier with sub out
Features
Analogue RCA inputs
Fixed line level output as well as variable output
Mono subwoofer RCA output
Trigger in/out
RCA Line Level solid state output
Ultra linear circuit
Coupling-capacitor free signal path
Ultra low noise floor
Alu/metal sandwich casing in silver or black available
Wooden side panels optionally!
IR remote control supplied
Handmade in Europe
List $877


including $129.00 wood case
Sale $399.00
Package with the 100wpc AMP Box DS2 above for only $698.00
LSA Warp One 150wpc amp
$1,199.00 delivered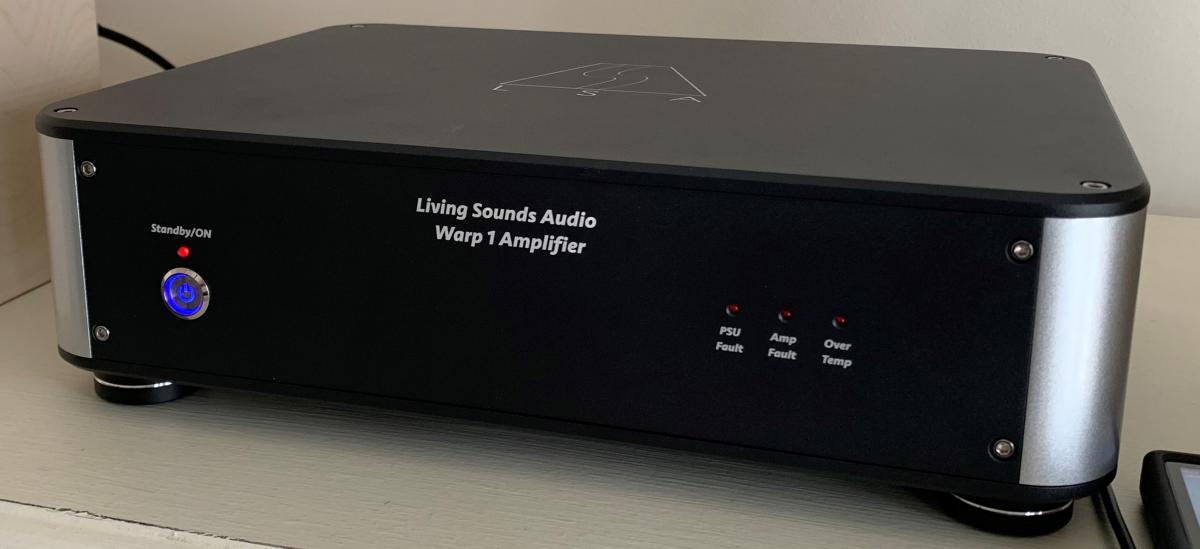 Our Discovery Warp One 150wpc stereo amp is the sonic class leader at its price point. It outputs 250 watts at 4 ohms. Is is 2 ohm stable as well. It is the perfect mate to our DPH-1 preamp/DAC as well as the Audio GD R28 preamp/DAC. We have 4 great reviews already.
5 excellent reviews are already out on this amp.
Both Stereophile and The Absolute Sound wrote rave reviews
See the Thomas & Stereo youtube review here:
https://www.youtube.com/watch?v=j6j3RRCllSA
Micromega
MYZIC Headphone amp
Save 50%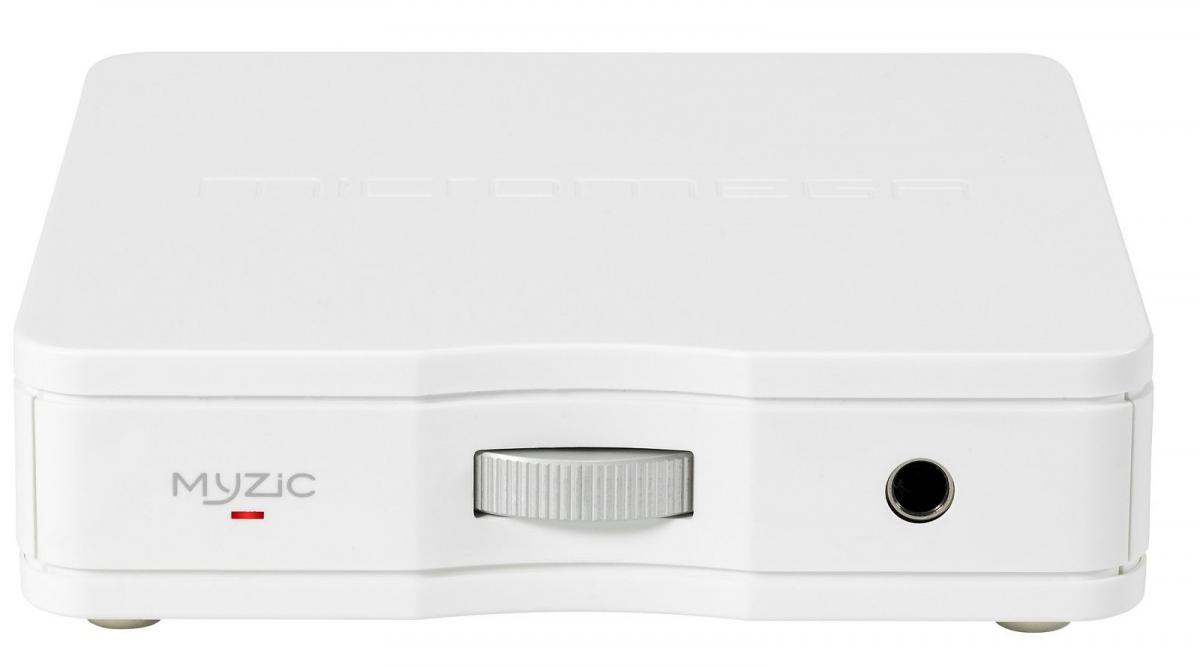 Perfect for any reasonably efficient headphones





Great sound at an affordable price





Features and specs
1MO analog input to prevent loading source output stage.
500MW rms @ 32 Ohms and 1W rms @ 16 Ohms
Analog output duplicating analog input to avoid the need for a Y connection.
MyZIC matches with every headphone impedance and sensitivity.
Log horizontal rotary control for a precise listening level adjustment. Minimal level detection putting MyZIC in standby mode.
Out of standby delay to avoid any turn on thump.
Professional Neutrik headphone 1/4" socket with headphone presence detection. When no headphone is connected, MyZIC will remain in standby mode.
LED status indicator : Red when MyZIC is in standby and White in operation.
85 - 265 Vac / 50 – 60 Hz switch mode power supply, for exceptional sonics.
2 year factory warranty
$299.00
Sale Price $149.00 delivered
Micromega
MyGroove phono stage deal at 57% off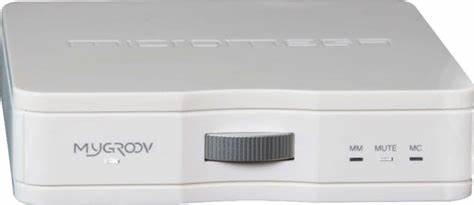 Very good Moving Magnet/Moving Coil phono stage
Only available in white
Quality phono pre-amp
If your existing amp doesn't have a phono pre-amp built-in the Micromega MyGroov gives your vinyl a thorough revival. Featuring a low noise power supply and 'clean' signal path that's free from electrolytic capacitors, the MyGroov gives you smooth, distortion-free sound quality.
Choose between MM (40dB) and MC (60dB)
Compatible with both MM (Moving Magnet) and MC (Moving Coil) cartridges, the MyGroov works with just about any cartridge. Even if you don't use a sonically superior MC cartridge at the moment, this phono pre-amp gives you the option to do so in the future – without having to upgrade the phono pre-amp, too.

Smooth design
The sleek design features quality detailing. Switching between standby/MM/MC, for example, is carried out by an anodized aluminum wheel. Delayed switching avoids any 'thump' coming through the speakers as you switch inputs. The case itself is very compact and easy to house.



Differential analog input structure to avoid current injection into the cartridge.




• MyGROOV adapts to all type of cartridges despite of their impedance and sensitivity.




•

Four positions horizontal rotary switch with anodized aluminum wheel.




To select between STBY – MM – MUTE – MC




•

Out of standby delay to avoid any thump at turn on and when switching




between MM, Mute and MC.




•

LED status indicator : Red when MyGROOV is in standby and White in operation.




• Integrated in house designed universal power supply 85-265 Vac / 50-60Hz.




• Unique design, extremely fast, ultra low noise audio power supply.




•

No electrolytic capacitors in the audio section, neither in the low noise power supply,




nor in the audio path.




• Cartridge load impedance : MM - 47 k

Ω

/ MC - 100

Ω

.
• Gain : MM - 40 dB / MC – 60 dB.
• Very Low THD (1 kHz)
≤
0,001% MM,
≤
0,005% MC.
• RIAA deviation < ± 1 dB (20 Hz – 20 kHz).
• Frequency response : 20 Hz – 20 kHz.
List $299.00
Sale Price $129.00
Epos speaker closeout
We have bought all the remaining Epos speakers from the US importer and are closing them out. Reviews on all these speakers were very good. Epos has always made very good speakers but never sold well in the US. At these deals they should go pretty fast. 
White Column speakers with soft dome tweeter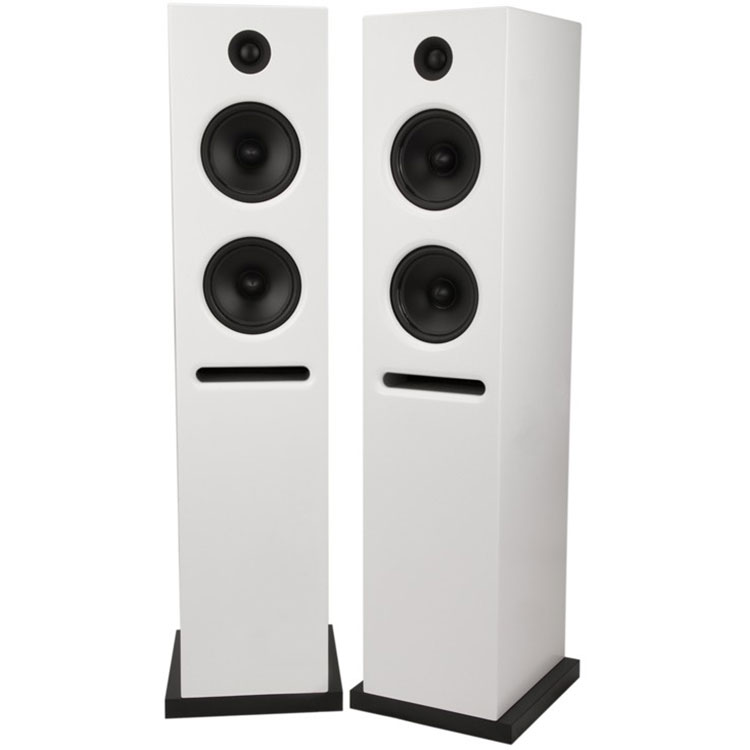 T
he 2 ½ way K3 floor-standing loudspeaker is the largest model within this range of loudspeakers. 
List $2,395.00 pair  
Sale $799.00 Pr + freight
One pair left in white
Power Handling:  200 Watts unclipped speech and music
Frequency Range:  41 Hz – 30 kHz
Impedance:  4 Ohm nominal
Sensitivity:  91dB / 2.83V@1m
Tweeter:  Epos 25mm soft dome with high-temperature voice coil, ferrofluid cooling and neodymium magnet system.
Bass/Midrange Driver:  x2 187mm Epos mid bass drivers, with 25mm high-temperature voice coil and polypropylene cone.
Internal wiring:  18 AWG stranded oxygen free copper cable.
Finish:  Painted White
Grille:  The K3 has an optional Snap-on grille.
Size:  212 x 300 x 935mm (W x D x H)
Weight:  41 pounds per single speaker
44 pounds per carton
Packaged One speaker per carton.
5 year factory warranty
 Full info is at: http://www.epos-loudspeakers.com/ 
 
| | | | |
| --- | --- | --- | --- |
| Product | Description | List price | Sale price |
|   |   |   |   |
| DSPeaker | New Anti-Mode 2.0 Dual Core with updated software with warranty price included delivery | $1200 | $799 |
| Emerald Physics | Black EP200.2SE New 200wpc power amplifiers that can also be an integrated amp-Superb sonics. | $3500 | $1199 |
| LSA |  HP-Diamond headphones w/ freight anywhere in the world. Save $400.00 now | 1999.00 | $1499. |
| Martin Logan | New sealed Dynamo 1100X powered sub--Room correction & smart phone control | $1299 | $899. |
| Marantz | CD-6007 CD player- New with 3 year warranty | $800.00 | $679.00 |
|   |   |   |   |
|   |   |   |   |
| Marantz | Model 30 100wpc integrated amp with Mm/MC Photo- Photo Sample | $3000. | $2299 |
|   |   |   |   |
|   |   |   |   |
|   |   |   |   |
|   |   |   |   |
|   |   |   |   |
|   |   |   |   |
|   |   |   |   |
|   |   |   |   |
|   |   |   |   |
|   |   |   |   |
|   |   |   |   |
|   |   |   |   |
|   |   |   |   |