Puron Power conditioner
$250.00
$350.00 with Furutech blades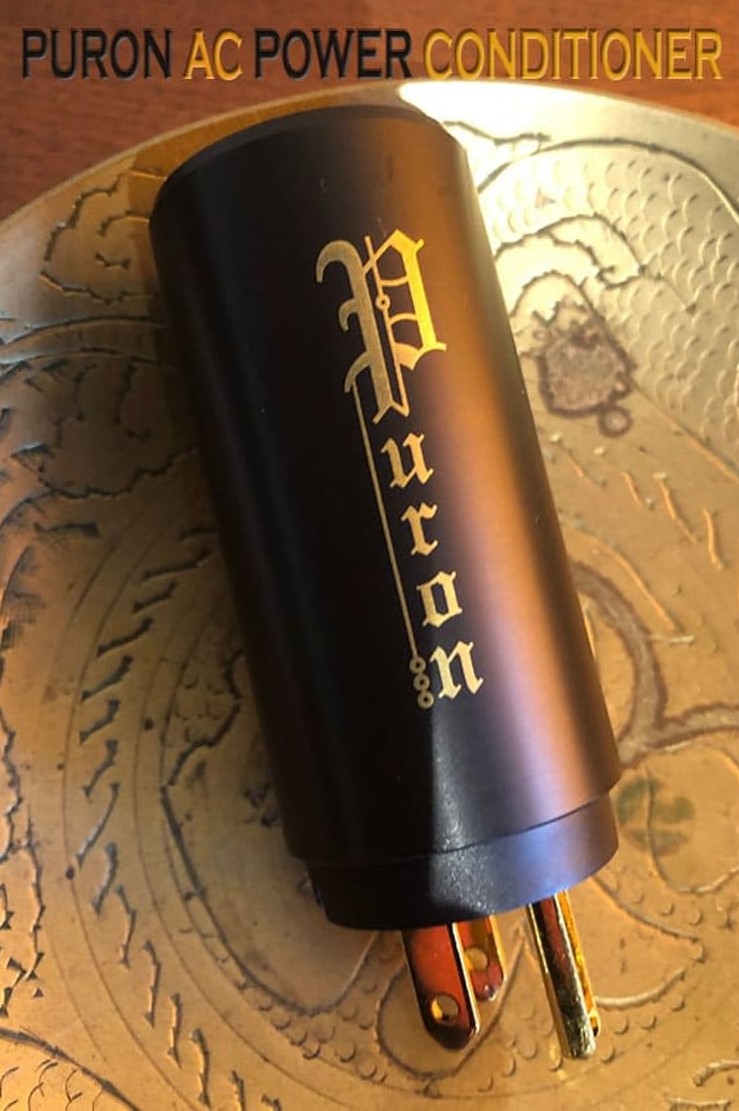 The Puron Power Conditioner doesn't require a big lift; it easily fits in the palm of one's hand. It has a satin black cylindrical plastic body, a gold-plated plug, and little else besides its gold-lettered name. The Puron measures 4-1/4" from top to plug tip with a rough diameter of 1-1/2". When inserted into a wall receptacle, the Puron extends out from the wall just 3-3/8". 
 
When plugged into a female wall socket nearest your electric panel or power source, into a wall receptacle at your rig, or in the first position as current flows in your power conditioner or power strip, the Puron begins its work, ridding your home's power of electrical interference. When left to do its thing over 24 hours, the Puron enhances current flow, scrubbing your electricity free of unwanted grunge.
One of the most important things in your audio system is the quality of the power you are feeding it. Before spending a ton of your hard-earned cash on exotic audio accessories, consider sorting out the power first. The more artifacts you have in the power line, the more noise creeps into the audio signal.

In the Tone review they said:

"The Puron is a small device that is not a "pass-through" device like a standard line conditioner, and it can be used in tandem with whatever current power conditioning you might be using. It looks somewhat like an old metal encased rectifier tube (for those of you old enough to remember that kind of thing) and is meant to be plugged into the same circuit as the components you are using, whether you have a line conditioner or not."

"The first trial in our main listening room, only yielded a small, but definite result on a system consisting of the T+A Caruso R all in one, and a pair of vintage ESS AMT1-b speakers, with Tellurium Q Black power and speaker cables. This was chosen because this system has a bit of a high frequency edge to it. The Puron definitely took some of the glare out of the presentation, and actually had more effect the following day after being in the system for about 30 hours. (Which incidentally is what Vera-Fi says needs to happen for optimum result.)"

"The house is a different story. Multiple appliances, wall warts a plenty, Hue light dimmers, and wifi everywhere. All in the context of a 60-year old house. The bedroom system consists of an LG 80" TV and a pair of Totem Kin Play Tower speakers. Nothing fancy, by any means. This was an immediate change for the better. Just watching the last two episodes of Picard shows less pixelation and noise in the blacks. Seriously, I'd buy one just for this. However, it really did clean up the sound coming through the Kin Plays by an order of magnitude."

We'd really like to try this in a few more configurations. But for now at $250, I can't suggest this one highly enough. – Jeff Dorgay
Review quotes:
"Almost immediately upon the Puron's insertion, the soundstage widened as my system's presentation of detail heightened, imaging tightened, and the sense of aural blackness grew darker. I only have one Puron on hand. I'll bet multiples work even better."
"With Nublado, clarity and body were shared among the instrumentation, and guitar strings rang with added realism. The bass clarinet's deep, dark voice stung with more significant emotive impact, and percussion rode the air with a greater punch as the stage reached back deeper and expanded a touch wider with cues from the reverberant recording space. On Comin' Back to Me, there was an increased resolution shared across the instruments. Small airy nuances gained interest, and Jones' pensive, contemplative vocal held a touch more emotional impact. With the play of A Timeless Place (the Peacocks), Sutton's voice possessed more flesh and breath, and the acoustic bass sang with greater body and wood. On Avidity, I fell hard for Dahl's rich piano tone; instruments appeared more resonant, and percussive skins spoke with added liveliness. On Sting's A Thousand Years, transients held more interest with enhanced impact, bass frequencies reached deeper, seeming even more prominent, and small intricacies glowed brighter. Lastly, on Parlato's No Plan, there was enhanced depth and realism, and the bass held more prominence in the mix."
"The following week, I had Clement and Arnie Balgavis, former Sr. Editor of the now defunct The Audiophile Voice (attributed to COVID), here for a listening session and pizza break. While we listened, I inserted and removed the Puron numerous times while playing a short set of requested songs. I was directed to plug it in or remove it at specific times. Time and again (and paraphrasing their words), the Puron "took away a veil, refining the sound. Instruments had longer decay and were presented with greater resolve." Clement was impressed enough to ask me to contact Vera-Fi Audio for additional units."
"When my wife visited a life-long friend for a few days several years back, she returned, determined to upgrade our video experience. Their new 4K TV impressed her with its detail, color density, and realism. Granted, our television, a 12-year-old Sharp Aquos 52" flat screen that we've put thousands of hours on over a dozen years, isn't the newest. Still, you wouldn't know it today, as some of my system enhancements have enhanced its picture clarity and sharpness. Adding the Puron provided even more enhancement, increasing picture sharpness, brightness, and sense of dimensionality."
"Color me impressed. The Puron was developed overseas and currently has a small footprint on the internet. All I can tell you is that it works. The Puron would make an excellent stocking stuffer for audiophiles or videophiles in your life."

In the 2022 Brutus awards in Positive Feedback they said:
"And then we plug in just one, that is right just one Puron. At $250 I can't think of a better way to spend a couple of hundred on such a simple and yet so effective device. The noise floor drops even further as it works to reduce the noise at the wall outlet. Man, resolution at lower volumes is considerably better than ever before. Makes listening with the volume down a real pleasure—like when people are over and there is a need to talk to like… people in person. Nothing is hyped or augmented… just more music and less stuff in the way. Whatever we are playing is so much more articulate and yet so very natural. Any sense of grain or harshness… gone. Clarity without etch or analytical neutrality. What I mean by "analytical neutrality"… cold and void of soul. There is life to the music."
"And yes, the Puron works wonderfully in a video/home theater system where we are seeing such detail in images that it makes us forget about whatever struggles are pulling at our emotions when watching whatever. So, life like. Stunning."

Here is a customer feedback
from the UK:.
In the order they became apparent:
More musical and enjoyable
Soundstage getting wider and deeper
With Furutech blades add $100.00