Focal Headphones
Focal, in France, makes wonderful hi end loudspeakers and their new headphones are superb. The open back Elear, Clear, Utopia and now the closed back Elegia are setting new performance bars in their price ranges. These headphones are hand made by Focal in France.
"Focal rocked the premium headphone world with two new ultra-premium headphones-the Focal Elear, priced at $999, and then their flagship Focal
Utopia, priced at $3999. Both headphones, in my opinion--based on sound quality at their prices, their designs, ergonomics, and based on technical
performance/measured performance--make a strong case for being amongthe finest moving coil dynamic headphones ever crafted."
Head Fi Magazine
Clear
$1499


One sale for $1099.00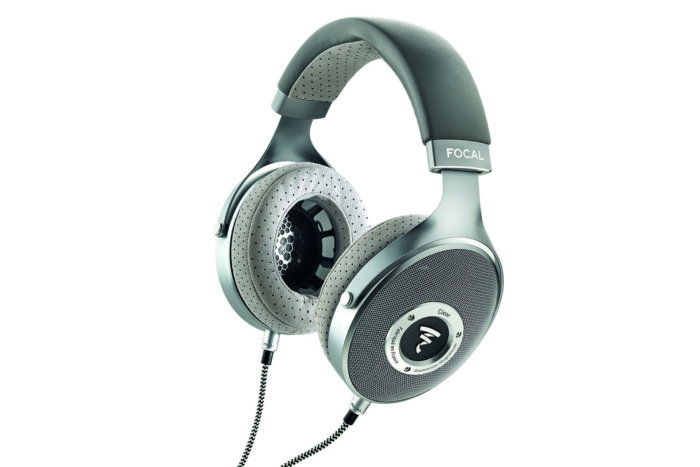 In the June 2018 Stereophile review Steve Stones sums with:
"Combine the Clear with a first-rate headphone amplifier (even the $99 Schiit Audio Magni 3 qualifies), and you'll have a headphone rig that should satisfy you for many years to come. And you can do this for far less than the cost of most manufacturers' top-tier headphones. Just like the flagship models, the Clear delivers a nearly ideal combination of fine sound coupled with elegant design and quality construction, but unlike those more expensive headphones the Clear is available at a price within reach of a much larger percentage of listeners. The Clear, Focal's "middle-of-the-road" headphone, could very well prove to be the road most traveled by value-conscious audiophiles."
Read the review at: http://www.theabsolutesound.com/articles/focal-clear-headphone/




Clear is the new step up to Elear with better sonics. These circum-aural open-back headphones feature an enhanced speaker driver in addition to an upgraded open back design when compared to Elear. The feeling one gets from listening to Clear overwhelms any sense that the user is even wearing headphones in the first place. Clear is equipped with a new generation full-range speaker driver, as well as a frame less copper voice coil. The use of copper gives the voice coil an extremely strong magnetic field, resulting in sound which fully recreates the dynamics of the original recording. Clear is capable of revealing the smallest of details in a recording, providing thanks to linear high-frequencies and the respect shown to transients. The 55 Ohms of impedance means you can use Clear with portable high-resolution audio players.
Clear also supplies a full range of connectors. Included are three types of cables to ensure that users always have the best solution. The braided cotton sleeve and 24 AWG oxygen free copper cable offer low resistance to deliver sound with utmost transparency. While the two 3.5mm mono jack sockets in the headphones themselves are lockable to secure the connection of the cables. The 3 cable options are:
• A 4ft (1.2m) cable finished with a 3.5mm stereo jack plug
• A 10ft (3m) cable finished with a 6.35mm stereo jack plug
• A 10ft (3m) with a 4-point XLR connector
Read the first 2 reviews at:
https://www.techhive.com/article/3230375/headphones/focal-clear-review-one-of-the-finest-headphones-money-can-buy-and-youll-need-lots-of-it.html
https://www.cnet.com/news/a-french-approach-to-design-headphone-design/
Elear
open back headphones
$999.00
One sale for $849.00 with no trade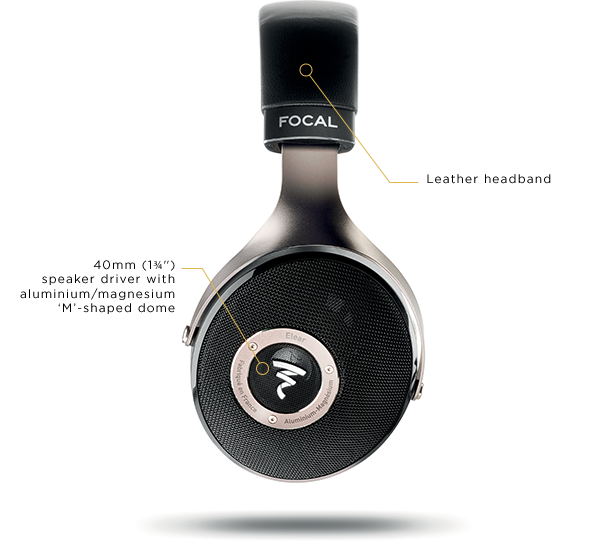 Elear is an open back headphone featuring numerous innovations from Focal, which are key to their outstanding acoustics performance.
Elear offers the world's first, full range and fully open back loudspeaker, built-in to a pair of headphones. Additionally, they are made from an
Aluminum-Magnesium blend, in a formed shape, unique to Focal with the company's brand new "M" shape dome. This new dome shape has
originated from the research performed during the Utopia headphone project that will offer the highest quality sound, while avoiding potential
The acoustic quality of this exclusive solution allowed Focal to avoid the use of any crossover or passive filtering process in order to achieve a
frequency response from 5Hz to 23kHz.
The result is thus impressively realistic, making the headphones virtually disappear and providing listeners with a truly unique high-fidelity audio
experience. Elear also benefits from the R&D done on Utopia. With regards to mechanical design, the rotation traditionally included on the yoke
has been moved into the headband to ensure the total purity of the design. The microfiber fabric, used on the cushions, offers a true comfort for all
head shapes and sizes – a quality that is mandatory for long listening
Specs


Type: Circum-aural open back headphones
Impedance: 80 Ohms
Sensitivity: 104dB SPL / 1mW @ 1kHz
THD: <0.3% @ 1kHz / 100dB SPL
Frequency response: 5Hz - 23kHz
Loudspeaker: 1 (40mm) Aluminum-Magnesium "M" shape dome
Weight: 0.99lb (450g)
Cable length: 13.1ft (4m)
Connectors: 1 x 14" stereo Jack connector / " (3.5mm) Jack
Carrying case
Utopia
$3999.00
One sale for $3499.00 with no trade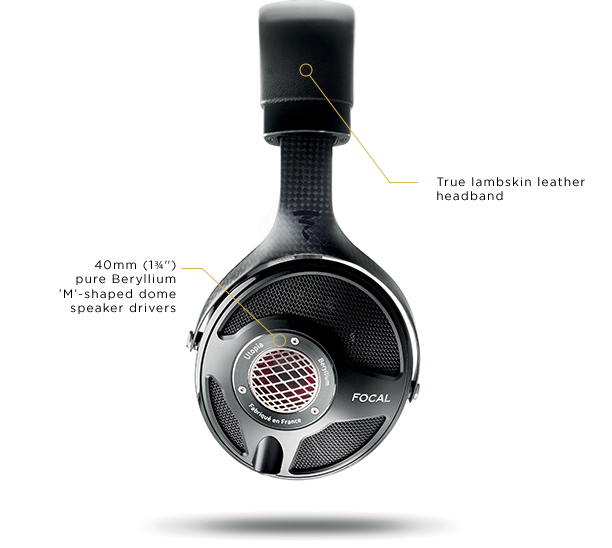 Utopia are THE reference high-fidelity headphones manufactured by Focal. They are the result of 35 years of innovation, development and manufacturing of high-end speaker drivers and loudspeakers. Equipped with exclusive technology, they offer striking realism, neutrality, dynamics and clarity, for sound with unrivalled purity. Utopia are unique they are the world's first audiophile headphones to be equipped with totally open-backed full-range speaker drivers with pure Beryllium 'M'-shaped domes. They meet all the requirements expected of high-end headphones due to their sophisticated and elegant design and to purposeful materiality, such as the carbon fibre yoke and true lambskin leather ear cushions. The acoustic quality of this exclusive solution allowed Focal to avoid the use of any crossover or passive filtering process to achieve a frequency response from 5Hz to 50kHz!
The listening experience is outstanding in terms of realism, natural sound reproduction, dynamics and clarity. When listening to them, the
headphones virtually disappear and the audio signal is revealed with a level of precision never achieved until Utopia. Utopia phones are simply amazing
Tech Radar said:
"These ultra-premium headphones pack in the world's first full-range loudspeaker. Crazy expensive, but crazy good."

Inner Fidelity said:
"The Elear and Utopia are simply extraordinary. The sense of dynamism,tonal balance, and smooth clarity of both are, to put it mildly,
disorientinglydisruptive to my sense of where headphones are at today and in what wayand by how much these are better."
Specs
Type: Circum-aural open back headphones
Impedance: 80 Ohms
Sensitivity: 104dB SPL / 1mW @ 1kHz
THD: <0,2% @ 1kHz / 100dB SPL
Frequency response: 5Hz - 50kHz
Loudspeaker: 1 40mm pure Beryllium "M" shape dome
Weight: 1.08lb (490g)
Cable length: 13.1ft (4m)
Connectors: 1 x ¼" phone Jack / (6.35mm) stereo jack / 2 x 9.5mm Lemo
Carrying case  
Elegia
$899.00
 
Elegia is the very first high-end closed-back headphones from Focal, combining innovation, unique expertise and product design taken from the DNA of previous products. The resulting product delivers an extraordinary acoustic performance and offers excellent value within the price bracket.
Elegia incorporates a new generation of exclusive full-range speaker drivers capable of operating in a small inner environment whilst ensuring exceptional dynamics and the most precise sound reproduction. Whether it's the motor, the frameless copper voice coil, the dedicated 110 micron surround or the 
"M"-shape
inverted dome
, Elegia's speaker drivers are 
a mass of innovation dedicated to sound purity
. And when connected to portable audio players, these headphones are incredibly high-performing. Zero resonance, 
excellent soundproofing
:
Key points
• High-end closed-back design for home use and on-the-go
• Exclusive full-range speaker-driver with an 'M'-shape aluminium/magnesium dome (patent pending)
• Incredible tonal balance, which is able to reproduce the subtlest sound details at both very high and very low frequencies
• Excellent performance when connected to a portable audiophile player.
• Very good ambient noise soundproofing
• Comfortable and ergonomic

Specs
Type Circum-aural closed back headphones
Impedance 35 Ohms
Sensitivity 105 dB SPL / 1 mW @ 1 kHz
THD 0.1 % @ 1 kHz / 100 dB SPL
Frequency response 5 Hz-23 kHz
Speaker driver 1.57" (40 mm) 'M'-shape Aluminium/ Magnesium dome
Weight 15.4 lbs (430 g)
Cable provided 3.94 feet (1.2 m) asymmetric cable (0.14" - 3.5 mm TRS jack). 0.14" (3.5 mm) to 0.25" (6.35 mm) stereo jack adapter.
Hard-shell carry case provided 10" x 9" x 5" (250 x 240 x 120 mm)