Focal Headphones
Focal, in France, makes wonderful hi end loudspeakers and their new headphones are superb. The open back Clear, Utopia and now the closed back Elegia and Stellia are setting new performance bars in their price ranges. These headphones are hand made by Focal in France.
"Focal rocked the premium headphone world with two new ultra-premium headphones-the Focal Elear, priced at $999, and then their flagship Focal
Utopia, priced at $3999. Both headphones, in my opinion--based on sound quality at their prices, their designs, ergonomics, and based on technical
performance/measured performance--make a strong case for being amongthe finest moving coil dynamic headphones ever crafted."
Head Fi Magazine

Celestee HIGH-END CLOSED-BACK HEADPHONES
$990.00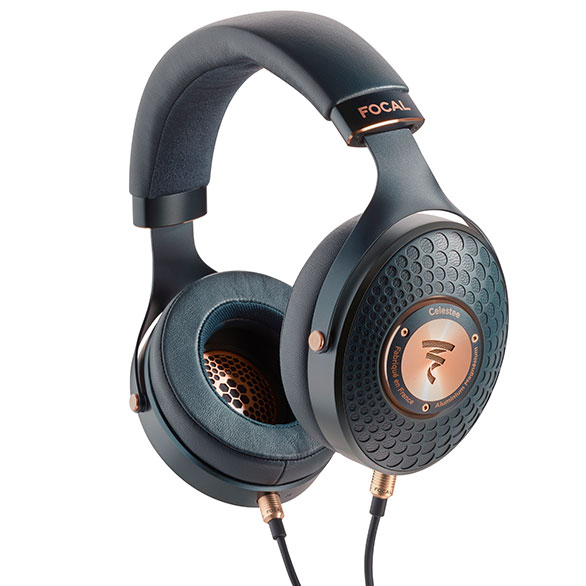 Celestee combines modern design, luxurious finishes and impressive sound performance. Their 

exclusive Focal speaker drivers

 guarantee excellent dynamics and high precision sound. The earcups have undergone acoustic treatment to restrict resonance and achieve 

uncompromising audio quality

: the sound is clean, precise and with good bass extension.




Another standout feature of Celestee is its unique 

Navy Blue and timeless Soft Copper colourway

.




The headphones are further enhanced with the use of high quality materials and crafted with the

 semi-aniline leather

 on the earpads, headband and earcups. Celestee's design is a masterclass in Focal's craftsmanship.




The aluminium yoke has controlled geometry to mould perfectly to the head while providing excellent grip and even greater 

comfort

.




Celestee reveals the intensity of every listening moment, whether at home or on the go. They are also available in navy blue and soft copper.
Celestee comes with: 
A carrying case in colour-matched the headphones.

Transport Celestee safely anywhere with its carrying case that is thermoformed in the shape of the headphones.

1 x 3.94 ft (1.2m) asymmetric cable with 1/8" - 3.5mm jack

1 x jack adapter, 1/8" (3.5mm) female – 1/4" (6.35mm) male
Stellia
$2990
State of the Art Closed back headphones
ACOUSTIC SOUND PURITY, EVERYWHERE
CLOSED-BACK HEADPHONES FOR HOME AND ON-THE-GO USE
This very high-end circum-aural headphones manufactured at Focal is equipped with a new generation of exclusive electrodynamic speaker drivers, capable of working at low acoustic load while offering an extremely extensive frequency response (5Hz – 40kHz). Thanks to the many cutting-edge technologies which are integrated in its speaker drivers (the frameless 100% copper voice coil and 'M'-shaped pure Beryllium dome), Stellia delivers a superb sound, whether bass articulation or the highest frequency details. In addition, Stellia's offers extremely low impedance at 35 Ω, making the headphones very easy to drive through the output of a mobile audio source: experience the purity of sound, everywhere.
Each component has been developed with optimal acoustics in mind, without compromising on style. Because at Focal, innovation goes beyond technology; it influences product use and aesthetics. Available in cognac or mocha finishes with full-grain leather.
Stellia uses the headband and yoke mechanical features originally developed for the Utopia headphones. The consistent curve between these two elements offers flawless comfort, regardless of the shape and size of the listener's face and head. This comfort is enhanced by the high-resilience memory foam used for the earpads.

The good press is alreadt starting on these amazing phones:

Headphone.guru said:
Focal Stellia the new reference in a closed design!
"Focal continues to impress with its ability to recreate the room of the venue with extraordinary clarity and decay. The Stellia takes the listener on a magical journey and gets out the way and treats you to a magical listening experience. If you are looking for the most in musical performance from a closed design you need to audition the Stellia and you may find, as I did, this is a special headphone that hits all the marks and you may also, like I did, find your wallet lighter as I could not resist the urge to not send this back and purchased the review sample. The Stellia never disappoints and needs to be heard to be appreciated. Highly Recommended."

Read the entire review at: https://headphone.guru/focal-stellia-the-new-reference-in-a-closed-design/
The What Hifi review:

Our Verdict
Simply the best closed-back headphones we've heard, with an appropriately aspirational price tag
5 star review
https://www.digitaltrends.com/home-theater/focals-new-crazy-expensive-stellia-headphones-are-utterly-clear-remarkably-open/

Home Theater review.com said:

You would be hard pressed to find better-sounding, more comfortable headphones than the wired Focal Stellias. These French cans are about as close as you can come to true studio-grade headphones, with all of the bells and whistles that come with super-premium, audiophile-grade models.
Greg Handy said, "For those audiophiles with both the means and an unwillingness to settle for less than the absolute best in a circum-aural closed-back headphone, you need look no further than the Focal Stellia."

Read the entire review at: https://hometheaterreview.com/focal-stellia-headphones-reviewed/
Specifications:
Type: Circum-aural closed-back headphones


Impedance: 35 Ohms

Sensitivity
: 106dB SPL / 1mW @ 1kHz

THD
: 0.1% @ 1kHz / 100 dB SPL

Frequency response: 5Hz–40kHz

Loudspeaker: 1.6" (40mm) pure Beryllium "M" shape dome

Weight: 0.96lb (435g)

Cables provided:

1.2m OFC 24 AWG cable with 1/8" (3.5mm) TRS jack connector + 6.3mm adaptor

3m OFC 24 AWG cable with 4-pin Neutrik XLR connector