Micromega
M-One 100
$4495.00 Call for current Sale pricing
$5749.00 with Phase & frequency room correction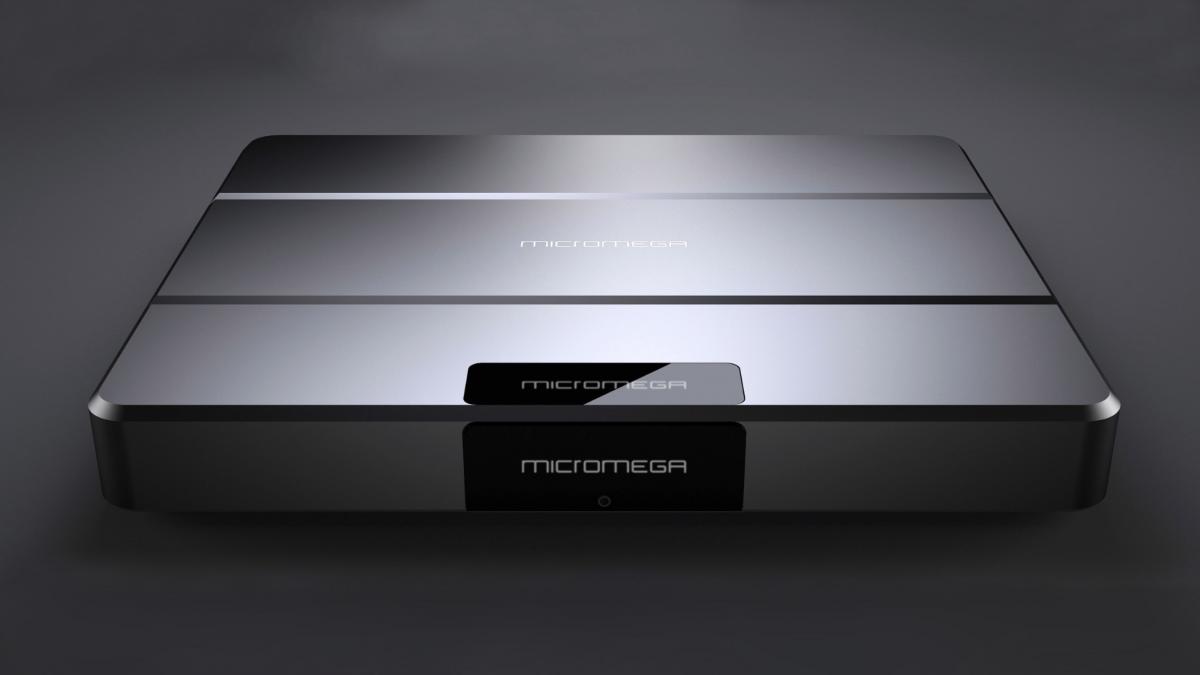 Available in silver or black with optional colors

The M-100 is a beautiful 100 watts per channel integrated amp with DAC
It incorporate all the latest connections – Airplay, Bluetooth aptX, LAN-Network 24bit /384kHz Asynchronous, SPDIF Coax-Opto-AES 24bit / 768kHz USB asynchronous passing DXD, DSD, DOP…, Phono MM / MC, Analog balanced and unbalanced inputs, and DSP with optional automatic room correction (M.A.R.S). All in an amazingly compact module, whose cabinet is cut in the mass of a single block of aluminum.
It's an absolute engineering miracle !

RMAF comments:
Computer Audiophile said: More interesting to me and what made me more excited to spend time listening, was the the room with Focal Sopra 2 loudspeakers ($13,995 pair), Micromega M1 100 integrated amplifier / DAC ($3,995), IsoAcoustics Gaia 1 isolation devices ($1200 for a set of eight (Under the Sopra speakers)), and Piccolo speaker cables from Crystal Cable ($1,400 pair). This entire system was far less expensive than a single component of the Magico / Soulution system, yet it provided more enjoyment for me at the show.
Stereophile said:
The Focal/Micromega/Audio Plus Services room wins my prize for the most beautiful, best lit, 
most relaxing, and most refined-sounding room at the show.
My prize for the best (and most ubiquitous) loudspeakers at RMAF 2016 goes to the crystalclear, 
low-distortion Focal Sopra No2s ($13,999). The Sopra No2s were used in many rooms at 
the show, and in each one they played music with strong but delicate expression—but nowhere 
were the 2s more finely expressed than in this Audio Plus Services room. Why so? I think it was 
the matching orange Micromega M-One 100 Amp/DAC with built in MM-MC phono stage

Standard color is black or silver
Enamel red, orange or blue adds $1000.00

M-150
$7495.00

The M-One 150 is a 150 watt/ch version of the M100 with full room correction and upgraded headphone amp for $7495.00.
 M‑150 (INTEGRATED AMPLIFIER) HAS BEEN ELECTED BY 55 INTERNATIONAL JOURNALISTS AS "BEST PRODUCT OF 2018 - 2019" IN THE "HI‑FI INNOVATION CATEGORY"

In the Hifi News 2018 component yearbook thay say:
VERDICT
Its styling and provenance may suggest comparisons with that other French amplifier range, but the M-150 is very much une autre
paire de manches, thanks to its distinct technology and facilities. It's remarkably capable, flexible and well-sorted, the room correction is
convincing, and the performance similarly impressive.

Their measured specs were:
Continuous power (<1% THD, 8/4ohm) 167W / 315W
Dynamic power (<1% THD, 8/4/2/1ohm) 175W / 335W / 565W / 690W
Output impedance (20Hz–20kHz) 0.043–0.095ohm (315ohm, pre)
Freq. resp. (20Hz–20kHz/40kHz) +0.0 to –0.55dB/–2.0dB (Analogue)
Distortion (20Hz-20kHz, 0dBFs/0dBW) 0.0002–0.002%/0.0006–0.017%
A-wtd S/N ratio (re. 0dBFs/0dBW) 107.1dB (Dig) / 83.1dB (Analogue)
Digital jitter (48kHz/96kHz) 40psec / 25psec
Power consumption (idle/rated o/p) 40W / 480W (3W, standby)
Dimensions (WHD / Weight) 430x56x350mm / 9.3kg

MYDAC
The new Micromega MyDAC ($399.00) is a small high performance DAC that is made in France. It has an internal power supply and uses an asynchronous 24/192k USB input. It is a 24 bit/192K DAC and features two low jitter clocks. List $400.00 On Sale $249.00
 
Below is the preview from Robert Harley of the Absolute Sound from his blog:

Product Preview:
Micromega MyDAC -The $399 Miracle
By Robert Harley

Sep 05th, 2012

Categories: Digital-to-analog converters

Products: Micromega MyDAC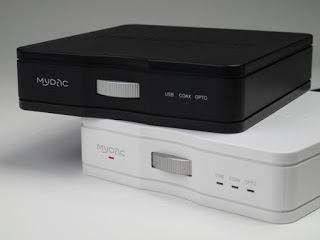 Every so often in high-end audio a product comes along that shatters the price-to-performance ratio we've come to expect in a category. Think the NAD 3020 integrated amplifier in the 1970s, the Adcom GFA amplifiers in the 1980s, the PSB Alpha speaker in the 1990s, and the Cambridge Audio 840C CD player in the 2000's.

You can add another future legend to that list: the $399 Micromega MyDAC. The MyDAC is so good that I couldn't keep it a secret for the seven weeks it will take for my full review to appear in the December issue of The Absolute Sound. Micromega's MyDAC looks very much like an Apple AirPort Extreme (not coincidentally, I presume)with its white plastic chassis (black is available) and 5.5" square and 1.4" high form factor. A front-panel wheel, reminiscent of the tuning wheel on 1970's-era Marantz tuners, selects between the SPDIF coaxial, TosLink optical, and USB inputs. While many products of this size employ a wall-wart power supply, MyDAC's power supply is inside the chassis.

Micromega MyDAC rear panel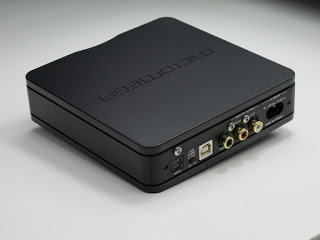 The Micromega's USB input is not only asynchronous for lower jitter and better sound, it's also capable of passing audio data with sampling frequencies up to 192kHz with 24-bit resolution. Other technical details include dual master clocks, one for the 44.1kHz family of frequencies (44.1kHz, 88.2kHz, and 176.4kHz) and other for the 48kHz family of frequencies (48kHz, 96kHz, 192kHz).

I dropped the MyDAC into my reference system and was shocked by how good it sounded for the price. The Micromega gives you some sonic attributes usually reserved for much more expensive DACs—qualities like air around instruments, a sense of three-dimensional space, and a laid-back sense of ease. Through the Micromega, instruments don't sound like flat cardboard cutouts; they are instead fully fleshed out three-dimensional images surrounded by a wonderful bloom. In these qualities, the Micromega's sound would not be out of place in a $2000 DAC. Timbres are remarkably smooth and free from grain. The bass is solid and tight, although the very lowest bass lacks ultimate authority. This is, however, nit-picking; for $399, the Micromega MyDAC offers so much performance that it's practically free.

I'll have in-depth technical and sonic descriptions in the full review that will appear in the December issue of The Absolute Sound. In the meantime, if you're in the market for a DAC anywhere near this price, you absolutely must audition the Micromega MyDAC. It's a great-sounding DAC and a stunning bargain.

Info on MyDAC:
 
USB Input working in asynchronous mode up to 24bits/192kHz and accepting USB audio class 1.0 and USB audio class 2.0 modes without any driver implementation with Mac or PC

Insignificant jitter in USB asynchronous mode thanks to two very low jitter master clocks ( 22.5792 MHz for multiple of 44.1kHz and 24.5760 MHz for multiple of 48kHz), with dedicated low noise power supplies.

Cirrus Logic CS4351 DAC

SPDIF 75O Coaxial input accepting levels as low as 0.2V p-p

SPDIF Toslink Optical input

Extremely low jitter in SPDIF mode (<50ps)

2V rms full scale Analog output with low impedance driver.

Integrated universal power supply 85-265 Vac / 50-60Hz.

Unique design, extremely fast, ultra low noise audio power supply

No electrolytic capacitors in the audio section, neither in the audio low noise power supply, nor in the audio path.

4 positions horizontal rotary switch with anodized aluminium wheel profile. Allows selection between STBY – USB – COAX – OPTO

Backlighted My DAC logo with 2 colors to identify Standby mode (Red)

Backlighted Input names with blinking function to indicate no-lock state.

Elegant mirror polished ABS housing.

Available in 2 colors : Glossy White or Black

Product can be used horizontal or vertical.

Extremely low power consumption in standby mode ( <100mW)

Product meet all the most stringent energy saving regulations.
MYAMP
$649.00
On Sale now for $579.00 delivered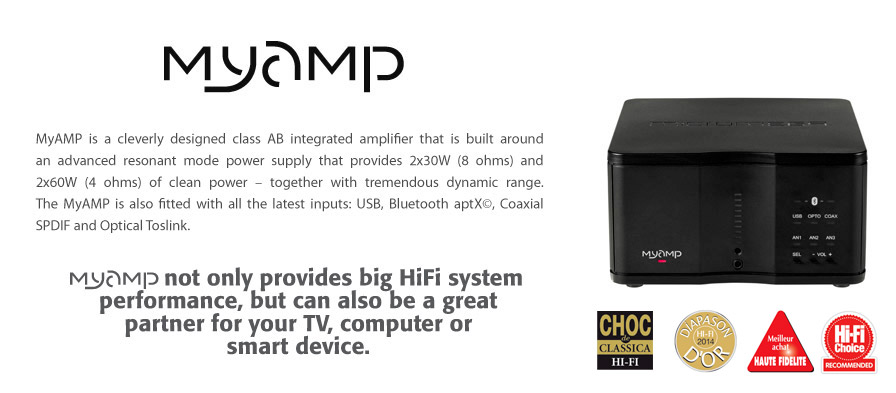 Myamp is a high value 30 watts per channel (60 @ 4 ohms) integrated amp. It is remote controlled and has a nice internal DAC with 3 digital ins as well as analog inputs and Blue Tooth connectivity. This little unassuming box is actually quite amazing and will drive msot speakers in average sized rooms. It is great in bedrooms & kitchens as well as for desktop audio. Reviews have all been exceptional. It also has a sub out and is Made in France.

  3 x 1MΩ analog inputs to avoid loading on the source output stage. 
 3x digital inputs : USB 24/96 kHz, Opto et COAX SPDIF 24/192 kHz.
 Bluetooth APTX module.
 Direct analog output.
 SUB output..
 Front panel Headphone output socket.
 Tact switches to control input selection and volume.
 256 x 0.5dB steps volume control with led baragraph display and clipping indicator.
 RC5 remote control handset with direct access to inputs.
 5-12V trigger input and remote control codes copy.
 Classe AB power amplification stages featuring 2x30 W/8 Ω and 2x60 W/4 Ω.
 Loudspeaker output binding posts for bananas, spades and lugs.
 Resonant mode Micromega power supply 85 - 150 Vac or 180 - 265 Vac - 50-60 Hz bringing an incredible sonic performance.
 Very low full band THD+Noise ≤ 0,01%.
 IMD SMPTE Distorsion ≤ 0,01%.
 Power bandwidth : 10 Hz – 100 kH ± 0,5 dB.
 Signal to Noise ratio > 100 dB (pondéré A).
 Textured ABS casing.
 Available in two colors : White et Black.
 Very low standby power consumption (<500 mW).
 Unit meets most stringent regulations.
 Weight : Unit 1 kg - Packaging 1,5 kg
 Dimensions (L x P x H mm) : Unit 140 x 165 x 75 - Packaging 325 x 210 x 150
MYZIC Headphone amp
$299.00
Sale Price $159.00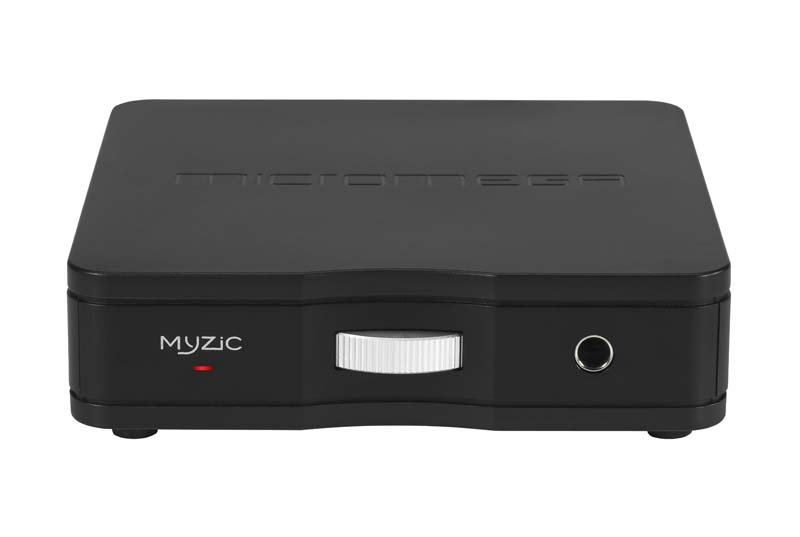 Features and specs
1MO analog input to prevent loading source output stage.
500MW rms @ 32 Ohms and 1W rms @ 16 Ohms
Analog output duplicating analog input to avoid the need for a Y connection.
MyZIC matches with every headphone impedance and sensitivity.

Log horizontal rotary control for a precise listening level adjustment.Minimal level detection putting MyZIC in standby mode.

Out of standby delay to avoid any turn on thump.

Professional Neutrik headphone 1/4" socket with headphone presence detection. When no headphone is connected, MyZIC will remain in standby mode.

LED status indicator : Red when MyZIC is in standby and White in operation.

85 - 265 Vac / 50 – 60 Hz switch mode power supply, for exceptional sonics.
Specifications
Headphone minimal impedance:
=16O
Gain:
12 dB
Very low full bandwidth distortion:
0,005% (20 Hz – 20 kHz)
Very low IMD SMPTE distortion:
0,002%
Full power bandwidth:
10 Hz – 100 kHz ± 0,5 dB
Signal to noise ratio:
115 dB A weighted
Textured ABS enclosure available in two colors : White and Black.




http://www.micromega-hifi.com