Marantz
The new Marantz Model 30 integrated amp and SACD 30N CD/SACD/Network streamer are state of the art high value products with the new Marantz look.

SACD 30N SACD/CD player with Network streamer
$2,999.00
Model 30 100wpc remote integrated amp with MM/MC phono stage
$2,999.00
A master-tuned, elegantly designed SACD / CD player with integrated digital sources. Includes Marantz Musical Mastering processing and a very low-noise, crystal-clear pre-amplifier. The SACD 30n supports a wide variety of high-resolution files and streaming services. It can directly run a power amplifier with intenal volume control or pairs with the MODEL 30 integrated amplifier. 

Networked SACD / CD player with HEOS® Built-in
•Best Marantz audio quality from any digital source.
•Tuned with passion by the Marantz Sound Master.
•Marantz CD/SACD transport mechanism reduces interference.
•Marantz HDAM circuitry for clean, optimal dynamics.
•DAC Mode, SACD/CD player, streamer and very low-noise pre-amplifier.
•Marantz Musical Mastering for pure analog audio from any digital source.
•Fixed level and independent variable output.
•Multiple inputs and outputs for component flexibility.
•HEOS® Built-in for whole-home integration and streaming options.
•Controllable by the leading voice control services.
•Designed to complement the MODEL 30 integrated amplifier.
•Available in Black and Silver Gold

Marantz MODEL 30 Integrated Amplifier is a 100 watts per channel integrated amplifier that doubles to 200 watts at 4 ohms.
It features a moving magnet / moving coil phono stage, tone controls and a fully discrete design.

MODEL 30
• Custom-built preamplifier with Marantz HDAM technology.
• Tuned with passion by the Marantz Sound Master.
• Output: 100W + 100W (8ohm), 200W + 200W (4ohm).
• Fully-discrete design for signal purity.
• Custom HDAM®-SA3 circuitry for clean, optimal dynamics.
• Separate amp and preamp power supplies reduce interference.
• Toroidal transformer dedicated to preamp for clarity and power.
• Current feedback preamp design with its wide-range circuitry.
• MM/MC Phono input with its Premium Phono EQ circuit.
• Brass machined input terminals for CD and Phono.
• Marantz original high-quality/high-purity copper speaker terminals.
• Linear volume control with new electric volume system.
• Amplifier design inherited from our flagship models.
• Available in Black and Silver Gold.

In the new Stereo-Magazine review they summed with:
 
"This amplifier has esprit, elegance and power, which definitely makes it a true Marantz. An absolutely great, contemporary integrated amp with the unmistakable Marantz DNA! The generational change has succeeded – undoubtedly."
Verdict
"The Marantz Model 30 integrated amplifier is an eye-catcher that delivers both in terms of technology and sound! Excellently equipped with Phono-MM/-MC, exceptionally strong and with the typical smooth tuning, it clearly shows what the future holds for the traditional brand. STEREO is thrilled!"
Read the review at:   https://stereo-magazine.com/review/marantz-model-30-review

Marantz Reference is a superb line of components with stellar sonics. They come with a 5-year factory warranty.

Model 40N
2499.00



The new Model 40 is a super flexible streaming integrated amp with 70 watts per channel @ 8 ohms. It has a very good high resolution DAC and fine phono stage. It uses a high current preamplifier with Marantz's new HDAM5 discrete amplifiers to provide high speed transients and extremely wide bandwidth. No opmps are used. It offers a DAC mode as well as power amp direct to be used with an external preamp. The tone controls allow added adjustmnt for non perfect source material. It has a subwoofer out as well as fixed tape outs. Available in black or silver.
 
Model 60 CD player
$999.00

Rich, Warm, and Spacious Sound
Expertly tuned by the legendary Marantz Sound Master for The Most Musical Sound. CD 60 is the CD player your cherished collection deserves. It matches perfectly to the N40 streaming integrated amp
Optimized
HDAM Circuit
In the CD 60, the proprietary HDAM circuit has been further optimized from its previous version by placing the parts symmetrically on the audio board and creating a more direct signal path. This update improves the sound stage from the previous models in pursuit of The Most Musical Sound.
High-Current
Power Supply
The CD 60 power supply uses highspeed, high-current Schottky barrier diodes, higher value current storage capacitors and improved voltage regulators compared to predecessor models in this class. Oversize capacitors in the power supply improve current stability and reduced noise during highly demanding listening sessions.
Plays Hi-Res Audio
USB Sources
The CD 60 can play back MP3, WMA, AAC and WAV, FLAC HD, ALAC, AIFF (up to 192-kHz/24bit), and DSD (up to 5.6- MHz) files from a connected USB storage device.
Reference line CD players featured: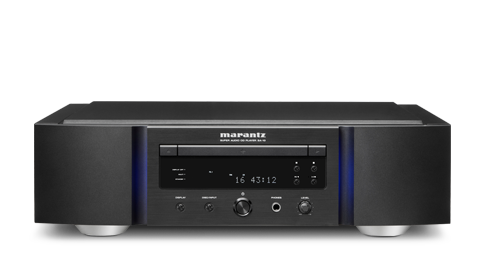 SA10S1 Reference SACD player



In the lastest 10audio review Jerry gave it a full perfect 10LP rating and said:


"Used as a CD player, the sound of the SA-10 is comparable to those same CDs ripped to digital files. The Marantz SA-10 is a superb and perfectly reliable DAC, easily handling very high-resolution digital files and delivering sound quality at a level only equaled by the original medium.
With outstanding build quality, simple user interface, and perfect compatibility with any normal input signal, this is a component that does its job so well that an "upgrade" seems entirely superfluous. The Marantz SA-10 is a reference-level component that will make its owner happy for many years."
Read the new 10audio review complete here:
http://www.10audio.com/marantz_sa-10.htm
SA-10 S1 New Reference CD/SACD player $7499.00 

Call for our sale pricing

SA-K1 Ruby  Limited edition 40th anniversary 

Ken Ishiwata CD/SACD player

- $3999.00 

Call for our sale pricing

SA-K1 limited Edition CD/SACD/DAC

Amplifiers: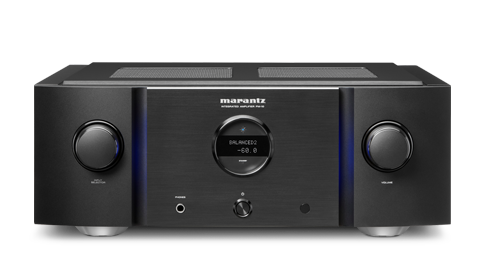 PM-10S1 Reference 200wpc Reference integrated amplifier  $7999

Call for sale pricing

PM-K1 Ruby Limited Edition 40th anniversary Ken Ishiwata 100wpc (200wpc @ 4 ohms) Int amp $3999.00

Call for sale pricing
Package Deal: Reference SA10S1 SACD/CD/DAC & Reference PM10S1 200wpc integrated amp
List $14,998.00 Sale $11,999.00 Save $3000.00

 
NR-1200 stereo receiver
with music streaming
$699.00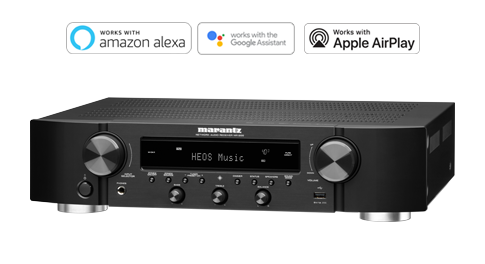 The Marantz NR1200 is a  two-channel slim stereo receiver that powers detailed, high-fidelity audio from a compact chassis. At half the height of a traditional receiver, the NR1200 takes up less space and sounds great. It is great for your movies as well as 2 channel stereo listening. It has a phono stage and dual subwoofer outputs. The NR1200 supports the latest HDMI connectivity with its 5 inputs, each one supporting HDCP 2.3, 4K Ultra HD 60Hz video, HLG and more. Stream music from leading music services and control the NR1200 with voice control compatibility via Amazon Alexa, Google Assistant and Apple Siri.
---
Bluetooth Headphone Transmission: Connect any pair of Bluetooth Headphones to the receiver and enjoy music or movie sound with pure freedom. With or without speakers turned on.
Slim profile that's half the height of a traditional AV receiver: Delivers exceptional performance and sound quality
Power to suit your audio preferences: Two-channel discrete power amplifier with separate L/R power amp circuit and power transformer with 75W per channel (8-ohm, 20Hz – 20kHz, 0.08% THD)
Hi-Fi construction and performance: Engineered with dedicated Hi-Fi parts for two-channel Hi-Fi performance, including custom designed power capacitors, sound parts exquisitely tuned by sound masters and dual DAC circuit design
Versatile HDMI ARC connectivity: 5 HDMI inputs with full HDCP 2.3 support plus one HDMI out with ARC support for single cable connection with your television
Flexibility for all configurations: Speaker A/B, tone control to tune sound to your exact specifications and dedicated dual subwoofer output for evenly dispersed bass, and no audible peaks or dips
AM / FM tuner: Hear all of your favorite radio stations with exquisite detail
Play vinyl with exceptional clarity: Integrated phono input that easily connects to your turntable
Drive an exceptional gaming experience: Auto Low Latency Mode (ALLM) ensures Xbox One users have a more responsive and immersive gaming experience when connected with select TV models that also support ALLM
Smart TV connectivity: Control the NR1200 with your TV remote, and HDMI-CEC support for seamless pass-through of the latest picture and audio coding from your TV to the stereo receiver
High-performance, high-resolution audio playback:

Ability to decode high-resolution audio ALAC, FLAC and WAV lossless files up to 24-bit/192-kHz — plus, DSD 2.8MHz and 5.6MHz tracks for high-resolution listening

HEOS Built-in: Enjoy more flexible music streaming in one room or many
Stream your favorite music from popular services: Play music on Spotify, Pandora, TuneIn, Deezer and many others via Bluetooth, AirPlay 2 or the HEOS Built-in app
Integrate with your home-network: Built-in Wi-Fi with 2.4GHz/5GHz dual band support (dual antenna)
Speak your commands: Supports all major voice control agents and streaming services for seamless control
Turntable:
TT-15S1 Precision turntable with $800.00 Clearaudio cartridge  $1499
High-quality components from the standard line:
 
ND-8006
Streaming CD/music player/DAC
$1499.00

ND-8006 Music Player/Streamer
ND-8006 Netword Music/CD Player Streamer, that combines CD playback, network/Internet streaming, external DAC functionality & HEOS support at $1,499.00
It is based on the NA8005 and SA8005 models and accepts file formats up to 11.2Mhz quad-DSD and 32bit/384kHz PCM, as well as Apple AirPlay and Bluetooth to play music from portable devices. It features support for NAS drives or computer as well as Amazon Prime Music, Deezer Premium+, Spotify Connect and Tidal. It can be used with a conventional amplifier via a dedicated fix level output or connected directly to a power amplifier and speakers or active speaker thanks to built-in digital preamp functions by the variable output socket and will even share the music around the home, thanks to its HEOS integration. The unit features proprietary Marantz Musical Digital Filtering system and an ESS9016 Sabre DAC, with dual crystal clocks. A noise isolation circuit on the USB Type B input and digital audio inputs – two optical and one coaxial – blocks interference from connected components. Both Ethernet and dual-band (2.4/5GHz) Wi-Fi connectivity are provided.

Marantz AV8805A
New 2021 model
Reference 13.2 channel preamp/processor
$4,995.00
Call for our current deal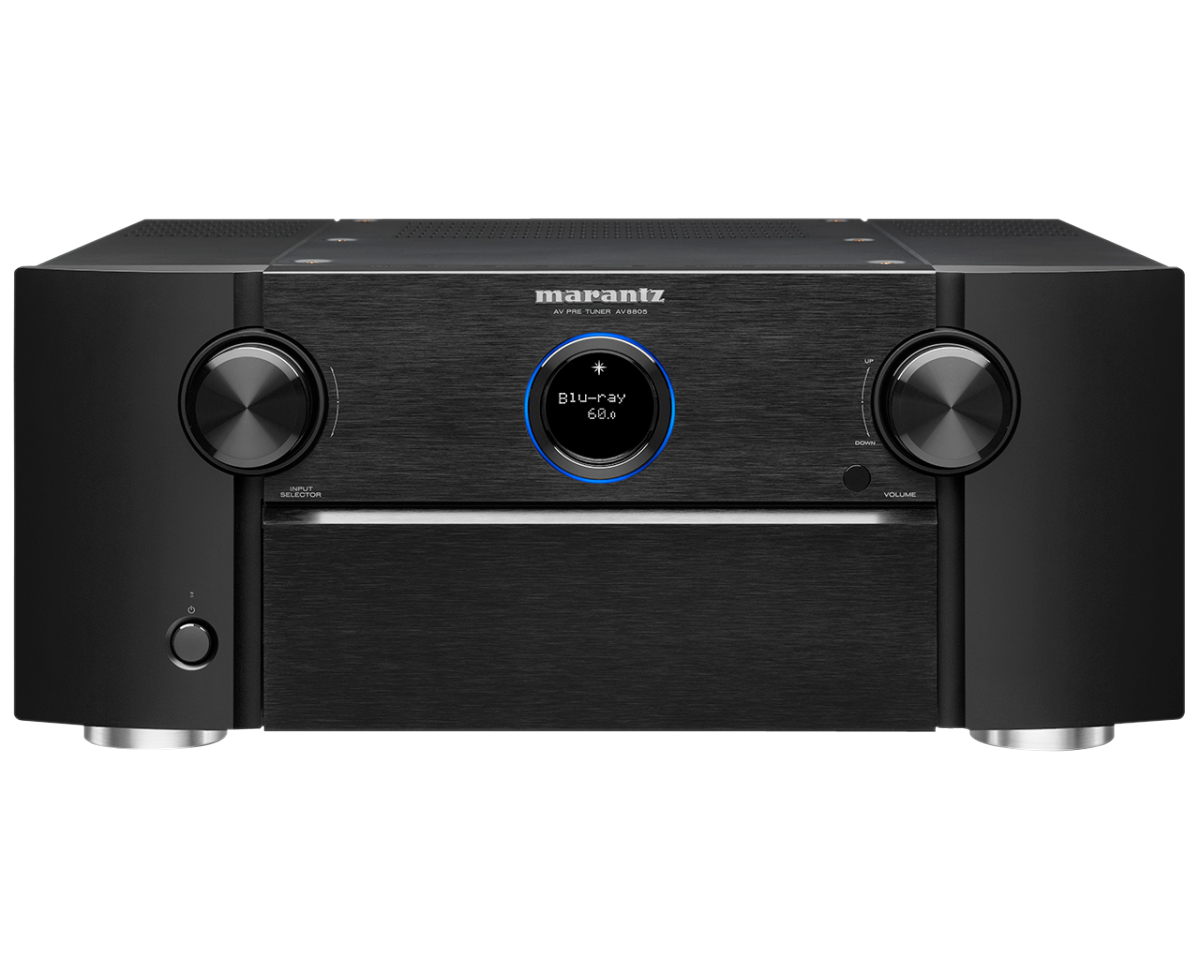 The World's First 13.2 Channel Full 8K Ultra HD Network AV Surround Reference Pre-Amplifier with HEOS.
Control Your Music with Amazon Alexa Voice Commands.

Overview
---
The versatile Marantz AV8805 pre-amplifier redefines audiophile home cinema and music listening with an unprecedented 13.2 channel processing capability, and supports virtually any high-resolution multichannel audio format. Immerse yourself in three-dimensional audio with the latest surround formats like Dolby Atmos, DTS:X or Auro-3D. Enjoy enhanced audio quality supported by our proprietary current feedback and HDAM technology that passes signals through 15.2 channel XLR or 15.2 RCA outputs. Stream music throughout your home with HEOS multi-room listening and full wireless connectivity through the HEOS app or Amazon Alexa Voice Control, supported by Wi-Fi, Bluetooth and Apple Airplay. With the Marantz AV8805, you get incredible fidelity and unparalleled audio precision.
---
Full 8K Reference level 13.2 channel processing with 15.2 channel XLR and RCA outputs and flexible pre-amplifier stages — ideal for the advanced home cinema enthusiast

Enjoy immersive, three-dimensional sound with the latest surround formats including Dolby Atmos (up to 7.1.6 or 9.1.4), DTS:X and Auro-3D (up to 13.1)

High-performance 192kHz/32bit D/A converters for all channels provide the highest resolution for music and movies

Audyssey MultEQ XT32, LFC, Sub EQ HT, Dynamic Volume and DynamicEQ deliver equalization to best suit your listening environment

Built-in Bluetooth and Wi-Fi with 2.4GHz/5GHz dual band support offer improved network stability even in Wi-Fi-crowded homes

Listen from any room of your home with HEOS wireless music streaming technology and the HEOS app

Ultimate visual quality with 4K/60 Hz full-rate pass-through, 4:4:4 color resolution, HDR, BT.2020, Dolby Vision and HLG (Hybrid Log Gamma) pass-through

eARC (Enhanced Audio Return Channel) functionality via firmware update supports the most advanced surround and object-based audio formats, including Dolby Atmos and DTS:X via single HDMI connection between AVRs and compatible TVs

Eight HDMI inputs, including one on the front, with full HDCP 2.2 support, plus three HDMI outputs (zones), plenty of inputs for your digital devices and the ability to support different video in different rooms

Analog to HDMI conversion and SD to HD/4K Upscaling for legacy video sources, plus full HD and even Ultra HD video quality from existing DVDs or analog sources

Stream music from AirPlay, Bluetooth, TuneIn Internet radio, Pandora, Spotify, SiriusXM, Amazon Prime Music, TIDAL and more via the HEOS app

Network music streaming supported via DSD (2.8/5.6MHz), FLAC, ALAC and WAVsupport for high-resolution, Hi-Fi listening

Installation and operation are seamless with the Setup Assistant and Marantz AVR Remote app

AV-7706
A/V preamp processor
$2,999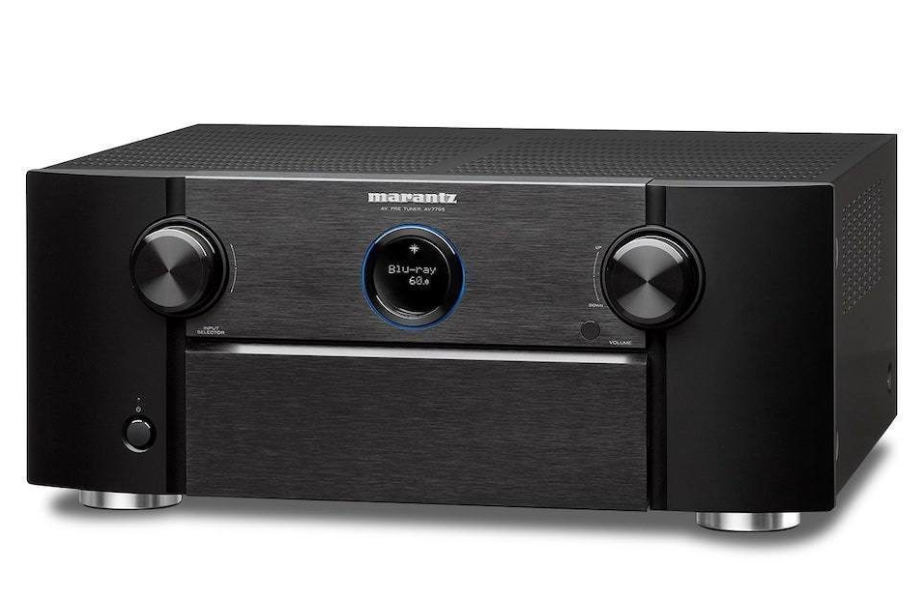 11.2Ch 8K Ultra HD AV Surround Pre-Amplifier with HEOS® Built-in and Voice Control

•11.2Ch 8K Ultra HD AV Surround Pre-Amplifier with HEOS® Built-in and Voice Control
•11.2 channel XLR pre-out: 11.2 channel RCA pre-out
•8K/60Hz and 4K/120Hz pass-through support for every entertainment need: 8 HDMI inputs (incl. 1 front) with full HDCP 2.3 support; 3 HDMI outputs (incl. Zone 2)
•With 8K/60Hz pass-through and upscaling, Dynamic HDR and Quick Media Switching (QMS), enjoy the smoothest, crystal-clear picture quality available
•With 4K/120Hz pass-through, Variable Refresh Rate (VRR), Auto Low Latency Mode (ALLM) and Quick Frame Transport (QFT), experience gaming thrills with amazing imaging with reduced lag and tearing
•The latest HDR format support including HDR10, HDR10+ (New in 2020), HLG, Dolby Vision, 4:4:4 color resolution and BT.2020, as well as Dynamic HDR (New in 2020) provides exceptional brightness, clarity, and contrast for miraculous picture quality
•Advanced video processing with analog to HDMI conversion; SD to HD/8K upscaling
•Dolby Atmos®, Dolby Atmos Height Virtualization Technology, DTS:X®, DTS Virtual:X™, IMAX® Enhanced, and Auro-3D® processing for exceptional listening in all your favorite audio styles
•eARC (Enhanced Audio Return Channel) supports the most advanced surround and object-based audio formats via single HDMI connection between AVRs and compatible TVs
•Stream music from Internet Radio, Spotify Connect, Pandora, SiriusXM, Amazon Music HD, TIDAL, Deezer and more with Bluetooth, AirPlay 2 and HEOS® Built-in
•Built-in Wi-Fi with 2.4GHz/5GHz dual band support
•Enjoy multi-room whole-home audio streaming with HEOS® Built-in technology
•Simply use your voice to control your preferred voice assistant like Amazon Alexa, Google Assistant, Apple Siri and Josh.ai
•Decodes ALAC, FLAC and WAV lossless files up to 24-bit/192-kHz; DSD 2.8MHz and 5.6MHz tracks — enjoy your music exactly as the artist intended
•Marantz proprietary HDAM circuit boards, Current Feedback circuitry, AKM AK4458 32-bit D/A converters, and Hybrid PLL Clock Jitter Reducer for more detailed, dynamic sound
•Suite of Audyssey room correction software: Audyssey MultEQ XT32, Dynamic Volume and Dynamic EQ, LFC, and Sub EQ HT
•Third-party integration and IR remote control, RS-232C serial port, and custom install support
•Seamless out-of-the-box experience with Quick Start Guide, guided Setup Assistant, and Marantz AVR Remote App


A/V receivers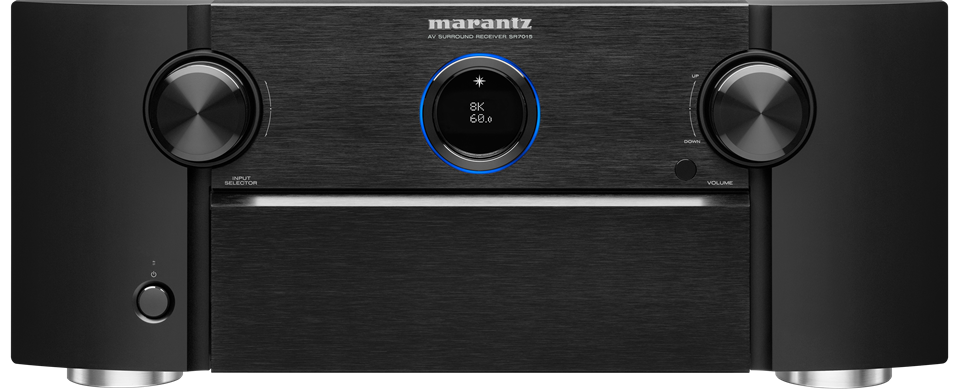 SR-5015 100 x 7ch Dolby Atmos 7.2 Channel Full 4K Ultra HD A/V Receiver w/Wi-Fi & Bluetooth $1,295.00
SR-6015 110 x 9ch Dolby Atmos 11.2 Channel Full 4K Ultra HD A/V Receiver w/Wi-Fi & Bluetooth Audyssey & XT32  $1,995.00
SR-7015 11.2ch processor with 125 x 9ch amp-Top of the line receiver with 11ch capability, ATMOS, 8k and HDCP 2.2 $2,795.00
SR-8015 140wpc x 11ch Flagship receiver. Copper chassis 13.2 Channel Full 8K Ultra HD AV Surround Receiver w/Music Streaming $3,799.00
CD players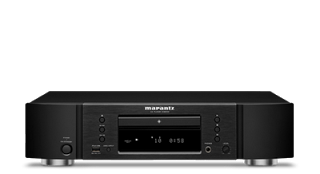 CD-6007 CD player w/discrete circuitry design - $795. 

What Hi-Fi? Product of the Year Awards 2021 winner

All other models available - call to discuss current pricing