HifiMan
HifiMan Headphones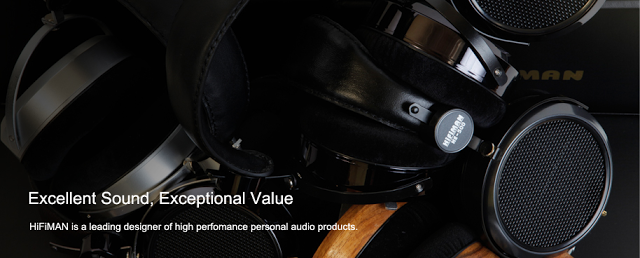 We are glad to be selling the HifiMan line of headphones and headphone amplifiers. HifiMan phones and amps have received superb reviews worldwide and offer state of the art performance at very reasonable cost.

HE-1000 V2

$2999.00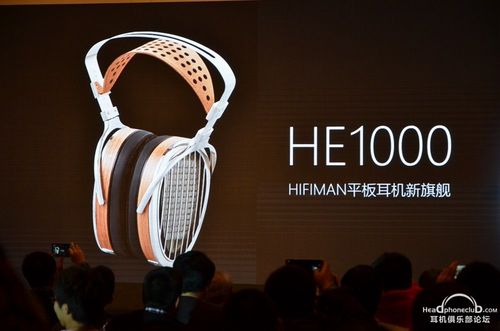 Quite possibly the best headphones made, the new HE-1000 will ship this summer. It incorporates huge planar-magnetic drivers with super-thin "nanometer" diaphragms. This diaphragm is quite large, and the magnetic structure is unusual, two-sided, but asymmetrical. First impressions from reviewers has been superb. These things look to be state of the art and as good as they get in today's heasdphone market. More to come as the phones are released.
Edition X Version 2
$1799.00

On Sale $1299.00





State of the Art performance in a high efficiency phone

Frequency Response:  8Hz – 50kHz
​​Sensitivity: 103dB
​​Impedance: 25±3Ω
​​Weight: 14.07 Oz


HE-560 is now discontinued and no longer available
HE-400S
$299.00
New best buy in planar phones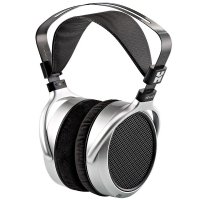 The HE-400s HifiMan's least expensive planar headphone
What makes HE-400s special is:
It is 98DB efficient so it can be driven by virtually anything including an iPod.

It has the familiar HiFiMAN sonic signature which means it is very detailed yet warm

It is only $299.00. It is priced so low because Hifiman finally figured out a way to mass produce a hi-end planar driver headphone at a lower price than ever before.
HIFIMAN HE-400s is a full-size planar magnetic headphone intended for high performance listening in the home or studio.
The HE-400s is 30% lighter than comparable headphones allowing the listener to comfortably enjoy music for hours on end with minimal listener fatigue. Along with the lighter weight, a newly-designed headband with an improved pressure pattern is a key to the phone's best-in-class comfort. The FocusPad, new beveled hybrid ear pads made of pleather and velour, provide both increased comfort and improved sound quality.The gloss ear cups are finished in a smoky gray, Mylar finish that gives the HE-400i a striking contemporary look. It is only $299 

Specifications
Frequency response: 20Hz – 35KHz
Sensitivity: 98dB
Impedance: 22 Ohms
Weight: 350g
Cable Length: 1.5 m
Plug: 3.5mm/6.35mm

 
EF-100
$499
Hybrid headphone amp/Integrated amp with a tube front end (6N3J) and digital output stage

The HIFIMAN EF100 is a powerful hybrid headphone amplifier and integrated amplifier. Housed in its compact chassis lie three independent amplifier sections: a vacuum tube input stage works as a shared preamp, a Class AB headphone amplifier, and a Class T speaker power amplifier. Benefitting from vacuum tube technology, both headphone amplifier and power amplifier sound warm, smooth, detailed and musical. Working as a hybrid headphone amplifier, EF100 can produce a 2w output under a 32 ohm load so it can easily drive many high performance headphones. In addition, EF100 can also serve as a hybrid power amplifier to drive speakers of moderate to high efficiency. In power amplifier mode, the amplifier output line is fully independent from the digital amplifier line used in the headphone amplifier. Driven by front stage's vacuum tubes, EF100 combines the warmth vacuum tubes are known for with the high efficiency of a digital amplifier. It is the best of both worlds. When EF100 is used as a power amplifier, it can give 4.5 watts per channel so it can drive HIFI speakers of moderate to high efficiency. At last, with its versatile design EF100 can bring music to life  from a variety of sources for both headphones and speakerapplications.

The Headphone guru said:
"As a headphone amplifier, the EF100 is certainly more than capable. Able to deliver 2 watts into 32 Ohms, it will drive just about anything you've got – including all of those less-amp-friendly magnetoplanar designs. I've spent many an hour listening to the LCD-3 and basking in the luxury of that signature midrange resplendence, radiant harmonic delivery, effervescent trebles, and snap-quick LF impact."
"In all, I will say that the HiFiMAN EF100 amplifier is everything I hoped it would be. At $500, I suspect that this is among one of the most valuable (price-to-performance) HiFi objects in all of Headphonia right now. They could remove the USB DAC and add $100 to the retail and I'd still think it was more than worth the expenditure – not just for the entry-level, but as a convincing argument against buying more expensive options. I'm sure that the success of this design should inspire others to enter the underserved segment of headphone+speaker desktop amps, but for now – at this price level, anyway – there doesn't seem to be any credible competition. For the moment, the EF100 stands alone in its ability to deliver performance and versatility for an unreasonably affordable price.
So, at the risk of causing you to cringe, I admit – once again and for the record – I bought the bloody thing, and I love it.
Voltage: 110V
Input impedance: 47k
Output impedance: 32-300 Ohm  
Headphone Output:
Output voltage and output power under 30 ohm load: 7.8v, 2000 mw
Frequency response: 20-20khz +/- 0.2db
Power amplifier output: 
Each channel: 4.5 w (4 ohm load)
Frequency response: 20-20khz +/- 1db
D/N(A): 95db
Tube: 6N3J
Headphone amplifiers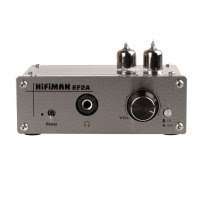 EF-2A
$169.00
The best value in a headphone amp that we are aware of.HIFIMAN EF2A is ahybrid USB headphone amplifier using 6J1 tubes as input stage. USB input supports 16 bit, 44.1 kHz files.
Specifications
Input Impedance:
47k
Output Impedance:
32-300 Ohm
Output at 32 Ohm:
3 v, 320 mw
Output at 150 Ohm:
6.2 v, 256
Frequency:
20-20khz +/- 0.2db
S/N:
95db
DAC Chip:
Burr-Brown PCM2702
Tube:
China 6J1 * 2 pcs
Input Voltage:
16 v to 18 v; 500 mA
Power Supply:
110 v or 220 v
Size:
14cm*8.5cm* 4.5cm or 5.6"* 3.4" * 1.8"
EF-6 $1599.00  State of the art 5wpc Headphone amp and stereo preamplifier
The EF-6 is Hand-built by HiFiMAN. The EF-6 flagship headphone amplifier provides audiophile quality for the most demanding listeners. Fit and finish hint at the amplifier's exceptional performance. EF6 is a hi-end headphone amp with very powerful (5 watts) output. EF6 can also work as a world-class pre-amplifier. The EF-6 is the clear choice for discriminating music lovers seeking a no-compromise headphone amplifier yet it is priced well below units with comparable performance.
Specifications
Volume:
Hand-made Step Attenuator
Power Supply Design:
CLC filter
Weight:
about 24 lb (10.75 KG)
Dimensions:
13''(330 mm)Wide *12.2"(310mm)Deep *4.1"(105mm)High
THD:
0.03% (1w and 1KHz)
S/N:
 95 DB
Max Output:
Class A 5W at 50 Ohm
FEATURES
The EF-6 is a Class A, solid-state headphone amplifier that puts out a whopping 5WPC at very low distortion (<0.03% at 1W @ 1kHz).
Three switch selectable single-ended stereo inputs (two supported via stereo pairs of RCA jacks on the rear panel, one supported via a 3.5mm mini-jack on the front panel).
Two stereo headphone outputs (implemented, respectively, via a very high quality, locking ¼-inch phone jack and an also very high quality 4-pin XLR-type jack).
Two switch-selectable gain settings implemented via a rear panel mini-toggle switch. This feature addresses the fact that the HiFiMAN HE-6 planar magnetic headphone is roughly 10 dB less sensitive (or more) as compared to most competing headphones. In our experience, then, the high gain setting seemed to work best specifically for the HE-6 (or other similarly difficult to drive headphones), where the lower gain setting worked better for most other moderately easy-to-drive loads. As always, to minimize noise the best plan is to use the lowest gain setting that can produce adequate volume with the 'phones at hand.
The EF-6 provides variable-level preamp outputs implemented via a stereo pair of RCA jacks.
Massive and robust build quality: the EF-6 is both larger and heavier than many stereo integrated amplifiers we have seen, in part because it sports an enormous internal power supply, with Class A MOSFET output devices that dissipate heat via huge, ribbed heat sinks stretching from the front to the back of both the left and right sides of the chassis. As you might expect, the unit runs quite warm to the touch, but never gets unpleasantly hot. The amp weighs approximately 24 pounds and exudes a rugged "overbuilt" feel.
The EF-6 volume control provides a precision stepped attenuator for optimal sound quality, accurate channel tracking, and low noise.
The amp features high-quality parts throughout.
Two-color status indicator light:

Off = amp is powered down.
Purple = amp is powered up, but still in initial warm-up phase of operation.
Blue = amp is powered up, warmed up, and ready to play.
They sum up with:
"As with certain Rolls-Royce automobiles, the power output of HiFiMAN's EF-6 headphone amplifier could best be described by one simple word: "Adequate" (where we interpret the word to mean not just having enough, but more than enough power for any headphone load one might ever wish to drive).
But there's more to the EF-6 that wattage alone, because this pure Class A design also offers speed, agility, clarity, low-level resolution, and plenty of refinement, plus a rare ability to help music sound richer, more vivid, approachable, and involving than it otherwise might. In short, the reason to consider buying and EF-6 involves not only the fact that it can drive just about any load, but that it can also pull you closer to your music."
Read the AV Guide review at:
http://www.avguide.com/review/hifiman-ef-6-headphone-amplifier-playback-61