Graham Slee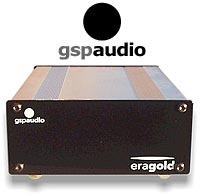 Graham Slee Projects is a specialist manufacturer of phono preamp stages and headphone amplifiers under the brand name GSP Audio. Their range of products is the result of a life long enthusiasm for vinyl from a designer who made his first phono preamp back in 1975. You can buy a bland-sounding phono preamp elsewhere for a few dollars, or spend a couple of thousand on one that'll "take your head off". Every phono preamp in the GSP range sounds good. The $999 Era Gold MKV preamp [$1,999 with Elevator EXP] is the star performer. It pulls more music out of the groove than you ever thought possible. For under $1,000, the Era Gold is an amazing value and now also a Stereophile Class A-rated giant killer. For low output moving coil fans, there is the Elevator range of step-up amplifiers. The EXP is specifically designed for use with the Era Gold bringing you the best MC combo on the market for under $1700. Two more models cater for owners of valve (tube) phono sections and preamps with built-in MM phono stages. The Amp 2SE phone section just became available for under $400.00 and is another great value.

Every Graham Slee product requires a "burn-in" period and is designed to be constantly powered-on.
"The Era Gold + Elevator EXP is the best phono combination for MC's I've ever heard - period" [Geoff Husband, TNT-Audio, July 2002] 
"...the one the others have to beat" [Hi-Fi Plus, July/Aug 2003] 
"...Graham Slee's miraculous Era Gold MkV phono preamp" [Michael Fremer, Stereophile, Jan 2004] 
"... its sound has wings"[5-Star Test Winner, What Hi-Fi?, Feb 2004]
For more information, visit the manufacturer's site. For pricing, call us.