Creek
Creek
Creek makes quality hi-value audiophile solid-state components. Mike Creek has been refining his circuit designs in England for many years. All Creek products have received excellent reviews and offer good value for money.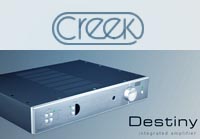 Sequel phono boards- 40 @ $200, 48 @ $250, 54@ $250
CMC phono Moving coil phono board  $130
CMC Phono SE Special Edition MC phono board $180.00
Evolution EVO 100A 100wpc integrated amplifier - Replaces Stereophile Class A rated amp $2195
Evolution EVO 100CD  DAC/CD/HP amp/Preamp with Wolfson DAC's - $1995
Evolution EVO 50A High quality 50wpc integrated amp - $1195
Evolution EVO 50CD DAC/CD player with Wolfson DAC's $1495
AMBIT AM/FM tuner for 50A $250
Creek OBH series is also available. 
Email or call for current info and pricing.