LSA headphone amps
Explore
LSA headphone amps
HyperDrive 2
Hybrid Stereo preamplifier/headphone amp
$999.00
Intro sale is $799.00 delivered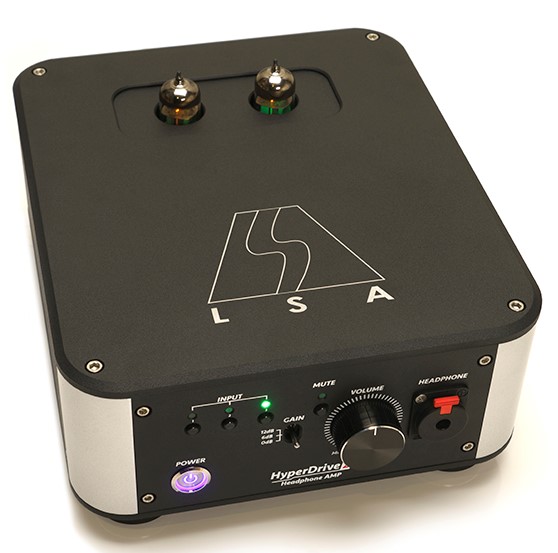 Final rendering of Hyperdrive 2
See a rear rendering on the LSA headphone page
The LSA HyperDrive 2 is a state of the art, from-the-ground-up, new design by the talented team of engineers and designers at LSA.

In the new Stereotimes review they sum with:
"The LSA HyperDrive-2 Hybrid Stereo Preamplifier/Headphone Amp is an exceptional sounding and toe-tapping hybrid preamplifier and headphone amplifier, whether for its affordable price or despite it. The HD-2's gain settings may make anyone with hard-to-drive headphones a happy camper. Do reach out to Walter Liederman at underwoodhifi.com and give the HyperDrive 2 a listen."
Read the entire review here:
https://v2.stereotimes.com/post/lsa-hyperdrive-2-hybrid-stereo-preamplifier-headphone-amp-by-greg-voth
In the latest Feb 2023 review Tone says:
"Bonus #1 – It's an incredible preamplifier
"You could buy the HyperDrive 2, never use it for more than a headphone amplifier, and be completely happy forever. Really, it's that good. Even my $4,000 pair of Focal Utopias sound damn good through the HyperDrive 2."
"However, good as the HyperDrive 2 is in this mode, I submit that it's an even better stereo preamplifier. Now that most people use their DAC as a digital hub, the three single ended RCA inputs are enough for your favorite DAC, a phono stage, and maybe even a tuner or cassette deck."
The level of transparency, musicality, and sheer weight that the HyperDrive 2 delivers reminds me of legacy giant killers from Hafler, NAD, and APT/Holman. Simple, well-designed circuits that achieved synergistic success that was more than the sum of the parts used to construct them. The input stage consists of a pair of ECC88/6DJ8 tubes, so you can tune this to taste with some NOS tubes, and the heaphone amplifier section utilizes the Texas Instruments TPA6120A2 op amps, with the preamp output (line level outputs) using Texas Instruments OPA1656 op amps. I'm normally op amp adverse, but these are well implemented."
Read it here: https://www.tonepublications.com/ha/lsa-hyperdrive-2-review/
The first review is a rave from Tone Audio who summed with:
An outstanding value proposition
"In a world populated more and more by stuff barely anyone can afford, it's refreshing to see a product so dedicated in offering so much performance for the dollar. In my day we had our Hafler, NAD, and a few others to get us into it all. Sure, they didn't have the same quality of casework as maybe a Levinson or Krell piece, but the sonic fundamentals were there in enough abundance to get us to all abandon our mid fi receivers."
"Today, the LSA Hyperdrive will convince you it's time to step up from a Sonos or powered speaker thing and get a real hifi system. Pair it up with a few carefully chosen components and you'll be thrilled, whether you approach it as a headphone amplifier first or as a 2-channel preamplifier that's the cornerstone of your system. Very highly recommended. You'll be seeing this one again before the end of the year."
Read the entire review here: https://www.tonepublications.com/ha/lsa-hyperdrive-2-review/
The LSA HD-2 Preamp/headphone amplifier is a hybrid tube preamplifier combined with a solid-state headphone amplifier that provides up to 2W of power into 32ohm headphones. 
 
It has state of the art microprocessor controlled operation for graceful warmup of the tube circuitry, pop-free startup and shutdown, gain select, output mute, and the pushbutton switching between 3 RCA audio inputs. It features 2 sets of audio outputs to drive an amp and even a subwoofer or two.
 
A solid state relay (SRR) is used to provide DC output protection for your sensitive headphones and adds no distortion to the signal and will never wear out, unlike a mechanical relay. 
 
The input stage utilizes a pair of E88CC tubes operating in the ultra-linear range as a Class A cathode follower buffer with a tube-based constant current source (CCS) to provide a natural sounding preamp to drive the solid state headphone stage.
 
The output driver stage of the HyperDrive-2 utilizes the class leading TPA6120A2 monolithic 
headphone power amplifier from Texas Instruments to cleanly and solidly drive almost any headphone. This buffer/driver topology gives the HyperDrive-2 headphone amplifier a clear and non-fatiguing SE Class A harmonic profile, while maintaining a low level of total harmonic distortion in the 0.005% range at average to loud volumes with most headphones. 
 
Three gain settings (0/6/12dB) are selectable from a toggle switch on the front panel to allow the HyperDrive-2 to be matched to any source or headphone with the proper signal levels.  The preamp outputs use the best-in-class Texas Instruments OPA1656 opamps to provide a clear and musically dynamic output when used as a stereo preamplifier. 
 
The power electronics are provided by a custom designed DC-DC switching circuitry for the 90v B+ voltage and 6.3v filament voltage.  A high quality and convenient universal input 60w desktop style external power supply provides the power for the HyperDrive-2.   
 
The output impedance of the HyperDrive-2 headphone amplifier is 13 ohms. 
 
Volume control is provided by smooth turning Alps pot and all opamps utilized are class leading TI OPA1656/1642 for the best combination of transparent sound and musicality.  A simple toggle switch selects between three different gain settings of 0dB/6dB/12dB through a relay There is also a convenient push button microprocessor controlled mute function effected through use of low distortion solid state relays (SSR) which are also used for DC output protection to prevent damage to headphones resulting from an output stage or power supply anomaly. 
 
The HD2 is capable of driving 2w into 32ohms, thus capable of being paired with the most demanding low sensitivity headphones. The SET tube buffer provides for a beautiful SE Class A harmonic profile that is second harmonic dominant with monotonically descending higher orders with an overall THD of 0.002% at 500mW into 32ohms.
A handsome and heavy CNC machined aluminum chassis with a velvety and durable powder coated finish that expresses the amplifiers sense of speed and power, yet with a reserved elegance.

Size: 8.5" wide x 10.5" deep x 4.2" high
2 year warranty with 6 months on tubes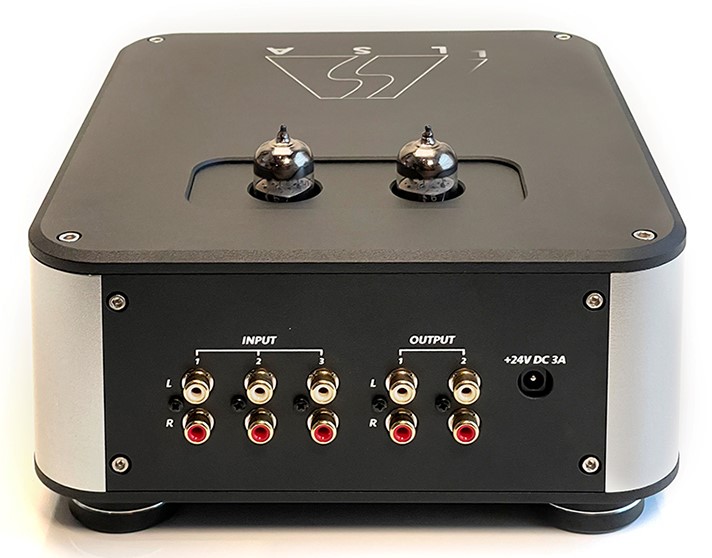 Rear shot of HyperDrive 2 with 2 outputs to drive an amp and subwoofer
DPH-1 preamplifier/DAC/headphone amp
$999.00
Sale $799.00
Now shipping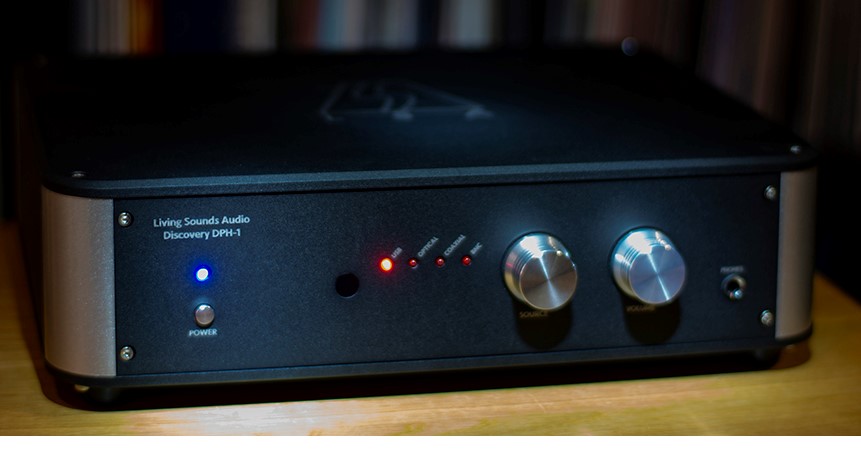 In the new Stereotimes review they sum with:
"The Discovery LSA DPH-1 Digital preamp/DAC/Headphone amplifier is an elegant unit. It was mad fun to listen to as a headphone amplifier and use it as a digital preamp with my amps and speakers. Its DAC section sounds fantastic for the DPH-1's price – and this is coming from a guy who owns and uses a PS Audio Stellar Gain Cell DAC daily as his main go-to preamplifier with DAC."
"Add it all up and LSAs DPH-1 is a fantastic DAC/Headphone amp. If I didn't spin records, I could easily live with it as my main two-channel preamp and build a great system around it featuring speakers. It ticks all the boxes – easy to use, reasonable price, and sounds fantastic. What else do you need?"
Discovery is our inexpensive line. It is designed for audiophiles on a budget to discover great sound at affordable Internet Direct pricing with no dealer profits. The DPH-1 is our Discovery line DAC with preamp and quality headphone amplifier. It can be used as an excellent DAC or as a preamp/DAC. It may be inexpensive but is competes at well above its cost.
It is a hi value
remote controlled digital preamplifier with 24 bit/192k DSD DAC and quality headphone amplifier.
We use the exceptional AKM 4495 DAC that is sonically one of our favorites. It uses an AKM AK-4118 digital input receiver. It has both
tube and solid state single ended outputs.
It features 4 digital inputs.
The volumne control is a rotary encoder as found in much more expensive products.
If turned all the way up it acts as a DAC if run into your preamp or integrated amp. It can even be run as both a tube and solid state DAC by using two sets of interconnects and running into two inputs of your preamp. The tube buffer stage is based on an NOS General Electric 5670 tube. This is the type of high value product that Discovery is all about.  It uses an R-core power supply, audiophile grade caps from WIMA of Germany, Solen from France and Dale resistors from the USA
as well as gold plated connectors. There is separate power supply rectification for the analog and digital circuitry The included remote control handles input select, volume up and down and mute.
Preliminary Data for Discovery DPH-1
Tube:                                      NOS GE5670 tube
Digital Audio Inputs:            (1) coaxial, (1) optical, (1) USB and (1) BNC input.
Stereo Audio Outputs:         2 analog stereo outputs via RCA  (Solid State and Tube Output)
Headphone Amplifier Output Power:   500mW X 2 ( 32 ohm) / 250mW X 2 ( 300 ohm) / 100mW X 2 ( 600 ohm)
Sampling Frequency:           32kHz - 44.1kHz - 48kHz - 88.2kHz - 96kHz -192kHz-DSD 64/128
Resolution:                           16, 20 and 24 bit input
Input Impedance:                 75 ohms
Line Output Impedance:      600-ohm Output
Voltage:                                 2000mV
Dynamic Range:                   120dB
Frequency Response:         20Hz-30KHz
Signal-To-Noise Ratio:         Normal Output: 110dB; Tube Output: 90dB
Total Harmonic Distortion: Solid State Output:  0.001%.  Tube .1%
Weight:                                 14 pounds / 18 pounds packed
Size:                                      14"w x 10"d x 4"h  Ship size: is 18"w x 12"d x 7"h
Warranty:                              Two years with 6 months on tube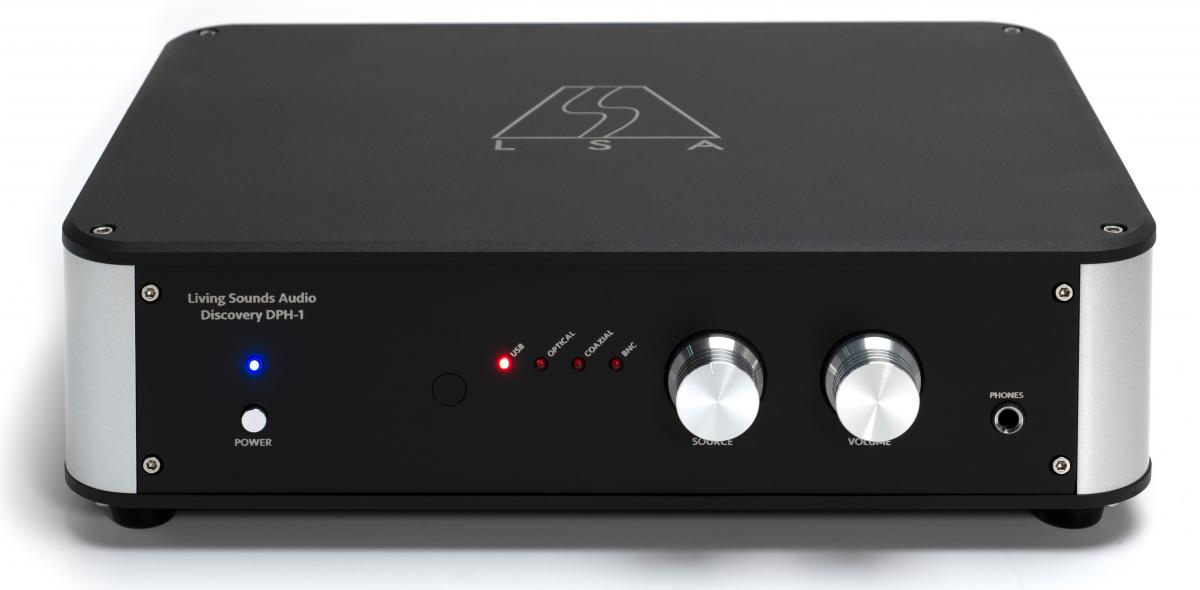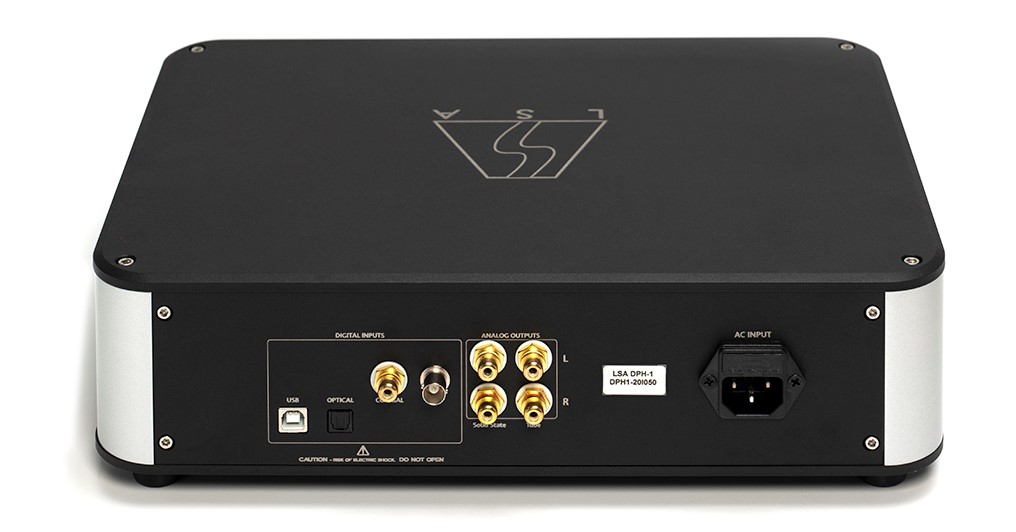 Rear shot showing 4 digital inputs and 2 RCA analog out, one solid state and one tube
Hyperdrive 5
Hybrid remote controlled balanced Stereo preamplifier with 5wpc headphone amp
$1,499.00
Coming in Late 2023