LSA Turntables
New accessories available now available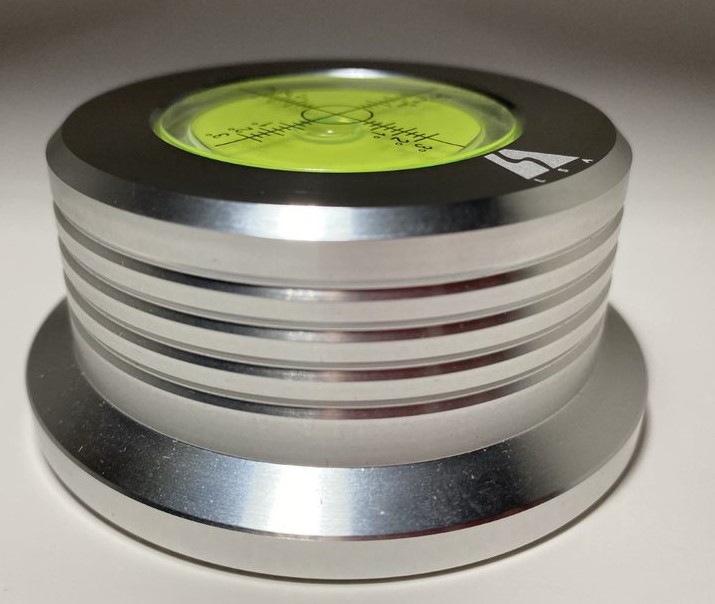 Record weight with level  $75.00
Diameter is 3" and weight is 9.7 ounces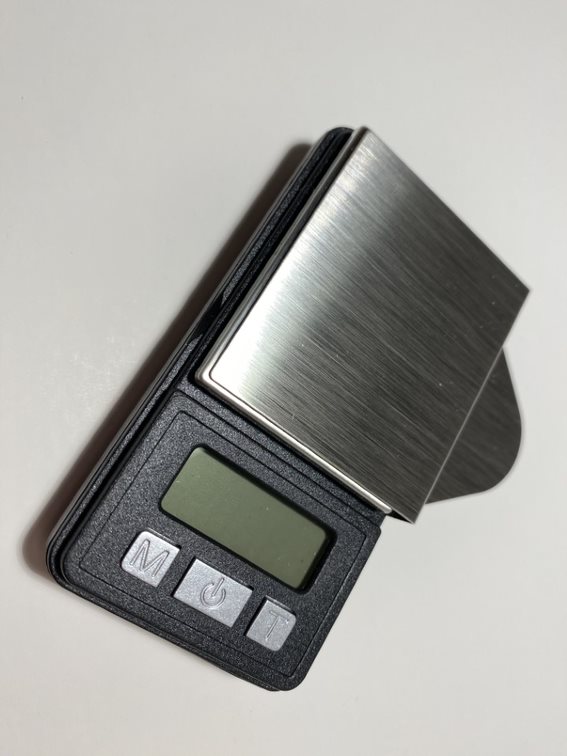 Digital scale  $25.00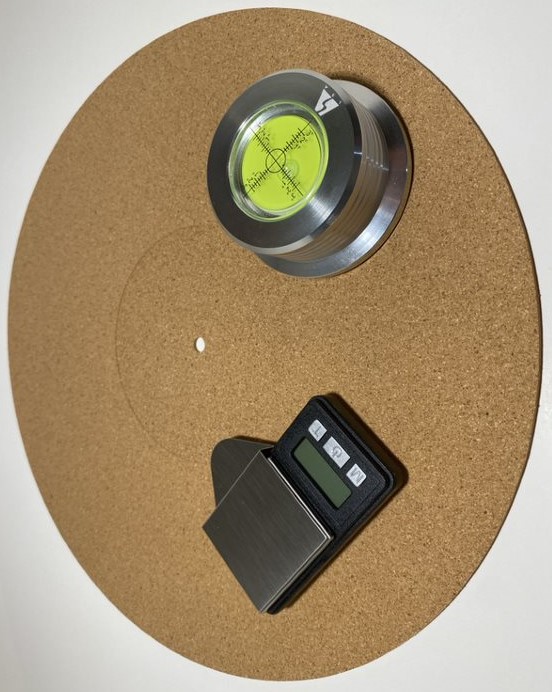 Weight scale & cork mat package is $99.00
Cork mat alone $25.00
T-1 turntable
List $999.00
Our Internet direct price is $699.00

delivered including a $200.00 Sumiko Olympia cartridge factory mounted.
New version shipping in late July to August.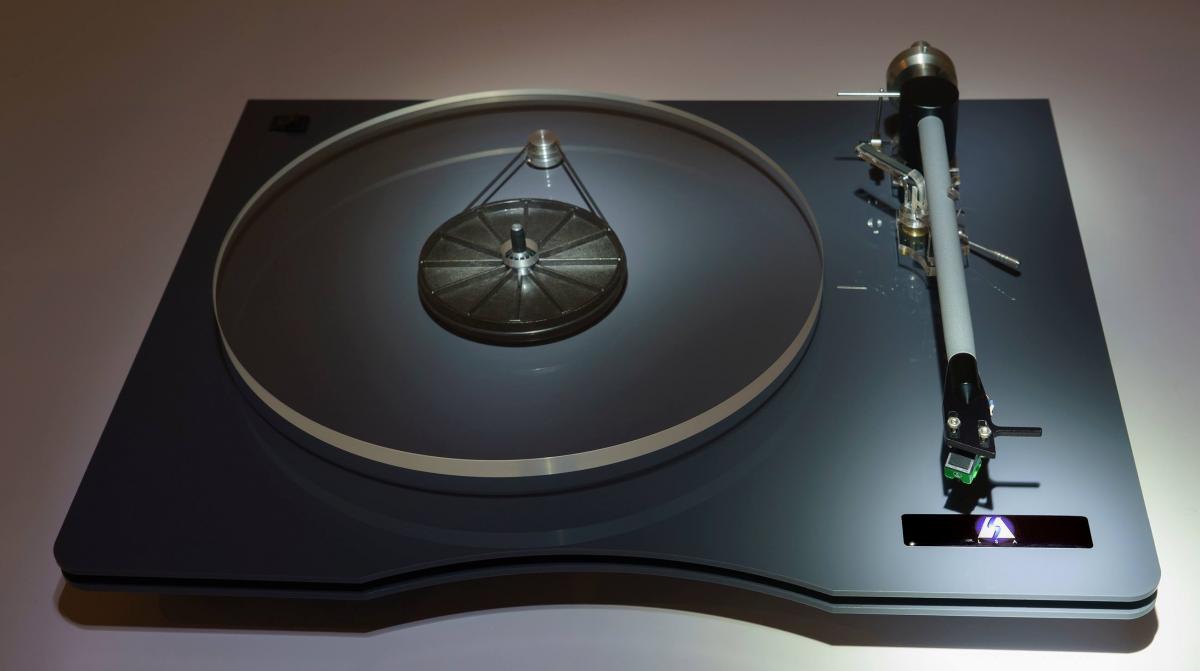 Our T-1 turntable is made for us by Edwards in England. It is an Edwards TT-4 with our far superior $200.00 Sumiko Olympia cartridge. It also includes a $100.00 package of $75.00 record weight and $25.00 electronic scale. 

The T-1 turntable features constrained layer damping technology - a technology that is typically associated with the aerospace industry to dissipate frictional vibrations and noise. This innovation has been harnessed in the design of the T-1 turntable and as such, delivers resounding performance that exceeds expectation for a turntable at this price point. Supplied with a factory mounted and aligned $200.00 Sumiko Olympia cartridge and a color matching Z-Type Dust Cover, the T-1 turntable is available in a beautiful grey.
The platter rotates on a 5 millimeter diameter ceramic ball bearing in a brass socket. The tables uses a custom hi quality uni-pivot tonearm.

The cartridge can be upgraded later to the $300.00 Moonstone with a simple stylus replacement

.
Z-TYPE DUST COVER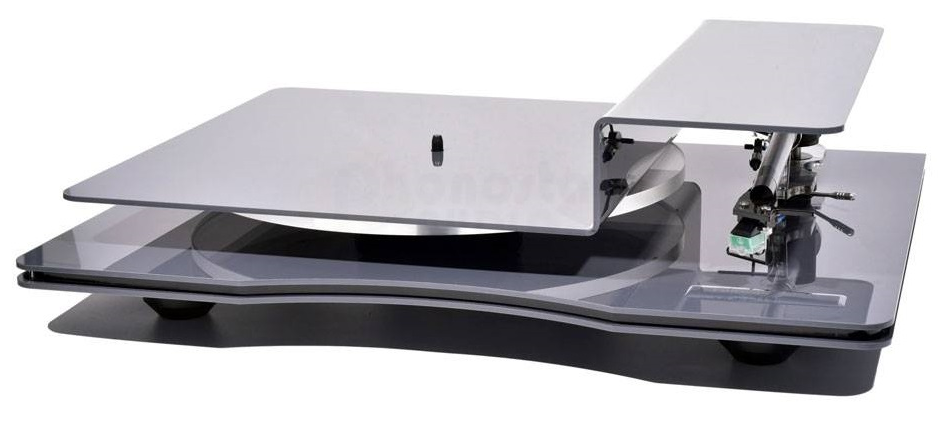 Z Type dust cover above (Shown with AT cartridge. We ship with a factory mounted $200.00 Sumiko Olympia)
The T1 is supplied with a Z-Type Dust Cover. This is in a move away from the traditional style dust cover as these are known to increase the likelihood of acoustic feedback.

What Hifi gave the Edwards TT4 a 5 star review an said in comparrison to the Rega and Project:
"So, what of the notional TT4 versus Planar 2 versus Debut Carbon Evo match-up? A potential slam dunk for Edwards Audio's talented newbie? In the absence of its actual price zone rivals, that must remain moot. But I am inclined towards a definite maybe. Measured against its supposed betters, it's clear the TT4 has an awful lot going for it, not least that ever-desirable fusion of seductive style and transcendent sonic chops. I'd simply say this: don't buy a $600 turntable without auditioning the TT4 first." (remember, our table has a far superior $200.00 cartridge versus the $60.00 cartridge in the review)
LIKE: Design, style, build and performance
DISLIKE: Nothing at the price
WE SAY: Even with its modest fitted cartridge, the TT4 sounds exceptionally fine
 
Turntable
- Weight: 15.4 pounds
- Features: Belt Drive including cartridge
- Speed Settings: 33 rpm & 45 rpm
- Replaceable Stylus: Yes
Cartridge-Sumiko Olympia
Mass:  6.5g,
Stylus: 0.3 x 0.7mil Elliptical
Cantilever: Aluminum Pipe
Coils: High-Purity Copper
Internal Impedance: 1,130Ω
Load Impedance: 47kΩ
Frequency Response: 12Hz – 30kHz
Output: 4.0mV
Channel Separation: 30dB @ 1kHz
Channel Balance : 1.5dB @ 1kHz
Compliance : 12×10-6cm/dyn @ 100Hz
Capacitance : 100pF – 200pF
Tracking Force Range: m1.8g – 2.2g
Recommended Tracking Force: 2.0g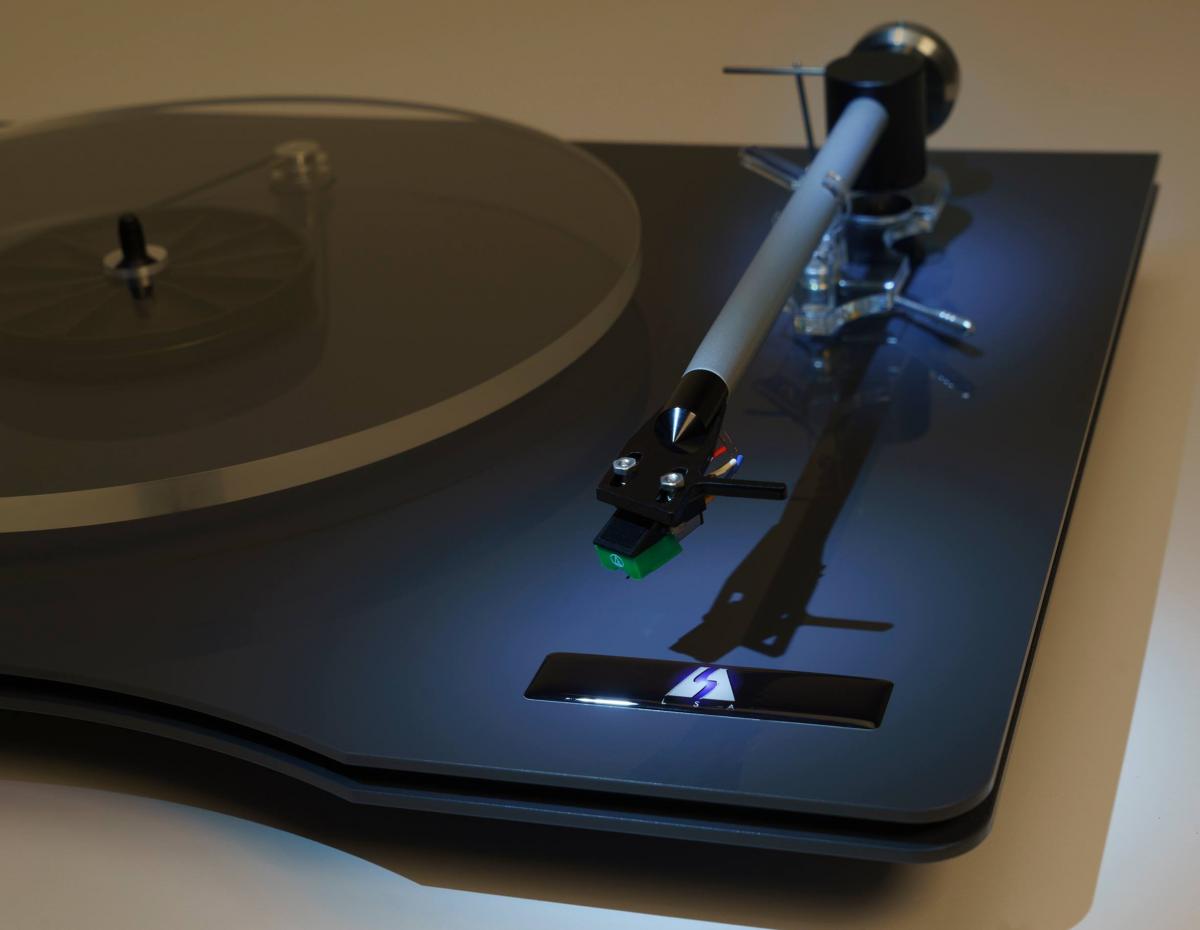 Closer shot of uni-pivot arm
T-2 turntable




List $1,240.00


Our Internet direct price is $999.00

delivered-

Now shipping




or get it with the $200.00 Sumiko Olympia cartridge for only $1,099.00 delivered

-Now shipping


or
with a $1250.00 Sumiko Blackbird or $900.00 Songbird cartridge for only $1,699.00 delivered

-Now shipping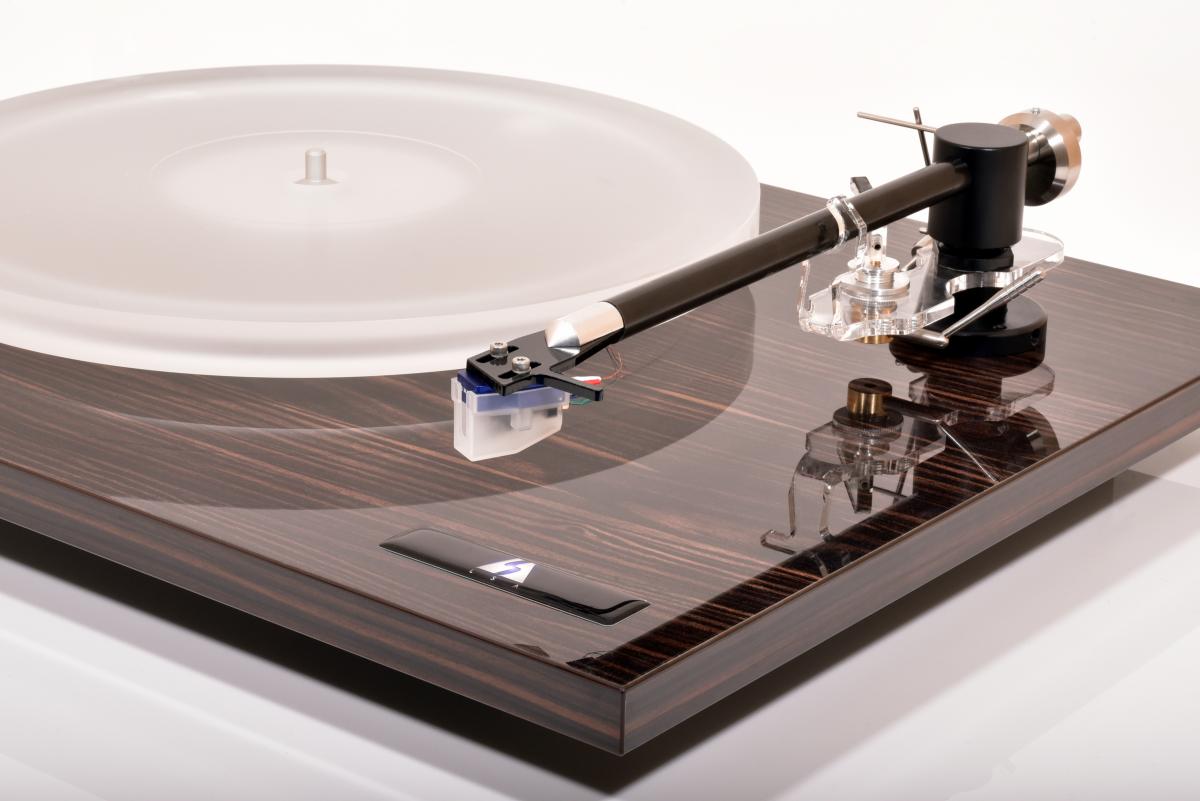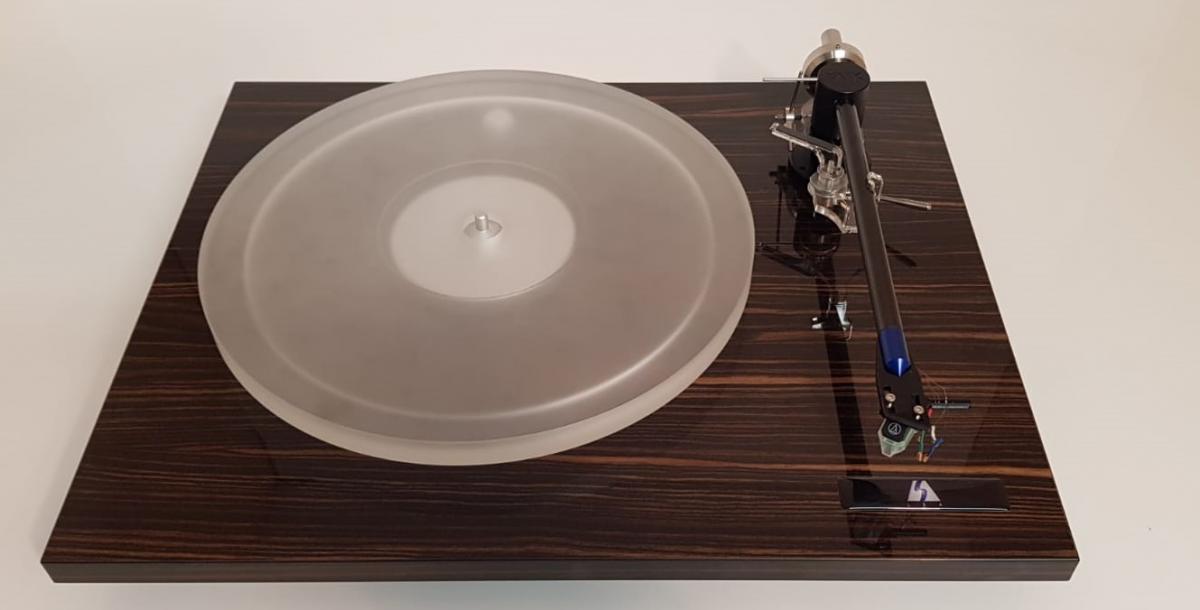 Includes a dustcover
Our new upgraded T2 turntable features a new 9.5" carbon fiber uni-pivot tonearmwith a new beautiful wood base. This allows us to use far superior cartridges than any of the competitive tables that we have seen as near its price. Most $1000.00-2000.00 tables use a $99.00 or $440.00 Ortofon or comparable cartridge. We use the wonderful new $600.00 Sumiko Amethyst cartridge at $1,399.00 or the $1250.00 Sumiko Blackbird at only $1,699.00.
It will therefore easily outperform any of our competition at our Internet direct deal. 
It was important to us to source a table with a really good tonearm and the new improved Edwards A6 carbon fiber uni-pivot tonearm fit that bill perfectly. This 9.5" low mass tonearm is constructed from carbon fiber and is fitted with a 65-gram stainless counterweight. The output terminates to a pair of RCA sockets with separate ground, giving the user choice over their output cabling – these are located on the underside of the base.
This allows easy cable upgradability with an aftermarket cable line our Core Power tonearm cables. 
The T-2
incorporates a custom rosewood 25mm base. It features a custom 24V AC motor that has been positioned to further reduce electromagnetic and mechanical noise. This has required the development of a new bespoke 'big belter' drive belt. The result allows for greater resolution of low level detail. The table uses an
.
aluminium inner hub, EA Big Belter, and an 18mm bearing housing with upgraded white ceramic bearing.
Machined in England, the turntable boasts a 17mm acrylic platter. We will offer an optional speed control for $199.00 shortly
Compare this table at $1,699.00 to any $2,500.00 turntable/cartridge package and we feel you will be amazed.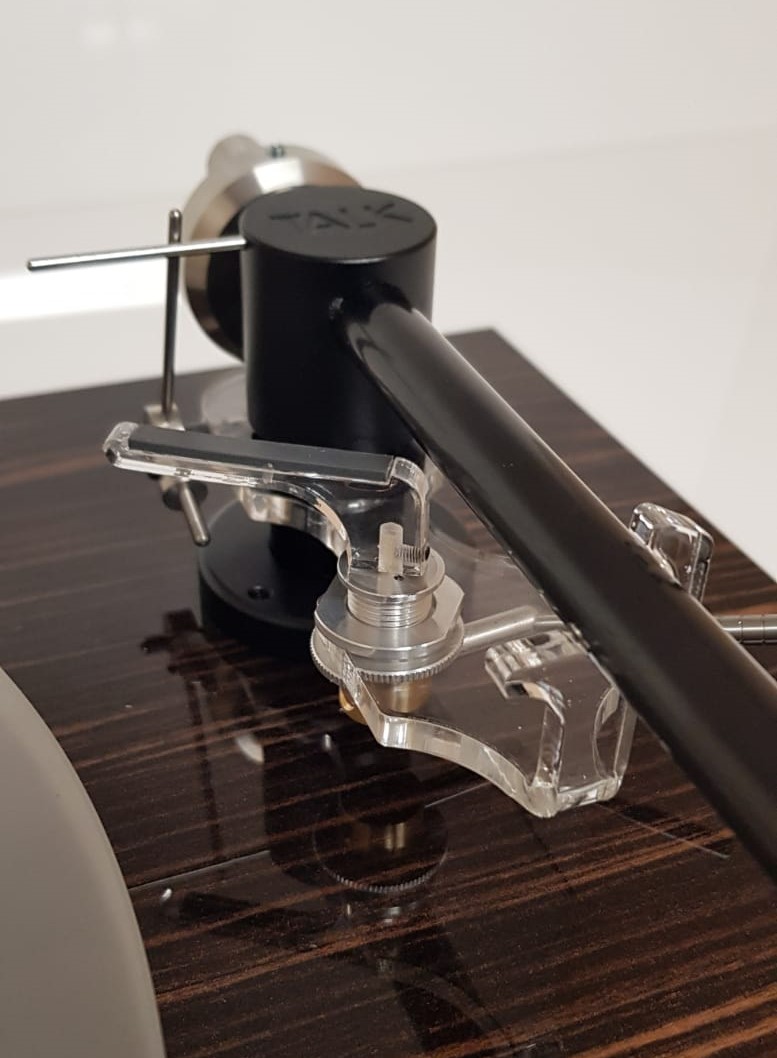 Closeup of tonearm
We have been asked to compare the T2 to the Rega tables. The T2 is similar to the Rega Planar 6 in performance but we have a much better arm. We have a ceramic bearing in the 22mm brass housing - the Rega is steel. We have lower pickup noise as our motor position is further away, hence the longer belt. We have a fully machined aluminum hub were the Rega is plastic with a metal cap. Our platter is acrylic not glass. Glass makes the sound punchy but very hard sounding where as the acrylic has better low level detail and more sublty. The T2 has a performance with a more neutral balance, this also produces a much more musical performance. Both can be upgraded with an external re-gen speed controllers.
NEW A6 carbon fiber uni-pivot tonearm
33.33 and 45 rpm speeds

Wow and flutter is 0.06% on average

Rumble is 68dB

18mm Custom base
2x RCA outputs
Custom 24V AC motor
Plug top PSU 
Aluminium inner hub
EA Big Belter
18mm bearing housing
White ceramic bearing
17mm frosted acrylic platter

Warranty on Parts & Labor: 2 years from the original purchase date