Outlaw Audio
Outlaw Audio
RR-2160 Stereo receiver
$999.00
Currently backordered with no expected delivery date due to the Corona virus
The Outlaw Audio RR2160 is a stupid good-value Internet Direct 110wpc stereo receiver. It has a quality DAC, MM/MC phono stage, bass management and loads of other features. We have arranged to offer it as we know of nothing with this level of performance and features at near this cost.
Only $999.00 with 30 day in home trial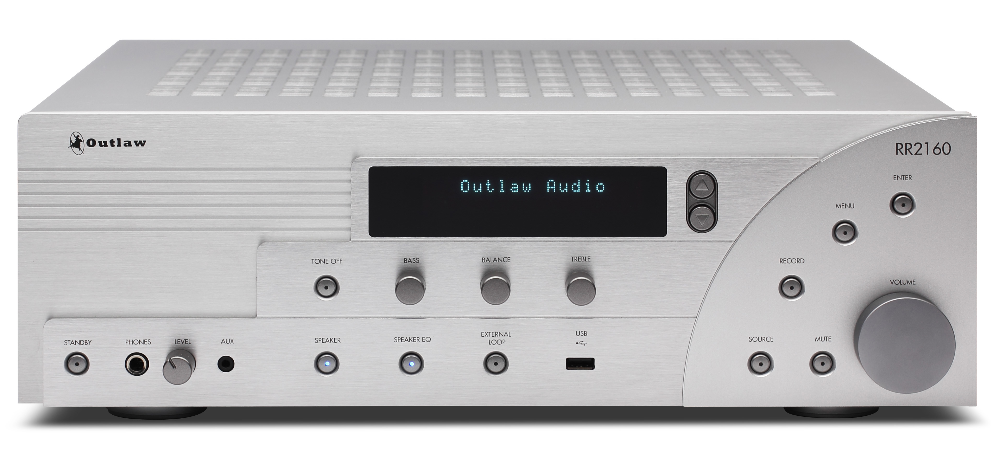 Typically Outlaw is only sold Internet Direct with no dealer profits. We loved this receiver and know the Outlaw people for many years and can now sell this product to Underwood customers. It is 110 watts per channel @ 8 ohms and has loads of hi-end quality features like quality DAC, MM/MC phono stage, biamp capability and a fine AM/FM tuner with Internet radio. The amp does
110watts per channel at 8 ohms, 165 watts at 4 ohms and is stable into 2 ohms.  
The 2160 allows active bi-amping of the Emerald Physics EP3.4/3.8 speakers as well as any speaker with a subwoofer. It also has a feature that adds up to a ½ octave of low bass to most monitor speakers. It has quality tone controls with defeat option as well as processor loop and preamp out/main amp input. See the full feature list below.
"Outlaw's Retro Receiver is a conspicuously good-sounding audiophile product at a ridiculously low price. Highly recommended."
Stereophile November 2017"
Read the entire review at:
https://www.stereophile.com/content/outlaw-audio-rr2160-stereo-receiver
"THE OUTLAW AUDIO RR 2160 STEREO RECEIVER FLAT OUT SOUNDS BETTER THAN ANY RECEIVER OR AMPLIFIER I'VE HEARD FOR ITS $799 ASKING PRICE."
- Steve Guttenberg, CNET
"MAKE NO MISTAKE, THE OUTLAW AUDIO RR2160 STEREO RETRO RECEIVER MAY LOOK OLD FASHIONED, BUT IT IS READY FOR THE FUTURE. YOU WILL WANT TO RIDE OFF INTO THE SUNSET WITH THIS OUTLAW!"
- Jim Milton, Secrets of Home Theater and Hi-Fidelity



Features
•State-of-the-art stereo receiver
•High performance HD Radio/ FM Stereo/FM/AM tuner
•Multiple inputs with separate record output bus
•USB-B input for Hi-Res playback from compatible computers
•High quality phono input for both moving magnet and moving coil cartridges
•Processor/equalizer loop
•Subwoofer output that includes selectable, analog bass management
•Front panel "speaker equalization" selector adds a half-octave of bass boost at a choice of frequencies to improve performance with compact bookshelf speakers
•Headphone jack with level control
•Front panel stereo mini-jack input for easy connection to portable devices such as iPod®
•Internet Radio
•5V DC Accessory Power for external devices
•USB-A Input for connecting
thumb-drives
•2 Digital Coax Inputs
•2 Digital Optical Inputs
•Tone control defeat
•Precision volume control
•A/B Speaker Output
•Pre-Out/Main-In connections
•IR In/Out jacks
•Removable IEC style power cord
•All Aluminum remote control
Specifications
Audio Section
• Continuous Average Power:
110 watts per channel, 20 Hz - 20kHz,<0.05% THD, both channels driven into 8 ohms
165 watts per channel, 20 Hz - 20kHz,<0.05% THD, both channels driven into 4 ohms
2 ohm stable for tough speaker loads
• Input Sensitivity/Impedance:
High Level: 200mV/47kohms
MM Phono: 3.3mV/47kohms
MC Phono: 0.6mV/47kohms
•S/N Ratio: 96dB
•Bass Management:
Adjustable 60/80/100/Bypass
High-Pass Slope 12 dB/octave (2nd order)
Low-Pass Slope 12 dB/octave (2nd order)
•Tone Control:
Bass Center Frequency/Range 50Hz ± 10dB
Treble Center Frequency/Range 10KHz ± 10db
FM Tuner Section
•Frequency Range: 87.5-108MHz
•Usable Sensitivity IHF: 12.8dBf
•Signal-to-Noise Ratio: Mono/Stereo 75/70dB
•Stereo Distortion: 0.24%
•Stereo Separation: 37dB @ 19kHz
•Selectivity: +/-10kHz, 70dB
AM Tuner Section
•Frequency Range: 530-1710kHz
•Usable Sensitivity: 500uV/M
•Signal-to-Noise Ratio: >54dB
•Selectivity: +/-10kHz >25dB
General
•Supply Voltage 120V, 60Hz only
•Power Consumption:  0.4W Idle, 400W maximum, both channels driven
•Dimensions:  (HxWxD) 5.75 x 17.1 x 15 in. (16 in. w/ binding post)
Weight:  27 lbs