Syzygy Acoustics
Syzygy Acoustics
High Performance wireless subwoofers
As of 10.2.2020 Syzygy has closed due to the Corona virus. We have a few SLF-820 subwoofers left that we are selling for 50% off in pairs. They do not have a factory warranty. We are in contact with the Syzygy service center if you ever need any repair work.
When three celestial bodies are perfectly aligned, it's called syzygy. When advanced technology, high performance audio and a passion for great sound align, we call it syzygy too – Syzygy Acoustics.
Rooms are the real problem
Syzygy subwoofers pair seamlessly with any home theater or high-fidelity audio system to deliver clean and powerful low-frequency sound. Thanks to Syzygy's proprietary wireless technology, you can link multiple subwoofers to the same transmitter, allowing you to fill your space with deep and detailed bass, regardless of room size.The unique SoundSculpt technology measures your room and defeats room resonances to allow a seemless match to your main speakers without the typical one note bass appearing of most rooms. All controlled from your listening chair right from your phone on the Syzygy apps.
Using unique SoundSculpt Technology, each Syzygy subwoofer essentially makes a 3-D sonic map of its space, and then adjusts its output to smooth out the aural peaks and valleys. It sends out a series of tones that measure the shape and size of your room, the position of the furniture, and how your decor absorbs and reflects sound. This rich acoustical data is captured by your smartphone and sent back to the subwoofer where it is corrected then perfected, ensuring that the sub-bass from the Syzygy subwoofer blends seamlessly with your speakers and the low-frequency sound arrives at your ears at the correct time. All with a tap of an app.
Multiple subs are the way to go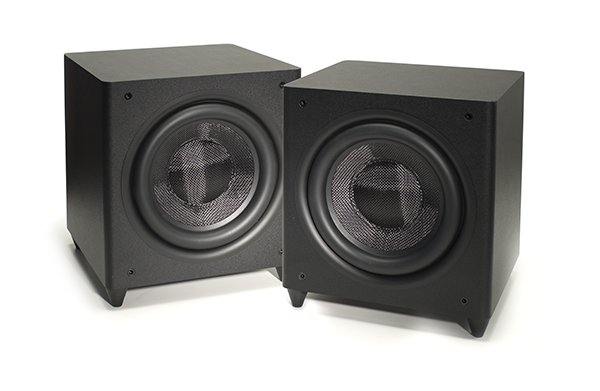 All acoustic experts will tell you that multiple subs are the way to go. Two subs or a swarm of 4 will couple better to all rooms and help to even out room modes and allow for lower distortion along with greater dynamics. Instead of making larger models Syzygy recommends using two to 4 subs in your room and this can be done at very reasnable prices. We very much agree. Two 870 subs are the same price as a $2000.00 REL or JL and typically outperform them.



SLF-820
$599.00
On sale for $349.0 delivered
Two for $599.00 delivered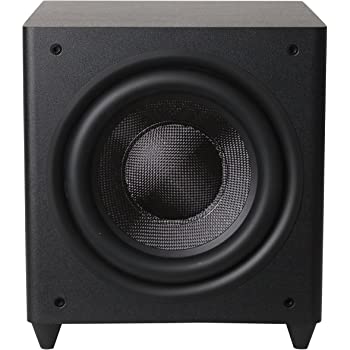 SLF820
The SLF-820 is the hi-value leader in the line. As only an 11" cube it uses an 8 inch acoustic suspension design with a 400 watt amp and true 30Hz performance. It can be run both front firing or down firing. In addition to wireless operation it offers line level input. Performance is excellent with vary fast transient response and the ability to keep up with fast mains like small planars or quality monitors. It is a killer $599.00 sub and even better with 2 at only $1199.00.
Driver Size: 8"
proprietary woven-cellulose-fiber diaphragm 
Type: Acoustic Suspension
Amplifier Power: 400 Watts
Frequency Response: 30-200 Hz
Room Output: 100 dB
Dimensions: 11" cube
Weight (net): 20.78 lbs
Wireless: Yes
Analog RCA In (LFE): Yes
Auto Standby: Yes