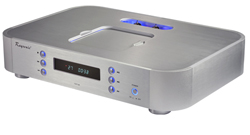 The Raysonic CD-138 is our favorite stock CD player at near its $1.950 price. The stock player is a beautiful top loading 24/192 upsampling machine. It uses a Class A triode output stage. It has variable outputs and can run directly into a power amp. It offers both RCA and XLR outputs. We offer a mod for each type of output. The player uses a Philips VAM 1202 transport and has a nice metal remote. The CD-138 was one of Stereotimes' 10 Most Wanted Products of 2010. The review summed up with "it's nice to know that great high-end equipment can still be had at reasonable prices.

Sadly the music retail industry may dictate that many people will begin building music libraries via the internet, music server downloads etc. CD players may soon become more like - well, turntables. But if you're still inclined to anchor your stereo system with a gorgeous looking and sounding CD player that won't jeopardize the family's nest egg, I can't think of a player anywhere near this price I could recommend more than the Raysonic CD-138." - Read the entire review here.

Our Level-1 and 2 mods are available for either the RCA or XLR signal paths since they are totally separate.

The following upgrades constitute our Level-1 mode [$1.200 + freight retrofit, $2.690 pre-modified]
2 x dual Burr-Brown OPA-627AU op amp modules using two single op amps mounted on a custom DIP adaptor

4 x Mundorf M-Cap metalized polypropylene output coupling caps 

4 x Rel-cap TFT Teflon film & tin foil coupling cap bypasses 

Two feet of DH LABS 23 gauge pure 99.99% pure silver solid-core hook-up wire with foamed teflon tape wrap dielectric

8 x Cree Silicon Carbide high-voltage Schottky rectifying diodes

8 x Nichicon KZ Muse PS electrolytic caps 

8 x Takman Japanese-made audio-grade metal film 1% signal-path resistors 

1 x sheet of Soundcoat for damping chassis resonance

4 x large EAR compliant Sorbothane isolation feet

1x pair of Vampire direct gold-over-copper Teflon dielectric machined RCA jacks 

WBT 4% silver solder used throughout

5 hours of Labor 
Level 2 [add $250] is as the above but replaces the Burr Brown opamps with 2 x 'dual' Burson Audio discrete opamp modules on custom circuit board assemblies terminated with DIP-spaced flying leads. There are over 68 discrete parts per module. 
Features:
Full-featured true balanced push-pull top loading CD player

Real class-A triode output stage

Very compact output buffer

2 x 6922EH Russian triodes

Ceramic tube sockets.

Warm up function-extends tube life time.

1 x Cirrus CS4398.

Upsampling to 24bit/192kHz

Philips CD transport mechanism.

Suspension system to isolate the CD transport from vibration.

Mundorf MKP capacitors.

Solen-MKP capacitors.

Large noiseless C-core power transformer

Mirrored display glass

Display dimmer & mute function.

Metal remote control.

Background light display LED on/off 

Crafted from high-grade 8mm aluminium-brushed and anodized chassis in black or silver. 
Click
here
 for specifications.
The modified players are more detailed with added transparency. Dynamics are greatly improved. They have a larger more 3D soundstage. Bass response is tighter with better extension. A slight grain in the stock machine is also removed. Call to discuss our Level-1 and Level-2 XLR mods.