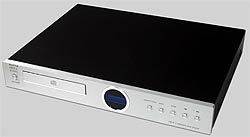 The new Music Hall CD-25.2 is an upgraded version of their older CD-25. The older unit received excellent reviews. This new player has an upgraded transport as well as a 24-bit/192kHz converter. The circuit design is a good bit more complex and offers us the opportunity to make it into a superb player. Our mod was designed by Chris Johnson, the founder and former president of Sonic Frontiers. The 12-month Music Hall factory warranty is good on our modified players

Music Hall CD25.2 CD Player Level-1 mod -$425 + freight retro-fit to your player)
We install two new output coupling capacitors
4 x 1% polystyrene film and foil capacitors are added in the analog filter stage
6 x Riken Ohm ½ and one watt signal path 1% gold-plated leads carbon comp resistors are added in the signal path
4 x IR Hexfred ultra-fast soft recovery diodes are installed in the power supply
1 pair of premium machined Vampire direct gold-plated-over-copper-body Teflon-insulated RCA female jacks replace the cheap stamped jack modules
We install four small EAR brand Sorbothane isolation feet with new mounting hardware.
2 sheets of SoundCoat chassis damping material are cut & applied where applicable to control chassis resonances
We add 4 x DH Labs 99.999% pure solid-core long-grained silver output signal wires with foamed teflon tape wrap dielectric.
WBT high silver content (4%) solder used throughout
3 hours labor
The 12-month Music Hall factory warranty is good on our modified players
Options:
Add 4 mirror imaged Burr Brown OPA-627 opamps to replace the inexpensive 2604 opamps in the stock machine - $120
Add an LC Audio clock and dedicated power supply to run it - $420
Sonic changes of Level-1 mod
The unit is quieter, the blacks are blacker to resolve more low-level ambience and micro detail. The unit is smoother, more detailed and more dynamic. The midrange is more natural, with less electronic glare. The midrange performance is what you typically spend muchmore on to get in solid-state machines. Front-to-back layering and soundstage depth are improved as is bass weight and authority. The modified unit will outperform any solid-state CDP that we have heard for under $1,500 and is quite competitive with CD players that sell for as much as $2,500.
Music Hall CD25.2 CD Player Level-2 mod - $980 + freight retro-fit to your player
We install 8 x new capacitors. These are two output coupling caps plus six additional 10uf/16V and 220uf/ 16V capacitors in the power supply and around the Dac.
We replace the $4 Burr-Brown dual op amps (OPA-2604s) in the I-V section with four $25 Burr-Brown OPA-627 op amps. These are the best made.
14 1% polystyrene film and foil capacitors are added in the analog filter and I/V stages.
16 x Riken Ohm ½ and one watt signal path 1% gold-plated leads carbon comp resistors are added in the signal path.
2 x Rel-Cap Teflon TFT film and foil bypass coupling caps for the main B-G output caps.
4 x Telefunken SF4007 utra-fast soft-recovery diodes in other sonically critical power supply positions
4 x IR Hexfred ultra-fast soft recovery diodes installed in the power supply
We add 4 x DH Labs 99.999% pure solid-core long-grained silver output signal wires with foamed teflon tape wrap dielectric.
WBT high silver content (4%) solder used throughout
5 hours labor
The 12-month Music Hall factory warranty is good on modified players
Options:
Add an LC Audio clock and dedicated power supply to run it - $425
Sonic changes of Level-2 mod
The improvements in the Level-2 mod are much greater than the Level-1. Everything we do in the Level-1 is improved upon in the Level-2. The Level-2 is now on a par with units selling for up to $2,500.
Our
Music Hall CD-25.2 transport mod
is superb and as good as any transports that we know of at under $5k.
The basic $600 player is in an all metal chassis and uses the Philips VAM transport. Once modified, the finished transport will easily compete with any transport we know of under $5k.
The following details our Transport Mod $950 + frt retrofit,
One premium machined Vampire direct gold plated over copper body Teflon insulated RCA female jack on the digital output replace the cheap stamped jack module on the stock player.
1 x Dexa Technologies 16.9344 Meg D-Clock master clock added for world-class jitter performance
We install 4 small EAR brand Sorbothane isolation feet with new mounting hardware
1 sheet of Soundcoat chassis damping material is cut and applied where applicable, to control chassis resonances.
2 pieces of DH Labs 99.999% pure solid-core long-grained silver output signal wires, with foamed Teflon tape wrap dielectric
4 Black-Gate STD, N and NX series electrolytic capacitors
1 sheet of ERS suppression paper is added to suppress EMI and RFI.
4 x Riken Ohm ½ watt "signal path" 1% carbon comp. resistors (gold-plated leads)
4 IR Hexfred ultra-fast soft recovery diodes are installed in the power supply
WBT high silver content (4%) solder used throughout
4 hours labor
The finished player outputs an ultra clean jitter free signal to go to your DAC. You can spend more for cosmetics but get little in the way of enhanced performance.
The full factory warranty is honored on the modified player
Compare this to any high end transport at any price and you will be amazed
Owner Feedback
Walter,
I received the CD player on Thursday afternoon. When I saw the box I was worried, because it was smashed a little bit. But, when I got the box open, the CD player was in good shape. I went home that afternoon and played a couple of CDs and was in shock. Everything improved over the stock player I had before: Clarity, midrange and treble smoothness, spatial resolution, bass extension and tautness, soundstage size etc. I'm very happy with this player and will recommend it to my friends.
Thanks,
Edgar L.
TO: Underwoodwally.
As we discussed, I have been listening to the unit that you had modded for me (incl. the opamps) and the difference is night and day. I feel like I went out and bought a whole new cdp. I hear a whole lot more detail in the music while being able to keep the volume lower at the same time. Thanks again,
Jay B.
Wally,
Holy Shit! I was an English/Journalism major and I am at a loss for words. I will write again when I come to my senses. Not feeling too well tonight, may have to take the day off to listen to my new CD collection. I think this is the way my Magneplaners were meant to sound.
Thanks
Dear Walter,
I just wanted to drop you a note to let you know how happy I am with the CD player. It is working beautifully and the sound improvement over my old NAD is like the difference between night and day. It is very transparent and I now notice the quality of the recordings to the point that some poorly recorded CDs sound harsh and strident, while others soar in their sonic perfection.
I am upgrading my amp to a Sunfire Series II from the Bryston 4B this weekend and will likely upgrade speakers from my Thiel CS2s to the CS2.4s or some other high-end bi-wirable speaker. Since the Thiels are not by bi-wirable, I cannot take advantage of the Sunfire's dual speaker outputs for current and voltage source. Any suggestions on your end?
Thanks again,
Al W.
Walter,
my modded CD-25 arrived today. Wow. What a difference. I've been listening to Daniel Lanois' new album these past few nights and tonight, when I played it on the mod, I jumped when the vocal came in - it sounded so present in the room. Everything I've played so far is dramatically clearer and sounds more immediate. Thanks again for working out the trade and for the ultra-fast delivery. I'll post some feedback sometime this week on AudiogoN.
Norman
Walter,
I received the Burr Brown OPA-627 opamp upgrade yesterday morning. I am amazed at the performance improvement the opamps provided to an already great player with the Level-1 Mod. I not only got the additional warmth I wanted, but also deeper, more incisive bass; and a deeper, wider, taller soundstage with increased dynamics. The most significant but unexpected improvement is that each voice and instrument is now full, rich, three-dimensional, and temporally correct. Hands down the best under $200.00 upgrade I have ever made.
Regards,
Richard
Walter,
Received the CD-25 in good shape. Hooked it up and wow!, was I shocked to hear how much better it sounds than the AH! New Tube 4000 (w/upsampling & Siemens 7308s).The amount of detail is phenomenal, but it doesn't sound harsh or clinical at all. The trailing edges of notes just linger and gradually fade (like vinyl). The air between instruments is much improved and the soundstage is layered in 3-D textures of sound. Your ad is correct, it kills the AH! (which itself is a pretty darn good CD player). Thanks also for the prompt shipment. If you have the time for leaving feedback, my Audiogon user name is "marjon".
Thanks,
John