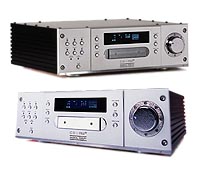 CD-Pre24 Level-2 mod - $1,190 + freight retro-fit ($1,590 with upgraded LC Audio clock) or $2,290/2,690 for new machines while they last

This modification installs the following:
8 x oltra-fast soft recovery Vishay-Telefunken Fred diodes in the power supply
17 x Black Gate Standard, N,FK and C grade electrolytic capacitors around the coupling caps and throughout the power supply
24 x Riken Ohm 1% precision Carbon-comp 0.5-watt resistors with gold-plated leads in the signal path
12x Polystyrene film and foil caps in the analog filter
2 x REL-CAP TFT grade, 0.022uf Teflon film and tin foil bypass capacitors for the main coupling caps
6 x Burr-Brown OPA627-based opamp assemblies mounted on single-to-dual adapter PCB assemblies for I-V conversion stage, analog filter, output Buffer and preamp
6 gx old-plated machined 8-pin DIP IC sockets
2 x sheets of SoundCoat damping material to internal chassis
4 x large EAR compliant Sorbothane isolation feet to absorb vibration
1 pr. Vampire RCA jacks for pre-outs, OFC copper body gold-plated
2 ft. DH Labs pure 99.99% solid-core silver, foamed Teflon dielectric as preamp output wire
TRT Wonder solder throughout
approximately 6 hours of installation labor
Sonic improvements of the Level-2 mod are:
The unit is quieter, silences are blacker to resolvie more low level detail, ambience & 3-dimensionality
It's also smoother while remaining very detailed. The upper midrange is a little softer and more tube-like
It's more dynamic, seemingly playing louder with more dynamic contrasts
Imaging is better defined and the soundstage is wider and deeper
Bass is improved, with fuller weight and authority like much more expensive machines.
Transparency is much improved to see farther into the soundstage
Images are sized better and more defined
The modified unit is now akin to a killer upsampling CD player with an exceptional preamplifier.
$1590.00 for a Level-2 retrofit with upgraded LC Audio clock. While they last, new CD-Pre's with Level-2 mods are $2290 and $2690.00 with an upgraded clock.