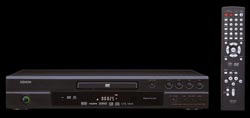 The Denon DVD-1920 has progressive scan processing using the DCDi Faroudja circuitry. It also uses digital bass management. This player offers HDMI upconverting video outputs that are HDCP compatible. It will take standard DVD and output a 720P or 1080i High Def signal. It uses Dual, Discrete 12-bit, 108 MHz Analog Devices Video DACs (480i/480p).Our Level-1 mod is an inexpensive way to get a very high quality multi-format player with excellent video at a very good price. The Level-1 modified 1920 is a dramatic upgrade over the stock player and a good bit better than the stock 2910 machine. We feel that it is clearly the best sub $1,000 multi-format machine available

Our standard Level-1 mod is performed on the front left and right channels only, for critical two channel stereo reproduction. It effects all the source material, Redbook CD, DVD-A, SACD or any other format! All formats are equally improved since the dominant portion of the mod is to the analog output stage, while the signal for all of these formats goes through the very same digital chip sets and analog output stage. To reiterate, all the same circuitry handles all formats therefore, the mod won't improve one format more than the other...they all are greatly improved! In addition, our power supply upgrades improve all channels while adding the upgraded Superclock improves all 5.1 channels as well.
Level 1 Modification
The following details our Level-1 modification [$799/999 for new 2/3-channel modifided unit, $500 + freight for retrofit, add $250 for center channel, add $450 for LC Audio XO clock or $1,199 for 2-channel plus clock new unit:
One Ultra-Premium dual surface mount Analog Devices op amp, the AD862 replaces the cheap JRC part which is 1/20th its price.
Two BlackGate C-grade output coupling capacitors
One BlackGate standard-grade capacitor in the power supply
Four 1% Polystyrene film and foil capacitors in the analog filter stage
Two Riken Ohm½ and one watt 1% carbon comp resistors with gold-plated leads in signal path.
Four Telefunken Fred-style soft recover diodes & one International Rectifier Hexfred ultra-fast soft recovery diode in the power supply
One pair of premium machined Vampire "direct gold over copper body" Teflon insulated RCA female output jacks to replace the cheap stamped jack module in the stocker
Install four small EAR brand compliant Sorbothane isolation feet with new mounting hardware
Two sheets of Soundcoat chassis damping material cut & applied internally where applicable control chassis resonances
Four lengths of DH Labs 99.999% pure solid-core long-grained silver output signal wires, with foamed Teflon tape wrap dielectric
WBT high silver content (4%) solder is used throughout the mod 4.5 hours of labor
Sound quality improvements are as follows:
The machine is smoother with a muchmore liquid midrange. The upper midrange solid-state glare is now gone and the presentation is much more neutral. It's not tubes but is much smoother in the critical midrange. This alone is worth the price of the mod. The unit is quieter and blacks are blacker to resolve more low level detail and ambiance. retrieval.
It is more dynamic and microdynamic contrasts are much improved. Highs seem to go out much further -There is much more air in the presentation. Transparency is improved and you can now look farther into the soundstage. Images are more focused with better size. tage width and depth are both improved -Bass slam & extension are improved with fuller weight and authority in the critical midbass region. It now easily outperforms the stock 2910 in this important area.