We are happy to be now distributing and selling the excellent
Sendy headphones.
Sendy phones offer the high value that we look for at Underwood Hifi. They compete with far more expensive headphones and are true Luxury items. These phones reek of high quality.
Peacock
Only $1499.00
Sale $1199.00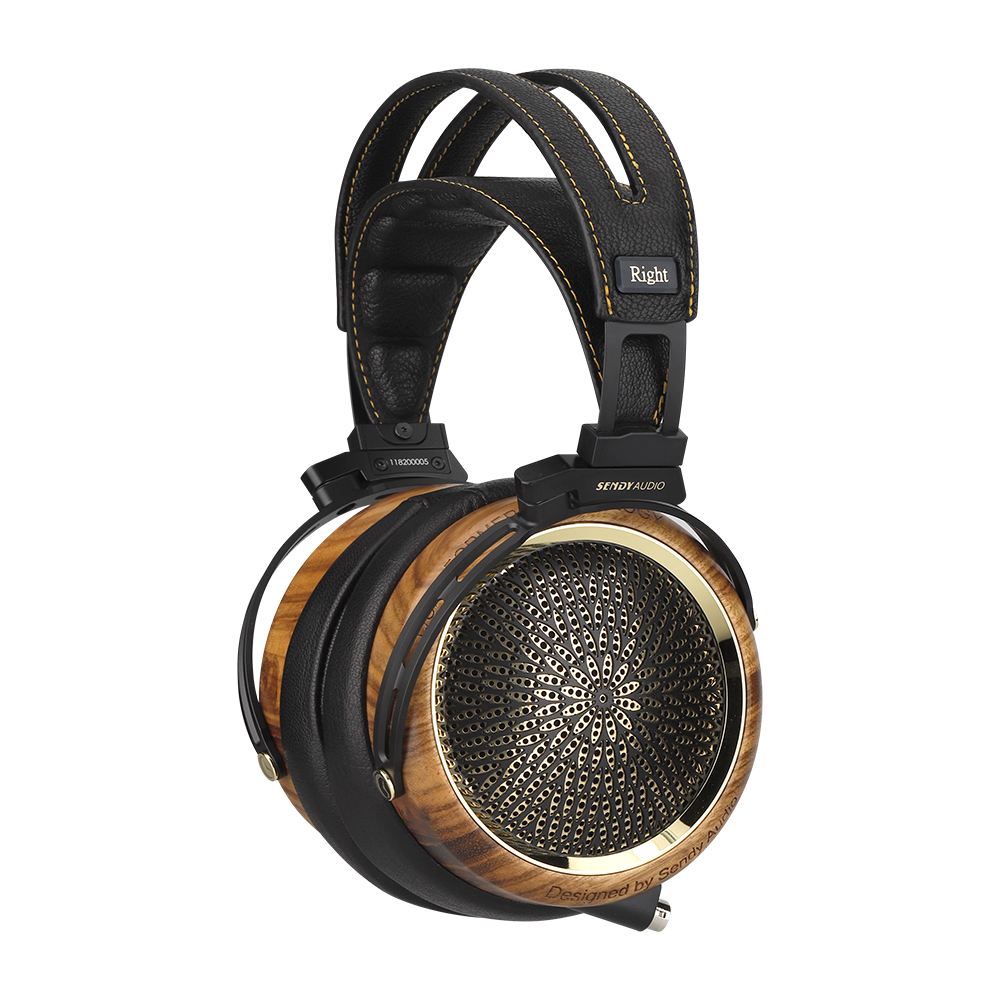 The Peacock is a top of the line planar phone that competes with far more expensive phones from Audeze & Focal. Although not the lightest it is comfortable with almost no pressure on your head. Design is exquisite utilizing only high-end materials combined with refined craftsmanship.
The large 88mm diameter film and high efficiency planar driver is fast for excellent extension and very good bottom end. Midrange is natural and accurate. The diaphragm of the planar driver is made of ultra-thin and high rigidity composite material, which ensures that the high frequencies are clean and and transparent without the upper midrange glare of many phones. High frequencies are extended to 40KHz. The sound stage is wide and natural. The driver design has double magnets, double sides of coils, and double coils on each side of the diaphragm. Hence, there are a total of four coils.

The Audiophilia review says:


"I found the Sendy Audio Peacock ($1499) to be a full, rich, refined-sounding headphone with a luxurious fit and finish. It could be a great first high-end headphones for anyone put off by the high-resolution arms race going on in the head-fi market these days. On the other hand, headphone collectors looking for something a bit different might seriously consider adding the Peacock to their arsenal. It's an ideal headphone for any audiophiles who like to unwind and get lost in their music. The Peacock is an impressive release from Sendy that is well worth seeking out."
They gave it an Audiophilia Star Component rating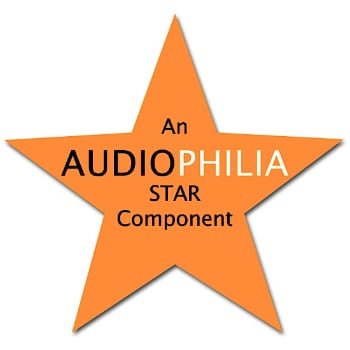 Read it all at:
https://www.audiophilia.com/reviews/2022/3/16/z8d6bv5k9cmkl753f66fglts3b3tux
In the Tone Audio short review they say:
"A few strums into Al DiMeola's new live recording, Saturday Night in San Francisco is all it takes to reveal the delicacy these new phones from Sendy Audio possess. While not having the last 5% of sheer speed and transparency that the best ESL phones have, the Peackocks are extremely musical and inviting overall. There's a slightly warm tonality going on here that will keep them on your head for a long time."
"Switching from DiMeola to some classic Soul II Soul shows these phones can produce some major bass. If your musical taste leans towards house, hip hop, and electronica – the Peacocks might just be your new favorite musical tool."
"But don't think the Peacocks are Beats reincarnated. Regardless of genre, they deliver a high level of musical satisfaction. Their pleasing rendition and utter lack of distortion makes whatever music you love accessible. The midrange is clean, and the top end transparent."
"They ship from the factory with a mini headphone plug, but Sendy includes ¼-inch and balanced adaptors. Putting these phones through their paces with everything from an older iPhone to our Manley reference headphone amplifier shows the Peacocks incredibly easy to drive. That's great news no matter where you are on your personal listening journey."
Full review soon – highly recommended.
See it here:  https://www.tonepublications.com/distilled/the-sendy-audio-peacock-headphones/
5 Star rated Sound quality in Hifi Choice
https://drive.google.com/file/d/1InrfJK5VrckqKjrwJ6Rwy5J8Y9_e4fmq/view
Positive feedback gave it their Brutus award and summed with:
"If you love music, are in the market for a very special pair of audiophile headphones with a stellar combination of audio virtues, at this price, then do yourself a favor. You owe it to yourself to hear the Sendy Audio Peacock Headphones. I can pretty confidently say that I think you'll be delighted with the results".
"I certainly am."
Read the review at:
https://positive-feedback.com/audio-discourse/sendy-audio-peacock-headphones/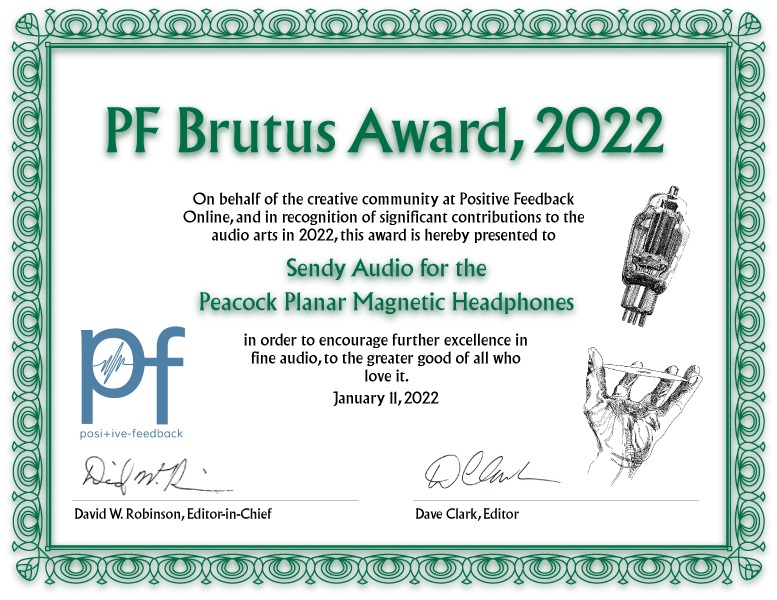 HIFI+ in Feb 2023 summed with:
"Attractive' is clearly a word that
describes the Sendy Audio Peacock,
but it equally describes its sound as
its looks. The sound is detailed with
good bass and a fine soundstage,
but more importantly is that the
overall performance is attractive and
enjoyable. This makes the Peacock
ideal for long listening sessions."
The Peacock is 103dB efficient with an easy to drive 50 ohm impedance. It comes with a very high quality 2m balanced cable, adapters and nice carry case as shown below.
Hifi Pig summed with:
Elevator Pitch Review:
"A premium product that has a premium price. These headphones offer the listener a great deal of insight into a recording and a feeling of being there. Rarely were they anything but very good indeed. Detail and bass articulation is exceptionally good. Vocals are wonderfully portrayed with real depth and insight into the tone and character of the singer."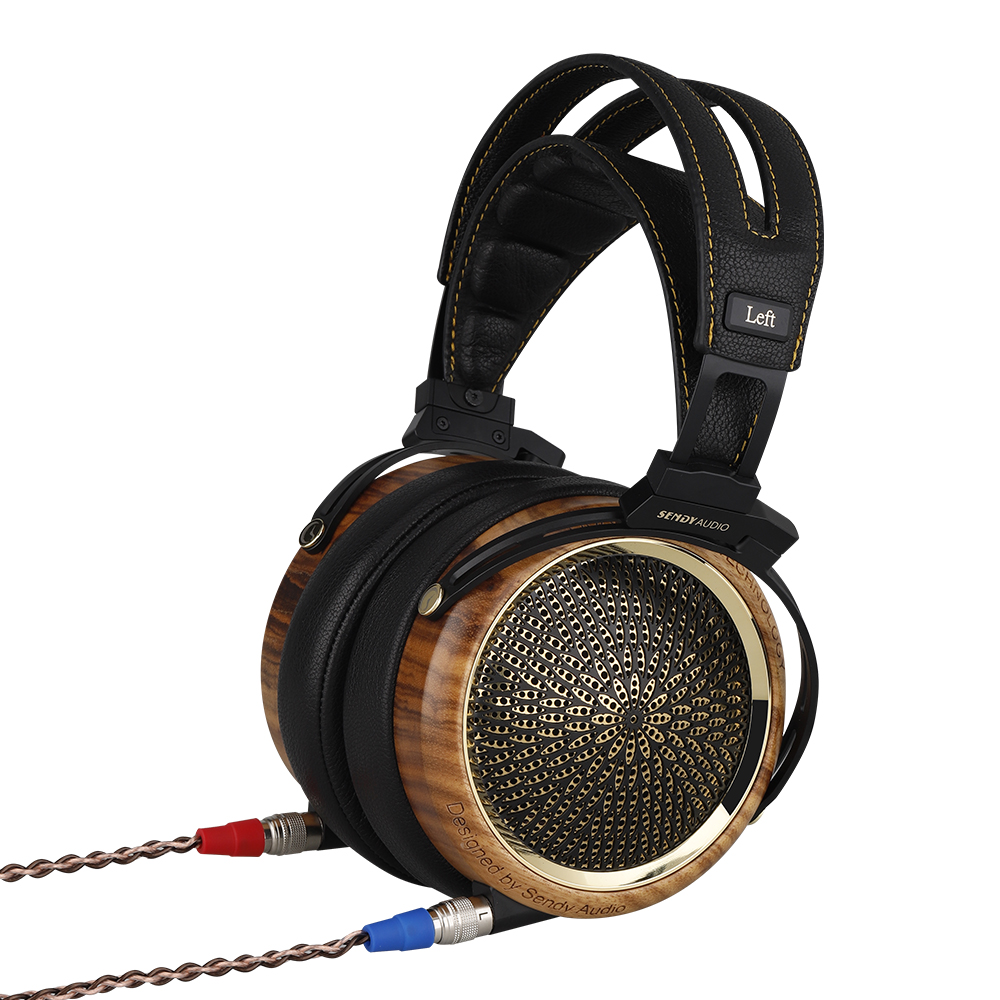 "Call the Peacock a self-medication for sanity, for it can calm your edginess of a day and commute with jazz to die for, bluegrass to keep you lifted and blues to get to your inner-core self. And after all, isn't that why we listen? To steal away a certain moment of our time, for sanity's sake. For that, I can recommend the Peacock for it did give me notice to ponder larger items than my day to day renderings of time. And for that, it was good."
Transducer Size: 88mm

Impedance: 50 Ohm +/- 15%

Sensitivity: 103dB +/- 3dB

Weight: 578g

Style: Open back
Transducer type: Planar magnetic
Frequency response: 20Hz-40kHz
Cable length: 2m
Connector: 4.4bal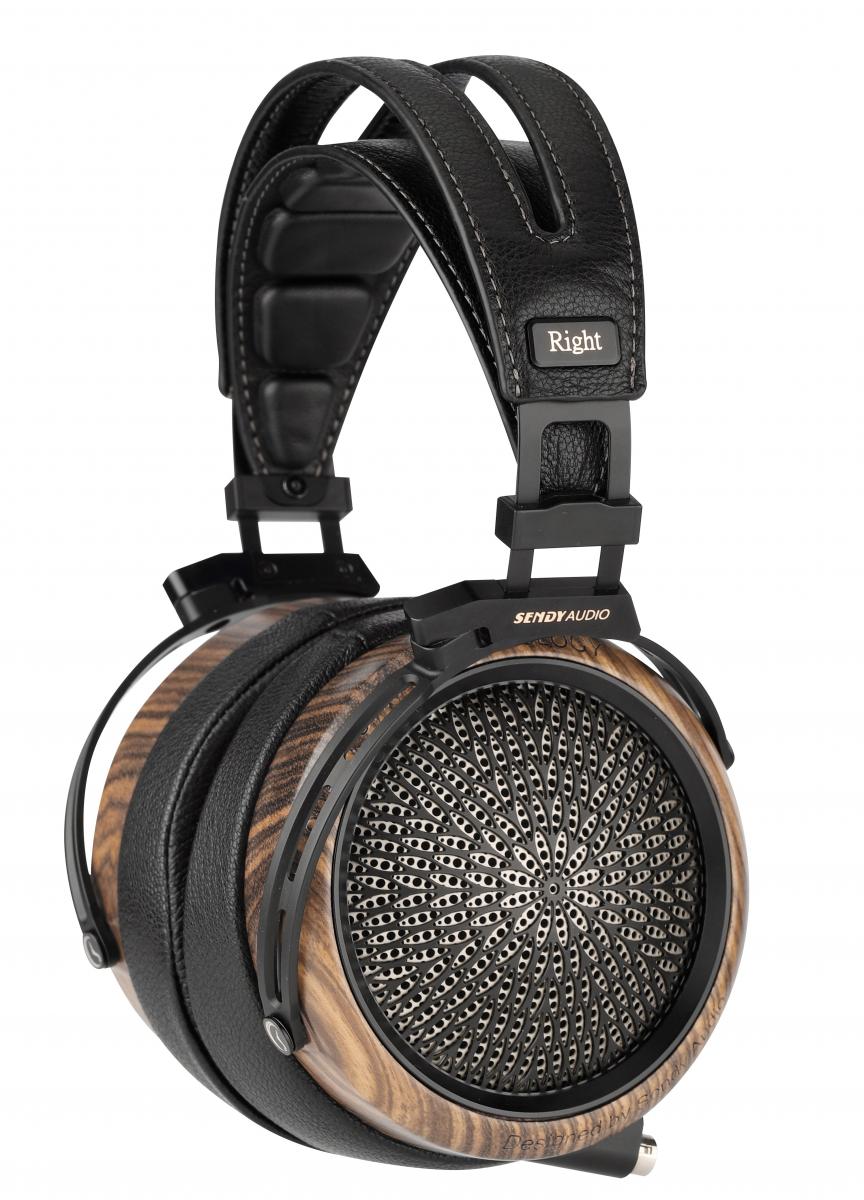 Peacock in black
Apollo
Open-back Hifi Planar Magnetic Over-ear Wood headphone
Only $499.00
Now $375.00 delivered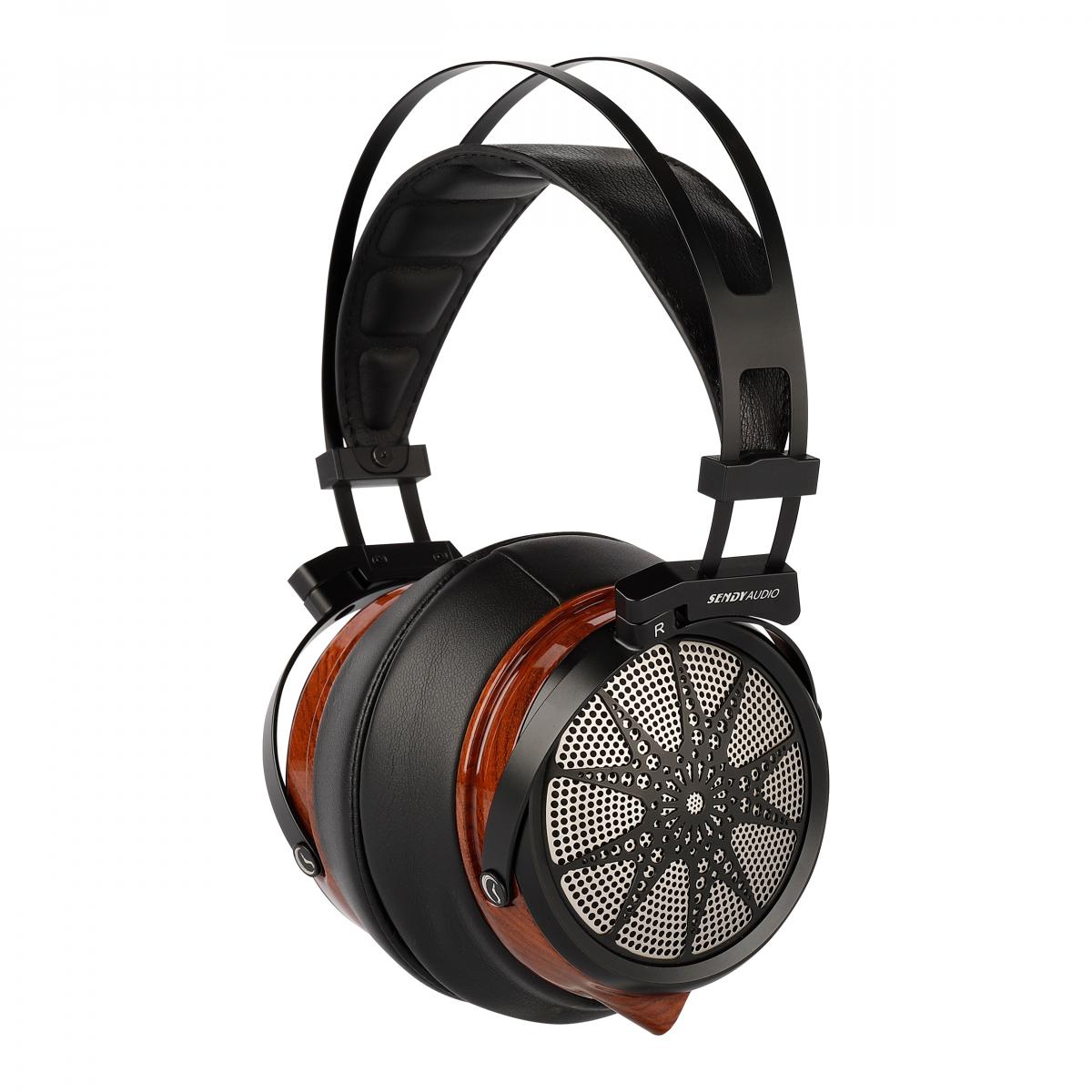 The Apollo is a light weight open back planar with 68mm planar driver. The earcups are high gloss rosewood lacquer. The soft headband is made of goatskin for comfort. The custom driver took 3 years to design and uses double sided magnets and coils for additional control, better dynamics and low distortion. Sonics are clean and dynamic with very low cororation. The headphones come with a 2m custom 6n OCC braided cable, additional adapters and nice carry case.
In the new Stereotimes review they sum with:
"The Sendy Audio Apollo is an immediately engaging headphone. Its lightweight design, comfort, and craftsmanship handily won me over. The Apollo's large diameter diaphragm (68mm) and high-efficiency electroacoustic energy conversion delivered naturalness, musicality, and drive. Further, its soft, warm vocals, solid bass with depth, not bloat, and the clean, precise detail and transparency that I crave ultimately won me over." Highly Recommended
See the entire review at: 
http://v2.stereotimes.com/post/sendy-audio-apollo-planar-magnetic-headphone-by-greg-voth/
In the Oct 2022 Positive Feedback review they summed with:
"During my time with Sendy Apollos, I compared them to a few of my own headphones, plus another pair on loan to me. With each comparison, I found the Apollos to be far and away a more comfortable, balanced, and better fit around my ears. Since some of my listening sessions with them went long, this comfort was hugely appreciated.
Sonically, the Apollos performed well above their $499 price point, even with the use of a mobile phone.
I may even invent a few reasons to escape before our time is done."

Read the entire review here: https://positive-feedback.com/reviews/hardware-reviews/sendy-apollo-headphones/

Hifi Pig summed with
"The Apollo open-backed planer headphones from Sendy Audio offer a first-class build and visual appeal at an economy price. Their lively, detailed sound coupled with comfortable ear pads provide pleasure over extended listening sessions. The Apollo falters slightly at higher frequencies but is a real contender in its price range.
"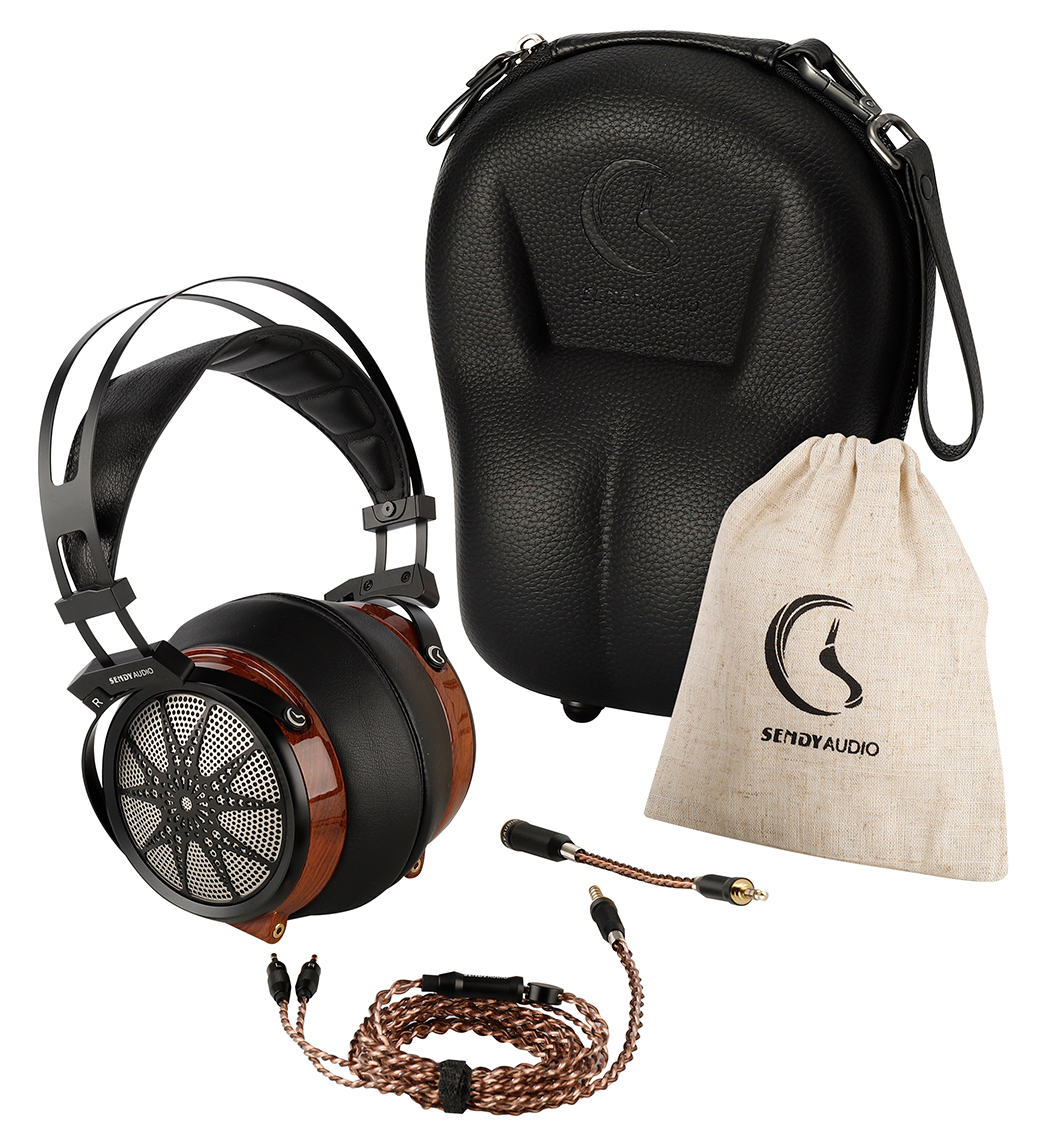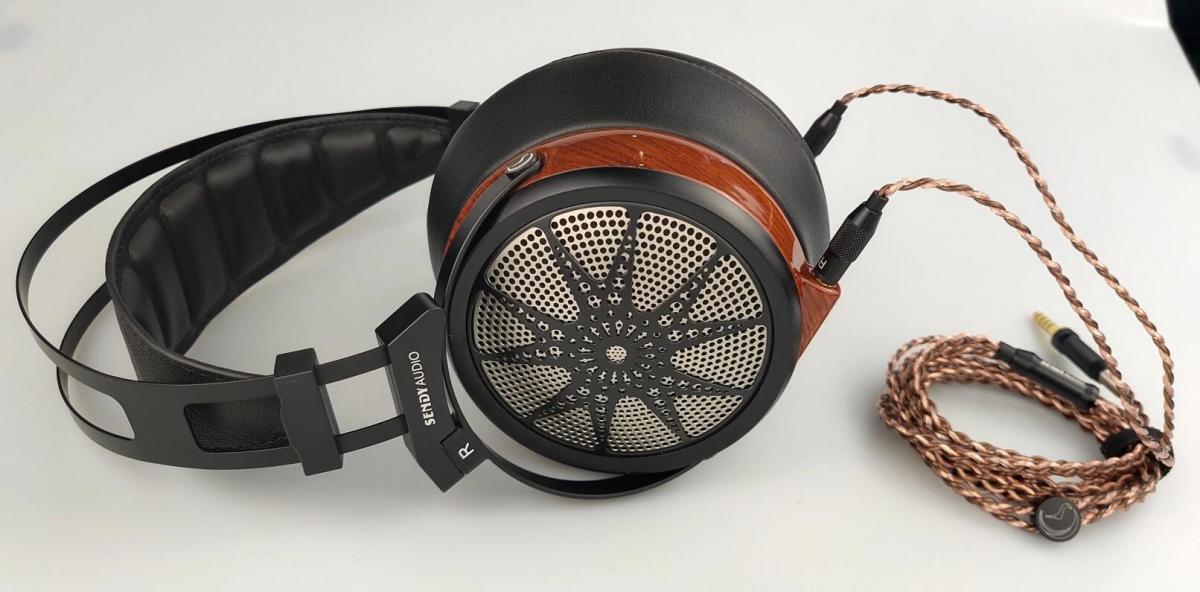 Apollo Specifications
Transducer size 68mm

Frequency response 20Hz-40kHz

Sensitivity 95dB +/- 3dB

Impedance 16Ω +/- 15%

Cable length 2.0m +/- 0.2m

Connector 4.4mm balanced

Weight 395g