A New Day for AC Powered Equipment – Enter Core Power Technologies A/V Fully Balanced Power conditioners with 5 year factory warranty.

Equi=Core 1800
$1995.00
Call for our sale pricing
Now shipping from the brand new production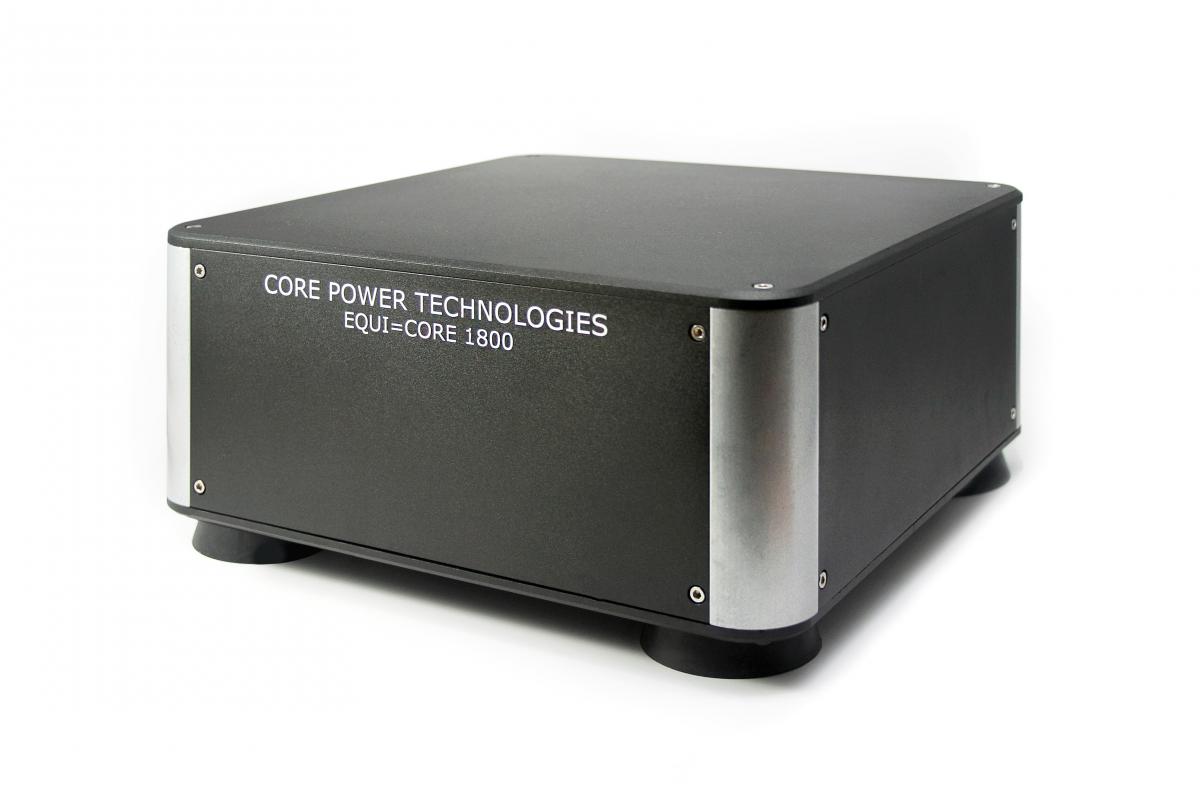 The new EQUI=CORE 1800 is a full 15 amp, 1800 watt, balanced line conditioner. It supports up to 8 products thru its 4 Hubbell Duplex A/C receptacles. It also offers surge protection in addition to sonics that typically sell for $3000.00 – $5000.00 from the competition. It comes with a standard inexpensive power cord and we have great deals on upgraded cords with purchase of the 1800. Call to discuss our two options. One is a $250.00 cord for $129.00 and our new high end $399.00 cord is $299.00 with purchase.
It is 5″ high and 11.6″ wide x 11.6″ deep and weight 42 pounds.


In the March 2019 review Part Time Audiophile summed with:
Great AC power is like building a house on a very strong foundation. I believe it to be a requirement for the best possible results — having a good conditioner is a base every good system can build on. But if $2K is still more than you want to spend. Equi=Core has solutions starting at around $500. But do yourself a favor and get one with a good number of receptacles because the more gear getting clean power, the lower the noise, and the better the sound. I would also consider investing in some great power cables too. And yes, it all adds up.
So in summary, I would give the Equi=Core 1800 an enthusiastic recommendation as I was impressed with the apparent value at $2K, solid build quality, and most importantly, the noise floor improvements that it made that lifted up my whole system.
Read the entire review at: https://parttimeaudiophile.com/2019/03/31/review-core-power-technologies-equicore-1800/

In the 2017 Tone Audio review they said:
"I could wax poetic about this track and that, but a power product either does what it is supposed to or it doesn't. The Equi=Core 1200 and 1800 conditioners deliver the goods and offer outstanding value for the price asked. They are all made by hand in the Core Power factory in Colorado. And for those seeking additional value, they've got an awfully good "premium" power cord that can be bundled for only $99. The Shunyata Venom used to be my budget go to power cord, but this one easily takes it's place. Even if you think you have "clean power," you'll be surprised at what one of these do for the overall sound quality of your system. It's about a 10-minute demo. Plug it in, listen to your three favorite tracks, then take it out and repeat. This is an easy one, folks. So what are you waiting for? Give them a call (770-667-5633), they love to chat with their customers."

Read the entire review at:  http://www.tonepublications.com/review/the-equicore-1200-and-1800-power-conditioners/

The new Equi=Core 1800 is a full 15 amp, 1800 watt, balanced line conditioner. It supports up to 8 products thru its 4 Hubbell Duplex A/C recepticles. It also offers surge protection in addition to sonics that typically sell for $3000-$5000.00 from the competition. It comes with a 12g hi-end 6 foot power cord. Initial shipments begin at the end of June. It is 5" high and 11.6" wide x 11.6" deep and weighs 45 pounds.
Call about our intro deals. Now shipping. New orders ship within 1-2 days of order date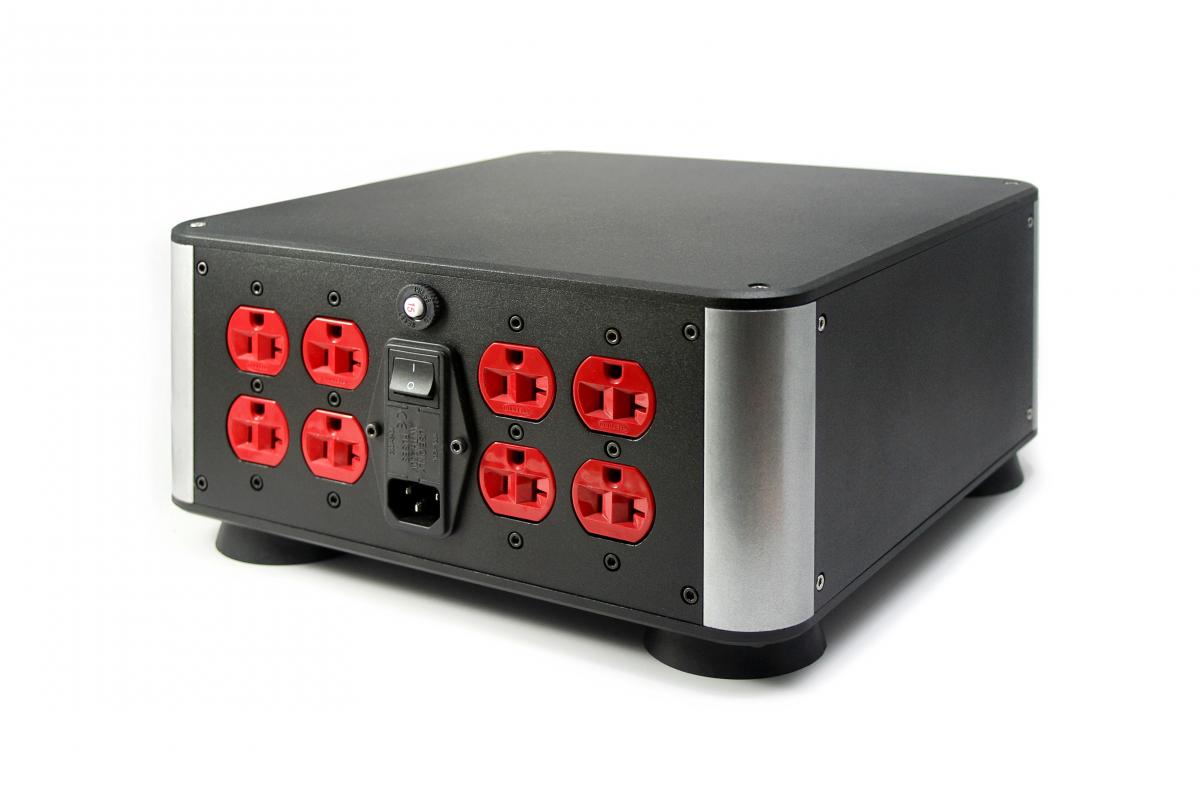 Equi=Core 1800 rear shot



Legacy models:
Equi=Core 50/150/300 and Equi=Core 1200 are no longer available-Check back in 2020 for a single new product to replace all 4.

The reviews below however are a worthy read as they pertain to the current 1800 model as well.
Tone Audio summed their review with:
"The Equi=Core 300 power conditioner is one of the most unobtrusive power conditioners I've had the pleasure to use – at any price. I bought the review sample, and will probably buy another. It's that good. We have a review in the works of one of their larger models, so we'll keep you posted. For inquiring minds that need to know, these are designed and hand built in CPT's Colorado factory and the pride of assembly shows. The Equi=Core 300 is equally well executed visually as it is electronically."
"It would be a crime not to give this little box one of our Exceptional Value Awards for 2017. You need to hear (or perhaps more precisely, not hear) what it can do for your hifi system. In an age where power cords cost more than used BMW's, this is a refreshing approach indeed."
Read the full review at: http://www.tonepublications.com/review/affordable-high-performance-power-conditioning/

In the July 2017 review Headphone.guru summed with:
"The Equi-Core 300 priced at $799.  The Equi-Core 300  is an exceptional addition and a worthwhile investment.  Listening with the conditioner for me was always better than when I removed it from the system. The time without it in the system there was a low level hum with vinyl sources and grunge while streaming from the computer. Inserted back into my system the sound was dead quiet and the system had a black noise free musical presentation. Mark Schifter once again has created an exceptional product that deals with noise issues. The Equi-Core 300 rewarded me with exceptional black and noise free musical listening experiences. If you're tired of noise interfering with your music or are seeking the last refinement in your system check the  Core Power Technologies Equi-Core 300. You may find, as I have, this product is a valuable and priceless addition to the system and the final piece that is needed to get the most out of your system. Highly Recommended."
Read the review at: http://headphone.guru/core-power-technologies-300-power-regenerator-conditioner/

Cement Perry, the editor of Stereotimes said:
"The CP Tech EQUI=CORE Balanced AC Power Source Cables punch way above their weight when it comes to performance versus price tag. Beginning at $499, they're among the top AC cords I have heard!"

In the StereoTimes review Greg Voth said:
"Upon hearing the EQUI=CORE 300 for the first time, I wrote Schifter the following: 'Magnificent sounding! It ain't coming back ;- ) "I had a feeling it wouldn't be. Congratulations!" he responded. I have since installed the EQUI=CORE into my main rig and it handles just about everything with ease."
They also said:
"With the EQUI=CORE, everything seemed so much more three-dimensional and effortless, and was stunned to hear small cues all throughout that I've never heard before – tiny the micro dynamics like instrument keys clicking and such. The presentation sounded SO much bigger and more dynamic, with deeper and more enveloping bass and a much deeper soundstage… and all this from a CD rip! The noise floor dropped noticeably lower, yielding a deeper blackness from which the sound could emerge."
Read the review at:http://www.stereotimes.com/post/core-power-technologies-equicore-300/