MiniMax CDP Level-1 mod - $650 + frt retro-fit to your player

The following details describe our Level-1 mod: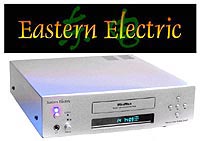 Eight ultra-fast soft recovery International Rectifier Hexfred and Telefunken Fred diodes are added to the power supply. 
Two Black Gate standard-grade electrolytic capacitors are added to the I-V power supply position. 
We add one sheet of Soundcoat dampening material to the internal chassis 
One pair of Vampire OFC copper body, gold-plated RCA output jacks are added to the rear for better signal transfer. 
8 Riken Ohm 0.5, 1 and 2 watt resistors with gold-plated leads are run in the signal path. 
Two Auricap metallized polypropylene output signal coupling capacitors are installed. 
Four polystyrene capacitors are added to the I-V and feedback positions. 
Two Analog Devices AD825 surface-mount op amps are mounted to adapter pcbs and used in the I-V position replacing the $3.00 op amps of the stock unit. 
One pair of Electro-Harmonix gold-pin 6922s replace the stock tubes. 
We use two feet of DH Labs pure silver Teflon dielectric hookup wire. 
WBT silver solder is used throughout the mod. 
We spend 5 hours labor to perform the mod. 
We offer a 90 days parts/labor warranty on the mod. 
Sonic changes of our Level-1 mod
The unit is quieter, the blacks are blacker, thus resolving more low-level detail and ambiance. 
Transparency is much improved and you can now look farther into the soundstage. 
It has a more liquid midrange and the presentation is more neutral from top to bottom. 
There is more inner detail and the unit is more dynamic. 
Images are better sized and defined. 
Stage width and depth are both improved. 
Bass slam and extension are dramatically improved and offer fuller weight and authority. The player now competes with very expensive machines at the frequency extremes.