JD300B Level-2 mod - [$3,290 + shipping, $1,500 retro-fit] - 
Our Level-2 mod installs :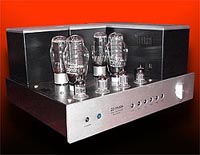 Replacement of the stock input/driver tubes with premium new-old stock Mullard ECC83/12AX7s and NOS mil-spec Mullard CV4003/ 12AU7s designed for 10,000 hour operation - these tubes are ultra low noise with ultra low microphonics 
Replacement of the stock Chinese 300B output tubes with premium Russian-made Electro-Harmonix "Gold Grid" ceramic-based 300Bs 
Two Rel-Cap TFT Teflon and tin-foil input coupling capacitors 
Six Auricap metalized polypropylene coupling and interstage capacitors 
Twenty Audio Note Tantalum ½ and 1 watt signal path resistors 
One pair of premium Vampire direct gold plated over copper body RCA female jacks 
Four WBT 0763 single output binding posts 
Eight ultra-fast soft recovery International Rectifier Hexfred diodes 
Four Vishay-Telefunken SF4007 ultra-fast soft recovery diodes to rebuild an existing bridge rectifier 
Three Black Gate power supply electrolytic capacitors 
Two feet of DH Labs Revelation Series pure 99.999% silver solid core input signal wire with Teflon tape-wrap dielectric 
Four feet of Cardas 1 x 21 gauge shielded coaxial input wire 
Two sheets of Soundcoat chassis damping material cut & applied where applicable 
Four EAR large Sorbothane isolation feet to reduce vibration 
WBT 4% silver solder used throughout 
8 hours labor 
Jolida's 18-month factory warranty extends to our modified amps. Click here for stock specs.
Sonic benefits of our Level-2 mod:
The entire character of the amp is changed. It has more power with the upgraded tubes and more pace and rhythm. Detail is improved and the frequency extremes are dramatically exploded. 
The upgraded parts make it quieter, the blacks are blacker which resolves more low-level detail and ambiance. 
Soundstaging is improved and imaging more defined, as well as both deeper and wider and with better 3-dimensional layering 
The amp is far more dynamic han before, bass has more slam, authority and weight. It goes lower and there is more midbass impact. The bass is no longer flubby "one-note" bass but now sounds more like solid-state in this area 
Tonal balance is more even from lows to highs while refining the already amazingly liquid midrange of the stock machine. It now has excellent highs and bass to match the 300B's seductive midband.