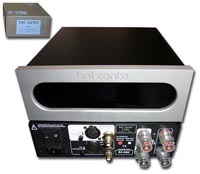 The stock e.One S-300 is a fully balanced dual mono 150wpc power amplifier. It is very stable and puts out 300 watts into a 4-ohm load. Reviews on the stock amp have been excellent. The S-300 replaces the EVo 2 MKII that was Class A rated in Stereophile. It is quieter, more dynamic and more detailed while at the same time being even less colored. Our modified unit makes this great value amplifier a great Amp. It is a steal at under $2,000k for a new modified amp. We offer a 2-year warranty on the entire amp if purchased new. This is the same as the factory warranty. Our mod was designed by Chris Johnson, the founder and former president of Sonic Frontiers.

The following details our Level-1 modifications for the S-300 [$990 plus shipping retrofit to your amp, ]
8 x BlackGate ultra-premium electrolytic capacitors 
2 x Auricap metalized Polypropylene output signal caps a 
8 Japanese Riken ½ watt "ignal path carbon resistors with gold-plated leads are added to the signal path 
2 x Mills MRA-5 non-inductive non-magnetic wirewound resistors 
2 feet of DH Labs 23 awg Revelation Series pure 99.999% silver solid core inter-stage signal wire with Teflon tape-wrap dielectric. 
2 feet of Connex BL-Ag pure silver shielded input cable is added to the input connectors. 
4 feet FIM UP-OCC Copper, Teflon-insulated 14 and 18 awg output hook-up wire are installed 
1 pair of premium WBT-0210-Cu direct gold plated over copper body RCA female jacks. 
1 sheet of ERS EMI/RFI suppression paper is applied in critical locations 
10 feet of TRT WonderSolder is used throughout. 
5 hours of labor are performed to do the mod.
Options:

Add 1 set of silver input connectors and WBT deluxe copper speaker terminals with silver wire - adds $225
Add both 1 set silver input connectors and WBT silver 0710AG speaker terminals - adds $380

Sonic improvements of the Level-1 mod
The modified amps are warmer in the midrange. They are faster with better bass definition and extension. Detail is increased across the frequency band from bass to treble. Transparency, the ability to see into the soundstage is also increased. It now also has and a wider and deeper 3D soundstage with more defined image placement in the soundstage. The finished amps are also more natural sounding and a little more tube-like in the midrange with better dynamics.