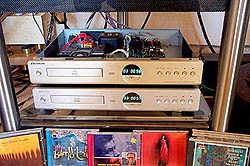 "...The only remaining audible difference between the Fog and MMF-25? The Cairn's airier top-end. The moral of this finding? For $930 plus freight (a $180 upcharge over the $750 fee for the standard Level 1 mod) Underwood HiFi sells a CD player that handily outperforms the Cairn when operated single-ended as many people without XLR preamp sockets will. For the same $930, you can acquire a player that competes fair and square against the $1,695 Cairn even when the latter goes balanced. You even gain a coaxial digital output in the bargain..."
Srajan Ebaen, April 2003, 6moons.com
---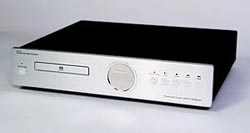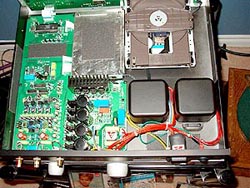 "...The Level-1 Maverick appears to be a terrific buy. It has full bandwidth delivery without sounding dry or sterile; excels at mining the pits and strata from CDs and SACDs in a musically captivating and invigorating fashion; and has given me much enjoyment. Apart from a couple of initial hiccups, the underwhelming display legibility and essentialness of the remote to access certain features, it gets an enthusiastic thumbs up. Although the Maverick is positioned as primarily a SACD player, its CD playback is so righteous that you should consider it regardless of its SACD capability. Although I ultimately didn't care for its upsampling, that's readily defeated and might strike you differently. To a penny-pinching, frugal 'phile like me, purchasing a hot-rodded unit like the Level-1 Maverick makes a ton of sense. I doubt any manufacturer could offer such premium internal quality parts and sound for $1990. Two grand, anybody, to get an ailing audiophile back on the straight and narrow?..."