Jolida
            In late 2019 Jolida will be changing their name to Black Ice Audio

With final assembly performed in the US and critical parts like transformers sourced from Germany, tube manufacturer Jolida has garnered an enviable reputation for high-performance products at real-world prices. We sell both stock and modified units.

For details about our proprietary warrantied performance upgrades, see our Modification page.

For more information, visit the manufacturer's site.

For our low stock pricing, call us.


We sell all amplifiers, DAC's preamps and CD players at prices too low to publish.


Fusion 6802
60/70wpc remote tube integrated amplifier
$2299.00 with EL34 tubes (60 watt/ch) Sale $1699.00
$2399.00 with 6550 tubes (70 watts/ch) Sale $1799.00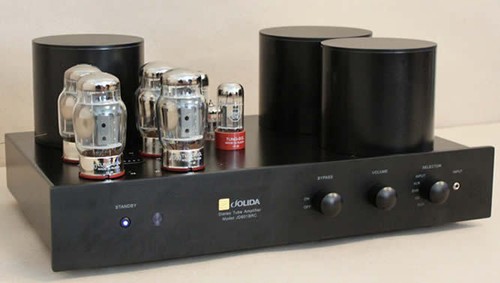 The 6802 is a remote controlled tube integrated amp that does 140 watts/ch of music power and is rated as either 60 or 70 watts continuous depending on tube choice. It has a switch to go from EL34's to 6550/KT88's. These amps come with ESA clarity caps, Hexfred diodes, and Vishay resistors. The 6802 can run with 6550 tubes, EL34 tubes, KT88, KT120, or KT150 tubes..Jolida kept all the well liked sound characteristics of the older 801 model and improved the unit with an easy interchange of tubes, lower noise, increased clarity and a smooth presentation with midrange weight and enhanced 3 dimensionality.

Specs:
Peak Music Power: 140 W per channel at 8 ohms, 1KHz, at peak 50% duty cycle
Frequency Response: (at 1 watt into 8 ohms) 6Hz to 48KHz + 1dB; 0dB at 1KHz
Bandwidth: 14Hz to 70KHz + 3dB; 0dB = 70 W 1KHz, 8 ohms
Distortion THD + N: Less than 1% at 11V output, 49Hz to 20KHz, 8 ohms
Circuit Type: Ultra Linear, Class AB1
Input Impedance: Less than 100Kohms
Input Sensitivity: Max. 550mV at 1KHz for 70 watt output
Output Impedance: 4 ohms and 8 ohms
Negative Feedback: Less than 5 dB
Noise and Hum: 70dB below rated output.
Tube Complement: 2 pairs (4) of 6550/KT88 power output; 1 pcs. 12AX7A preamplifier, 2 pcs. 6SN7GT power drivers.
Power Requirements: 110V-120 VAC 60Hz 250 watts-standby, 500 watts maximum (220 VAC -240 VAC 50Hz option).
Dimensions: 18.25 inches (46.5 cm) wide by 13.5 inches (34.5 cm) deep by 8.5 inches (22 cm) high.
Weight: 53 pounds (24 Kg) net, approximately 57 pounds (26 Kg) packaged.
Fuse: For 110/120 VAC: 6.3 amp slo blo, for 220/240 VAC: 3.15 amp slo blow. Size: 5mm X 20mm
Warranty: Two year limited parts and labor. One year or 3,000 hours whichever comes first on Jolida Tubes.

FX Tube DAC DSD
$699.00-Sale $499.00
$799.00 with Wifi (Black Ice version)

Available in black or silver
Voted as one of the best under $1000.00 DAC's by The Absolute Sound.
Amplification of Analog Signal done exclusively via Vacuum tubes.

The Wifi will stream up to 32 bit/384k and DSD 128

PCM: 32Bit/384KHz

DSD: DSD 64/DSD 128

Asynchronous Burr Brown Chip AD1896

DAC Chip: PCM 1795

R Style Transformer

State of the Art Components: capacitor filters, gold plated RCA jacks,

Finishes: Black and Silver
Preamplifiers
Fusion preamplifier Excellent full function remote controlled full tube preamplifier $1349
FOZ SS-X
Soundstage Expander & Tube buffer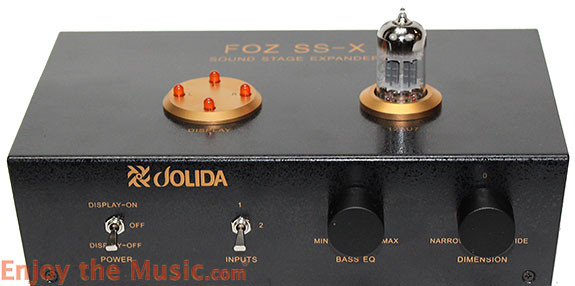 $399.00
The Foz SS-X is a small box that does 3 things. They are:
1) Tube buffer
2) Bass Control
3) Soundtsge Expander
For under $400.00 you a Jim Fosgate designed product that is pretty amazing. It will add some tube warmth to your system. It allows you to tailor the bass response of your system and it will expand or narrow your soundstage depending on yor musical selection. The initial review was superb and summed with:"I have rarely had so much fun reviewing anything audio. I was like a kid in a candy store. Experimenting with three dimensional sound using the bass control and adjusting the stage between my speakers. Switching between different sources, bad recordings and wonderful recordings. All the time anticipating what I would hear if I added a little more warmth, a bit more bass or widened the stage of a live performance. My years long battle with the uneven acoustics of my small listening space has ended. The futile addition of sound shaping things on my walls, some reflective and some absorptive, black Argent Helmholtz pipes. Sticky backed foil things on speakers even a block of clear acrylic on top of my system to focus sound. If you can relate to the fight I fought and the money I wasted then you owe it to yourself to give the $400 Dollar SSX a try. I'm keeping it."
Semper Hi-Fi

Read the entire review at:
http://www.enjoythemusic.com/magazine/equipment/0917/Jolida_Foz_SSX_Sound_Stage_Expander_Review.htm
FOZ XT-R
$379.00

Electronic crosstalk and axial tilt corrector 

The XT-R represents a distinctive electronic approach to solving crosstalk inherent in many turntable cartridges and acoustic problems due to axial tilt. The FOZ XT-R was designed by Jim Fosgate. Jim (Foz) Fosgate's life long career in audio design represents decades of work on every possible circuit approach to car stereo, surround processors, tube amplifiers, preamplifiers, phono preamplifiers and other accessories. This wide array of designs have all been explored in depth, built, and auditioned by Foz. In coupling Foz's XT-R design with Jolida's decades of manufacturing experience; the result is a unit which can provide our customers with a distinct improvement in turntable sound reproduction at an affordable price. Foz has designed an elegant electronic circuit to effectively reduce crosstalk and axial tilt. The XT-R represents a breakthrough since axial tilt and crosstalk is compensated for electronically and does not use the traditional approach of physical adjustment to mitigate the problems. The XTR incorporates signal cancellation to reduce inter channel crosstalk. This is the same technique that is used in high separation surround processors. The XTR corrects for a misaligned stylus or cantilever, misaligned generator, misaligned tone arm azimuth (axial tilt). It also reduces crosstalk from cross coupling of the generator coils or tone arm wiring. This works with moving magnet, moving iron, and moving coil cartridges. The XT-R will compensate for up to 7 degrees of axial tilt and can improve crosstalk to a maximum of 40dB. The result will be an improvement in stereo imaging.


Power amplifiers
          JD-1501P 100wpc hybrid power amplifier $949 
JD-3502P 50/60wpc full tube based power amplifier $1449 with EL34 (50 watts)/ $1575 with 6550's (60 watts)
JD-1000P 100wpc 8 tube power amplifier $2249 with 6550 tubes at 120wpc $2449.00 / $2249.00 with EL34's (100 watts)

I have one silver JD1000P  power amplifier with EL-34 tubes for only $1699.00 delivered.
Headphone amps
FX Headphone amp with 12AX7's.
$499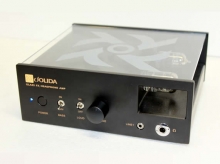 The FX HP amp is a great sounding affordable option for those looking for a quality affordable tube HP amp. It uses two 12AX7A vacuum tubes to drive a pair of headphones. There is a n ALPS audio potentiometer with, two sets gold plated RCA input jacks, one mini jack and one 1/4" phone plug. If has air, openness and richness even at low playing volumes. Adjustable bass and loudness switches add flexibility to get the sound you
want. It comes with a one year warranty and even 1000 hours on the tubes. Available in black or silver

Rated Output Power:           100 mW at a load of 32 ohms

Frequency Response:          (at 1 watt into 8 ohms) 5Hz to 100KHz   + 1dB

Bandwidth:                            20Hz to 100kHz + 1dB

Distortion THD:                    Less than 0.1% at 100mW output, 32 ohm load

Input  Impedance:                 32 ohms

Output  Impedance:              32 to 300 ohms

Input Sensitivity:                   450mV

SNR:                                       85dB

Tube Complement:               2 pcs. 12AX7

Power Requirements:          110V-120 VAC 60Hz, 220 VAC 50Hz option

Dimensions:                          7 inches wide by 6 inches deep by 4 inches high

Weight:                                8 pounds (3.65 Kg) net, approximately 11 pounds (5 Kg) packaged             Construction Details and Features: 

o Fully Integrated Vacuum Tube Headphone Amplifier: Input 450mV driving 100 mW.           

o State of the Art Components: ALPS audio potentiometer, two sets gold plated RCA input jacks, and front panel minijack input.

o Bass and Treble boost controls

o Comes in Black or Silver

Integrated full tube amplifiers

-FX-10 12wpc remote controlled integrated amp with excellent Absolute Sound review $649
-JD-1102 25wpc remote controlled EL-84 tube based integrated amplifier $1000
-Fusion 3502S New 50 watts (EL34) or 60 watts (6550) integrated amp with remote $1675.00 with EL34 tubes $1799.00 with 6550 tubes
-Fusion 801 60/70wpc remote controlled tube integrated amplifier w/upgraded transformers, HT bypass. LED simple bias and improved feature set. $2199.00 with EL34 tubes (60 watts) / $2375.00 with 6550 tubes (70 watts) Available in black or silver

 
Tube DAC's
FX Tube DAC DSD Full tube DAC with coax, optical and USB inputs- DSD Capable $699.00
FX Tube DAC DSD Wifi Full tube DAC with coax, optical and USB inputs- DSD & Wifi control $799.00
Hybrid Tube amplifiers
JD-301RC Mini 30wpc remote controlled hybrid integrated amplifier $499
JD-1501BRC 100wpc remote controlled hybrid tube /solid state integrated amplifier $1099
Phono stage
JD-9 MKII Phono stage with 3 gain stages and excellent sonics $699
F-159 The new Black Ice F159 is designed by Jim Fosgate and a superb phono stage $1495.00
The JD-100A is discontinued and no longer available.