Jolida
            In 2020 Jolida will be changing their name to Black Ice Audio
Products listed here are still available and will be gone once sold out
See the Black Ice page for current info

With final assembly performed in the US and critical parts like transformers sourced from Germany, tube manufacturer Jolida has garnered an enviable reputation for high-performance products at real-world prices. We sell both stock and modified units.

For details about our proprietary warrantied performance upgrades, see our Modification page.

For more information, visit the manufacturer's site.

For our low stock pricing, call us.


We sell all amplifiers, DAC's preamps and CD players at prices too low to publish.


Fusion 6802
60/70wpc remote tube integrated amplifier
$2299.00 with EL34 tubes (60 watt/ch) Sale $1399.00
$2399.00 with 6550 tubes (70 watts/ch) Sale $1499.00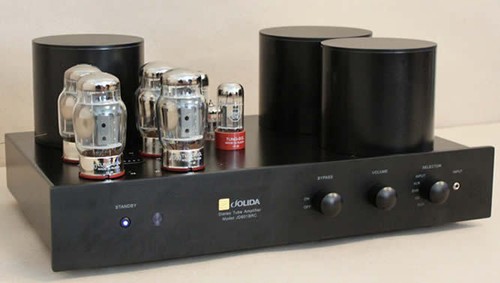 The 6802 is a remote controlled tube integrated amp that does 140 watts/ch of music power and is rated as either 60 or 70 watts continuous depending on tube choice. It has a switch to go from EL34's to 6550/KT88's. These amps come with ESA clarity caps, Hexfred diodes, and Vishay resistors. The 6802 can run with 6550 tubes, EL34 tubes, KT88, KT120, or KT150 tubes..Jolida kept all the well liked sound characteristics of the older 801 model and improved the unit with an easy interchange of tubes, lower noise, increased clarity and a smooth presentation with midrange weight and enhanced 3 dimensionality.

Specs:
Peak Music Power: 140 W per channel at 8 ohms, 1KHz, at peak 50% duty cycle
Frequency Response: (at 1 watt into 8 ohms) 6Hz to 48KHz + 1dB; 0dB at 1KHz
Bandwidth: 14Hz to 70KHz + 3dB; 0dB = 70 W 1KHz, 8 ohms
Distortion THD + N: Less than 1% at 11V output, 49Hz to 20KHz, 8 ohms
Circuit Type: Ultra Linear, Class AB1
Input Impedance: Less than 100Kohms
Input Sensitivity: Max. 550mV at 1KHz for 70 watt output
Output Impedance: 4 ohms and 8 ohms
Negative Feedback: Less than 5 dB
Noise and Hum: 70dB below rated output.
Tube Complement: 2 pairs (4) of 6550/KT88 power output; 1 pcs. 12AX7A preamplifier, 2 pcs. 6SN7GT power drivers.
Power Requirements: 110V-120 VAC 60Hz 250 watts-standby, 500 watts maximum (220 VAC -240 VAC 50Hz option).
Dimensions: 18.25 inches (46.5 cm) wide by 13.5 inches (34.5 cm) deep by 8.5 inches (22 cm) high.
Weight: 53 pounds (24 Kg) net, approximately 57 pounds (26 Kg) packaged.
Fuse: For 110/120 VAC: 6.3 amp slo blo, for 220/240 VAC: 3.15 amp slo blow. Size: 5mm X 20mm
Warranty: Two year limited parts and labor. One year or 3,000 hours whichever comes first on Jolida Tubes.
Preamplifiers
Fusion preamplifier Excellent full function remote controlled full tube preamplifier $1349
Power amplifiers
Jolida/Black Ice Fusion 3502P  60/70wpc tube amp $1699./$1,799
  Sale $999.00/$1099.00 
Tube integrated amplifiers
JD-1501BRC 100wpc remote controlled hybrid tube /solid state integrated amplifier $1099
Sale $699.00