Crimson Beauty & Raven Beauty 350
$9500.00/pr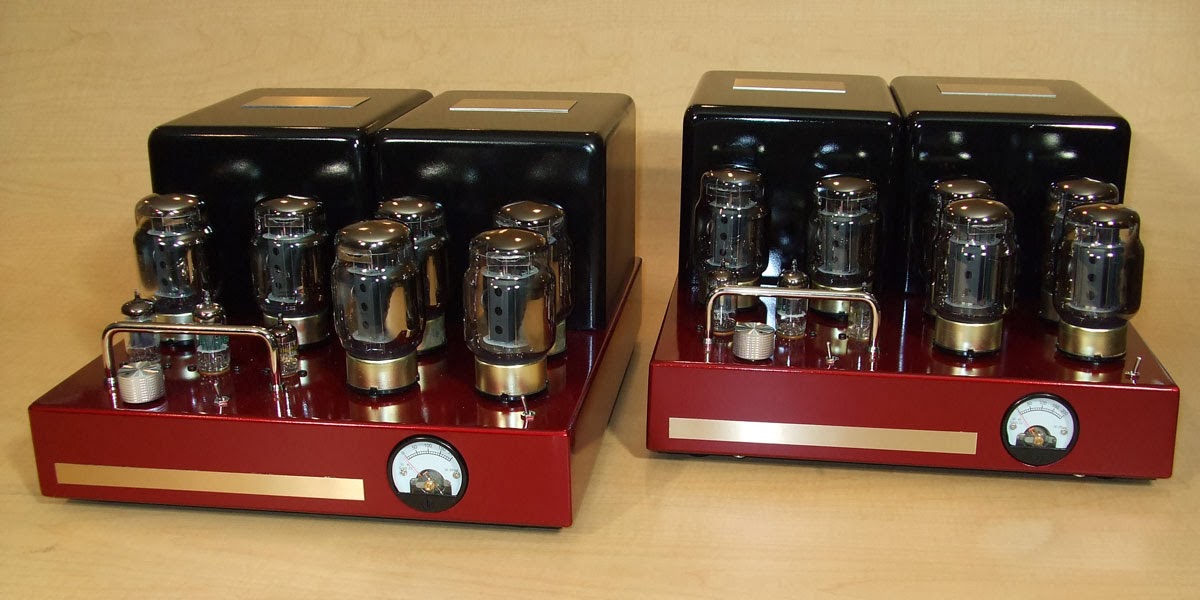 Following on the heels of his highly reviewed previous 305 amplifier, Bob has created the Crimson 350 and Raven 350 (Black version). Never one to rest on his laurels, Bob has yet again created a design that sets a new benchmark, defining what a high power vacuum tube amplifier should be.
Bob increased the energy storage three-fold, compared to the previous 305. Utilizing the Tung-Sol KT-120 output tubes, the Crimson 350 will bring new life to your music library with its extended dynamic range and abundant output power. These KT-120s are rated for 60 watts of audio output each, and this amp has six of them for an easy 350 watts RMS. These tubes are one and a half times as powerful as the ubiquitous 6550 or KT88. According to Bob, they "sound beautiful, sweet, and so incredibly delicate, that once again, it is difficult to believe. But it's true. Honest! I love their unique shape. The KT150 tube is available for $500.00 more for the pair of amps.
Using his own transformer design, the Crimson 350 delivers 350 watts into 8 ohms (400 watts into 4 or 2 ohms) of pure sonic ecstasy, regardless of the loudspeaker's impedance vs. frequency. The new, heavier output transformer delivers enormous power through an increased turns ratio, with two extra interleaved windings, each bifilar wound on a core of Adamantine steel with a pure nickel center section. The secondary's are wound with oxygen-free copper wire and 98% pure silver wire for the critical internal interconnections. As Bob says, "I could go on and on, but I will say that the bandwidth of this output transformer is an amazing two hundred and fifty kilohertz - that's a quarter of a megahertz!" This extra wide bandwidth ensures perfect stability into one ohm speakers, including those that possess almost impossible-to-drive impedance characteristics! Even the one ohm Apogee Scintillas, or any other speaker that dips down to 0.75 ohms, for that matter. Martin Logan electrostatics, for example, whose impedance drops down even lower than that at very high frequencies (to about 0.5 ohms). This amplifier can drive them all with aplomb!
The Crimson 350's bias is easily and simply adjusted using a single control, making it unnecessary to adjust the bias individually for each output tube set. The DC restorer circuit, an exclusive to Bob Carver designs, keeps the output tubes running cool, prolonging their life to beyond 50 years! Prior to the advent of this feature in Bob's amplifiers, other amplifiers operated their vacuum tubes at a very high idle power in order to keep the distortion low, frequency response extended, as well as for a host of other reasons, related to amplifier performance. And they still do. The downside of doing so is that the tube life is drastically shortened, about three to six years at the most. Worse yet, tube performance begins to deteriorate as soon as the amp is turned on, gradually (and insidiously) robbing the listener of sonic pleasure. In addition to extended tube life, thanks to this invention, there is also no need to purchase expensive matched tubes for the Crimson 350.
The screen voltage is regulated on speech and music to a difficult and almost impossible to believe 1%, and the bias regulator has been redesigned to almost perfectly restore the DC component of the incoming audio signal. Nothing else can even come close to this performance.
Another significant feature of Bob's design is its ability to "listen to the room," sometimes referred to as the 'speaker-microphone effect.' Facilitated by a special current feedback loop, it allows the amplifier to 'hear' the room's reverb, along with its unique sonic signature. Each room plays its own tune, and this amp uses the speaker as a microphone by using the speaker in reverse (the theorem of reciprocity) to 'listen to the room,' thereby allowing a portion of the room acoustic to be expressed through the main speakers. Think of it this way, the room becomes an integral part of the music in a way no other amplifier allows. The sound is more majestic, more realistic, and the soundstage is larger and more compelling than it would be without this unique, spooky and strange ability. To be sure, all tube amps do this in small, almost miniscule amounts (Harry Pearson noted this long ago), but this amplifier does it to a great extent and in a rather complex manner by very intentional and special design. This phenomenon is impossible to achieve with normal solid-state amplifier designs, whose low source (output) impedance effectively shorts out the speaker's ability to accomplish this feat.
The Crimson 350 brings added clarity, life, and presence to any existing system and loudspeakers. Matching it with The Amazing Line Source will make every seat in your listening room, 'front row, center'!
Also available as the Raven 350 in black as shown below
Specifications
Rated Power:
350 watts/8 ohms, 400 watts/4 ohms, 400 watts/2 ohms
Frequency Response:
2 Hz to 85 kHz (-3 dB)
Distortion:
Less than 0.5%
Power Bandwidth:
24 Hz to 28 kHz without filters
Line Inputs:
2; balanced or RCA
Input Impedance:
100 kohms (RCA)
Gain:
30 dB (8 ohms)
Tube Complement:
One 12AX7, one 12AT7, one 6AL5, six KT120
Hum and Noise:
Better than 120 dB, referred to 350 watts, A-weighted
Bias:
Rear panel potentiometer adjust, front panel meter
Feedback Control:
20 dB, 'classic'; 11 dB, Contemporary
Output Transformer:
Interleaved windings, super wideband, low leakage inductance, proprietary design
Source Impedance:
1.7 ohms
Speaker Outputs:
2, 4, and 8 ohms
Color:
Crimson Red with Gloss Black, Natural Aluminum, Bright Chrome
Dimensions/Weight:
7.2" X 12" x 14" (H x W x D) / 44 lbs. per chassis
Country of Origin:
United States of America
Warranty:
10 years, including tubes 
Specifications subject to change without notice.