Silver 7 mono amps and Amazing line source speakers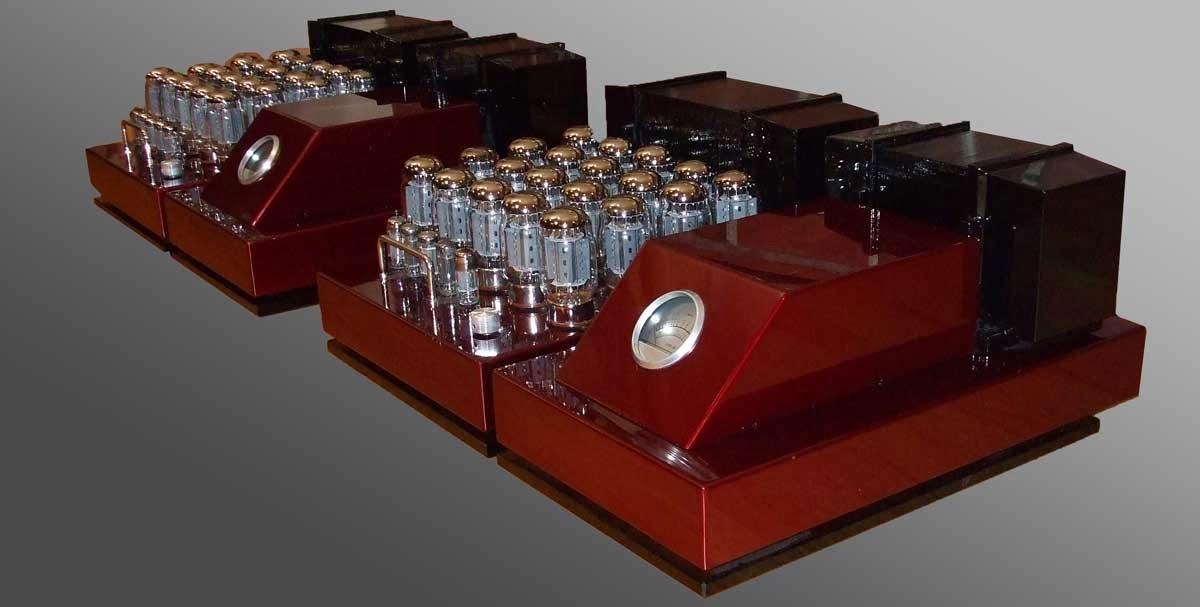 Silver Seven 700 mono amp 
$32,000 a pair
Each amp will produce 900 watts into 1-8 ohms and drive any speaker made. The new DC restorer circuit means that the tubes will last as long as 50 years. These new amps come with a Lifetime warranty including the tubes.
Ask us about 6 months NO PAYMENTS and NO INTEREST thru PayPal
Raising the bar set by the original Carver® Silver Seven™ (also named by The Absolute Sound as one of the ten most significant amplifiers of all time!), the only thing more massive than the amplifier itself is the expansive soundstage it will create in your listening room. With 900 watts RMS at 8 ohms (typically 1000 watts) of power per channel, the 2 chassis Silver Seven 700 mono amplifier can drive even the most difficult, low impedance loudspeakers with authority, regardless of the program material. With its tube complement of 20 6550 power tetrodes (18 as output tubes, 2 used as screen regulators) per channel, the Silver Seven 700 is without peer.
The heart of any great vacuum tube amplifier, regardless of its power output, is the output transformer. Without an output transformer as advanced as the amplifier design itself, it would be impossible to deliver the sonic richness of the Silver Seven 700 to the loudspeakers. Designed by Bob as well, the output transformer used is probably the best output transformer there is.Regardless of pedigree, any amplifier is only as good as its build quality, and the Silver Seven 700 represents the peak of that realization. In addition to designing the layout and construction methods, each amplifier is individually handmade, one at a time, by 'Tubular Joe' Bonin, one of the finest craftsmen of his kind. The workmanship of the Silver Seven 700, like its sonic qualities, is meticulous, detailed, and flawless. Each amp is then hand tuned by Bob personally.
Call me to discuss these superb mono amplifiers. With a Lifetime warranty on the Amp AND Tubes they are truly an investment well made.
 
Rated Power (8 ohms):
900 watts RMS continuous,
900 watts RMS with vocal and music
Frequency Response:
2 Hz to 85 kHz (-3 dB) 
Distortion:
Less than 0.5%
Power Bandwidth:
18 Hz to 28 kHz
Line Inputs:
2 (RCA); Normal (AC coupled) or
Lab Direct (DC coupled)
Input impedance:
100 K ohms 
Gain:
36 dB
Tube complement:
One 12BY7A, one 12AL5, three 12BY7A,
and twenty KT-120s
Hum and Noise:
Better than 120 dB, referred to 700 watts,
A-weighted 
Bias:
Rear panel potentiometer adjustment
Source Impedance:
1.7 ohms
Speaker Output Taps:
2, 4, and 8 ohms.
Designed to drive any load 0.75-ohm and higher
Color:
Deep burgundy with gloss black, natural aluminum, and bright chrome highlights
Dimensions
Amplifier Chassis: 9" (228.6mm) x 13" (330mm) x 20" (508mm) x 2
Power Supply Chassis: 9" (228.6mm) x 11" (279.4) x 20" (508mm) x 2

Weight:
Amplifier Chassis: 55 lbs. x 2
Power Supply Chassis: 45 lbs. x 2
Warranty:
10 years
Specifications subject to change without notice.