Auralic
Auralic has been an industry leader in digital music playback for some years now. Their Aries streaming bridges set many industry firsts and the new all in one Altair Streamer/DAC offers superb value at only $1899.00.
Postive Feedback Writers' Choice Award, 2017
for the POLARIS,

Positive Feedback Brutus Award, 2017

 for the new ARIES G2 and 

Hifi World's 'Network Player of the Year 2017' Award

 for the Aries.
Aries G2 State of the art music Streamer with Wifi
Shipping now
$3899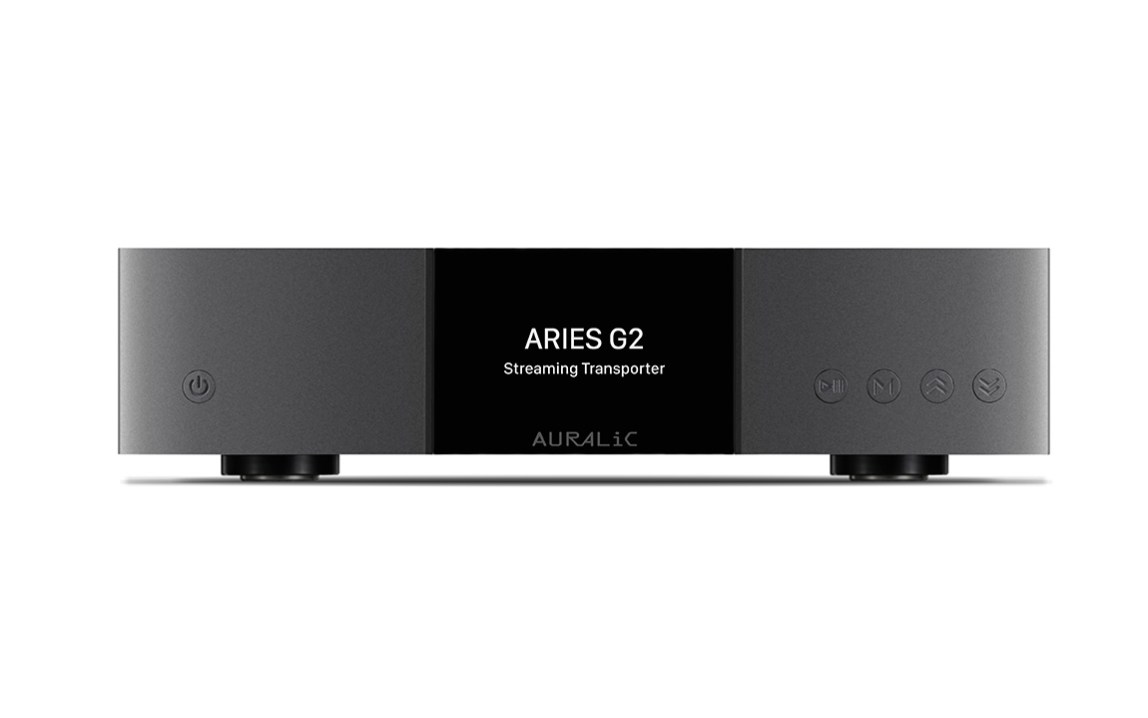 ' The ability to present a clear, detailed reproduction of the music came through on any genre played through the Aries - be it pop, rock, classical, chamber or whatever. And, of course, the better the file quality and DAC you choose to run it with the more impressive that performance becomes.'
'

let me say that I think I would recognize the new Aries G2 from AURALiC (even with my limited time this is a clear Brutis Award winner - $3899'
At its core the ARIES G2 is a device that unites disparate sources of today's highest resolution music files and delivers that source material to your DAC, reliably and precisely, via output options including AURALiC Lightning Link, High-Speed USB Audio 2.0, AES/EBU, digital coaxial, and TOSLINK. The processor at the heart of the ARIES G2 is 50% faster than the original ARIES Streaming Bridge, with twice the system memory and data storage of its predecessor. That means even easier handling of resolutions up to DSD512 and PCM 32bit/384K, and increased protection against dropouts.
The use of AURALiC's Lightning Streaming infrastructure lets the ARIES G2 make those connections with your music files possible over your existing Wi-Fi network, and brings with it added features like On-Device Playlists, Memory Caching, Gapless Playback and Bit-Perfect Multi-Room functionality. It's all controlled via the AURALiC custom iOS app, Lightning DS – or access Lightning setup through the new web interface on any smart device at all. In addition to compatibility with AirPlay, the ARIES G2 is a certified Roon Ready endpoint for seamless integration with Roon software, making it one of the most flexible streamers available in hi-fi.

The original Aries is discontinued and sold out. The replacement is due out in May
Altair
$1899.00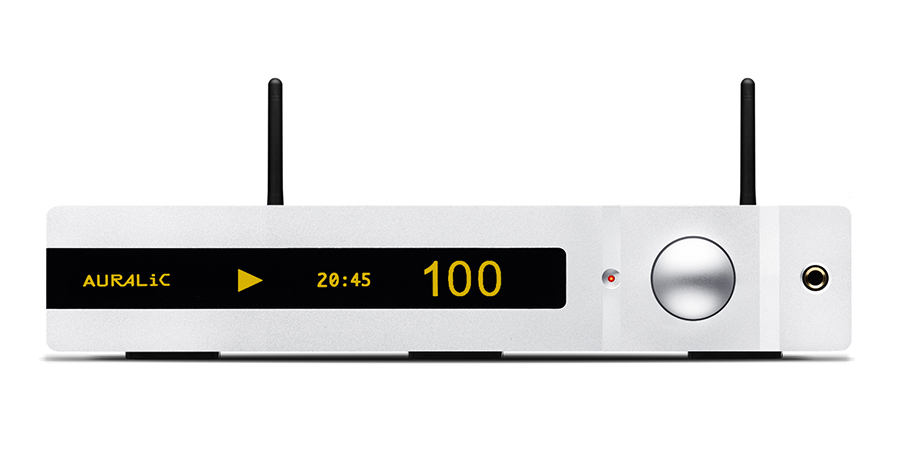 The Altair is the perfect single-box music source for your modern HiFi system. It combines a High-End DAC with world class wireless streaming solution. The 15 input sources including stream from Network Shared Folder, USB drive, Internal music storage (optional), uPnP/DLNA media server, TIDAL and Qobuz streaming, Internet Radio, AirPlay, Bluetooth, Songcast and RoonReady. The rest of digital inputs are AES/EBU, Coaxial, Toslink, USB device to computer, 2 USB host for storage and external DAC.
ALTAIR is developed based on AURALiC's award-winning VEGA Digital Audio Process and Lightning Streaming platform, industry's first streaming technology that supports DXD and Quad-Rate DSD playback through WiFi network. It also supports several advanced features such as gapless playback, on-device playlist and multiple-room functions.
In the review of the Altair Streaming DAC Pre-amplifier as featured in the February 2018 issue of Hifi World magazine.
" I recall marvelling at how good Daft Punk's 'Random Access Memories' (Studio Masters Edition - 24bit/88kHz) sounded through an Auralic Aries feeding a Chord 2Qute DAC (combined price £2495). The Altair matched that – but at significantly lower cost.'"

" I put together a quality system around the Altair, connecting it to a Naim Nap 100 power amplifier and a pair of Neat's Iota Alpha loudspeakers. At a total cost of £3894 this was one fun combination with firm bass and great midrange detail, keeping me playing track after track. What more could anyone want?'"

" Auralic have a deserved reputation for high quality digital at a realistic price – and the Altair is proof of that. It's a multi-purpose component offering flexibility, performance and ease-of-use that can act as the centre of any digital music system. Just add decent loudspeakers and a power amplifier for a top-notch system."
ALTAIR is available in silver and black color.
Vega Digital to Analog Converter
$3499.00
Sale $2799.00

Auralic VEGA
, the next generation digital audio processor, is developed with the goal of 'seeking for non-compromised sound'.  With plenty of I/O ports and powerful function, it will become the kernel component of your high-end stereo system.
With Sanctuary Audio Processor as heart, AURALiC introduces several cutting-edge technology for VEGA: Megahertz upsampling algorithm up-samples all PCM music to 1.5MHz in 32bit; Femto Master Clock provides an ultimate clock precision with jitter only 82 femtoseconds(0.082 picosecond). Binding with other AURALiC's patented technologies such as 'ORFEO Class-A module' and discrete 'Purer-Power™ solution', VEGA will bring high resolution music playback experience to climax.
VEGA supports all high resolution music formats including DXD(352.8KS/s, 384KS/s in 32bit) as well as DSD stream at 2.8224MHz and 5.6448MHz. Five digital inputs include AES/EBU, coaxial(set of two), toslink and USB. The balanced and single-ended analog outputs can connect to power amplifier directly, adjusting volume in digital precision without dynamic loss.

The Flexible Filter Mode embedded inside VEGA has six modes, each contains several digital filters optimized for corresponding sampling rate. These filters are solely developed by AURALiC to optimize the listening experience for different music and format. VEGA allows its user to customize according to different music formats, tuning sound best to personal preference.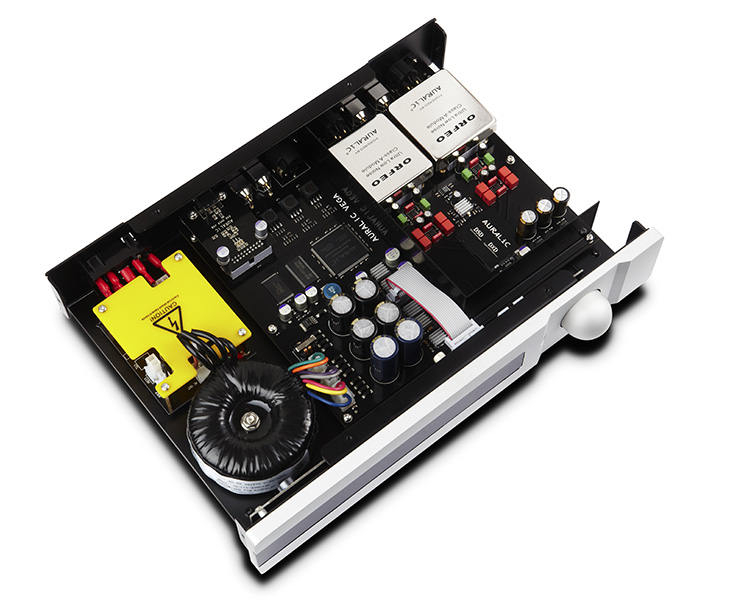 Vega G2
$5699.00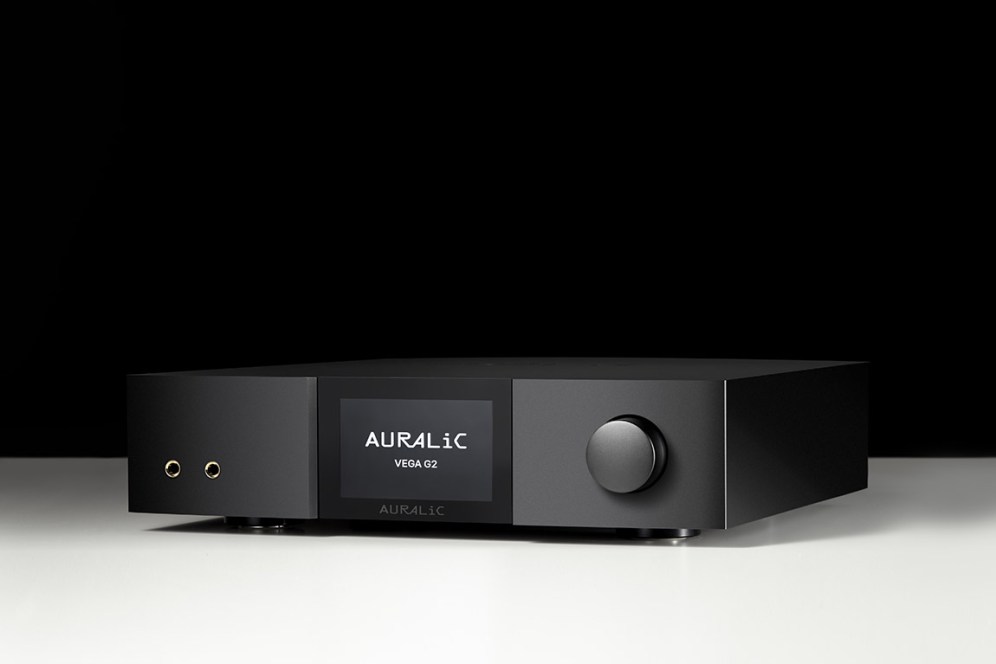 In the 5 star EAR rewview thay said:
"The Vega G2 is superbly built and capable of very high sound quality for the asking price, it has competition to be sure but not much of it combines such a broad feature set with such remarkable decoding abilities. I'll be impressed if anything comes along that can do much better for the money."
Read the entire review at:  http://www.the-ear.net/review-hardware/auralic-vega-g2-dac-network-streamer-preamplifier

 
February 2018 issue of Hifi+ magazine they said:
 
' As the track played through the VEGA G2, three thingscaught my ear: the brilliant purity and richness of the tonal colours of each of theinstruments in play, the dead-accurate rendering of the dynamic envelopes of theinstruments (and especially of their distinctive attack and decay characteristics),and—once again—the striking three-dimensionality of the overall presentation. Inshort, the G2 offered up a sound that was at once invigourating, elegant, refined, and 
" AURALiC's VEGA G2 represents a big sonic step forward from the firm's well-respected VEGA Digital Audio Processor and it also is one of the most beautifulsounding and accomplished DACs I've ever had the pleasure of using in myreference system. For this reason and more, the VEGA G2 is thoughtfully and enthusiastically recommended.'"The ARIES G2 Streaming Transporter wirelessly connects your home audio system to all your diverse sources of digital music, from networked and USB-attached storage to lossless Internet streaming services and Internet radio. Install any 2.5" solid-state or hard drive and the ARIES G2 becomes a fully functional music server in its own right with on-device hosting of your digital library. Feature-rich and lightning fast, the ARIES G2 incorporates cutting-edge galvanic isolation engineering and ultra-clean power control for impeccable care of the digital signals it handles. Dual Femto Clocks and an EMI-shielding chassis machined from a single billet of aluminum are among the features that make the ARIES G2 destined to set a new standard of quality in digital audio streaming.

VEGA G2 Streaming DAC
The VEGA G2 Streaming DAC is a DAC with the power to flawlessly process all of today's highest-resolution digital music formats, up to DSD512 and PCM in 32bit/384K. But the VEGA G2 is also a fully-functional streamer, capable of connecting directly to your digital music sources. Compared to the original VEGA, the VEGA G2 has a completely re-designed structure, utilizing AURALiC's Tesla Platform to buffer, process and carefully regulate delivery of the source signal to a customized DAC chip. For the first time in the audio industry, it's a DAC that operates independently of the source signal's frequency: VEGA G2 buffers data in such a way that it has no need to lock on to the frequency of its source signal. Never before has a DAC been able to entirely govern timing with its own clocking – in this case those extremely precise Dual 72 Femto Master Clocks. Freed from outside limitations, the VEGA G2 delivers completely jitter-free performance.
At the heart of the VEGA G2 is the AURALiC Tesla Platform, sporting a Quad-Core A9 chip, 1GB DDR3 memory and 4GB of storage for calculation speeds 25 times faster than its predecessor. Add brand-new Galvanic Isolation that permits data transmission between primary circuits that are entirely separated physically and ultra-clean power from Dual Low-Noise Linear Purer-Power units, and it's clear this DAC strives for an analog signal that's as pure as it is loyal to the music.
Fully Passive Volume Control is another new feature appearing in the VEGA G2. It's based on a unique resistor ladder attenuator network built by AURALiC, and draws exactly zero current once it's set. Zero current equals zero interference, and it's one more innovation under the hood of the VEGA G2 that reflects an obsessive attention to detail. Together with AURALiC's ORFEO Class-A Output Module, inspired by classic analog designs, the end result is an incredibly faithful level of musical presentation.
Incorporating AURALiC's Lightning Streaming technology, the VEGA G2 takes on all the streaming functionality and connectivity of a dedicated streamer. When connected over Ethernet to a home network, all of Lightning Streaming's features become available. User control is at provided via the AURALiC custom iOS control app Lightning DS, and Lightning Server setup for the VEGA G2 is made easy with universal access to the new web interface from any smartphone, tablet, or computer. The VEGA G2 Streaming DAC is a certified Roon Ready endpoint too, for seamless integration with Roon software.
 
Type: Streaming DAC preamplifier
THD: <0.00015%, balanced <0.00012%
Dynamic Range: single ended <124dB, balanced <130dB
Streaming Inputs: Network shared folder, USB Drive, uPnP/DLNA Media Server, TIDAL and Qobuz streaming, Internet Radio, AirPlay, Bluetooth, Songcast
Digital Inputs: AES/EBU, Coaxial, Toslink, USB B, Lightning  Link, RJ45 Gigabit Ethernet, 802.11b/g/n/ac, Tri-Band WiFi
Analogue input: single ended RCA
Analogue outputs: Balanced XLR, single ended RCA, 2x 6.3mm headphone Jack
Supported File Formats: AAC, AIFF, ALAC, APE, DFF, DSF, FLAC,
MP3, OGG, WAV, WV and WMA
Supported Digital Formats: PCM from 44.1kHz to 384kHz in 32Bit, DSD64, DSD128, DSD256, DSD512
Output Voltage: 4Vrms at 0dBFS (XLR), 2Vrms at 0dBFS (RCA)
Control Software: Lightning DS for iOS, RC-1 remote handset, OpenHome compatible, uPnP compatible control software, Roon
Dimensions WxHxD: 338 x 84 x 300mm
Weight: 7.8kg
The Aries Mini
is discontinued and no longer available