Auralic
Auralic has been an industry leader in digital music playback for some years now. Their Aries streaming bridges set many industry firsts and the new Aries G2 sets a new standard in quality music streaming.
Aries G2 State of the art music Streamer with Wifi
Shipping now
$4,349
Also available with internal 2TB or 4TB solid state drives that we install for you to make a world class server
$4699.00 with 2TB drive or $5,199.00 with 4 TB drive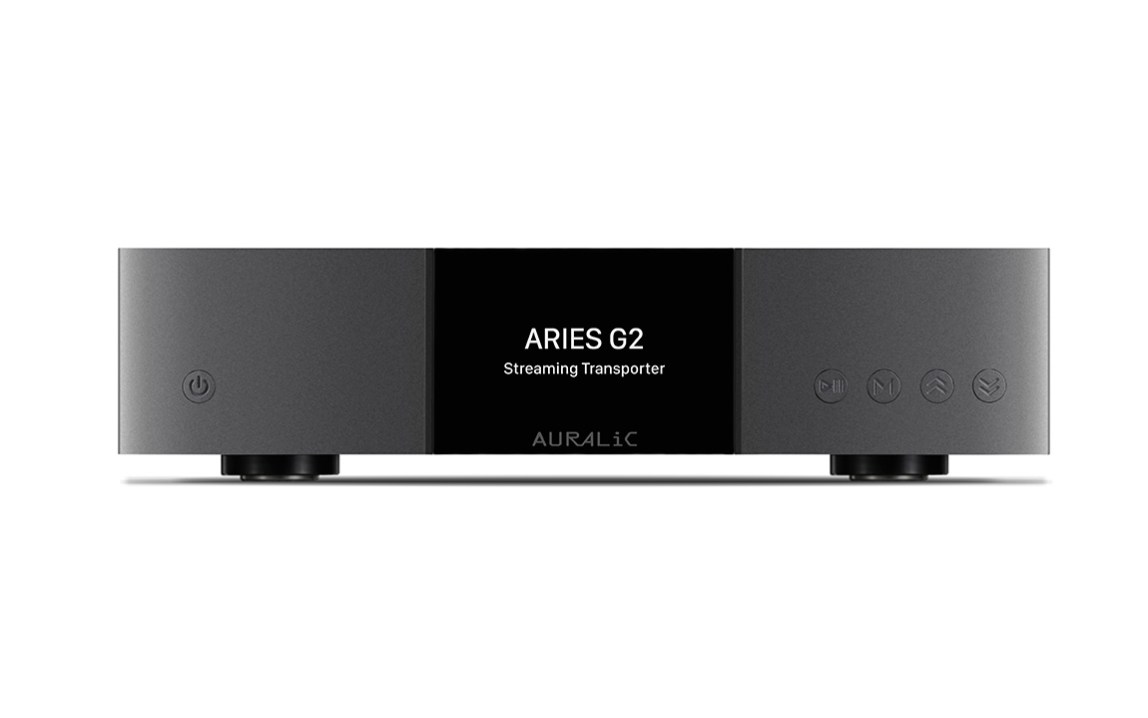 '

I couldn't stop using the G2 when reviewing other kit, but will limit it to the fact that this streamer is the best I have had the pleasure of using and it will be a real wrench when it goes away

. It has delivered truly inspiring and transcendent music with everything from Laurie Anderson to Frank Zappa and makes it abundantly clear what's going on in all the music you play, so long as the rest of the system is capable of letting that through. In other words you need a good system to hear what it can do, which means a DAC of similar price and amplification and speakers of the same calibre. 

The Auralic Aries G2 is for the moment my benchmark for what a streamer can do '


Rerad the entire review at: http://www.the-ear.net/review-hardware/auralic-aries-g2-network-streamer

In the Computer Audiophile review they summed with:


"
Here's my honest take on the Auralic Aries G2. The Aries G2 is a great reference level digital to digital converter plus so much more. The G2 is beautifully designed and crafted to match a whole series of G2 level components and to equal the quality one should expect from something at the top of the line. No matter what album or track I played, I heard magic through the Aries G2 and my selection of reference DACs from dCS, EMM Labs, and Berkeley Audio Design. The Auralic Aries G2 is definitely C.A.S.H. List worthy. I can't wait to connect it to the rest of the G2 series." 
Read the entire review at:
https://www.computeraudiophile.com/ca/reviews/auralic-aries-g2-review-r746/
' The ability to present a clear, detailed reproduction of the music came through on any genre played through the Aries - be it pop, rock, classical, chamber or whatever. And, of course, the better the file quality and DAC you choose to run it with the more impressive that performance becomes.'
'

let me say that I think I would recognize the new Aries G2 from AURALiC (even with my limited time this is a clear Brutis Award winner - $3899'
​
The ARIES G2 Streaming Transporter wirelessly connects your home audio system to all your diverse sources of digital music, from networked and USB-attached storage to lossless Internet streaming services and Internet radio. Install any 2.5" solid-state or hard drive and the ARIES G2 becomes a fully functional music server in its own right with on-device hosting of your digital library. Feature-rich and lightning fast, the ARIES G2 incorporates cutting-edge galvanic isolation engineering and ultra-clean power control for impeccable care of the digital signals it handles. Dual Femto Clocks and an EMI-shielding chassis machined from a single billet of aluminum are among the features that make the ARIES G2 destined to set a new standard of quality in digital audio streaming.
At its core the ARIES G2 is a device that unites disparate sources of today's highest resolution music files and delivers that source material to your DAC, reliably and precisely, via output options including AURALiC Lightning Link, High-Speed USB Audio 2.0, AES/EBU, digital coaxial, and TOSLINK. The processor at the heart of the ARIES G2 is 50% faster than the original ARIES Streaming Bridge, with twice the system memory and data storage of its predecessor. That means even easier handling of resolutions up to DSD512 and PCM 32bit/384K, and increased protection against dropouts.
The use of AURALiC's Lightning Streaming infrastructure lets the ARIES G2 make those connections with your music files possible over your existing Wi-Fi network, and brings with it added features like On-Device Playlists, Memory Caching, Gapless Playback and Bit-Perfect Multi-Room functionality. It's all controlled via the AURALiC custom iOS app, Lightning DS – or access Lightning setup through the new web interface on any smart device at all. In addition to compatibility with AirPlay, the ARIES G2 is a certified Roon Ready endpoint for seamless integration with Roon software, making it one of the most flexible streamers available in hi-fi.
 

Altair G1
Streaming DAC - Now shipping
$2699
 
the ALTAIR is now the ALTAIR G1, a preamp, DAC and music streamer. Internal hard drive music storage is an option. AURALiC has switched up the D/A converter from an ESS 9018 DAC chip to an ESS 9038Q2M, improved the analogue output stage, lifted the processor platform to G2 status (with 2GB RAM) and wrapped the whole shebang in a G1 chassis, complete with 4″ colour display and Smart IR.The Altair G1 can function as a Roon endpoint and can stream Tidal, Qobuz and Spotify Connect. It is also offers Bluetooth, Airplay and Songcast connectivity.

 
Like the original ALTAIR, we look to AURALiC's own Lightning DS streaming platform to stream music from elsewhere on our home network, from Tidal, from Qobuz, or from a hard drive fitted to the unit's underbelly. Alternatively, the ALTAIR G1 can serve as a Roon Ready endpoint and is compatible with Airplay, Songcast, Spotify Connect and Bluetooth.
 

Rear shot


Inside shot
Altair
$1899.00
One clean demo left at $1299.00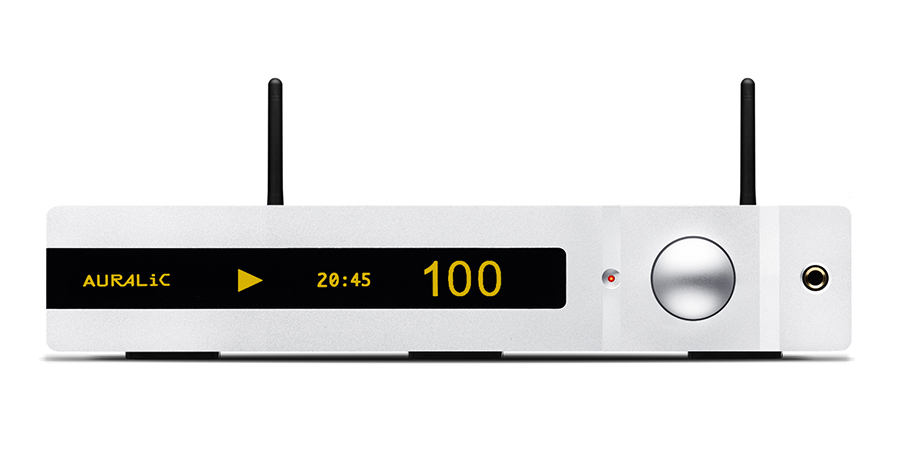 The Altair is the perfect single-box music source for your modern HiFi system. It combines a High-End DAC with world class wireless streaming solution. The 15 input sources including stream from Network Shared Folder, USB drive, Internal music storage (optional), uPnP/DLNA media server, TIDAL and Qobuz streaming, Internet Radio, AirPlay, Bluetooth, Songcast and RoonReady. The rest of digital inputs are AES/EBU, Coaxial, Toslink, USB device to computer, 2 USB host for storage and external DAC.
ALTAIR is developed based on AURALiC's award-winning VEGA Digital Audio Process and Lightning Streaming platform, industry's first streaming technology that supports DXD and Quad-Rate DSD playback through WiFi network. It also supports several advanced features such as gapless playback, on-device playlist and multiple-room functions.
In the review of the Altair Streaming DAC Pre-amplifier as featured in the February 2018 issue of Hifi World magazine.
" I recall marvelling at how good Daft Punk's 'Random Access Memories' (Studio Masters Edition - 24bit/88kHz) sounded through an Auralic Aries feeding a Chord 2Qute DAC (combined price £2495). The Altair matched that – but at significantly lower cost.'"

" I put together a quality system around the Altair, connecting it to a Naim Nap 100 power amplifier and a pair of Neat's Iota Alpha loudspeakers. At a total cost of £3894 this was one fun combination with firm bass and great midrange detail, keeping me playing track after track. What more could anyone want?'"

" Auralic have a deserved reputation for high quality digital at a realistic price – and the Altair is proof of that. It's a multi-purpose component offering flexibility, performance and ease-of-use that can act as the centre of any digital music system. Just add decent loudspeakers and a power amplifier for a top-notch system."
ALTAIR is available in silver and black color.
Vega G1 Streaming Digital to Analog Converter
$3,999.00
     

In the latest review in Hifi + Alan Sircom sums with:
"The G1 not being a G2 only manifests in comparison. In day-to-day use, the VEGA G1 is an ideal network streaming device that puts many really good rival products to shame. It's extremely well built, sounds exceptionally good, and plays nice with most products it's likely to be hooked to. I started this investigation to see what all the fuss was about, and now I'm reading from the AURALiC Fanatic's Handbook. The company really does live up to the hype, as anyone who gives the VEGA (G2 or G1) a serious listen will attest. In fact, they might well say one of the notes I made while listening to the AURALiC VEGA G1 – Bloody hell... this thing's good!
"
Read the entire review at:
http://www.hifiplus.com/articles/auralic-vega-g1-network-streaming-dac/
In the first review if the Vega G1 the-ear.net gave it 5 out of 5 stars and summed with:
' The Auralic Vega G1 is a well thought out streamer/DAC that clearly benefits from technology created for the considerably more spendy Vega G2. Naturally there are trade-offs but it does all the important things well, with neutrality of balance and consistency of timing being among the clearest. The combination of such engaging music making with very high build quality and one of the nicest control apps in the business make the Vega G1 a hard act to beat, put it with a decent server and it will deliver results that will revise your opinion of what can be done with digital audio'
The Audio-head revuew summed with:

"The VEGA G1 is a flexible piece of hardware. It is flexible in the sense that it can reproduce music in a pure, lively, robust signal for any your transducers. It is flexible because it is never stiff, but rather effortless, diverse and wildly nuanced in its translation of source material. With the right back end, acoustic shenanigans may ensue. From a value standpoint, it's hard to deny the draw of a giant bonus in the form of a wired streamer. Those prospecting in the market will find refuge in the sound quality and technical aspirations of the device. And even though it brings me little joy to say this, owners of the original VEGA (which we still love) will see improvements with the latest revision from Auralic – upgrade approved. The palate it sends offers up fleshy fineness for your ears to grab onto. There is intrinsic body to the reproduction without outside coloration. It's a powerhouse, even though it doesn't provide the muscle direct to the speakers. The G1 is a well-executed digital product that doesn't hold much back, highly recommended."
See the entire Audio-head review at: https://audio-head.com/review-auralic-vega-g1-streaming-dac/
The terrific sound of AURALiC's first VEGA digital-to-analog converter made it an instant hit when it was released, and this year's upgrade to the original definitely lives up to an impeccable sonic standard. But the VEGA G1 Streaming DAC goes a lot further, with integrated streaming functionality and a host of improvements that are, once again, drawn from AURALiC's top-end lineup.

           It starts with that ability of the VEGA G1 to pull double duty as a high-resolution streamer. AURALiC has slipped its Tesla platform into the VEGA G1 just as it did for the G2, giving it the power to connect to local network locations, lossless Internet sources like TIDAL, Qobuz, and Spotify, and Internet Radio. High-resolution content from those sources is streamed right to the G1's DAC circuit. The Tesla platform making that possible consists of a Quad-Core Cortex A9 chip with 1GB of DDR3 memory and 4GB of storage — plenty of horsepower to get the job done.

          Last year AURALiC introduced a terrifically innovative DAC feature, wherein those resources of the Tesla platform allowed it to handle incoming data in such a way that the DAC didn't need to lock on to the frequency of the source signal at all. It could actually operate independently of the source signal's frequency, thus rendering signal and synching errors — and their resulting jitter — completely irrelevant. That independent, Jitter- Free Operation has also made its way into the G1, highlighting AURALiC's commitment to this creative solution to one of digital's biggest challenges. When it comes to signal conversion, VEGA G1 turns to the same customized DAC chip
that AURALiC used in the G2 version, and the G2's super speedy 72fs Femto clock is here too, taking care of clocking duties for impressively precise signal handling. On the
analog side, ARIES G1 sticks with the ORFEO Class A output module that has been impressing fans for years, and a set of Flexible Filter modes that experienced users will
find familiar returns. Once again the upscale G2 line's influence is evident in the VEGA G1's appearance.

          Housed in black anodized aluminum with a silver rotary knob, the G1 features the same 4.0-inch true color retina resolution display that figures prominently in the G2 line. And there are plenty of options on the back of the unit for hard connections from other digital source components if you need them: AES/EBU, Coaxial, Toslink, and USB HS are all available in addition to the Ethernet port for network streaming. VEGA G1 supports both streaming and conversion of all of today's highest-resolution
digital music formats, up to DSD512 and PCM in 32bit/384K, and it stays up to date with OTA updates from AURALiC. Lightning Streaming is the foundation for VEGA G1's
streaming functionality, and as always that means On-Device Playlists, Memory Caching, Gapless Playback and Bit-Perfect Multi-Room features are part of the package. The
Lightning DS control app for iOS supplies all playback and browsing features, and there's a web admin for setup and configuration. VEGA G1 also supports Spotify Connect
and RoonReady features.
Vega G2
$6,599.00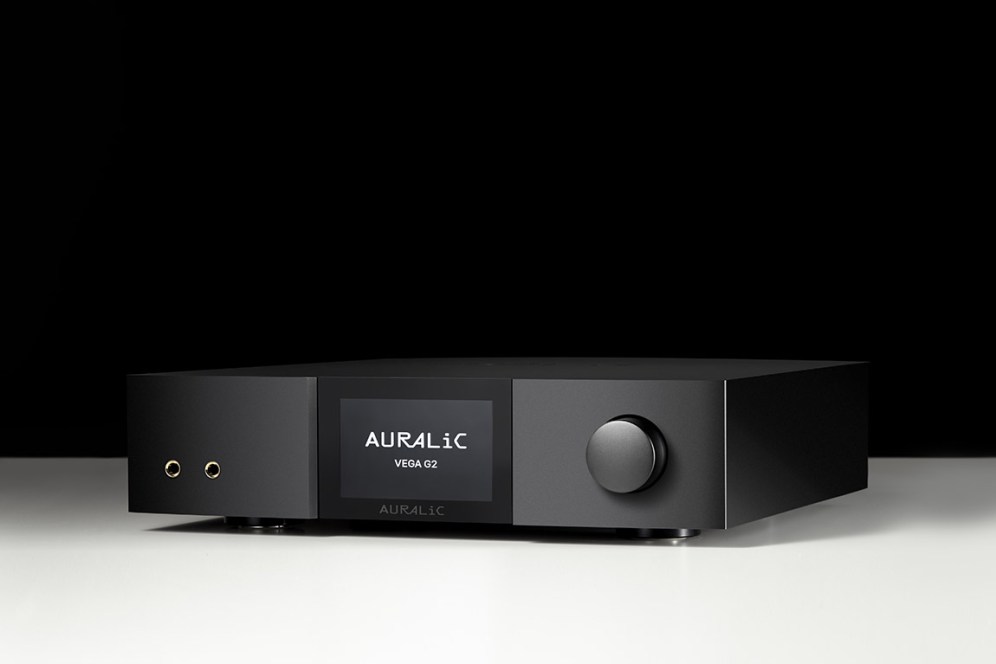 In the 5 star EAR rewview thay said:
"The Vega G2 is superbly built and capable of very high sound quality for the asking price, it has competition to be sure but not much of it combines such a broad feature set with such remarkable decoding abilities. I'll be impressed if anything comes along that can do much better for the money."
Read the entire review at:  http://www.the-ear.net/review-hardware/auralic-vega-g2-dac-network-streamer-preamplifier

 
February 2018 issue of Hifi+ magazine they said:
 
' As the track played through the VEGA G2, three thingscaught my ear: the brilliant purity and richness of the tonal colours of each of theinstruments in play, the dead-accurate rendering of the dynamic envelopes of theinstruments (and especially of their distinctive attack and decay characteristics),and—once again—the striking three-dimensionality of the overall presentation. Inshort, the G2 offered up a sound that was at once invigourating, elegant, refined, and 
" AURALiC's VEGA G2 represents a big sonic step forward from the firm's well-respected VEGA Digital Audio Processor and it also is one of the most beautiful sounding and accomplished DACs I've ever had the pleasure of using in my reference system. For this reason and more, the VEGA G2 is thoughtfully and enthusiastically recommended.'"
 
VEGA G2 Streaming DAC
The VEGA G2 Streaming DAC is a DAC with the power to flawlessly process all of today's highest-resolution digital music formats, up to DSD512 and PCM in 32bit/384K. But the VEGA G2 is also a fully-functional streamer, capable of connecting directly to your digital music sources. Compared to the original VEGA, the VEGA G2 has a completely re-designed structure, utilizing AURALiC's Tesla Platform to buffer, process and carefully regulate delivery of the source signal to a customized DAC chip. For the first time in the audio industry, it's a DAC that operates independently of the source signal's frequency: VEGA G2 buffers data in such a way that it has no need to lock on to the frequency of its source signal. Never before has a DAC been able to entirely govern timing with its own clocking – in this case those extremely precise Dual 72 Femto Master Clocks. Freed from outside limitations, the VEGA G2 delivers completely jitter-free performance.
At the heart of the VEGA G2 is the AURALiC Tesla Platform, sporting a Quad-Core A9 chip, 1GB DDR3 memory and 4GB of storage for calculation speeds 25 times faster than its predecessor. Add brand-new Galvanic Isolation that permits data transmission between primary circuits that are entirely separated physically and ultra-clean power from Dual Low-Noise Linear Purer-Power units, and it's clear this DAC strives for an analog signal that's as pure as it is loyal to the music.
Fully Passive Volume Control is another new feature appearing in the VEGA G2. It's based on a unique resistor ladder attenuator network built by AURALiC, and draws exactly zero current once it's set. Zero current equals zero interference, and it's one more innovation under the hood of the VEGA G2 that reflects an obsessive attention to detail. Together with AURALiC's ORFEO Class-A Output Module, inspired by classic analog designs, the end result is an incredibly faithful level of musical presentation.
Incorporating AURALiC's Lightning Streaming technology, the VEGA G2 takes on all the streaming functionality and connectivity of a dedicated streamer. When connected over Ethernet to a home network, all of Lightning Streaming's features become available. User control is at provided via the AURALiC custom iOS control app Lightning DS, and Lightning Server setup for the VEGA G2 is made easy with universal access to the new web interface from any smartphone, tablet, or computer. The VEGA G2 Streaming DAC is a certified Roon Ready endpoint too, for seamless integration with Roon software.
 
Type: Streaming DAC preamplifier
THD: <0.00015%, balanced <0.00012%
Dynamic Range: single ended <124dB, balanced <130dB
Streaming Inputs: Network shared folder, USB Drive, uPnP/DLNA Media Server, TIDAL and Qobuz streaming, Internet Radio, AirPlay, Bluetooth, Songcast
Digital Inputs: AES/EBU, Coaxial, Toslink, USB B, Lightning  Link, RJ45 Gigabit Ethernet, 802.11b/g/n/ac, Tri-Band WiFi
Analogue input: single ended RCA
Analogue outputs: Balanced XLR, single ended RCA, 2x 6.3mm headphone Jack
Supported File Formats: AAC, AIFF, ALAC, APE, DFF, DSF, FLAC,
MP3, OGG, WAV, WV and WMA
Supported Digital Formats: PCM from 44.1kHz to 384kHz in 32Bit, DSD64, DSD128, DSD256, DSD512
Output Voltage: 4Vrms at 0dBFS (XLR), 2Vrms at 0dBFS (RCA)
Control Software: Lightning DS for iOS, RC-1 remote handset, OpenHome compatible, uPnP compatible control software, Roon
Dimensions WxHxD: 338 x 84 x 300mm
Weight: 7.8kg