Audio Alchemy is a division of Elac. They make very hi value, Peter Madnick designed high end gear that we think is very good value for the money. The amp, preamp/DAC/Streamer and phono stage make a killer $6,250.00 complete package package.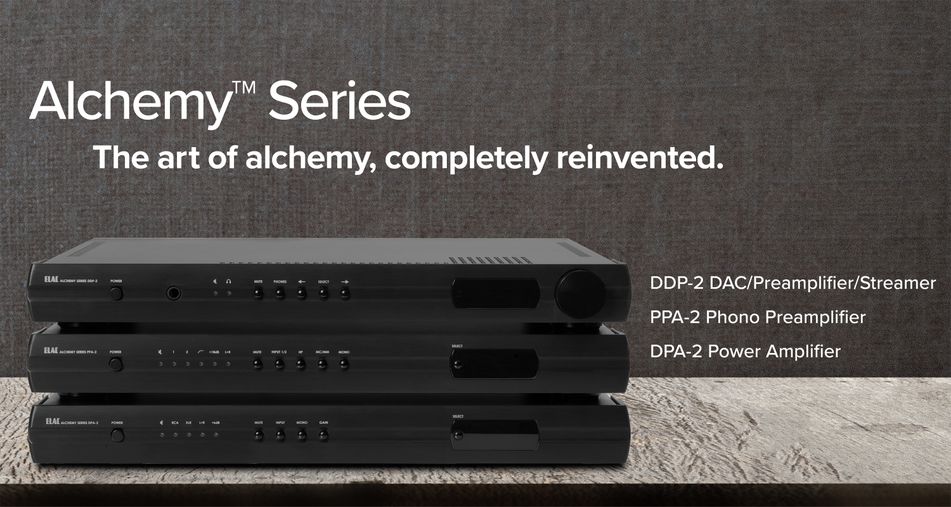 In the hometheaterhifi.com review they summed the review on the complete 3 unit stack with:
"ELAC'S ALCHEMY SERIES ELECTRONICS individually and collectively punch well above their weight. They are not simply great-sounding budget gear…they are great sounding gear, period!"
LIKES
Small size, fewer space requirements.
As much connectivity as you could want.
Innovative front panel features for ease of use.
Price!
WOULD LIKE TO SEE
A matching CD player for those of us who still like to play silver discs!
"ELAC has stayed true to its design philosophies over the past 5 years or so with their new Alchemy Series Electronics in that they want to produce better than average performing products for less than average pricing. Each of the individual components in for review performed extremely well, and at a higher level than I expected.
Typically with "budget" components, we as reviewers have to step back a bit and keep the performance relative to the price. So in many cases, we are talking about how high performing they are, but that is limited to a low price range.
But with ELAC's Alchemy Series Electronics, I don't look at them as budget components that perform well. I see them strictly as high-performance audio gear that I would be perfectly happy owning!"
Highly recommended!
Read the entire review at: https://hometheaterhifi.com/reviews/elac-alchemy-series-electronics-review/
DDP-2
Preamp/DAC/Music Streamer
Was $3,099.98
Now $2899.00

The first review is out and is a rave. Enjoy the music says:
"I've spent a lot of space describing just how versatile and well-designed the DDP-2 is; honestly, the effort, engineering, and innovation devoted to its creation deserve even more of the story be told. Yet as simply stellar as it is from the design and execution standpoint, I still wasn't prepared for how refined and engaging it sounds! Spoiler alert! Someone forgot to tell Peter and his team that this device was going to sell for $2500, not $10,000 to 12,000!"
"And as if the degree of versatility ELAC is offering with the DDP-2, which is honestly the most significant I've seen with virtually any linestage/DAC/Streamer offering, not just for the money, wasn't enough, it's sonic performance puts it in a class by itself, especially when used as a Roon endpoint, which it clearly seems to have been optimized to do."

"In general, low frequencies are deep, tight, and extremely well pitch defined. Performance in this area is nothing short of stunning. Mids are every bit as articulate and defined, rich in detail, full of body, bloom, blustering with life, and with a textural and tonal faithfulness I'd have no reason to expect from a DAC in this class, let alone a device that was also a full linestage, streamer, and headphone amplifier! Finally, the uppermost frequencies afford a remarkable sense of air, shimmer, and ease, are well focused and detailed, yet smoothly rendered, without hint of any etched sterility."
They sum with:
"I would suggest that without the experience and understanding that comes from the successful design and execution of cost-no-object, benchmark setting products like those Peter developed for the Constellation Electronics Reference line, and the further knowledge gained by successfully scaling that level of sonic achievement to fit the Constellation Performance, Revelation, and even the Inspiration lines price points, creating such a complex, sophisticated, technologically elegant, yet stupendously affordable device such as the DDP-2 would be an utter impossibility. In short, what Peter and the Alchemy team have achieved with this product series is nothing short of a benchmark accomplishment. And honestly, even knowing how exceptional Peter is at his craft, I've still got no idea how he has fit all this versatility and performance in to such s small, affordable package."
UNRESERVEDLY RECOMMENDED!
Read the entire review at:
The DDP-2 combines three components in one elegant piece of gear to give you the highest-quality digital-to-analog converter, preamp and digital streamer we know how to make. Then we combined it in a single chassis only 1U (1.75 inches) high. The preamplifier offers maximum flexibility, while incorporating DAC and
streaming functions to make the DDP-2 the centerpiece of your digital system. Full MQA decoding will be added as a software upgrade shortly. The DDP-2 is designed as a Roon endpoint with streaming thru Roon.

The second review is also a rave. Audiophile style said:
"The $2,499 ELAC Alchemy DDP-2 is very analog, a touch digital, full featured, and capable of great performance. Clever design details from the mind of Peter Madnick take this ho-hum looking component with fairly standard parts to another level. The magic is all in the implementation. In addition to solid engineering, the aforementioned detail, dynamics, and tone in tracks such as My Funny Valentine prove to me that the DDP-2 is an amazing performer and using the car world's sleeper adjective is apropos. The looks are understated but the performance is surprisingly great." 
Read the entire review at:
https://audiophilestyle.com/ca/reviews/elac-alchemy-ddp-2-dac-review-r835/
Specifications
Digital Inputs: USB, (2) Coaxial, (2) Optical, AES/EBU, (2) I2S (Alchemy & HDMI)
Streaming Inputs: Ethernet, Bluetooth, WIFI
Supported Services: PCM, DSD, DoP, ROON endpoint, Spotify Connect, AirPlay option, MQA capable (MQA Coming Soon)
Frequency Response (Digital): 10hz-20khz +/- 0.2dB
Nominal THD+N (digital): <0.01%
Signal-to-Noise Ratio (1 kHz) (Digital):>110dB
Sample Rates: 44.1, 48. 88.2, 96, 176.4, 192, 352.8, 384KHz
Output Voltage (Digital): 7.0V RMS @0dBFs
Analog Inputs: XLR Balanced, (2) RCA Unbalanced
Input Impedance: RCA=18K, XLR=36K
Frequency Response (Analog): 10hz-20khz +/- 0.2dB
Nominal THD+N (Analog): <0.001%
Signal-To-Noise Ratio (1 kHz) (Analog): >110dB
Output Voltage (Analog): >10.0V RMS
Crosstalk (L-to-R or R-to-L): >110dB 10-1K, >80dB 1K-20K
Gain: 12dB (Input Dependent)
Output Impedance: 50 Ohms
Analog Outputs: XLR Balanced, (1) RCA Unbalanced (Fixed Gain) (1) RCA Unbalanced (Variable)
Available Finishes: Black
Dimensions (HxWxD) in: 02.00 x 17.50 x 15.00 including jacks
Net Weight: 14.00 lbs
 
DPA-2
stereo power amplifier 210wpc 8 ohms/ 650 watts mono
Was $1,899.98
Now $1,749.00


The Alchemy DPA-2 Power Amplifier is about dynamic musicality, thanks to design that combines Class A circuit topology composed of discrete FETs and a linear power supply using a toroidal transformer. The pure analog input stage preserves all the detail and nuance of the most delicate passages. The Class D output stage with switching power supply results in impressive output combined with cool-running efficiency. The DPA-2 outputs 325 watts per channel into 4 ohms and doubles to 650 watts into 8 when run in mono.

FEATURES
•Selectable high/low gain to matchany preamplifier
•Fully discrete FET input stage withDC servo-controlled output stage
•Fully balanced input to output•Ultra-low-noise DC voltage regulators
•Toroidal transformer and linear powersupply for input stage
Class D PWM output stage
•High-efficiency, low-noise switchingpower supply for output stage
•Output power can be read out on the LCD information screen
•12 V trigger input and pass-through
•Liquid Crystal Display for clear userinformation
SPECIFICATIONS
Power output/channel (1% THD+N, 1 kHz)...Stereo 325W/ch @ 4 Ohms / Mono 625W @ 8 Ohms
Stereo
One channel driven into 8 Ohms 225W
Both channels driven into 8 Ohms 210W
One channel driven into 4 Ohms 390W
Both channel driven into 4 Ohms  325W
Mono
4 Ohms 420W
8 Ohms 625W
Frequency response....5hz-20khz +/- 0.2dB Nominal
THD+N (1 watt into 8Ω)...0.003%
Signal-to-noise ratio (1 kHz)...94dB
Input impedance..RCA=12K, XLR=19K
Output impedance...0.03 Ohms @ 1KHz
Channel separation (1 kHz)..70dB @ 1KHz / n/a
Gain...Stereo 24dB/30dB - Mono 18dB/24dB
Inputs...Unbalanced RCA, Balanced XLR
Outputs...Binding post 5-way
Available finishes...Black
Dimensions (HxWxD)..2" x 17.5" x 15
Weight...14 lbs


PPA-2
Phono Preamplifier
Was $1,249.98
Now $999.00

The Alchemy PPA-2 is a full-featured phono preamp that uses all analog, discrete FET gain and EQ stages to transform microscopic grooves in vinyl into stunningly lifelike music. The PPA-2 can be tailored to specific cartridge requirements, with switchable gain for each channel, MC cartridge loading, and stereo or mono operation. A selection of RCA or XLR inputs and outputs adds even more flexibility to the most versatile phono preamp in its class.

In the March Analog Planet Michael Fremer summed with:
"The $1249.98 ELAC/Alchemy PPA-2 combines low noise and "see into the stage" transparency with supple attack, generous sustain and decay to produce a well-detailed musical picture that plays well beyond its price point. Its overall sonic personality is on the warm, velvety and supple side, yet it also delivers impressive detail, and clean, well delineated high frequency transients. Plus it has all of the desirable phono preamp features you'd want (mono switch, high-pass filter, infinitely variable MC loading). I once sat with Peter Madnick evaluating cartridges on a very high end system and we came to very similar conclusions about what we heard. "

Read the entire review at:
https://www.analogplanet.com/content/easy-warm-elac-alchemy%E2%80%99s-1250-ppa-2-phono-preamp
Inputs: (2) RCA UNBALANCED or (1) RCA & (1) XLR BALANCED
Input impedance: 5-1KOhms variable or 47K
Frequency response: 10hz-20khz +/- 0.2dB
RIAA accuracy: +/- 0.2dB
Nominal THD+N: <0.005%
Signal-to-noise ratio (1 kHz): >86dB
Output Voltage: >6.0V RMS
Crosstalk (L-to-R or R-to-L): >80dB
Single ended Gain: 42dB (low) or 60dB (high)
Balanced Gain: 48dB (low) or 66dB (high)
Output impedance: 50 Ohms
Analog Outputs: (1) XLR BALANCED, (1) RCA UNBALANCED
Available finishes: Black
Dimensions (HxWxD): 2″ x 17.5″ x 15″ including jacks
Weight: 12 lbs